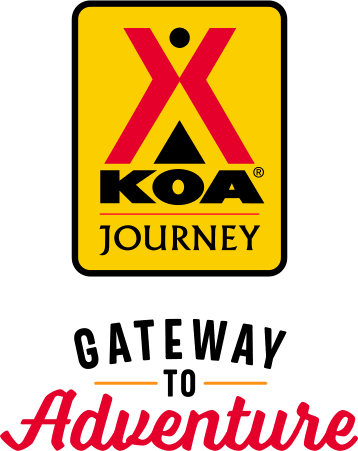 KOA Journey Campgrounds
KOA Journey campgrounds are the perfect oases after a day on the road. Whether it's along the way or a quick getaway, they've got you covered. Located near the highways and byways of North America with long Pull-thru RV Sites, they deliver convenience to the traveling camper. Pull in, ease back and take a load off.
KOA Journeys Feature:
Pull-through RV Sites with 50-amp service
Premium Tent Sites
Well lit after hours check-in service
Directions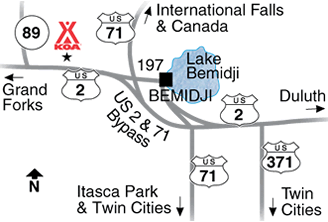 1 mile west of Bemidji, north side of Hwy 2. Between mile marker 109 and 110.
Get Google Directions
Sep 04, 2020
The campsite was very clean. Staff was all very friendly and helpful. I definitely will be back.
Aug 26, 2020
We always enjoy are time at the Bemidji KOA . One complaint would be the lady that works the afternoon shift needs to be a little more polite. She seems grumpy when ever our family would go into the store. Not acceptable for customer service. Overall very good. Nice campsite We will be back.
Aug 24, 2020
We stayed in the two room sleeping cabins (we rented 2 of them for a party of 9 ) for 5 days plenty of room, they were very nice & very convenient. Our complaint would be that they do not have air conditioning and one of the cabins only had 2 single outlets so we ended up having to buy surge protectors and fans. The pool is nice, dog friendly. Quiet place, clean bathrooms, friendly service!!
Aug 19, 2020
The staff was very unfriendly
Aug 17, 2020
The staff was extremely friendly. I have stayed at this KOA quite a few times and have gained some new friendships that I look forward to seeing on each visit.
Aug 06, 2020
We had a wonderful time. Very friendly staff and beautiful grounds .
Aug 06, 2020
Our family loves KOA! We've tented here before and have also stayed in the cabins. The kids have fun riding the bikes and we all have a blast in the pool. The showers/bathroom are always very clean. Hoping for an updated playground and mini golf course some day. We look forward to our next stay!
Aug 02, 2020
Great place.
Jul 30, 2020
No playground for older kids, just a small baby one. The landscaping on the grounds was in desperate need of attention. Weeds all around the pool. None of the planters have been kept up - mostly dead flowers. Yet the baskets hanging in back of The office (where someone lives) were beautiful and full. There's at least one beehive under the deluxe cabin — they came out in swarms when disrupted
CAMPGROUND RESPONSE / COMMENTS:
If you would have let us know about the beehive we would have taken care of it. If we are not notify we can not do anything about it. The so called weeds are wild flowers and everything is water every day.
Jul 28, 2020
First time staying at a KOA. We usually rustic camp or hit the state parks, but wanted to try something different. No issues, all the staff were super nice & helpful. A couple of creepy people (not campers or visitors) walked thru the campground one night while we were at our fire & staff took care of the situation quickly. The pool was nice as it was incredibly hot & muggy on our first day.
Jul 27, 2020
Really enjoyed the small cabin. Perfect for that camping feel without having to deal with a tent. Also, the bathroom was very clean and that is much appreciated.
Jul 27, 2020
Great owners, great campground!
Jul 26, 2020
Great staff, clean grounds. Felt safe and appreciated the pool being open.
Jul 22, 2020
Our family had a great time! Campgrounds were very clean and kept up. Will come again!
Jul 11, 2020
Friendly staff
Jul 06, 2020
It was great, we loved it aside from our smoke alarms going off at 630am Friday and Sunday mornings.
Jul 06, 2020
Our stay was amazing thank you friendly staff for bringing us food and firewood a great place to stay see you next year!
Jun 28, 2020
The staff was very easy to work with. Our cabin was very clean.
Jun 16, 2020
Had a great time. Friendly people and great hosts
Jun 15, 2020
It was very nice. Clean and many things to do in the area. Only issue was the bed you could feel every coil other wise it was good.
Jun 15, 2020
It was relaxing but chilly
Jun 02, 2020
Nice camping site, staff was helpful and respectful!
May 27, 2020
Bemidji KOA is great to stay at. This is our fourth year. The employees are helpful and friendly. Campground is quiet and we've never had an issue.
Sep 04, 2019
Stayed for just one night in a cabin. Cabin and bathrooms were clean. Having their pizza delivered to the Cabin and buying the inexpensive pancake breakfast in the morning meant we didn't have to break out all of the cooking and dishwashing supplies for a one night stay
Aug 19, 2019
Loved the camping cabin that was near the pool.It worked for us traveling with my 12 yr old grandson who made good use of the pool. If not traveling with kids, pick one away from pool as it gets a little noisy. Staff was friendly and helpful. We had everything we needed with a porch, picnic table, grill and fire pit right outside the door.
Aug 05, 2019
Very much enjoyed the screen door on the camping cabin. Have not had this everywhere, and it definitely improved out night in the cabin!!
Aug 02, 2019
Super friendly staff!!! Pancake breakfast on Sat and ice cream social was nice. Would have loved to have more things for kids to do...like jumping pillow or better playground or better arcade. Had to pay for bikes which got expensive. It was cool during our stay so not able to use pool much.
Jul 08, 2019
We stayed in a 2-room Kamper Kabin which was great. We brought a fan to keep cool. The staff were friendly & helpful.
Jul 08, 2019
Nice place, well maintained.
Jun 10, 2019
staff was great. Cabin had an ant issue and we were a little disappointed with the cleanliness of the cabin
CAMPGROUND RESPONSE / COMMENTS:
In the future if there is a problem let us know when you are here so we can try to correct the issue.
May 28, 2019
We really enjoyed our stay. The bathrooms were really clean and seemed to be stocked well. All the employees we interacted with were very nice.
Oct 19, 2018
A might cold but had a great time!
Sep 04, 2018
Always great service! Pool was wonderful. Loved the deluxe cabin. We stay every year, but this was the first time in the deluxe cabin.