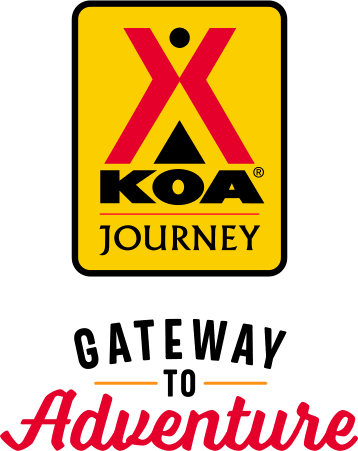 KOA Journey Campgrounds
KOA Journey campgrounds are the perfect oases after a day on the road. Whether it's along the way or a quick getaway, they've got you covered. Located near the highways and byways of North America with long Pull-thru RV Sites, they deliver convenience to the traveling camper. Pull in, ease back and take a load off.
KOA Journeys Feature:
Pull-through RV Sites with 50-amp service
Premium Tent Sites
Well lit after hours check-in service
Directions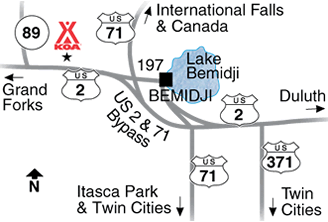 1 mile west of Bemidji, north side of Hwy 2. Between mile marker 109 and 110.
Get Google Directions
Sep 09, 2020
When we get there we are always greeted and the person that shows us to our campsite is always very helpful and friendly. We always have a good experience there we love the area too.
Sep 08, 2020
The staff were very friendly and offered a lot of great ideas for things to do in the area.
Sep 07, 2020
Very friendly staff and stuff to keep our kids busy!
Sep 04, 2020
My first time using a KOA Campground. It was better than expected. Shower facilities were excellent. I arrived on motorcycleand booked a comfortable and fairly private tent site, close to facilities. The only downside was thunderstorms and rain all night. Glad I had a premium backpacker's tent.
Aug 18, 2020
Bemidji Campground is clean and staff is friendly and helpful. Men's bathroom was clean. Campsites were nice and quiet.
Aug 17, 2020
The bemidji koa is one of the best koas we've been to Very clean and super nice people. Unfortunately covid 19 and mother nature made it difficult to enjoy the resort completely. But hey it happens we'll be back and plan on recommending bemidji koa to friends thanks and keep up the good work Jeffrey and Annette Klingbeil
Aug 14, 2020
Fue muy placentera.. el personal muy amable todo muy limpio y seguro .
Aug 11, 2020
Really nice campsite, a lot of amenities. Very friendly and helpful staff. The only improvement I would make is an update to the bathrooms. The stalls are very small and the toilets don't flush easily.
Aug 10, 2020
The campsite looked great, but we did not stay at all, because of the Tornado Warnings & dangerous thunderstorms.
Aug 10, 2020
The website should state that it is on a loud busy highway. We reserved a tent site and there was severe weather so the first night we ended up in a hotel. The 2nd night we packed and drove home due to severe weather again. No offer of any sort of refund which I think there should be in the case of severe weather. Despite our experience, the staff was very friendly.
Jul 20, 2020
The smell of trash was unbearable. The noise of dogs barking non-stop was insufferable. I will never return again.
Jul 17, 2020
We booked the wrong type of campsite (RV instead of tent) and they found a spot for us no problem!
Jul 07, 2020
This has become a family tradition on 4th of July weekend for us. We have gotten a video of our daughter on your boat in game room every year so was disappointed we weren't able to this year but completely understand why it was closed. We had family stay at the KOA with us this year and was awesome.
Jul 01, 2020
Town of Bemidji is beautiful. Koa is older than any I have stayed. Owners are great but all amenities need a upgrade. Some are unusable. However bathroom/shower are incredibly clean.
Jun 29, 2020
Very shaded tent site in the back, which was very nice. The employees we encounter were amazing and friendly. Overall pretty quiet little noise from highway. We had no issues perfect campsite.
Jun 27, 2020
Staff was super friendly and helpful, campsites were spacious, bathrooms were clean and showers always hot! Would definitely stay here again.
Jun 27, 2020
The staff were very nice and friendly and everything was really clean! It was a great place to stay.
Jun 22, 2020
Was our first time camping. We had a great time! The staff was very friendly and helpful! They even escort u to your spot and make sure u have all your questions answered. There is a nice heated pool and a playground and mini golf! Bathrooms was kept clean and were very nice! Was nice to have a store in the office building Incase u forgot something! We will definitely be back!
Jun 21, 2020
Someone was in our tent spot. Refused to move. Located right next to the highway - very loud. A little rundown.
Jun 14, 2020
Just great. Wonderful hosts. Went above and beyond in providing service for a special need.
Sep 06, 2019
Great place to stay.
Aug 14, 2019
Nice people, clean bathrooms and showers. Lots for camping were spacious. Nice pool . Close to city.
Aug 11, 2019
Everyone was nice and friendly. The camp was clean and well kept. The candy bingo on Friday night was a lot of fun.
Aug 05, 2019
Very nice campground, the kids enjoyed the mini golf and pool.
Jul 16, 2019
Helpful and friendly.
Jul 09, 2019
Everything was great. Staff was awesome. The only negative part was 1 tent per site. I think it's a national rule and not something limited to the Bemidji KOA though.
Sep 02, 2018
Nice campground, the wooden walls gave it much more privacy while tenting. Big downfall was the unfriendly staff in the office. Not helpful at all and never smiled. Very unfriendly.
Aug 28, 2018
We needed a quick and easy get away before the school year started again. This was a great way to do it. Booking was simple, the campground was small enough that it wasn't super loud with an overload of people, and it was only a quick 20 minute drive to Lake Bemidji State Park.
Aug 21, 2018
The bath rooms stunk more than they should have.
Aug 10, 2018
Typical KOA, clean and friendly.
Aug 07, 2018
We had a good stay. The bathroom facilities could have been better. And the fire ring at our tent site was below ground making it hard to start a fire along with the wood being wet.
Jul 30, 2018
We had a great time. The staff were nice
Jul 29, 2018
Stayed for one night in mid-July in a tent site. Nice small KOA. Had a very comfortable camp site, clean bathrooms.
Jul 26, 2018
It was great. Clean bathrooms. Nice pool. Big camping sites. Definitely go there again!
Jul 25, 2018
The amenities were great but had a very large anthill on the tent site (32), and ore neighbors kept bright LED string lights on all night outside their rv.
Jul 24, 2018
We stayed in a tent for a week, loved the grounds and pool.
Jul 24, 2018
It was great! The employees were very helpful and worked with us very well. Will probably stay again and again when we head up north.
Jul 18, 2018
It was a nice stay. Small campground but overall great place. Pool was warm. Kids enjoyed the mini golf. The owners were nice and accommodating. The site itself was shaded. We enjoyed the weekend. The only thing we didn't like were the flies, but it is to be expected as were were camping. We wouldn't camp if flies were that big of an issue.
Jul 11, 2018
Stay was great. Only complaint was during quiet hours, there were several motorcycles revving their engines. These were (as far as we could tell) outside the camp and there is nothing that could be done but it did detract from the experience.