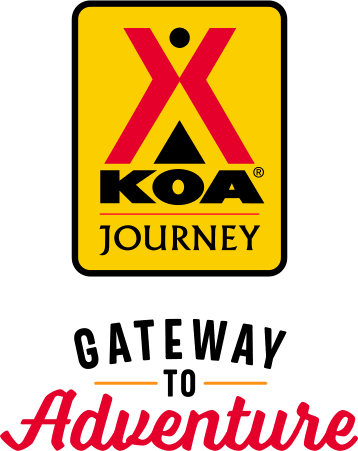 KOA Journey Campgrounds
KOA Journey campgrounds are the perfect oases after a day on the road. Whether it's along the way or a quick getaway, they've got you covered. Located near the highways and byways of North America with long Pull-thru RV Sites, they deliver convenience to the traveling camper. Pull in, ease back and take a load off.
KOA Journeys Feature:
Pull-through RV Sites with 50-amp service
Premium Tent Sites
Well lit after hours check-in service
Directions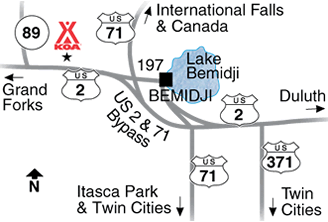 1 mile west of Bemidji, north side of Hwy 2. Between mile marker 109 and 110.
Get Google Directions
Sep 08, 2021
Very nice campground, all of the staff was extremely friendly and helpful! We will be back again!! Thank you!!!
Sep 07, 2021
We're from MI on a little ride-about on the motorcycles and happened to land in Bemidji. Our two days at the Bemidji KOa turned into four. Staff was very friendly and accommodating and the campground very clean Would definitely recommend and stay again. Thanks!
Sep 03, 2021
I just stayed overnight. So, I cannot tell much about anything but the hot, powerful shower. I have to give it a 5-star rating since 6-star wasn't available!
Aug 23, 2021
We truly enjoyed our stay the only issue we had was in the middle of the night we could hear on neighbors like arguing and other than that we had a great day and I recommend it anytime
Aug 13, 2021
The pool was refreshing after a long day, bathrooms were clean, showers had plenty of pressure and the owners were amazing! I enjoy talking with them and they were very helpful when I had questions.
Aug 13, 2021
My husband camped there and thinks this KOA was wonderful. Clean, neat, great hook ups for people in tents. Private.
Aug 09, 2021
Great place, great staff. 200% top notch. Im looking forward to coming back.
Aug 08, 2021
Very accommodating, friendly staff. Nice to have air conditioned bathrooms. Pool was nice but small with limited hours. Office area offered extras if you forgot something but could smell much better for a first impression.
Aug 02, 2021
Nice, clean amenities and one of the quietest KOAs I've stayed in. I appreciated the walls between the tent sites for a bit more privacy as well.
Jul 28, 2021
I've stayed here every year during the 3rd week of July while attending Moondance Jam in Walker, MN. It has almost always been 4 nights, this time it was 5 nights. Very comfortable and appealing layout and appreciate being able to take a nice hot shower every morning. The staff has always been helpful. New owners bought it last year, and they were really nice as well.
Jul 20, 2021
I love that there was popcorn and rootbeer floats! staff was friendly! Had plenty of activities for the kids! The state park is only a few minutes away!! We loved it and will be back again.
Jul 19, 2021
NICE TENT AREAS. VERY CLEAN / MAINTAINED BATHROOM / SHOWERS. GREAT STAFF.
Jul 19, 2021
Bathrooms dirty and smelled,
Jul 19, 2021
Our stay was perfect! Cute little environment and the kids enjoyed themselves. A minus would be the pool hours, temps were hot right away so earlier pool hours would be nice.
Jul 12, 2021
The only thing that was a problem was that I was told that we could only have one tent, & we needed two due to we came with someone from a different household. Luckily, the gentleman who checked us in was able to give us an additional site right next to us for no charge that was no longer in use. The next time I camp here, I will make sure that we don't bring anyone else from a different household
Jul 11, 2021
Great campground and the owner was very accommodating!!
Jun 29, 2021
The campground was clean & the shower house was nice. Lots of stuff for purchase in the store if you forgot anything. It was a busy weekend so pretty noisy but the camp hosts seemed to keep loud ones in check quickly. We tent camped & while you could hear the interstate most of the night I grew up near one so it didn't bother me. We didn't hear the airport at all.
Jun 29, 2021
great place and great management! we will be back!
Jun 28, 2021
The road noise was there but for a city boy like me I didn't care. The facilities and people were great!
May 28, 2021
It was short, but the staff was very pleasing and helpful and will stay again.
Sep 09, 2020
When we get there we are always greeted and the person that shows us to our campsite is always very helpful and friendly. We always have a good experience there we love the area too.
Sep 08, 2020
The staff were very friendly and offered a lot of great ideas for things to do in the area.
Sep 07, 2020
Very friendly staff and stuff to keep our kids busy!
Sep 04, 2020
My first time using a KOA Campground. It was better than expected. Shower facilities were excellent. I arrived on motorcycleand booked a comfortable and fairly private tent site, close to facilities. The only downside was thunderstorms and rain all night. Glad I had a premium backpacker's tent.
Aug 18, 2020
Bemidji Campground is clean and staff is friendly and helpful. Men's bathroom was clean. Campsites were nice and quiet.
Aug 17, 2020
The bemidji koa is one of the best koas we've been to Very clean and super nice people. Unfortunately covid 19 and mother nature made it difficult to enjoy the resort completely. But hey it happens we'll be back and plan on recommending bemidji koa to friends thanks and keep up the good work Jeffrey and Annette Klingbeil
Aug 14, 2020
Fue muy placentera.. el personal muy amable todo muy limpio y seguro .
Aug 11, 2020
Really nice campsite, a lot of amenities. Very friendly and helpful staff. The only improvement I would make is an update to the bathrooms. The stalls are very small and the toilets don't flush easily.
Aug 10, 2020
The campsite looked great, but we did not stay at all, because of the Tornado Warnings & dangerous thunderstorms.
Aug 10, 2020
The website should state that it is on a loud busy highway. We reserved a tent site and there was severe weather so the first night we ended up in a hotel. The 2nd night we packed and drove home due to severe weather again. No offer of any sort of refund which I think there should be in the case of severe weather. Despite our experience, the staff was very friendly.
Jul 20, 2020
The smell of trash was unbearable. The noise of dogs barking non-stop was insufferable. I will never return again.
Jul 17, 2020
We booked the wrong type of campsite (RV instead of tent) and they found a spot for us no problem!
Jul 07, 2020
This has become a family tradition on 4th of July weekend for us. We have gotten a video of our daughter on your boat in game room every year so was disappointed we weren't able to this year but completely understand why it was closed. We had family stay at the KOA with us this year and was awesome.
Jul 01, 2020
Town of Bemidji is beautiful. Koa is older than any I have stayed. Owners are great but all amenities need a upgrade. Some are unusable. However bathroom/shower are incredibly clean.
Jun 29, 2020
Very shaded tent site in the back, which was very nice. The employees we encounter were amazing and friendly. Overall pretty quiet little noise from highway. We had no issues perfect campsite.
Jun 27, 2020
Staff was super friendly and helpful, campsites were spacious, bathrooms were clean and showers always hot! Would definitely stay here again.
Jun 27, 2020
The staff were very nice and friendly and everything was really clean! It was a great place to stay.
Jun 22, 2020
Was our first time camping. We had a great time! The staff was very friendly and helpful! They even escort u to your spot and make sure u have all your questions answered. There is a nice heated pool and a playground and mini golf! Bathrooms was kept clean and were very nice! Was nice to have a store in the office building Incase u forgot something! We will definitely be back!
Oct 21, 2021
Price was comfortable and all ammenities available. Very nice.
- Sally Sperry on Google
Sep 30, 2021
Loved it. Will be back to stay again.
- Lorelei Groen on Google
Sep 29, 2021
Beautiful fall getaway, very quite, VERY NICE KOA, So close to Itasca St Park. can't wait to go back next year!
- Anita Strueber on Google