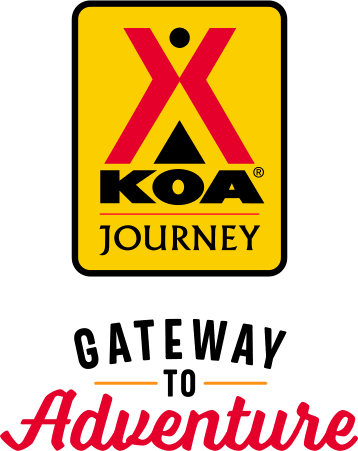 KOA Journey Campgrounds
KOA Journey campgrounds are the perfect oases after a day on the road. Whether it's along the way or a quick getaway, they've got you covered. Located near the highways and byways of North America with long Pull-thru RV Sites, they deliver convenience to the traveling camper. Pull in, ease back and take a load off.
KOA Journeys Feature:
Pull-through RV Sites with 50-amp service
Premium Tent Sites
Well lit after hours check-in service
Directions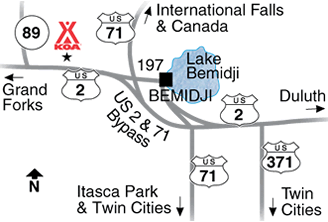 1 mile west of Bemidji, north side of Hwy 2. Between mile marker 109 and 110.
Get Google Directions
Jul 19, 2019
Large site with perfect hookup location. Friendly people.
Jul 19, 2019
Nice shady sites. Staff was very friendly and helpful.
Jul 18, 2019
The campground seriously needs to trim overhanging branches in fans around the grounds. I own a $100K 36' 5th Wheel that is 13'3" high. The last thing I want is to have the sides scratched or the air conditioner or antenna ripped off the rig...
Jul 17, 2019
Good stay. Quiet.
Jul 16, 2019
Helpful and friendly.
Jul 15, 2019
Great stay! Shade in the pull through sites!
Jul 15, 2019
beautiful campground and terrific hosts. Bemidji is a great city and would definitely stay there anytime.
Jul 14, 2019
easy checkin, great location, good site.
Jul 12, 2019
Friendly and clean
Jul 11, 2019
We enjoyed our stay here. Had a nice site. Clean and nice park. Nobody bothered us. We stayed in number one. Had some road noise but not bad. Did not hear the planes at all. And airport down the road.
Jul 09, 2019
Very clean...great activities on the weekend- only change I would suggest is longer pool hours.
Jul 09, 2019
Everything was great. Staff was awesome. The only negative part was 1 tent per site. I think it's a national rule and not something limited to the Bemidji KOA though.
Jul 09, 2019
Great stay, wonderful staff
Jul 08, 2019
Nice location. Very handy to the Mississippi head waters. For hunters, check out the Buck Trax beer distributor 2 miles away. Lots of huge deer taken locally
Jul 08, 2019
We stayed in a 2-room Kamper Kabin which was great. We brought a fan to keep cool. The staff were friendly & helpful.
Jul 08, 2019
Nice place, well maintained.
Jul 08, 2019
Relaxing time with family. Enjoyed the camp ground.
Jul 08, 2019
Nice clean & quiet campground. Staff is very friendly and was helpful with suggestions for local visits, directions, etc.
Jul 08, 2019
Well run campground. Clean facilities and friendly people!!!
Jul 07, 2019
Had a great time and the weather was just beautiful.
Jul 07, 2019
Great staff & went beyond to help us when our slide on the 5th wheel would not retract.
Jul 06, 2019
A very warm welcome. The premises were very well kept and the bathrooms clean. The children loved the mini golf too!
Jul 06, 2019
we always like to stay at this campground, sometimes 1 day, 2 days, 4 days, it has everything we want or need, the owners and staff are always at the top of their game whether it be taking you to your sight and helping you park, letting you know what they have on as extra specials today , what ever questions you have they have the answer. always like going there just to get away.
Jul 05, 2019
I enjoyed the stay.
Jul 05, 2019
From the minute we stepped inside the office , we were made to feel welcome. The campground is really nice. The public bathroom and showers were super clean. We've already recommended to our son and family. Thanks for a wonderful stay with you.
Jul 05, 2019
ignored request for full hook up and for clear view of southern sky
CAMPGROUND RESPONSE / COMMENTS:
We did not ignore your request but when you made your reservation for the holiday all full hookup site were already booked. We do not guarantee satellite sites when we are completely full.
Jul 02, 2019
very pleasant stay
Jul 02, 2019
Large sites, very clean and well maintained. Most importantly the very friendly and accommodating staff.
Jul 02, 2019
Great park and staff.
Jul 01, 2019
Friendly greeting and escort to our very quiet site. Clean campground. Nice pool. Easy to access campground. Excellent price. Will stay there every time we are in that area.
Jul 01, 2019
Nice well organized campground friendly staff
Jun 29, 2019
An AMAZING place!!! I stay at a LOT of KOA campgrounds, and the staff here is outstanding! Sharon greeted me as she was leaving her shift, Eileen welcomed me immediately as I entered the office. She even researched the Mississippi Headwaters and gave me information on her own. Greek was super helpful in setting up and changing out a water hose. I hope I have a reason to come this way again!!
Jun 29, 2019
Your camp hosts were outstanding
Jun 27, 2019
We had two nights in Bemidji. It is a pleasant location.
Jun 25, 2019
Nice clean KOA. Very nice staff!
Jun 22, 2019
Very friendly staff and service.
Jun 22, 2019
The staff was very pleasant & camp ground was very clean. Bathrooms were dated but very clean. Enjoyed our stay. Would definitely go back.
Jun 20, 2019
Very friendly staff. Sites were clean, spacious and level. Close to downtown.
Jun 19, 2019
Very nice camground
Jun 18, 2019
We only stayed one night and didn't walk through park. What I did see was a nce clean park, with friendly staff.
Jun 18, 2019
The office staff is great. They are very helpful and knowledgeable about the area. We enjoyed the pancakes and the ice cream social that was hosted. ( That is an added bonus ) The park is clean and very nice. We would recommend this park to all of our family and friends.�