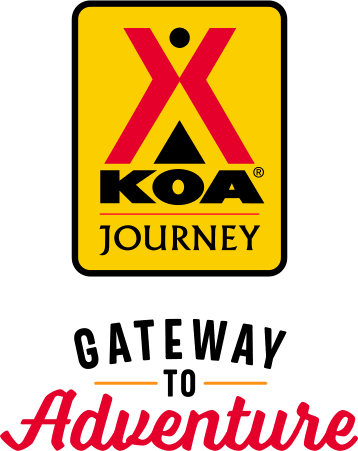 KOA Journey Campgrounds
KOA Journey campgrounds are the perfect oases after a day on the road. Whether it's along the way or a quick getaway, they've got you covered. Located near the highways and byways of North America with long Pull-thru RV Sites, they deliver convenience to the traveling camper. Pull in, ease back and take a load off.
KOA Journeys Feature:
Pull-through RV Sites with 50-amp service
Premium Tent Sites
Well lit after hours check-in service
Directions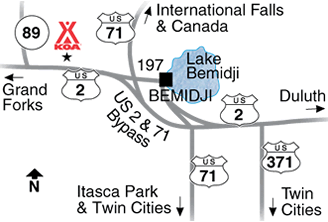 1 mile west of Bemidji, north side of Hwy 2. Between mile marker 109 and 110.
Get Google Directions
Jul 09, 2021
It was a wonderful stay and the staff was very friendly.
Jul 08, 2021
Great place to stay.
Jul 08, 2021
Free Wifi is useless. Fuzzy cable TV. Amenities are rundown, typical postage stamp sized spaces, overpriced, too close to a major highway. Yet another typical stay at a KOA.
Jul 08, 2021
Great staff..
Jul 07, 2021
New owners are very nice and look at renters as guests, not necessary evil as previous owner did.
Jul 06, 2021
It was a great 4 days wanted to stay longer but had to get back to work
Jul 06, 2021
It was fantastic.. very clean, well taken care of.. but the pool needs to be bigger! It was do hot this weekend everyone wanted to be in the pool.. it could be two times bigger!
Jul 06, 2021
Clean quiet campground with a friendly helpful staff.
Jul 06, 2021
Site 27 has the picnic table right next to #28's sewer connection, and there really isn't much other space to move it. 27 and 28 are VERY close together. The pool area needs more chairs and some shade. It's in the full sun most of the day. The shower house is clean, but the showers are pretty sad and need to be updated. The showerhead looks like a kitchen faucet. OK for a night cuz its cheap.
Jul 04, 2021
No shaded sites. Needs to be updated badly. Mini golf course is very bad.
Jul 04, 2021
Everyone there was very friendly and helpful! The restrooms are clean, pool is small, but crystal clear and well maintained. The grounds were nice, quite a few nice trees for some shade. Easy pull-thru sites for RVs.
Jul 04, 2021
Nice pool! Shady lot! Friendly staff and campers!
Jul 02, 2021
Bad experience!!!
Jul 02, 2021
Friendly owners/staff. Bathrooms always clean. Mini golf needs major improvements. Went into store to pickup ice one morning, no one in office-waited 10 minutes, another man and his child were also waiting. I left bought ice in town.
Jul 02, 2021
Great place to stay.
Jun 29, 2021
Restrooms out of toilet paper, we paid for full hookup and sewer wouldn't go down so had to pull into another site to empty tank, pool doesn't open until noon—unreasonable in the summer months when kids want to swim, mosquitoes were terrible until we used own deterrents, landscape/yard areas were uncared for
Jun 29, 2021
Everyone was very friendly at check in. There are new owners and still working out the kinks. I would stay here again, but remember to request a 50 amp hookup. There are not enough of them.
Jun 29, 2021
The campground was clean & the shower house was nice. Lots of stuff for purchase in the store if you forgot anything. It was a busy weekend so pretty noisy but the camp hosts seemed to keep loud ones in check quickly. We tent camped & while you could hear the interstate most of the night I grew up near one so it didn't bother me. We didn't hear the airport at all.
Jun 29, 2021
We were by the pool and playground.site 12- We're older but found it fun to listen to the kids play. It was a weekend so very crowded! This is a great KOA with helpful owners.
Jun 29, 2021
great place and great management! we will be back!
Jun 28, 2021
Very friendly.
Jun 28, 2021
It's always so relaxing when we go there! We like this camp ground!
Jun 28, 2021
The road noise was there but for a city boy like me I didn't care. The facilities and people were great!
Jun 27, 2021
Really enjoyed our stay. Owners were on sight and did everything possible to help us. Other KOA's, not so much. Bemidji KOA is top notch!!
Jun 27, 2021
Appreciated the friendly gentleman who checked us in and directed us to our site.
Jun 27, 2021
Nice. Plenty of room
Jun 25, 2021
Was a convenient location to stay to enjoy the Bemidji area. The staff were very friendly and helpful! The bathrooms were super clean!
Jun 25, 2021
Staff is very friendly.
Jun 25, 2021
Campground great. Roads a mess
Jun 24, 2021
We loved this KOA! Wonderful pool! Julian was the best!!
Jun 24, 2021
It was very clean. Nice sites.
Jun 23, 2021
The new owners were very accommodating during our stay. The pool was closed the 1st day we were there (due to rain) but got everything opened up the next day. Our grandkids were thrilled with the pool and mini golf. This is our 3rd year staying at the Bemidji KOA and the grandkids are already asking when we get to go back. Thank you
Jun 23, 2021
We very much enjoyed our stay at the KOA campground ���� The staff was very friendly and helpful and the other campers were friendly as well.
Jun 22, 2021
Hosts were very friendly and helpful. Quiet campground. Nice spots.
Jun 21, 2021
Cabin was perfect, clean and comfortable! Bring an extension cord if you'd like to charge phones or bring extra fans. Our cabin came with 2 fans which was great! Bathrooms were always clean, staff was so friendly and easy going. Our kids loved the pool and rented bikes and rode around the campground burning off lots of energy! We've already decided to make this an annual trip! So fun!
Jun 21, 2021
Great time! Great service!
Jun 21, 2021
Staff were very friendly and accomodating! The pool was very nice. Park was fun for the kids. The bikes were fun for the kids. I love the text message updates.
Jun 19, 2021
Staff was so amazing! Very very clean place !!! Definitely will come back!!!
Jun 19, 2021
Great amenities. Could use new mattresses in the cabin.
Jun 19, 2021
This was our second visit here and this time it was hot and extremely dry. Our power went out in the early evening and as it turned out the whole back row of 50 amp sites were dead. The hosts were very busy trying to get that fixed and check in arrivals but still had a few minutes to reassign me to a different site that still had power. Much needed due to the heat and required air conditioning.
Oct 21, 2021
Price was comfortable and all ammenities available. Very nice.
- Sally Sperry on Google
Sep 30, 2021
Loved it. Will be back to stay again.
- Lorelei Groen on Google
Sep 29, 2021
Beautiful fall getaway, very quite, VERY NICE KOA, So close to Itasca St Park. can't wait to go back next year!
- Anita Strueber on Google