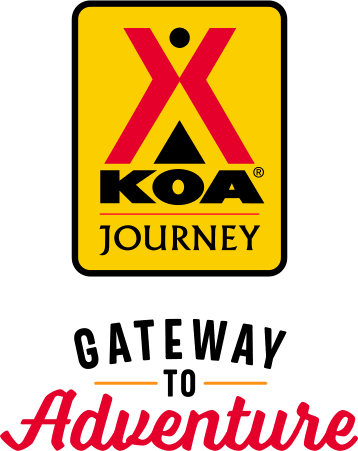 KOA Journey Campgrounds
KOA Journey campgrounds are the perfect oases after a day on the road. Whether it's along the way or a quick getaway, they've got you covered. Located near the highways and byways of North America with long Pull-thru RV Sites, they deliver convenience to the traveling camper. Pull in, ease back and take a load off.
KOA Journeys Feature:
Pull-through RV Sites with 50-amp service
Premium Tent Sites
Well lit after hours check-in service
Directions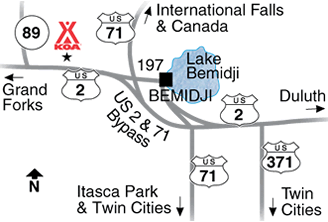 1 mile west of Bemidji, north side of Hwy 2. Between mile marker 109 and 110.
Get Google Directions
Jul 09, 2018
2nd time here, and even when short-staffed they went out of their way to accommodate my family and I. What a great experience, and they all should be commended.
Jul 09, 2018
it was ok. I requested a site away from the pool and close to the bathrooms. Didn't get either but got my exercise in. They were pretty busy over the weekend so probably wasn't able to accomodate. The lots are large. Wi-Fi isn't very good it you need it, I wouldn't count on it. Bathrooms are clean. I would come back for a weekend.
Jul 07, 2018
Very nice campground, super clean. We very much enjoyed our stay. Trash dumpster smelled pretty bad and the smell made it all the way to our cabin the last day.
Jul 06, 2018
Very clean and nice park. Staff very friendly and helpful. We were in a motorhome and had plenty of room on space. Would stay again if in area.
Jul 02, 2018
2nd year in a row that I camped here for the Bemidji Jaycees Water Carnival. Excellent facility and friendly staff. Kudos!
Jul 02, 2018
Very nice camp ground, staff excellent, it was nice to be able to order food from store, great feature.
Jul 02, 2018
The sites were very close together, and we were told we could not reserve a group of sites together. Our group was spread out but put 2 feet away from someone we didn't know. It would have been much more enjoyable to be able to be by our group if we were going to be that close together. We did appreciate the laundry room being open 24 hours a day.
CAMPGROUND RESPONSE / COMMENTS:
We were already full for your group when you made a reservation we had to put you in stops that were open we only have 3 sites in the type you wanted
Jun 30, 2018
The campground was great. Nice and clean. Clean restrooms. Nice pool. The staff were amazing, so nice, helpful, funny. The only drawback was that the surrounding area was very noisy, highway, industry, airport. Inside the campground was very relaxed and peaceful.
Jun 30, 2018
Great campground. Enjoyed our stay.
Jun 29, 2018
It was ok. This was our first stay at a KOA & were expecting a little more. The camping cabin was nice however the amenities were lacking. Mini golf was very basic & the pool was small. We stayed Sat-Wed & very few were left after Sunday but we still got harped on about our dogs not being on a leash even though they were within our campsite & didn't wander. Not dog-friendly so likely won't revisit
Jun 29, 2018
Very quiet convenient location. Clean facilities, friendly staff. Great wifi
Jun 26, 2018
We had an awful experience with Susie who worked behind the counter! We walked in and right away she rolled her eyes at us. She is very rude and should not be working with the public. Especially families with children. Obviously dislikes children! Won't refer anyone because of her!!!
CAMPGROUND RESPONSE / COMMENTS:
I wish you would have said something when you were here when I would have been able to do something about it.
Jun 26, 2018
We were a little skeptical after reading some of the other reviews but very happy with our stay! Susie and Craig along with the other staff were very nice and very helpful. We arrived as the office was closing but were told if we needed anything to just pop by one of the staffers campers and they'd do what they could to assist. Very clean and nice park and friendly helpful staff!
Jun 25, 2018
This is our second stay. Both times, the people have been extremely friendly.
Jun 25, 2018
Very courteous staff. Clean bathrooms. Tidy campground.
Jun 25, 2018
Nice place, friendly staff, clean bathrooms. Tent site offered no shade.
Jun 25, 2018
Enjoyed the privacy st the tent site. The addition of the fence was a good addition to the site.
Jun 24, 2018
The cabin was nice more outlets would of been nice. Air conditioning would be nice, but all and all a great place. Things were kept up and clean with a great friendly staff. Definitely will be going back.
Jun 21, 2018
Wonderful very helpful and prompt delivered LP gas when needed a refill very nice hosts A safe and wholesome place to stay
Jun 15, 2018
No grill :/, sites too close to each other. When we pulled out our slides we were almost over he fire pit. We were expecting more.
CAMPGROUND RESPONSE / COMMENTS:
Only Patio Sites have grills. No where does it say we provide you a grill. Unfortunately when you make a reservation late on a holiday weekend you do not get a choice of your site.
Jun 14, 2018
Great campground good interior roads, good Wi-Fi did not use the pool but it looked good. If ever I'm back this way I would say there.
Jun 11, 2018
It was such a clean camp ground! Friendly staff!!!
Jun 02, 2018
Just stayed one night. Quiet and relaxing. Very friendly and helpful staff. Park was clean and well maintained .
May 30, 2018
Staff is super friendly. Clean resort. Super clean bathrooms. Very secure. Will recommend this campground to others.
May 29, 2018
This review has been removed by the moderator for inappropriate or incorrect content.
May 18, 2018
It's a good place to stay for trips in the area. It's clean and looks to be a nice place to be in the summer.
May 14, 2018
it was opening weekend for them. staff was very nice.
Apr 02, 2018
Good night sleep
Dec 03, 2017
Great Campground! Plenty of activities inside and around the campground to keep the whole family busy. Highly recommended!
Nov 06, 2017
Very clean, hardly any noise, pleasant staff. Thank you!
Oct 31, 2017
very nice people.
Oct 14, 2017
We enjoyed the clean and quiet campground, took advantage of using the laundry room and explored the local sites, lakes and Mississippi headwaters.
Oct 10, 2017
The bathroom at the campground was homey because of the painting on each toilet and shower door as well as the mirrors. Very quaint! The manager and his wife were very helpful and friendly.
Sep 29, 2017
Very nice clean place. The staff were wonderful and knowledgeable. It was a perfect place for our one night pass through. Thank you