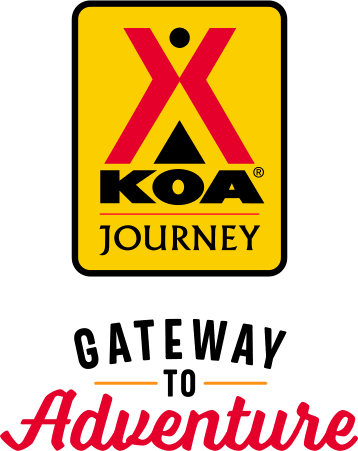 KOA Journey Campgrounds
KOA Journey campgrounds are the perfect oases after a day on the road. Whether it's along the way or a quick getaway, they've got you covered. Located near the highways and byways of North America with long Pull-thru RV Sites, they deliver convenience to the traveling camper. Pull in, ease back and take a load off.
KOA Journeys Feature:
Pull-through RV Sites with 50-amp service
Premium Tent Sites
Well lit after hours check-in service
Directions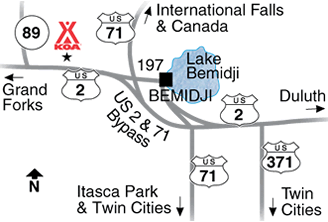 1 mile west of Bemidji, north side of Hwy 2. Between mile marker 109 and 110.
Get Google Directions
Sep 10, 2018
Great stay and the staff were friendly and helpful.
Sep 08, 2018
Wish our Grandkids were closer.
Sep 07, 2018
Great place to stay ..clean and well taken care of ..close to the ATV trails A+
Sep 07, 2018
Convenient for a couple of nights.
Sep 06, 2018
Great camp ground for relaxing and enjoying.
Sep 06, 2018
We read the other reviews while at the camp. We have to admit it made us start to wonder if we made a bad choice. After spending 4 days and 3 nights we knew we made the right choice. We aren't sure where these other folks stayed or who they talked to when they were here but our experience outstanding! The camp was clean and well kept. We highly recommend Bermidji KOA and look forward to returning.
Sep 05, 2018
The best out of the way getaway. Everything from fishing to shopping. Highly recommended and the staff is awesome!
Sep 05, 2018
Personnel, as usual, were very friendly and efficient. The campground was clean and pleasant.
Sep 04, 2018
Always great service! Pool was wonderful. Loved the deluxe cabin. We stay every year, but this was the first time in the deluxe cabin.
Sep 04, 2018
Stayed 3 nights. Staff was awesome! Very polite, delivered firewood or food if purchased for free. Nice pool. All sport equipment was free and good shape. Bathrooms very neat and clean. Grounds were very well kept up and clean. Would stay again and recommend to anyone.
Sep 02, 2018
Friendly staff our campsite was nice but the ground was not very level.
Sep 02, 2018
Nice campground, the wooden walls gave it much more privacy while tenting. Big downfall was the unfriendly staff in the office. Not helpful at all and never smiled. Very unfriendly.
Sep 02, 2018
need more things to do for everyone ball game,volleyball golf tournament top two get free play. something for everyone to watch or do. very clean an very friendly care takers an very honest. I lost my bill fold with 600.00 in it an didn't know it an mngrs son returned it an would not take a reward . will tell other campers. very impressed that doesn't happen much any more. very nice
Aug 30, 2018
This KOA is clean and nicely maintained!! Staff is friendly and helpful!!
Aug 29, 2018
It was a great campground. Really enjoyed our stay
Aug 28, 2018
Was good cabins clean, nice dog area .only thing pool doesn't open til noon, kids weren't happy about that
Aug 28, 2018
The staff (especially Justin) were great to us - they made our stay very enjoyable and hassle-free!
Aug 28, 2018
We needed a quick and easy get away before the school year started again. This was a great way to do it. Booking was simple, the campground was small enough that it wasn't super loud with an overload of people, and it was only a quick 20 minute drive to Lake Bemidji State Park.
Aug 27, 2018
For what this park charges all electrical hookups should be top notch! The breaker in site 9 needed to be turned on and off 7 times to work for 50 amp, the 20 amp never worked. Very dissatisfied!
Aug 26, 2018
Very friendly staff. Nice clean looking campground. Will go there again.
Aug 26, 2018
Really Nice KOA enjoyed our stay here and would easily stay here again.
Aug 24, 2018
Very friendly staff. Clean park and facilities.
Aug 23, 2018
The lodge (deluxe cabin) was nice to stay in, felt like home.
Aug 23, 2018
We had a wonderful time. The campground was clean and well maintained. It included many things that my children could do to occupy their time (pool, bikes, basketball hoop, mini golf. We would stay there again.
Aug 23, 2018
We always enjoy our stay at Bemidji
Aug 22, 2018
One of the best we've stayed at. The staff were helpful and friendly. Hope to stay there again.
Aug 22, 2018
Nice dog runs! The staff was very nice and courteous. Took us to our site.
Aug 21, 2018
I reserved a shaded site. It was not shaded. There was no grass around the site. The picnic tables were too small and very beat up! Need major updates!
Aug 21, 2018
The bath rooms stunk more than they should have.
Aug 21, 2018
Great campground big site. Very please. Friendly staff