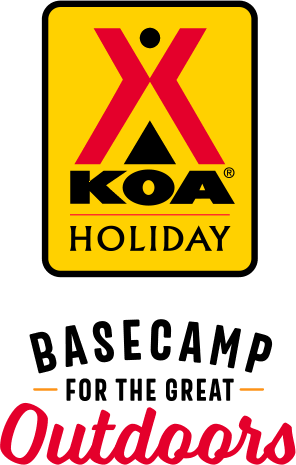 KOA Holiday Campgrounds
Whether you're exploring the local area or hanging out at the campground, KOA Holidays are an ideal place to relax and play. There's plenty to do, with amenities and services to make your stay memorable. Plus, you'll enjoy the outdoor experience with upgraded RV Sites with KOA Patio® and Deluxe Cabins with full baths for camping in comfort. Bring your family, bring your friends, or bring the whole group – there's plenty of ways to stay and explore.
KOA Holidays Feature:
RV Sites with a KOA Patio®
Deluxe Cabins with full baths
Premium Tent Sites
Group meeting facilities
Directions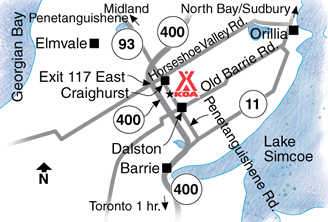 From Hwy 400 - exit at Horseshoe Valley (Exit 117). Go east 1 mile to lights on Rd 93 (Penetanguishene Rd). Turn right, go south 1 mile.
From Hwy 11 North or South - exit at 93 (Penetanguishene Rd), go north 7 miles.
If you are using a GPS please use the following address to find us - 3138 Penetanguishene Road, SPRINGWATER, ON. All other addresses will take you on an adventure...fun, but not necessary.
Please note new mailing address: 3138 Penetanguishene Road, SPRINGWATER, ON L9X 1Z7
GPS: N44.51667, W79.71444
Get Google Directions
Oct 18, 2021
Book for the whole season every year. Just love the staff and exceptionally clean park
Oct 18, 2021
We are seasonal campers and absolutely love this park. It is very well maintained and the staff are kind, friendly, polite and professional. The activities are well planned and executed. Even the plants all around the park are impeccable!! We are going back next year for our 4th season!!
Oct 18, 2021
We totally enjoyed our stay with the patio. The wifi was excellent. I would recommend this campground for anyone looking for a short term stay.
Oct 18, 2021
Been here in Cedarwood for a few years now!!! Love it! The site, staff well everything about it is Fantastic!!!!! Looking forward to next Season!
Oct 18, 2021
We spend the summer as a seasonal camper in Cedarwood. Another amazing season is in the books we will be back next season. Only complaint is the internet service. Something needs to be done.
Oct 18, 2021
Always accommodating and appreciative. Thank you for a very enjoyable summer!
Oct 18, 2021
Another awesome season. Have a great, healthy winter Barrie KOA Team. We look forward to seeing you again in 2022!
Oct 18, 2021
Enjoyed our stay! Your pizza is really good too. Our site was large, clean and nicely landscaped.
Oct 18, 2021
Beautiful campground. Lots of activities and our family really enjoyed our stay!
Oct 18, 2021
Another awesome weekend at Koa
Oct 18, 2021
We love staying at Barrie KOA. The staff are friendly, helpful, knowledgeable and very accommodating. Grounds are kept clean and well manicured. Can't wait to be back next season!!!
Oct 18, 2021
Fabulous site, modern, clean and very well maintained with lovely staff. We'd go back again and again and again. Thanks Barrie Holiday KOA.
Oct 18, 2021
Nice clean well run park
Oct 18, 2021
Friendly Staff. Nice sites. Clean and well maintained.
Oct 18, 2021
We really enjoyed having activities for our kids available. Even in the pouring rain it made it fun.
Oct 18, 2021
Great weekend even though it rained!
Oct 18, 2021
Always a great stay. Clean and service is excellent. Would be great if speed limits were reduced and better posted. Too many vehicles are driving too fast.
Oct 18, 2021
Great KOA!! Even though the weather wasn't the best, There was still things to do and enjoy. Our little guy loved that there is two playgrounds. We loved the KOA Kitchen and the pizza was great. We are hoping to get back next summer. Thank you KOA Barrie.
Oct 18, 2021
Great place, excellant/friendly staff, big sites, clean. Nice park have already reserved for next year.
Oct 18, 2021
With the exception of the rain that poured all day Saturday and we only had the weekend from Friday night and needed to vacate our beautiful site on Sunday at 11:00 am, our stay was wonderful! It always is at the Barrie KOA! Totally love the 'adult' section and the privacy! Would prefer if the departure time was noon instead of 11:00 am which is always a rush.
Oct 18, 2021
Wonderful stay yet again. Even with the rain we managed to enjoy ourselves
Oct 18, 2021
Great campground. Clean bathrooms. Nice little store. Great pizza and firewood delivered right to site
Oct 18, 2021
Great stay, weather wasn't on our side but that's not the campgrounds fault. We had the pizza from the kitchen and was one of the best we have had.
Oct 18, 2021
Very pleased to find this park
Oct 18, 2021
Nice sites, very clean and everyone was friendly.
Oct 18, 2021
Had a great time, even in the rain. Already booked for next year.
Oct 18, 2021
This campground was awesome. Absolutely loved it. Garbage pick up! Wood and Ice delivery! Pizza delivery. It was the best campground we have stayed at.
Oct 18, 2021
Short stay during rainy weather so didn't participate in any weekend activities. Staff was super friendly and helpful. Check in was quick and painless. Park was very clean. Other campers seemed very considerate. Price was reasonable. Looking forward to a return visit with better weather (hopefully)
Oct 18, 2021
First timers we had our 7 year old grandson, and he was so excited about all the activities. It rained most of the weekend, but the park made sure every activity still went on. Thank you for a great weekend. Oh and the pizza was great too :)
Oct 18, 2021
Had a great weekend camping .. last weekend camp ground was open this year . I had an employee help guide me into spot #57 .. he was so helpful . I didn't get his name but he was amazing such a great help . Older gentleman with glasses . Give this man a raise .. he went above and beyond to help me .
Oct 18, 2021
This was the first time for me at a KOA and it was a very nice experience. Washrooms and facility's were all very clean. Definitely will go back. Peace and good energy
Oct 17, 2021
So helpful staff, really polite and accommodating Pizza via the KOA office restaurant was as good as any I've ever had
Oct 16, 2021
Awesome as always
Oct 16, 2021
Just great, the only think that would make it better would be cable for the TV
Oct 15, 2021
as per the norm. this is a wonderful KOA to stay at, friendly people, clean. All kinds of activities
Oct 15, 2021
Communicating with guest services by text brought immediate response. While cooking lunch bbq tank ran out. A new tank arrived before bbq even cooled.
Oct 15, 2021
This KOA in Barrie was outstanding, clean, quit, spacious, and the staff are so amazing. We booked 2 weeks next season and can't wait to go back. Cheers Paul & Patti Ritchie Uxbridge ON
Oct 15, 2021
We had a great stay and the staff was exceptional and very polite. We enjoyed all the amenities offered and will be coming back next year.
Oct 15, 2021
Beautiful grounds & very well maintained sites!! I would definitely stay there again!!��
Oct 15, 2021
Park was clean and tidy. Staff very friendly and kind. Food from the kitchen was so good. We will be back for sure
Oct 14, 2021
Always friendly staff. Always lots of planned activities for families and covid safe. Thank you to Lindsay, Josh and staff for all you do for the campers.
Oct 13, 2021
We have always had a wonderful stay and always enjoy staying here.
Oct 13, 2021
We have been staying in the Cedarwood area the past four years. The first few years we were given VIP privilege's for the restrooms and the internet as we are VIP members. The last two years they have taken away those privilege's for some reason. The internet is terrible in this area. You would think in todays market that they would have a decent internet hook up.
Oct 13, 2021
We have re-booked our site for next year as we have done for the past couple of years. Always a pleasure staying there , and enjoying what the area has to offer
Oct 13, 2021
This was our nicest stay during our two weeks RV experience. The camp is nice, clean and well maintained. The staff is friendly and the fire wood is dry and from good quality. We would come back for sure!
- Adrian Honig on Google
Oct 05, 2021
Amazing 👏 will go again next year loved 😍i had a awesome time with my grandson 😀
- Tammy Charlebois on Google
Oct 03, 2021
We were really impressed with this park. We chose a premium pull-through for our first trip out with a new fifth wheel, and had a long site which was perfectly level, and with good space between sites. Firewood was promptly delivered on request. The staff were friendly and welcoming.
- Heather Bayer on Google