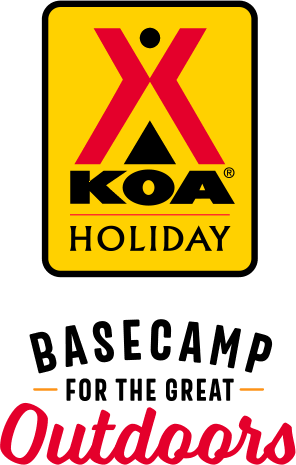 KOA Holiday Campgrounds
Whether you're exploring the local area or hanging out at the campground, KOA Holidays are an ideal place to relax and play. There's plenty to do, with amenities and services to make your stay memorable. Plus, you'll enjoy the outdoor experience with upgraded RV Sites with KOA Patio® and Deluxe Cabins with full baths for camping in comfort. Bring your family, bring your friends, or bring the whole group – there's plenty of ways to stay and explore.
KOA Holidays Feature:
RV Sites with a KOA Patio®
Deluxe Cabins with full baths
Premium Tent Sites
Group meeting facilities
Directions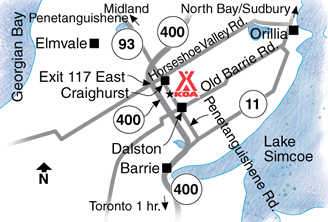 From Hwy 400 - exit at Horseshoe Valley (Exit 117). Go east 1 mile to lights on Rd 93 (Penetanguishene Rd). Turn right, go south 1 mile.
From Hwy 11 North or South - exit at 93 (Penetanguishene Rd), go north 7 miles.
If you are using a GPS please use the following address to find us - 3138 Penetanguishene Road, SPRINGWATER, ON. All other addresses will take you on an adventure...fun, but not necessary.
Please note new mailing address: 3138 Penetanguishene Road, SPRINGWATER, ON L9X 1Z7
GPS: N44.51667, W79.71444
Get Google Directions
Nov 16, 2022
This was our first stay in the adult section and it was great!! Loved the concrete pads, patio furniture and napoleon BBQ. Will definitely book one of these sites again. The staff here are all polite, helpful and friendly. Thank you, see you in the Spring!!!
Oct 31, 2022
We stayed all season for 2 summers in a row. The park is lovely and the sites are well maintained. Thanks for everything
Oct 29, 2022
We had the best time as 1st timers (seasonal)! Our neighbours, left and right, are fantastic! Park is well maintained, office staff are top notch; can't wait to return. Just wish we had a big shade tree like our one neighbour �Have a safe winter ���
Oct 28, 2022
First time there and we loved it! Great site, Great dog parks, loved the pizza and the staff were great and friendly!! We have already booked 2 more stays for next year and can hardly wait to get back.
Oct 27, 2022
Sites are big and well spaced but internet is inadequate. Would be nice to have a laundry in Cedarwood and dust control materials on the roads.
Oct 27, 2022
This was our third year renting a seasonal site. The staff are helpful, friendly and do an excellent job keeping the grounds beautiful and clean. We'll be back next year.
Oct 27, 2022
See you in the Spring!!!!
Oct 27, 2022
Love staying at Barrie KOA! Staff is friendly and accommodating.
Oct 27, 2022
We are seasonal campers at the Barrie KOA and enjoy the place itself and people that work there.Clean and well kept campground
Oct 27, 2022
We are seasonal and love this park. It is well managed and maintained with the best staff ever!
Oct 27, 2022
Friendly professional staff, always ready to assist and always with a smile. The sites are clean and tidy. A very nice place to stay.
Oct 27, 2022
Excellent staff. Spotless. Awesome place to camp
Oct 27, 2022
Amazing crew. Very helpful and accommodating. Will recommend to all.
Oct 27, 2022
The grounds are kept so beautifully! Especially loved our adult section, nice and quiet and relaxing! Thank you!
Oct 27, 2022
We had a wonderful time, the lodge was clean and comfortable for the most part, the pull out sofa bed isn't great but for a weekend it serves the purpose. The activities provided were great the kids really enjoyed them. We will come back for sure
Oct 27, 2022
Excellent. .stayed in the back area for the first time outstanding. We went part of 5 trailers and everyone enjoyed. The only request is that next time you could order better weather. Thanks Larry
Oct 27, 2022
It was last weekend of fall stayed at a lodge it was comfortable loved it.
Oct 27, 2022
Unfortunately the weather wasn't great, but the facilities were fantastic.
Oct 27, 2022
We absolutely love this campground. From the friendly staff and beautiful sites to the yummy pizza and treats. We always feel like home here
Oct 18, 2022
awesome as always, the staff are very friendly and helpful, the park is always clean and well run
Oct 17, 2022
Another great weekend at Barrie KOA
Oct 17, 2022
Great place we stay here a few times a year! Never disappointed!!! Already booked for next season!
Oct 17, 2022
Stayed for the whole week. We enjoyed every minute. Can't wait until next season. Best Koa we've ever stayed in. We're definitely going to make this our happy place. Very clean, friendly staff. All in all an amazing experience.
Oct 16, 2022
Sites were well maintained and clean. Staff extremely friendly and helpful A+++
Oct 16, 2022
Stayed with a group of 8. Facilities were very good, glad to have access to a hall in the rain and cold. Check in was well organized.
Oct 15, 2022
Barrie KOA was amazing! We had never been to a KOA before, and boy were we impressed. Way more than what we had expected. The staff was so friendly, and were always ready to help. The WiFi wasn't so strong, but at least they had it! We have already booked for next year. Thank you so much.
Oct 15, 2022
Friendly, helpful staff. Beautiful and clean campground. Enjoyed the hiking trail. WIFI needs to be improved.
Oct 14, 2022
Beautiful campground. Will stay longer next time. Everything there a person would need. Thank you.
Oct 13, 2022
Greatest KOA we have ever been too. We go every year as a tradition. They make it great.
Oct 13, 2022
Very enjoyable
Oct 13, 2022
Great Campground very friendly staff
Oct 12, 2022
It was great Our only complaint was people walking up our road smoking pot. We know you can't necessarily control this, but hopefully something can be done. We choose not to smell this. I know this an ongoing issue, but bad wifi and low voltage. Also, this time we experienced low water pressure. First time that has happened. Great friendly staff. They work so hard They are always busy
Oct 12, 2022
Always an enjoyable stay
Oct 12, 2022
Great service, friendly staff and fun activities. We have already reserved our site for next year!
Oct 12, 2022
Well pleased with our stay.
Oct 11, 2022
Our third visit for Thanksgiving. Lots to do, and great campers all around. We are booked for our 4th Thanksgiving and also are talking about a summertime visit. Staff is always available and eager to assist.
Dec 12, 2022
Barrie KOA is by far my favorite of the KOA's visited.
- Darryl Lee on Google
Oct 27, 2022
Amazing place. Kids loved it
- Gen X Rider Formerly, Humble Sledder on Google
Oct 26, 2022
Lots of fun all season long for the family
- Jennifer Dedrick on Google