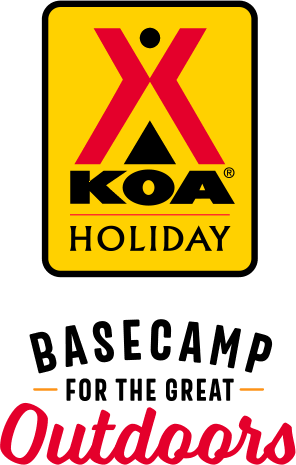 KOA Holiday Campgrounds
Whether you're exploring the local area or hanging out at the campground, KOA Holidays are an ideal place to relax and play. There's plenty to do, with amenities and services to make your stay memorable. Plus, you'll enjoy the outdoor experience with upgraded RV Sites with KOA Patio® and Deluxe Cabins with full baths for camping in comfort. Bring your family, bring your friends, or bring the whole group – there's plenty of ways to stay and explore.
KOA Holidays Feature:
RV Sites with a KOA Patio®
Deluxe Cabins with full baths
Premium Tent Sites
Group meeting facilities
Directions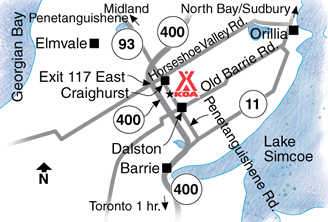 From Hwy 400 - exit at Horseshoe Valley (Exit 117). Go east 1 mile to lights on Rd 93 (Penetanguishene Rd). Turn right, go south 1 mile.
From Hwy 11 North or South - exit at 93 (Penetanguishene Rd), go north 7 miles.
If you are using a GPS please use the following address to find us - 3138 Penetanguishene Road, SPRINGWATER, ON. All other addresses will take you on an adventure...fun, but not necessary.
Please note new mailing address: 3138 Penetanguishene Road, SPRINGWATER, ON L9X 1Z7
GPS: N44.51667, W79.71444
Get Google Directions
Nov 08, 2020
We booked with 3 other family and friends for the weekend. Service at checkin was excellent with friendly, courteous and efficient staff. Sites were clean and well taken care of. We had a great time and will stay there again in 2021. Thank you!!
Oct 20, 2020
Excellent! Everything is excellent!
Oct 18, 2020
We were seasonal campers at Cedarwood this year, dealing with Covid protocols, the Barrie KOA went above and beyond! The staff everywhere are exceptional! The lawns are beautifully manicured garbage pick up and it's so nice and quiet, relaxing was pretty easy here!! Thank you Barrie KOA for making us feel right at home, looking forward to next year!
Oct 17, 2020
Very friendly and helpful staff, nice large sites.
Oct 17, 2020
This stay was very short only one night but as great as our other stays.
Oct 16, 2020
So sad the season has come to an end. Already counting down the days until we can come back. See you in 2021!
Oct 16, 2020
The park is kept in immaculate condition and the staff are the best!! They are very friendly and always helpful!! This is by far the best park in the area!!
Oct 16, 2020
We think they did very well in tough times trying to adhere to the Covid protocol while trying to keep everyone happy. I think they were spot on as the stages increased to open more activities and I think most people were appreciative. I was happy with laundry schedule and protocols but missed the pool as I was cautious as we are seniors. All in all, I think the campground did very well.
Oct 16, 2020
Awesome..... even under the virus conditions! Looking forward to next season!
Oct 16, 2020
I am a seasoned camper and have been coming here for a good 5 yrs. and love it The staff is always pleasant and willing to help when we need them. There are always something to doin the area. Am looking to coming back in 2021. Have a good winter, see you in the spring.
Oct 16, 2020
Great park. Staff did a great job even with the Coronavirus!
Oct 16, 2020
The service provided throughout our stay was exceptional. This year was a challenge due to COVID-19. The staff provided us with an extremely safe environment. Thank you to everyone involved. See you next year!
Oct 16, 2020
We were here for the season and enjoyed our stay very much. The staff are always friendly and ready to assist. The park is always clean and tidy. We were very comfortable here and felt very secure. Thank you very much for your hospitality!
Oct 16, 2020
We loved our stay in the Cedarwood seasonal section. During a pandemic it felt safe and comfortable. Great service by all the staff.
Oct 16, 2020
Our 6 month stay in Cedarwood was great. The staff are very friendly. We don't need this as a permanent residence next summer but we have already booked 4 weekends for next season.
Oct 16, 2020
We had a great summer, safe place, staff very friendly, would definitely recommend this park Thanks for all your smiles Paul & Barb
Oct 16, 2020
The Cedarwood adult community is the best we have stayed at in Canada. The friendly service oriented staff are great. Given the extra demands placed on the management by Covid-19 they did an amazing job.
Oct 16, 2020
Great place,Excellent staff !!
Oct 16, 2020
This has been our first summer here. The campground is not only beautiful but well kept. Super friendly staff, always ready to help and their smile brightens anyone's day! Our retreat for many years to come!! Thank you for your Excellent and professional service KOA! ♥��
Oct 16, 2020
Even through these hard times the world is having, our stay was once again awesome! The park is clean and well kept, the staff are always friendly and helpful ! We had some hydro issues for a few weeks, but still needs some improvements ! The wi-fi is not very good when the park is 1/2 full or more ! Big appreciation for Lindsay & Josh for there dedication to the park ! WE WILL BE BACK NEXT YEAR !
Oct 16, 2020
Long stay due to home construction delay (actually stay from Aug 1). Great facilities, tremendous staff and very clean . 10 of 10
Oct 16, 2020
Camped here for a number of years to many to count. Best campground ever. Awesome staff
Oct 16, 2020
This was our fifth time visiting Barrie KOA; put it this way, I almost don't want to write a review; so people won't take away an opportunity for us to stay there again.!! It was (as usual) a wonderful stay. The place was super clean and staff are extremely helpful and friendly. This truly is our favourite place. From tent site to deluxe cabins. We have enjoyed our stay every time!!
Oct 14, 2020
Great park. Very clean. Many amenities. Great place to get away for the weekend.
Oct 14, 2020
Loved it and brought 2 other couples booking for their first time. I'm sure they will be booking for 2021.
Oct 14, 2020
We received very good service!!!
Oct 14, 2020
I would speak to your night guy looking at speed control. Made the lengthy effort to speak to me for doing 15KM when I observed at least 20+ vehicles exceeding at higher rates throughout the day/night especially friday/Saturday night.
Oct 14, 2020
Very nice campground and the staff was very friendly. Our only complaint was that our site was a little tight and we wish the fire ring was at the back of the site instead of next to the road.
Oct 13, 2020
Had an awesome weekend even though it was cold. It was different without the shell out for kids coming to the trailer. Staff as usual was amazing
Oct 13, 2020
It was awesome, as it usually is
Oct 13, 2020
This was our 3rd year spending the Thanksgiving weekend at Barrie KOA and I can't say enough about it! It's such a family friendly place. We've booked for next year too!
Oct 13, 2020
Your effort to make the weekend a success regardless of COVID restrictions really paid off. Had a wonderful time as always
Oct 13, 2020
Great campground, felt very safe with the COVID measures.
Oct 13, 2020
The trick or treating was done covid safe. There was a lot of candy to hand out I think the kids had a great time abs the weather was cooperative. Thank you to the team for organizing a great safe event for the kids. You need to get bigger speed bumps. People still drive way too fast in an area full of children.Thank you very much for a great camping season this year under these circumstances
Oct 13, 2020
Very relaxing and very quiet considering the amount of RV's were there.
Oct 13, 2020
We had a wonderful time as always. this was our first year staying in the larger Kabins, with the full bathroom and our whole family loved it. Will 100% be booking them again next year for our annual Thanksgiving stay
Nov 15, 2020
Beautiful! The best KOA I've ever been to. The grounds are pristine and they are always coming up with new ideas to keep families entertained. I haven't stayed in the cabins but they look absolutely lovely and I hope to in future visits. The staff is also incredible! Keep up the good work :)
- Cassandra B on Google
Oct 24, 2020
Clean park, nicely stocked store for a little bit if everything that's needed. The sites are large and nice fire pits.
- Drew Houston on Google