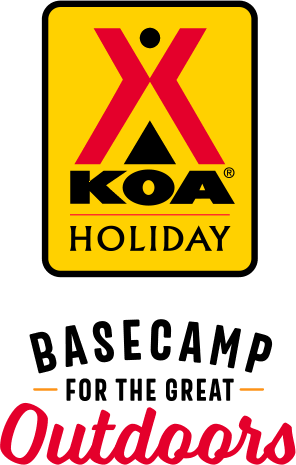 KOA Holiday Campgrounds
Whether you're exploring the local area or hanging out at the campground, KOA Holidays are an ideal place to relax and play. There's plenty to do, with amenities and services to make your stay memorable. Plus, you'll enjoy the outdoor experience with upgraded RV Sites with KOA Patio® and Deluxe Cabins with full baths for camping in comfort. Bring your family, bring your friends, or bring the whole group – there's plenty of ways to stay and explore.
KOA Holidays Feature:
RV Sites with a KOA Patio®
Deluxe Cabins with full baths
Premium Tent Sites
Group meeting facilities
Directions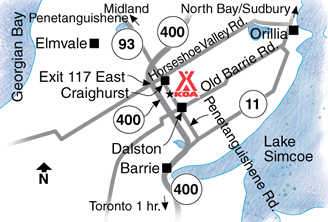 From Hwy 400 - exit at Horseshoe Valley (Exit 117). Go east 1 mile to lights on Rd 93 (Penetanguishene Rd). Turn right, go south 1 mile.
From Hwy 11 North or South - exit at 93 (Penetanguishene Rd), go north 7 miles.
If you are using a GPS please use the following address to find us - 3138 Penetanguishene Road, SPRINGWATER, ON. All other addresses will take you on an adventure...fun, but not necessary.
Please note new mailing address: 3138 Penetanguishene Road, SPRINGWATER, ON L9X 1Z7
GPS: N44.51667, W79.71444
Get Google Directions
Jul 27, 2021
We had a very quiet and relaxing weekend.
Jul 27, 2021
Had a great experience at the KOA. Was a great weekend to get together with family. Felt safe with covid and the families that were at the camp were all so friendly. The staff were great from the time we arrived and when we left.
Jul 27, 2021
It was a great way for our family to get together. With covid we felt safe at the KOA environment. Very friendly staff. even though it rained on the saturday which unfortunately you cannot control the weather. We all had a good time. The dlx cabin that we stayed at was awesome. This was our second time staying at a KOA and it was great. Hope to visit again next year.
Jul 27, 2021
Lindsay the employee of the year award !!!!!!!!!!!!!!!!!!!!!Thanks .
Jul 27, 2021
Nice and friendly staff.
Jul 27, 2021
Staff was attentive and very friendly love staying there facilities clean and modern.
Jul 27, 2021
The campground is well kept and the sites are nice and clean. The bathrooms are excellent and the showers too! We highly recommend The KOA Barrie. It had lots of events to keep the children happy!! The staff were great! Always helpful. Great job Barrie KOA! We stayed on Site #81
Jul 27, 2021
We had such an amazing time once again. My daughter and I had only booked Friday and Saturday, but woke up on Sunday not wanting to leave, so we booked another night. �� The staff were all amazing; friendly, helpful and organized. The facilities were clean, in good condition, and we always felt safe. We absolutely LOVED our little cabin and all the fun activities. Thank You very much!!
Jul 27, 2021
wi-fi wasn't very good, other than that, just perfect
Jul 27, 2021
Bonjour, malheureusement je vous ai envoyé une évaluation qui ne vous étais pas destiné, je m'en excuse et je peux vous dire que nous avons passé un très bon séjour dans votre camping. Roger Tremblay
Jul 27, 2021
Fantastic park….very clean and organized
Jul 26, 2021
I was disappointed with the lack of personable staff, there were some great ones and some a little less, the smoke detector in my cabin had a low battery that beeped all night, it was fixed the next morning but there needs to be someone on call through the night to contact if needed. It just wasn't as nice a stay as I've had in all my years going there.
Jul 26, 2021
Not bad but I'm disappointed that you don't have accessibility for wheelchairs and grab bars to help people. Otherwise I enjoyed my time and the friendly staff
Jul 26, 2021
Was a great weekend despite the weather .. could have had more things for the kids to do .. not too many activities .. bingo could have been longer with more games
Jul 26, 2021
Great size, friendly staff. Would like more food options like French fries and hotdogs and burgers. Pizza was okay but a little overcooked and ice cream flavours were limited. Washroom was very clean. Pool area needs more umbrellas for shade but water was clean and overall great. Kids had a blast!
Jul 26, 2021
J'ai bien aimé le site mais votre règle départ a 17 hrs la fin de semaine est inacceptable et cause beaucoup d'inconfort entre les campeurs. L'entrée de votre camping est complètement inadéquat et illogique. Dernière chose votre Madame ( pot bull ) a l'entrée devrait être ailleurs sur le camping et jamais à la réception. Roger Tremblay
Jul 26, 2021
Love this place it eau are 3 visit
Jul 26, 2021
Campgrounds were clean. Although we only had firewood delivered to us we noticed that delivery service was a priority for the campground as COVID put a damper on lots of issues. For the times we are in you shouldn't complain about service received
Jul 26, 2021
The stay was good and the kids all had a blast. The staff were pleasant. We stayed in a 2 room cabin and the only down side was the pull out couch mattress was so old it drooped in the middle and was really thin.
Jul 26, 2021
Great service well looked after campgrounds.
Jul 26, 2021
A great stay as always. We love the Adults Inly section.
Jul 26, 2021
Awesome place. Clean. Friendly staff. The kids loved it.
Jul 26, 2021
It was very relaxing and a great time to destress.
Jul 26, 2021
The only real problem that we had was the stairs leading up to the washrooms from our campsite. The were not well lit at all..I felt that they very dangerous in fact. The stairs did not have proper hand rails and at night they were very dark. It appeared that there should have been some sort of lighting and perhaps it wasn't working. Overall staff was really friendly
Jul 26, 2021
The KOA in Barrie is very nice. However, my husband and I were NOT happy with our campsite neighbour's as they had their friends' kids and grown-ups from other campsites cutting through our campsite and parking their vehicle in front of our campsite. This isn't a reflection of how we feel about your KOA Campgrounds but just stating that people should be respectful of their camping neighbours.
Jul 26, 2021
We were finally able to get into this campground grabbing the last site available, we have been trying to get in here for 3 yrs now, we love this campground it is so very well kept and so clean all staff is so friendly, check in is super easy, and hey let's face it where else can you camp and have pizza delivered to your camp site, want to book for next year as soon as we can. Thank you.
Jul 26, 2021
Was short but sweet. Friendly, courteous staff, all the amenities. Close to 2 major Highways.
Jul 26, 2021
Very clean great staff. Just used to provincial parks with more trees and space
Jul 25, 2021
Third time and will be back for a forth Staff is great and the sites are clean
Jul 25, 2021
We had an excellent visit. My only criticism would be to add more toilets in the park. As a visitor with only a pop tent trailer and no toilet, it is a far walk depending where you are in the park to visit the toilet. It does not need to be a full comfort station, but a toilet would be nice. Just a suggestion.
Jul 25, 2021
We love taking our grandkids to the Barrie KOA. The campground is clean, the staff are friendly and there are always activities organized for the kids. Can't wait to go back !!!
Jul 25, 2021
A good stay. Even though we were delayed, staff were as accommodating as they could be.
Jul 25, 2021
We always enjoy our stay at the Barrie KOA. Staff is so friendly and efficient. Feel safe letting the children ride their bikes around.
Jul 25, 2021
We had a fantastic time. Staff was friendly and helpful. The Cabin was clean as was the rest of the park. Loved all the beautiful flowers and hanging baskets, especially at our cabin because it added a nice touch. My kids really enjoyed the pool and jumping pad. Great pizza! I would have liked a little more privacy.
Jul 24, 2021
We stayed at site C09 & loved it. We love that you have an adult section. The grounds in this section were kept beautifully. All staff that we came in contact were great. We had a problem with our bbq and within an hour we had a new one! We ordered pizza. It was great and delivered right to our site. No extra cost! We definitely will be back. We wish other KOA's offered adult sections.
Jul 24, 2021
Beautiful sites, extremely well maintained. Staff was very courteous and helpful. We've already booked our next stay! Would recommend this campground most highly.
Jul 24, 2021
We had a fantastic time! The kids were always entertained, the park was clean and the staff was super friendly! We will definitely be back soon. It couldn't have been a better trip!
Jul 24, 2021
We stayed for 4 nights while visiting our daughter who lives in Barrie. I enjoyed the quiet campground, we slept very well. I ran twice through the campground for exercise and loved the large clean showers. If I can get reservations I will try to come back at least twice a camping season. It would be more but home is 1300Km away.
Jul 24, 2021
Very nice. Well manicured property. Everyone was so friendly and helpful. Clean washrooms and well stocked convenience store.
Jul 24, 2021
Great site, clean, well cared for and super friendly staff, peaceful settings-what more could you ask for! Nicholyn Farms market has amazing food west of Craighurst, Foodland up the rd and the Chelsea Chocolate Factory. Heritage Farms store near Dalston with steaks and burgers and giant tarts. Perfect location too - 30 min drive to Wasaga Beach or Orillia and 5min to Barrie. Coming back for sure.
Jul 24, 2021
First time Tenting in about 20 years & we had a great time! As seniors we didn't think we could do it, we proved ourselves wrong. We really hope to be back soon. Thank you Lois & Barry Battle Site #37
Jul 24, 2021
The staff were amazing, the campsites were clean and well maintained. I felt very safe with COVID restrictions. Well don Barrie KOA
Jul 24, 2021
Very clean and everyone is so polite
Jul 24, 2021
Very clean facilities, friendly staff and very accommodating. Campground is well laid out and convenient store and garbage pickup, wood drip off etc. Definitely would recommend and would stay here again.
Jul 20, 2021
Very good experience
- Barry Cronin on Google
Jul 15, 2021
Excellent
- Douglas Anglin on Google
Jul 13, 2021
It was our first camping experience. At check in we were given an information package with a map of the campground, schedule of events, rules and hours of operation for the store ect. Our site was easy to find and if we had questions we could wave down a staff person or go to the office and ask. All the staff we ran into were very helpful. The campground was clean, organized and seemed to offer a lot for the kids even during covid. The dog park was a great place to take the dogs for some excercise. We had a great experience. Thanks to the KOA staff for making our first camping experience a success.
- michelle gilchrist on Google