Barrie KOA Holiday Recreation
We feel summer fun shouldn't only happen on weekends! Midweekly July and August.
Barrie KOA Kitchen
Barrie KOA Kitchen
NEW in 2021 Barrie KOA Kitchen is the perfect addition to your summer plans. Featuring a NEW menu with some delicious updates! Enjoy homemade Fox's Bakery pizza dough, Kawartha Dairy ice cream, milkshakes, nacho's, homemade fudge, pizza and more! Located at the front of the Barrie KOA Campground, be sure to check out our new curbside window! Or staying on site, order ahead and we can deliver right to your site. For information on our new summer hours OR want to inquire about the updated menu, give us a call today 705-739-1900!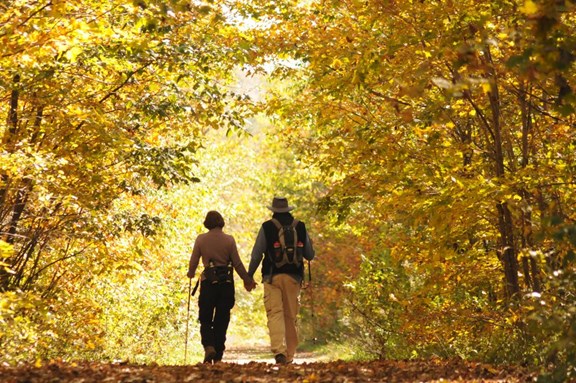 Hiking or Peaceful Walks
Take your pick. Barrie KOA hosts a nice walking trail that takes you through the campground and into the "back 40" as it is affectionately known. We also have walking and hiking trails nearby with the Copeland/Simcoe County Forests within walking or driving distance of the campground.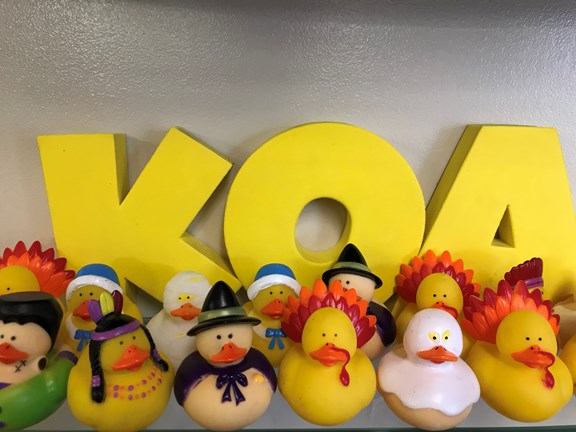 Fowl play at Barrie KOA
These little guys will "quack" you up. Our duck floaters are more than just yellow. We have collectible ducks for each theme week and weekend. If you find the little critter symbol during your stay, you will receive our feature duck. Camp often or stay all week long and you'll have quite a creative collection. Help our "Duck Hunts" stay afloat...tweet us how much you like it!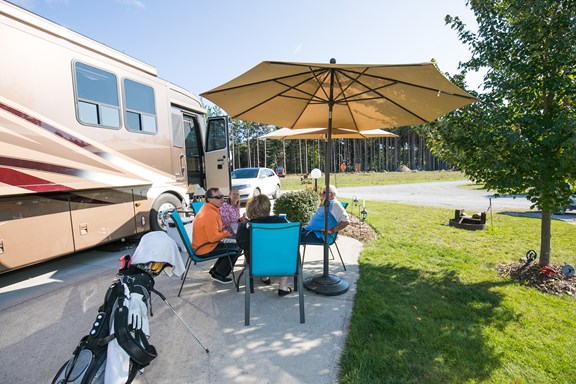 Just for Grown-Ups - Patio Sites in Cedarwood
Cedarwood Country at KOA is ready to host campers looking for a quiet, private getaway. Large concrete patio sites and 100' pull thrus, fully landscaped provides a comfortable camping haven. You'll even have an adults-only recreation hall with a kitchen, exercise equipment and a flat screen TV. Thinking you would like to make Cedarwood your full time summer destination, talk to us about seasonal sites today!
Pet Friendly at Barrie KOA
Our two Kamp K9's are Open!
Live, Laugh, Lick Everyone nose Barrie KOA loves our four legged campers! We can help make vacationing with your pet a walk in the park. Our Kamp K9 runs offer your pet the freedom to exercise, and play in a safe environment. They might even meet a lifelong friend too!
And where your cat or dog is concerned, have them bunk with you throughout your stay in our grrreat pet friendly accommodations. That means not having to leave them behind when you go on vacation. You'll find KOA's pet policy on our website, and we're always happy to answer any questions you may have!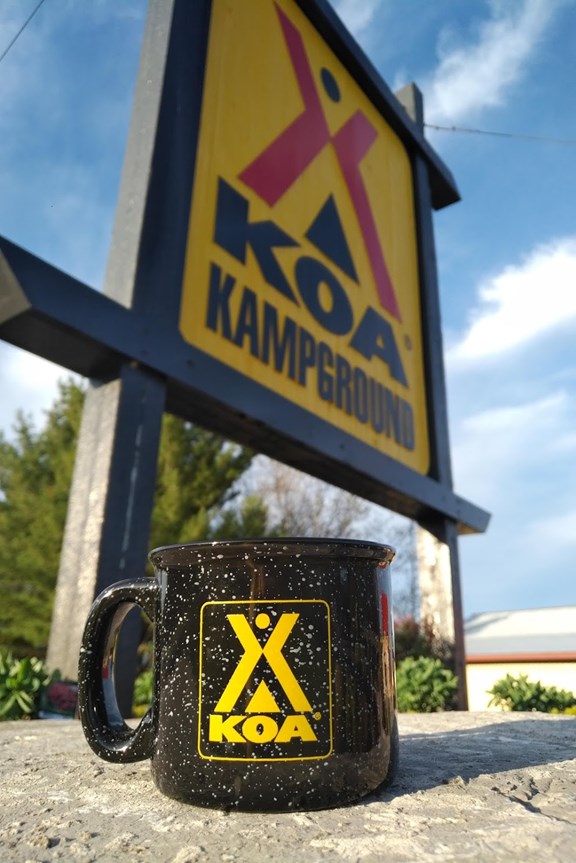 Coffee's on! Curb-side service.
Start or finish your day with a cup of gourmet coffee available from our store window. We grind the beans fresh and leave it up to you to choose your favourite flavour. Try the hot chocolate and French Vanilla Cappuccino - you won't be sorry!
The store is well-stocked and items are available for purchase. Let us know how we can help you.
Ready, Set, Camp!
While things may look a little different this summer, we hope that you will join us for some fantastic adventures and family-friendly fun. The  Duck hunting quacks on (not the Duck Dynasty type). We will once again be offering up our collectible ducks for some scavenging "fowl play". For your added enjoyment, we have volleyball and basketball, horseshoe pits and gaga ball for use by campers with their own equipment.
Getting Crafty the KOA Way
We will do our best to have some planned activities that take into consideration the safety measures required due to COVID-19. In the mean time be sure to get your activity welcome package when you arrive.
We've got crafts planned for campers of all ages this year—and a great place to make them in. Create a kool souvenir to take home with you, like a colourful tie-dyed tee-shirt or a furry friend at one of our "Me and My Teddy" workshops. Craft projects and prices vary by week and weekend, so be sure to ask about them at our front desk! A fee may apply for some craft events.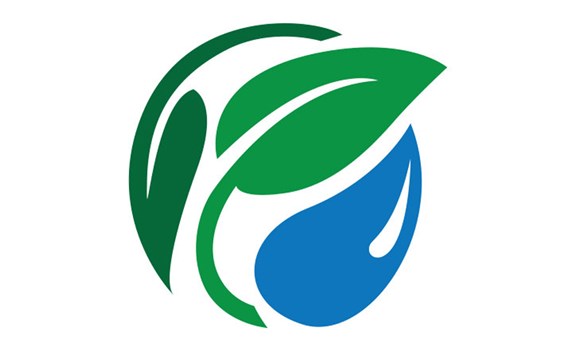 Green Tourism Business Pledge
Barrie KOA Campground pledges to protect Lake Simcoe by striving to: ~ Conserve water and energy  ~ Reduce pollution and waste ~ Educate and encourage customers, staff, suppliers and the community to engage in preserving our environment and local heritage  ~ Increase efficiency and minimize the negative impacts of tourism while providing a positive experience to our visitors. Explore Lake Simcoe celebrates businesses around Lake Simcoe that are taking steps to Go Green! If you are interested in other area businesses that also operate with sustainability in mind, visit ExploreSimcoe.com.
HEALING HAPPENS HERE - KOA Care Camps
At Barrie KOA, we're proud to get involved with KOA Care Camps, a non-profit charity that supported over 100 specialized children's cancer camps in several States and Provinces. At these camps, kids with cancer experience the fun of summer camp while still having access to the treatment they need. Working together, KOA owners, the KOA home office, our partners and KOA campers raise funds for this single cause, and we thank you for assisting us in giving smiles back to so many awesome kids. Each Spring we host KOA Care Camps Big Weekend. The event serves as the official kickoff to the summer camping season, with families flocking to Barrie KOA to take advantage of a $20 Saturday stay when they stay as paying guests on Friday. The entire $20 fee for Saturday camping is provided to the KOA Care Camp trust to disperse amongst the camps.Until cancer is a memory, KOA Care Camps will continue to help these great kids heal and make joyful memories of their own.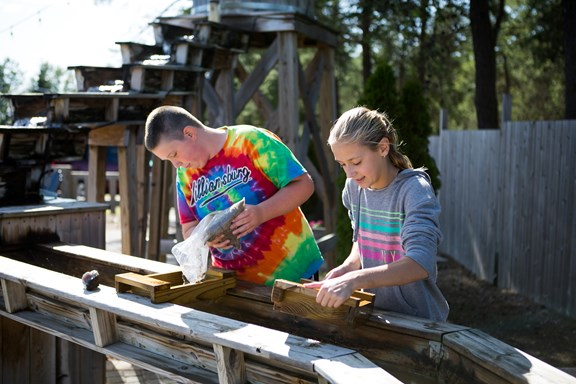 Strike it Rich!
GEMSTONE MINING - YONTAMY INC. MINING COMPANY -Barrie KOA's mining sluice offers all the excitement of panning for semi-precious gemstones in a sluiceway of rushing water similar to the gold rush days. By simply pouring a little mixing material into the sifter and swishing under the rushing water you discover natural gemstones, fossils or arrowheads. YONTAMY INC. MINING COMPANY offers fun and excitement for kids of all ages. Gemstone, fossil, emerald or arrowhead rough mix ranges in price from $7.50 - $22.00 plus tax. Identification card and bag included with every purchase.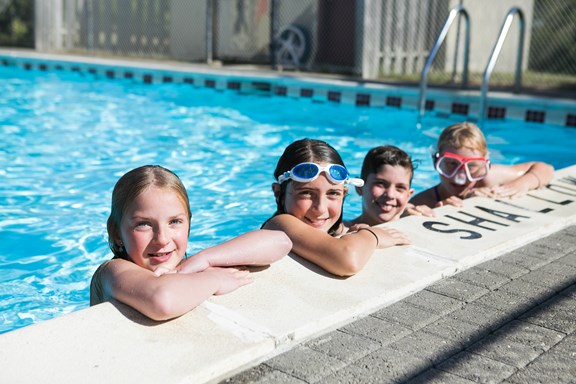 Plunge!
Cool off in one of our two crystal swimming pools. They're the picture-perfect place to catch some rays and spend your days. Join the fun or relax poolside from the comfort of a deck chair.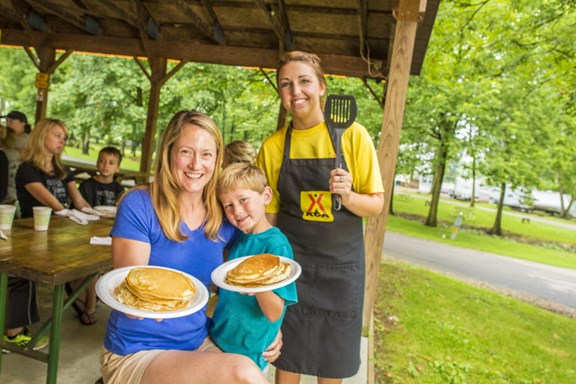 Come see how we stack up! Pancake Breakfast
Currently suspended due to COVID-19. Hopefully, we will be able to resume this great fundraiser for KOA Care Camps again soon.
Travel no further than Prentice Hall for fresh delicious hot off the cast iron grill pancakes. Our budget friendly pancake breakfast served every Wednesday and Sunday morning in July and August is a family camping favourite.Tasty syrup and butter is provided so you need only remember to bring your plates and cutlery and appetite too!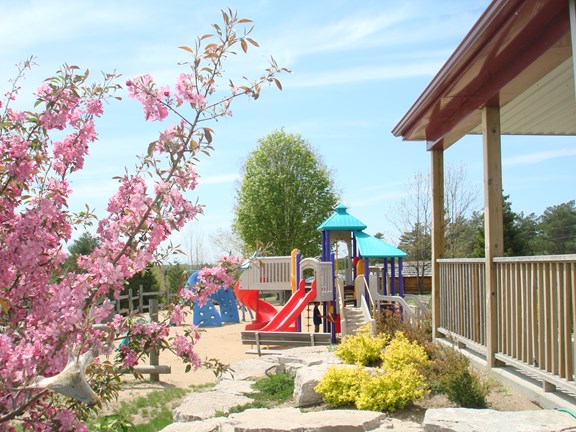 Child's Play
Kids of all ages are going love our modern playground, where they can run, swing and climb to their heart's content! Parents can relax on our expansive veranda, with eyes on the kids and that great book.