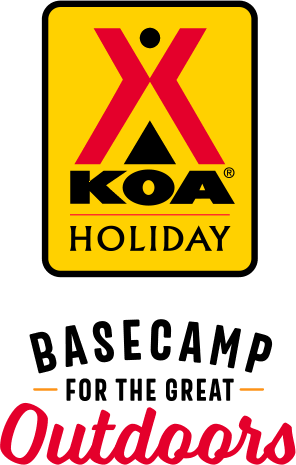 KOA Holiday Campgrounds
Whether you're exploring the local area or hanging out at the campground, KOA Holidays are an ideal place to relax and play. There's plenty to do, with amenities and services to make your stay memorable. Plus, you'll enjoy the outdoor experience with upgraded RV Sites with KOA Patio® and Deluxe Cabins with full baths for camping in comfort. Bring your family, bring your friends, or bring the whole group – there's plenty of ways to stay and explore.
KOA Holidays Feature:
RV Sites with a KOA Patio®
Deluxe Cabins with full baths
Premium Tent Sites
Group meeting facilities
Directions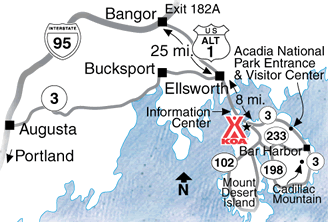 Situated at head of Mount Desert Island at intersection of Rt 3, Rt 102 and County Rd. Follow Rt 1A to Ellsworth and Rt 3 toward Bar Harbor on Mount Desert Island. Crossing onto the island, SLOW DOWN and take an immediate far right turn on to County Road.  Registration office is immediately on your right.
Get Google Directions
Jun 10, 2021
The customer service was incredible. We were greeted so warmly by the multiple staff members. In the check-in office/store they had EVERYTHING we needed: Lunchables and reasonably priced stuffies, hats, and toys for the kids. There were some cute souvenirs that we picked up too. AND they had a great beer selection, lots af variety. Beautiful beach, easy for kids to explore safely. It was w
Jun 10, 2021
Very pretty Oceanside deluxe cabin. Highly recommend. Well worth the extra expense. Staff was very friendly and helpful.
Jun 09, 2021
Our favorite KOA! Always exceptional service. Amazing sights. Always clean and well kept KOA. We book ever year.
Jun 09, 2021
Beautiful location for access to Cadillac Mtn., Bar Harbor town was fun. Sunsets from the patio were breath taking.
Jun 09, 2021
Lovely location, clean cabin and very friendly staff. We really enjoyed our stay! Can't wait to go back.
Jun 09, 2021
Right by the water. Chairs at water. Nice grassy sites.
Jun 08, 2021
Everything was awesome. Staff was friendly. Everything was clean and well maintained. The entertainment on the weekend was fun and the pancake breakfast was delicious.
Jun 08, 2021
Everyone so was kind and the place was clean. Everyone looked liked they worked well together.
Jun 08, 2021
Great staff, great accommodations, great view, and of course great activities. We are coming back soon!
Jun 08, 2021
Great staff, each and everyone was always making sure our stay was great.
Jun 08, 2021
It was wonderful! Love the cabins!
Jun 08, 2021
The staff is very helpful and friendly. Our site was very nice and it was level. The grass around the site while welcome, was really too long. The sites were very close together and we knew that but it still felt somewhat cramped. Overall we had a positive experience.
Jun 08, 2021
We had a great weekend there. Close to Acadia Park, which is why we chose it. Staff was very nice, bathrooms were clean, and although kinda crowded, which is to be expected, very quiet.
Jun 08, 2021
We had a great stay, weather was great!
Jun 07, 2021
Site was amazing and the view second to none. check in process was superb and staff escorted us to our oceanfront campsite.
Jun 07, 2021
Very nice park to stay and relax at. Stephanie was very very helpful with any questions we had!!
Jun 07, 2021
We love the KOA. Love all the activities they plan out to help keep the kids entertained. My reservation got a little messed up but they were able to move things around so we were still able to do 2 nights like planned. Over all very good stay. We will be back in july.
Jun 07, 2021
The padlock outside the ladies room was very confusing and embarrassing when I learned it wasn't locked. The wood for camp fire seemed damp. But it was nice and quiet in the camping cabins. The staff was very nice. The stars were beautiful at night. We missed the sunsets.
Jun 07, 2021
The staff was incredibly helpful and all of the amenities and facilities exceeded expectations.
Jun 07, 2021
Staff was very friendly, views were great.
Jun 06, 2021
we had a great time and everyone at KOA was very helpful and friendly. every bathroom we used was sparkling clean. Showers were very nice as well. We had a tent site and really appreciated the kitchen shelter that is included with each tent site, we never had anything like that before anywhere else we have stayed and we really found that useful!
Jun 06, 2021
We loved it so much and will be back again next year!�ϋ�
Jun 06, 2021
We can't wait to come back! The property was perfectly kept. The staff were very accommodating and knowledgeable. It is situated in a perfect site. The views of the water were so pretty. The children were having a lot of fun in the playground and riding the train around the park. This is definitely a place to go.
Jun 05, 2021
The site was littered with trash, and for the price per day I would expect a cleaned site. Overall out of all the KOAs we have stayed at, this one was not up to the KOA standards for the price.We will book at a different campground next year.
Jun 05, 2021
WE loved staying there..the staff is incredible from the ladies in the office/gift shop to the men who were always there when we needed them the campground well maintained...our site #254 was on the water and had the perfect view of the sunset
Jun 05, 2021
Looked forward to the Lobstar Cafe for the lobster dinners and lattes, neither of which they had. Machine broken, lobster too expensive. Laundry way too small, 3 machines broken. Employees had to use for the cabin laundry, because their machines were broken. EMPLOYEES very nice. Our site wasn't mowed when we got there, AFTER we set up, came along and used weedwacker around some of it. Etc.
Jun 05, 2021
The staff and location were great. However, I have two complaints. 1) The hook up on our site is dangerous. The footing is on a downward slope with loose rocks. I almost fell multiple times. Someone will get hurt here. 2) The public clean out does NOT have a hose hook up. The small hose sprayer will not aid cleaning; nor reach or fit the camper water clean out connection.
Jun 05, 2021
Beautiful campground and we loved the view!
Jun 05, 2021
EXCELLENT AND CLEAN
Jun 05, 2021
It was perfect. Got the site we wanted when we booked. First time camping. Couldn't have been better. Jane, Jack and Nancy all deserve raises, they made the trip for us!
Jun 05, 2021
5 star camping site
Jun 04, 2021
Beautiful location friendly staff!
Jun 04, 2021
We had such an enjoyable time at Bar Harbor KOA Oceanside. Each and every staff person that we had contact with were extremely helpful, knowledgeable, and friendly. The campground was immaculately kept and there were fun activities to do during our stay. The view and the sunsets were absolutely beautiful! I highly recommend this campground!
Jun 03, 2021
Campground was well kept and clean facilities. Over priced for what they had to offer. Considering a campground up the road is 45 dollars a night and this was 85 - 100 for the 3 sites we were stationed in. All three of us paid different rates which was odd.
Jun 02, 2021
We were very pleased with the staff. They are very friendly and ready to assist. The site could've been mowed though. Thank you!
Jun 01, 2021
We absolutely loved everything about our long weekend at Bar Harbor / Oceanside KOA! We had an amazing site right on the pebble beach and really enjoyed the view and the play time! The events were an unexpected bonus hosted by the KOA for kids & adults!
Jun 12, 2021
KOA is always a good experience, very clean cabin , and although we didn't have a view of the ocean we weren't too concerned about that. On our last night we planned a fire in the pit along with a BBQ but unfortunately we didn't realize there was an issue with the new tank not being purged for us and we didn't realize the problem as we could not generate enough Heat from the grill to effectively cook, so we ended up cooking over the fire in the pit
- Rick Janssen on Google
Jun 11, 2021
Certainly not the cheapest KOA or campground on earth, but last I checked no one is building any more coastal land on Mt. Desert Island near Acadia National Park.
- kvn ahrn on Google
Jun 08, 2021
It's a nice place for a weekend getaway. The Acadia National Park is just 30min drive from here. The shower rooms& restrooms are very clean.They provide free Wi-Fi. Each camping spot has individual fire rings, electric &water outlets. My experience was really good. I enjoyed their hospitality.
- Tharun Madasu on Google