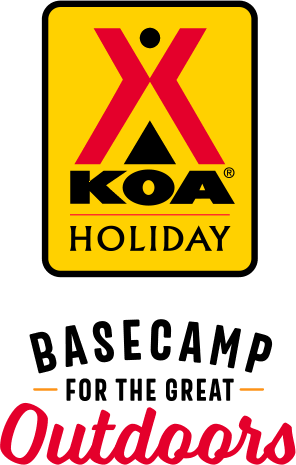 KOA Holiday Campgrounds
Whether you're exploring the local area or hanging out at the campground, KOA Holidays are an ideal place to relax and play. There's plenty to do, with amenities and services to make your stay memorable. Plus, you'll enjoy the outdoor experience with upgraded RV Sites with KOA Patio® and Deluxe Cabins with full baths for camping in comfort. Bring your family, bring your friends, or bring the whole group – there's plenty of ways to stay and explore.
KOA Holidays Feature:
RV Sites with a KOA Patio®
Deluxe Cabins with full baths
Premium Tent Sites
Group meeting facilities
Directions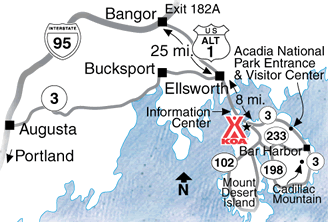 Situated at head of Mount Desert Island at intersection of Rt 3, Rt 102 and County Rd. Follow Rt 1A to Ellsworth and Rt 3 toward Bar Harbor on Mount Desert Island. Crossing onto the island, SLOW DOWN and take an immediate far right turn on to County Road.  Registration office is immediately on your right.
Get Google Directions
Sep 21, 2021
We always enjoy our stay each and every year! We love this campground more than ANY other in the country. Clean, pristine facilities and wonderful staff! We were so sorry to hear of Caroline's passing.
Sep 21, 2021
We loved staying there. The workers were so friendly. We are new RV'erz And absolutely loved it there so clean just very people friendly definitely will come back
Sep 21, 2021
Great location, helpful staff, good weather for our stay definitely helped the enjoyment alsi
Sep 21, 2021
The ocean views are just simply breathtaking! The staff was always helpful and friendly. We've already recommended Bar Harbor/Oceanside KOA to our friends!
Sep 20, 2021
We love it there. So much so that we now bring a lot of friends. This trip we had 3 travel trailers and 2 cabins.
Sep 20, 2021
This is by far the best campground we have ever been to. This is our second year going and we look forward to next year and making it an annual tradition to stay at this KOA. The staff are extremely kind and helpful (especially Rachael & Jane), and the amenities are incredible. We really appreciate how clean the bathrooms are kept! Thank you!! -Gavin/Austin
Sep 20, 2021
This is the second time we stayed at this particular KOA. We love the office staff. They literally bring you to your campsite and make sure you get in ok. They events on the weekends. We go in September so there aren't so many children, mostly adults. The sunsets here are stunning. We have met so many nice people staying there. Very clean! We love it!
Sep 20, 2021
We had a wonderful time
Sep 20, 2021
Everything was kept extremely clean. Great location. Staff friendly and informative. Enjoyed the sunset and Lobster Cafe. Would recommend reserving a rental car in advance if needed.
Sep 20, 2021
We loved our stay! The staff was incredibly friendly, they were personable and even remembered our puppy's name. Would highly recommend this site!
Sep 20, 2021
Well organized and well run campground. Very clean facilities and many amenities and planned events. Will visit again!
Sep 19, 2021
Barbie and team are amazing as usual. What a great week. Very peaceful and calm!
Sep 19, 2021
Literally no TV coverage. Upon arrival there was a dead mouse at our site. Grass was not mowed in a while. Registration employees not very welcoming as our usual KOA experience. Gary, who showed us to our site was great. Probably would seek alternate campground vs staying here again.
Sep 19, 2021
Very friendly and helpful staff with great facilities. Location is great for access to Acadia.
Sep 19, 2021
Large crowded park but fantastic location on the water. Great staff, well cared for park. Near Acadia and numerous sites and lobster restaurants. Great stay!
Sep 19, 2021
Location is great..staff is friendly and place is clean. The closeness of the sites is such that privacy is limited. The sewer hose of neighbors is located so close to your site that you question whether it's sanitary. The smoke from the neighbors campfire permeates your rig and having the neighbors dog actually sleeping under your rig makes it impossible to allow your own dogs out.
Sep 19, 2021
Great stay near the water with amazing sunsets. Staff was very responsive and helpful.
Sep 19, 2021
We had site #338. Beautiful corner waterfront site with wildflowers to the left with humming birds. At night, the view to the right when the campfires are lit up on the shoreline look like it could be on the cover of a magazine. An escort to our site on check in was appreciated. Also, appreciate the nice looking recycle bins that are placed throughout the campground.
Sep 19, 2021
We are normally camping in places without any hookups. This is the first time we have stayed in an RV resort like this. VERY clean. I never saw a trash bin that was needing to be emptied. Bathrooms were spotless, as were the showers. We enjoyed it so much, we reserved for the same week next year!
Sep 19, 2021
Everything was great! We aren't experienced JOA campers so checkout was unclear and confusing. There weren't any instructions on where to leave the key for the airstream and since we were leaving before the store opened we didn't know what to do with it. Luckily someone came along and let us know what to do. :) We would definitely stay here again!!!
Sep 19, 2021
You guys got it all down!
Sep 19, 2021
I would have rated this campground higher, but it is way overpriced! We had site 251, without sewer hookup, and still paid more than $130 per night! Most expensive site in our 6 years of RVing and won't be back for that reason. All other aspects of park were favorable.
Sep 19, 2021
We loved our stay as a basecamp to explore Acadia. The facilities were well maintained and the staff was friendly. Would have preferred a little more space between tent sites but as long as quiet hours are observed by other guests it's not too much of an issue. We are looking forward to visiting more KOA locations in the future.
Sep 18, 2021
Beautiful campground. Love the sunsets by the ocean.
Sep 18, 2021
Lovely site and beautiful sunset views on the water
Sep 18, 2021
Tent sites were too close together. I know you can't manage unfriendly people, but some people were not all that nice. By the time I left on Friday, all those monstrous RV's and the sewage stank. I had to leave!! But my time was up anyway.
Sep 18, 2021
I loved my waterfront site. My only complaint is that a lot of people didn't respect the fact that it was a camping site. They walked thru it, walked their dogs on it, and one lady even sat down at my picnic table to sketch.
Sep 18, 2021
Poor internet Spaces too small
Sep 18, 2021
Love the natural waterfront & the cafe - staff is fabulous!
Sep 18, 2021
Beautiful campground, very helpful staff.
Sep 17, 2021
The BEST !!!
Sep 17, 2021
This was our 4th visit to this KOA and we will be back! Friendly, helpful staff who are constantly maintaining this clean, well-groomed camp. Thank you for another wonderful stay:)
Sep 17, 2021
We had a Pull Through site for our Big Rig and Loved it. Bar Harbor KOA is one of the best KOA's I have ever stayed at. Great Location at the mouth of the island. We really enjoyed the Lobster Cafe right in the middle of the park. Lots of room to ride bikes. On the water for Kayaking. We had a Great Vacation.
Sep 17, 2021
Our stay (Sept 2021) was very nice! The campground is very well kept! Bathrooms and showers exceptional. My husband and I felt very comfortable staying in our pop up tent trailer. I would say this KOA can support anything! Although we didn't stay or see the cabins they rent, from the outside they looked very nice. The staff is very friendly and helpful! Someone from staff was always doing work!
Sep 17, 2021
A great campground run with excellent staff! The sunsets are spectacular and the atmosphere is friendly and quiet
Sep 17, 2021
I love our 1st ever camping trip camping staying in Bar Harbor KOA. All the staff were wonderful, helpful and welcoming. It's a perfect location. I hope to be able to come again to this location. I like the cabin and camp fire every night. So much better then hotel.
Sep 17, 2021
The open grass spaces are too close together and hard to get into. There is no privacy there. It was very quiet. Convenient location to Acadia and Bar Harbor. Not many amenities.
Sep 17, 2021
We had a great time, love that the campground is so close to Acadia National Park and Bar Harbor town. We had a few beautiful sunsets. See you soon! ���� The Bellomo Family
Sep 17, 2021
Had to wait a bit for shower availability, but otherwise no complaints. Staff was very friendly. Bought ice and fire starters at the store without issue. Hot water was HOT (a good thing). Great utility sink area. Also loved the welcome information text. Thanks so much for a fun stay!
Sep 18, 2021
Nice place to camp. If you get lucky you could probably get a spot by the ocean. We were about 3 streets up. Staff is very friendly. We made reservations with there van to be taken to Bar Harbor and then be picked back up. Drivers are really friendly too.Took the Oli's Trolley to Cadillac Mountain and back 2 hour trip. Spent one day walking around Bar Harbor and shopping. Had a Great Time. Went to Acadia National Park.
- Letha Whipple on Google
Sep 14, 2021
We just spent six nights at this KOA and it was a very good experience. Sites weren't huge but adequate and the views from our site near the water were amazing. Staff was extremely friendly and helpful. The only questionable thing was we learned there was a boil water order in effect due to E.coli which was never mentioned to us at check in. There was a notice on the door but I think a lot of people missed it and were unaware of it. We don't normally drink the water when camping but I think it may have been helpful to tell people at check in. We would definitely stay at this location again should we ever travel back to the area.
- Susan Maass on Google
Sep 10, 2021
Best place
- Martin Cernauskas on Google