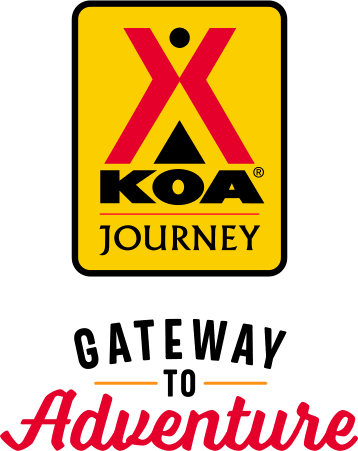 KOA Journey Campgrounds
KOA Journey campgrounds are the perfect oases after a day on the road. Whether it's along the way or a quick getaway, they've got you covered. Located near the highways and byways of North America with long Pull-thru RV Sites, they deliver convenience to the traveling camper. Pull in, ease back and take a load off.
KOA Journeys Feature:
Pull-through RV Sites with 50-amp service
Premium Tent Sites
Well lit after hours check-in service
Directions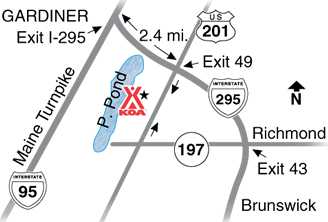 Traveling North on Maine Turnpike (I-95): around Portland take I-295 North to Exit 49, left off exit go 2 1/4 miles.
Traveling South on Maine Turnpike (I-95): take I-295 South, then Exit 49, right off exit go 2 1/4 miles.
GPS info: Latitude / Longitude 44.15111, -69.8675, 44 degrees 9 Ft 4" N, 69 degrees 52 Ft 3" W.
Get Google Directions
Sep 07, 2018
Everything there was perfect I never had a bad stay @ a KOA
Sep 06, 2018
Staff was very friendly and helpful. I did not give it a higher rating because the store, activity area and bounce house are filthy. My grandkids were excited to have the Bounce House however they refused to go in it because it was so filthy. They enjoyed the other activities
Sep 06, 2018
Worst Koa ever, and I have traveled across several times,,!!!!!
Sep 06, 2018
Unfortunately, this was a poor camping experience. The KOA staff were helpful and polite. However, there simply are very few redeeming qualities to this campground. The W/E site was on a tiny plot that sloped heavily to each side. There was no picnic table at the site, probably not enough room. The communal bathrooms were old & unappealing. Road noise was loud. Noisy campground. I wouldn't return.
Sep 05, 2018
This was an overnight stop on our way home from Prince Edward Island, Canada. Very nice campground with wooded sites and friendly camp owners & staff. Had a great night sleep in the woods and easy to continue our way home. Would like to stay a bit longer the next time.
Sep 04, 2018
The people running this campground were the ones that made it great!! The pool area was nice, the activities area was great for the kids and the grounds were well kept. The only issue was the steepness of the hill the campground is on. Not great for kids riding bikes. But other than that everything was great!!!
Sep 04, 2018
Very clean Campground, Was not the biggest by far, however I thought that just added to the character of the sites. Quiet and very respectful.
Sep 04, 2018
Loved the place, loved the people! Great group running this location!
Sep 04, 2018
The whole family had fun as we introduced badminton, ping pong, shuffle board, putt-putt and frisbee golf to the youngsters. As an extra treat their was a candy hunt with flashlights, fireworks, craft hour and even a heated pool.
Sep 02, 2018
It was amazing. Crews are friendly. They will provide the best service that you've never imgined to. Thank you for having us.
Sep 01, 2018
I had a hard time walking on the gravel surface of the road, but everything else was perfect. The campsite had crush stone, which kept our RV clean, the pool was spotless, and the bathrooms were very clean and private. The owners were fantastic and very helpful. I am coming back next year!
Aug 31, 2018
We stayed in the little cabin, it was a perfect get away. All staff very friendly and helpful. The cabin was more than expected with decent WiFi and even a small tv with cable. Cabin was clean and comfortable. All around perfect experience.
Aug 31, 2018
Good place to stay for seeing local attractions, new owners are doing a good job. Some amenities need to be upgraded , but these things take time. Overall nice stay.
Aug 29, 2018
Stayed on our way to ova Scotia. Arrived after office was posed but all info was posted by the office. Left before they opened. Nice level pull through site. Will return on the way home.
Aug 29, 2018
We had a great stay. Staff & managers were very friendly and helpful. The facilities met our needs. We appreciated that the store and laundry didn't blow our budget. The only suggestions we have are mostly safety related. The putt-putt golf course felt very unsafe and there was also major bowing of boards on the deck that weren't marked which may give them trouble at some point if someone falls.
Aug 27, 2018
The family that runs this campground are so nice they went out of there way to make it an amazing stay!! We will be back again!!
Aug 27, 2018
Had a great experience all around, great staff fun games . We had no children with us but wouldn't hesitate to bring them seemed like a very family friendly camp !
Aug 25, 2018
Very nice owners. Nice campground. The showers were clean.
Aug 24, 2018
We normally can't spend this amount of money for a campground. However, for those who are looking for this experience, it was great and the people were very kind and helpful. Pull in sites were very nice. The campground was very quiet. Bathrooms were nice and clean & stocked. One thing that sucked it that we bought 3 packets of wood and they were all wet! No kindling to start wet wood.
Aug 23, 2018
Nice and level pull through for our 40' DP with a tow. Clean and the owners were very nice. No cable, but the antenna pulled in the major networks and the Verizon signal was good. This was a stopover on our way south from Downeast Maine.
Aug 21, 2018
Large pull through sites, good separation between sites and friendly staff.
Aug 20, 2018
Very well kept grounds. The sites are very nice with fire pits. The dog park is great. The owners are hands on and very friendly.
Aug 19, 2018
Well maintained, clean. Staff were friendly and helpful.
Aug 19, 2018
Everything was good except there was no change machine in the laundry room.
Aug 18, 2018
As usual VERY ENJOYABLE. The kids really loved their stay.
Aug 18, 2018
The long term campers and office folks were wonderful! @we had no problem extending our stay when our truck had to go in the shop for another 3 days. Everyone we met was more than helpful, and shared their stories. My only criticism is, the dog park was small, with no opportunity for medium-large dogs to sniff, run and play together within the chain link fence. My greyhound mix was frustrated.
Aug 17, 2018
We had never stayed at a koa before, and we loved it! My only disappointment was the weather! Owners are great, bathrooms were clean. I like the radio in the bathroom. We will definitely be back!!
Aug 16, 2018
Good. Just an overnighted.
Aug 16, 2018
Great campground. All of the staff is absolutely committed to insuring each and every camper have a good time. They didn't disappoint. Staff went above and beyond to help with an issue we had and everyone volunteered.
Aug 15, 2018
The moment I pulled in the driveway I was greeted by staff Chriatian, he showed me to my site, got water & electric hooked up since this was my 1st time ever RVing. Clean restrooms, great fireworks and pleasant staff. Will recommend this KOA to others. Enjoyed my visit so much, I've bookes another stay..
Aug 14, 2018
Large pull through lots, clean campground and friendly staff. Would definitely stay again.
Aug 14, 2018
Great additional perks such as a free hot dog meal, lake passes and fireworks!
Aug 14, 2018
Campground was beautiful and the staff was kind and most helpful.
Aug 13, 2018
I loved the camp ground till Thur. night when the motor homes started coming. They leave their AC on even when they are gone all day. Also we came 10 minutes early according to their paper but they said they let people stay till 3 so we didn't have the nice shady one we reserved.(20) the sheet said out by noon. Other than that is was nice and clean.
Aug 13, 2018
There was a mix up initially on the site I booked, but the manager made every gesture to correct it and were so accommodating when I extended. My first trip to Maine made better by their hospitality.
Aug 13, 2018
As a VIP KOA Rewards member, we needed an easy-to-use, pull through site for one night while traveling. We were given a site that was so sloped that we had to raise one side of our trailer 5 1/2". The sewer cover was broken so I was not able to attach my hose. So much for easy-to-use, with a site rate of $50+ I expect better. Owners were very nice at check-in, but knew what they were giving me.
CAMPGROUND RESPONSE / COMMENTS:
We will address your issue with the maintenance staff. The cap was screwed back on no other issue visible to sewer. We are waiting for shipment of gravel to re-level site
Aug 12, 2018
Good stay. Used laundry facilities and pool. Would return if passing thru.
Aug 11, 2018
Are stay was good. People were kind and helpful. The only thing was that the pool ladders going into the pool were slipper. Should try and something to make it not slipper. Also it would nice if they could get cable in there for the future.
Aug 11, 2018
Overnight stop, easy in and out 45' Motorhome towing. Level site, utilities work well. Would stay again.
Aug 08, 2018
No problems, easy pull through, comforable
Aug 07, 2018
Wonderful people and location
Aug 06, 2018
Friendly staff, very comfortable site with concrete next to the RV.
Sep 18, 2021
Awesome family camp! Owners and staff very friendly and helpful! Would highly recommend!
- Ashley Otis on Google
Aug 24, 2021
It is beautiful and wooded, peaceful and quiet. It's the first Campground I've been to where I haven't been blinded at night by everyone's porch lights and LEDs, it's nice and dark so if you want to look at the stars you can. The staff is very friendly and very helpful. I really liked it here
- Allison Cook on Google
Aug 23, 2021
This is our second year camping and second time visiting this campground. Quiet, clean, with a friendly atmosphere. Our grandchildren love the playground and trail through the woods hopefully the weather will cooperate next time so we can use the cute clean pool 😆 . Our site was large with a table and chair set, grill and fire pit. Will be back next month and years to come. Thank you to the hard working owners and staff that kept things flowing. 😂
- Jacquie Wilks on Google