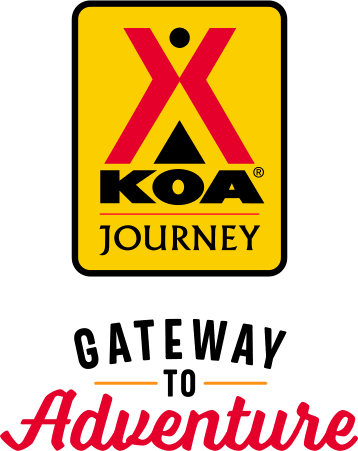 KOA Journey Campgrounds
KOA Journey campgrounds are the perfect oases after a day on the road. Whether it's along the way or a quick getaway, they've got you covered. Located near the highways and byways of North America with long Pull-thru RV Sites, they deliver convenience to the traveling camper. Pull in, ease back and take a load off.
KOA Journeys Feature:
Pull-through RV Sites with 50-amp service
Premium Tent Sites
Well lit after hours check-in service
Directions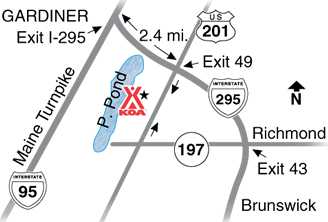 Traveling North on Maine Turnpike (I-95): around Portland take I-295 North to Exit 49, left off exit go 2 1/4 miles.
Traveling South on Maine Turnpike (I-95): take I-295 South, then Exit 49, right off exit go 2 1/4 miles.
GPS info: Latitude / Longitude 44.15111, -69.8675, 44 degrees 9 Ft 4" N, 69 degrees 52 Ft 3" W.
Get Google Directions
Oct 19, 2021
I wish to see rules enforced. Seasonal guests allowing their dogs walk around not on leashes and another guest leaving their dog inside their trailer all day barking. Nothing be done about that could be seen.
CAMPGROUND RESPONSE / COMMENTS:
If you see something, say something to the office so we can address it.
Oct 18, 2021
The campground was small and on the side of a hill. The sites had steep drop-offs on one side that would worry me with small children. I had a few almost ankle twisting moments getting out of the passenger side of my truck. The hill is really my only complaint with the campground as a whole and it would not stop me from coming back again.
Oct 16, 2021
The lady there (can't recall her name) suggested that we go to Quill Hill to look at the leaves turning. This was the greatest. We so enjoyed the trip. She said their family had been trying to get up there. I know they will love it as much as we did. THANKS AGAIN!!!!!!
Oct 15, 2021
Very nice KOA. Lovely hosts! Thank you for being so welcoming.
Oct 13, 2021
We came too this KOA ! Because we have family relatives who live near , 5 miles approx we were attending a 5 year old birthday party ,this was our first stay at this campground we really only set up our sleeping accommodations in our 5th wheel and seemed like they have plenty of outdoors activities for the family. easy access off the highway only 2-5 miles off direct pull off the exit great staff
Oct 13, 2021
Nice, well maintained campground. Friendly and helpful staff. Convenient to what we wanted to see in this area of Maine. This was our second stay here and we will be back.
Oct 12, 2021
Good location. Needs a little updating in some areas, but overall a good experience.
Oct 12, 2021
Great campground.
Oct 12, 2021
Very friendly owners. Love the sites, grandkids had fun at the playground. Quiet friendly atmosphere with neighbors in campground. Will be back next season.
Oct 12, 2021
Staff very friendly! Camp was clean. Gravel sites not so level! Camp was ok!
Oct 11, 2021
Great place to stay and friendly staff
Oct 11, 2021
Our grandkids live in ME so we came to visit and this campground was wonderful! The owners are engaged and have activities for the kids. We will definitely be coming back!
Oct 11, 2021
Very relaxing and quiet
Oct 10, 2021
Sites nice, but nearby camper had seven dogs who went into a barking frenzy everytime someone walked by.
Oct 07, 2021
I felt it was overpriced for what was offered. No cable. Wifi was awful; I used my own most of the time - additional expense. It wasn't just slow; there were lots of occasions where it connected but said "no internet." Only one bathroom on the opposite end of the campground from my site. No activities on the weekend even though it looked full. It was as if they had already closed for season.
Oct 05, 2021
Really enjoyed it. Really quiet. They work really hard to keep the roads good. It's on a hillside so rain runs down the hill and makes ruts. After it rains, they are out filling in the ruts and making it smooth. They were always working to make itge campground better. Very friendly and helpful. Great location. We hope to return.
Oct 05, 2021
Friendly staff, site was close to level but the sides of the road were washed out pretty bad. They were working on repairing them though. Bathroom and shower were average. Overall a nice place to stay.
Oct 04, 2021
My stay was very nice very nice people running it. I have already booked for another weekend. I love that it stays open longer and that it has very nice showers.
Oct 04, 2021
Site wasn't level, but it was quiet and peaceful. Great shower. Not so great laundry. Staff was really nice. We would come back.
Oct 02, 2021
Very very nice campgrounds everything was nice and clean the staff is very friendly I just did not like that it was all hilly.
Oct 01, 2021
Excellent camp host.
Sep 30, 2021
They are always very accommodating.
Sep 29, 2021
Beautiful level lots and easy in and out. Staff were very friendly and helpful.
Sep 27, 2021
The facilities were adequate. It was conveniently located to towns and parks.
Sep 26, 2021
Love this location. Convenient off of I-295 in Maine, near I-95. Friendly staff, nice amenities and very pretty in the Fall.
Sep 25, 2021
Nice quiet roomy campsites.
Sep 24, 2021
Stayed 4 weeks under the shade of many trees. The staff was friendly and helpful. Other guest campers were respectful.
Sep 16, 2021
The sites were close together and the chipmunks drove out dogs crazy. All in all it was good
Sep 15, 2021
Needed some updating. Rough road into park, sites uneven, very small pool, and dog park very uneven.
Sep 15, 2021
The owners are very friendly and helpful. This KOA is very well kept and in a beautiful setting.
Sep 13, 2021
Older park with lots of trees. Sites are terraced into the side of a hill but are very level. Site was a little short for our motorhome and towed vehicle without unhooking. Entry/interior roads are gravel and, in places, are really rough & rutted and could use some attention. Restrooms and laundry are good. WiFI was really weak. No cable but there are a number of over the air stations.
Sep 13, 2021
Nice place to hang out with family .. need more entertainment like weekend bands and things for kids to do like a arcade room or claw machines .. the movies are nice and the people that run the place are super nice
Sep 09, 2021
Site was good, dog park needs work - open it up, dry it out, grass it in. Great stuff to do for kids. Relatively quiet, nice relaxing time.
Sep 09, 2021
Nice campground with very clean bathrooms. Enjoyed our stay very much.
Sep 07, 2021
Excellent family campground! Activities and amenities for all ages! We camp for three nights and had an awesome time, and the owners were very helpful and very friendly!
Sep 06, 2021
Just ok Very dated
Sep 04, 2021
This CG was our base camp for touring the southern coast of Maine. We loved the tiered slanted pull thru sites with ours being adorned with an odd sculpture we think maybe a gorilla hand?!? We planned to stay here 6 nights, but with a hurricane tracking south of us, we asked if we could stay another night. They were very nice and accommodating! Even though we have no children with us, I found
Sep 03, 2021
Stayed for four months. Hosts were pleasant and knowledgeable. They were always prompt to correct any problems that might have come up. Nice atmosphere.
Aug 31, 2021
This place is amazing! Very clean!! We go every year!
Aug 31, 2021
Convenient to the VA where we wanted to go. The site we had, #1 was too close to the pool and a bit too narrow; all the RV sites were narrow and not woodsy.. So narrow people had to sit beside the neighbors car. We had a screenhouse with walls for privacy otherwise the whole world was 'joining' us., Good for the owners to see so many sites reserved. Pool was warm, and sounded like a gentle river
Aug 30, 2021
Love the campground and the owners!
Aug 26, 2021
This KOA is becoming rundown. Amenities are being neglected. The deck area is dangerously warped. The rec hall is full of broken activities with missing pieces and is very outdated. The disc golf course is overgrown. We arrived to a large sewage spill in our site. This should not be a KOA - it does not meet KOA standards.
CAMPGROUND RESPONSE / COMMENTS:
Sewage backed up due to rock down the pipebut it was cleaned up and sanitized immediately. Amenities do get broken and we our removing and/or replacing them. Our disc golf course gets moved once per week.
Aug 25, 2021
VERY WELL MANAGED SITE. UNFORTUNATE THAT THE SITE IS SO MUDDY AND SCARED BY DRAINAGE. DIFFICULT TO GET ACROSS SOME OF THE DRAINAGE WAYS. NEEDS SOME SERIOUS RE-GRAVELING.
Oct 12, 2021
Very friendly owners and other campers. Always have a great time. Grandkids love the playground and indoor pavilion to do crafts and write on a huge white board. Will be back next season.
- Jacquie Wilks on Google
Oct 10, 2021
Definitely a relaxing atmosphere. Grandkids visited on weekend. They were entertained and enjoyed the experience. The bathrooms were clean, along with the showers. There are stools if you need to use them in the shower. Pets are welcome, nice well kept area. Good value at landry mat and dryer work well. All around great experience, will definitely return.
- Gail Geissler on Google
Oct 04, 2021
We had a very good time there. The staff that works there are fantastic.
- Ozzie Hart on Google