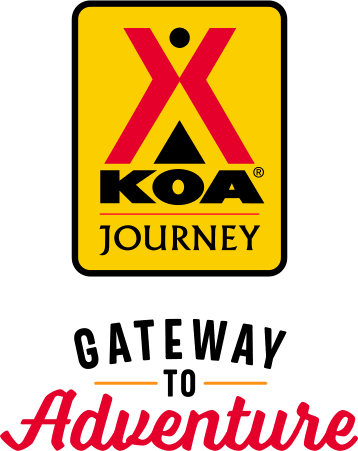 KOA Journey Campgrounds
KOA Journey campgrounds are the perfect oases after a day on the road. Whether it's along the way or a quick getaway, they've got you covered. Located near the highways and byways of North America with long Pull-thru RV Sites, they deliver convenience to the traveling camper. Pull in, ease back and take a load off.
KOA Journeys Feature:
Pull-through RV Sites with 50-amp service
Premium Tent Sites
Well lit after hours check-in service
Directions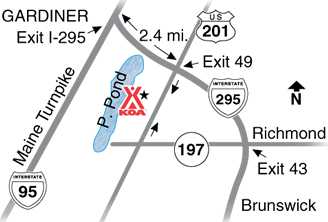 Traveling North on Maine Turnpike (I-95): around Portland take I-295 North to Exit 49, left off exit go 2 1/4 miles.
Traveling South on Maine Turnpike (I-95): take I-295 South, then Exit 49, right off exit go 2 1/4 miles.
GPS info: Latitude / Longitude 44.15111, -69.8675, 44 degrees 9 Ft 4" N, 69 degrees 52 Ft 3" W.
Get Google Directions
Jul 19, 2021
Full hookups, pretty level site. They're a little narrow, but great fun at the pool for the kids, fun disc golf, activities for kids (crafts, candy hunt), and a really friendly staff!
Jul 13, 2021
Very nice campground� We enjoyed our stay�
Jul 13, 2021
I found the owners to be a little unpleasant. The campsites are very narrow . There was an incident that involved my 6yr old and two older boys. Rough play and teasing. We were asked to leave. Owners felt that it was the 6yr old fault. Very unfortunate that they accused the 6 yr old without listening to both sides of the problems. We were scheduled to stay for 2 weeks only there for 2 days.
CAMPGROUND RESPONSE / COMMENTS:
The camper was asked to leave because his child physically hurt two different children on two different occasions. One day he swung a golf club like a bat onto the child's back which ended up bruising. Another day he elbowed a different child (who is special needs) and hurt kid's ankle.
Jul 12, 2021
Was a little disappointed with the mini golf, but three fireworks for the 4th of July were great! The disc golf course could have been better marked, but it was still fun! Everything was very clean and the staff was super friendly.
Jul 11, 2021
Needs some renovation
Jul 09, 2021
Roads were hard to navigate. Pad bottomed out getting into site. Had to shore up wheels to get in. Same thing on the way out at the top of the hill.
Jul 09, 2021
Not sure if it's the thing with an online reservation, BUT I don't want to be put next to people that are living there. Most of the time the places next to me are not eye appealing. And it's been with online reservation. When I've called doesn't happen so much.
Jul 08, 2021
We like the quiet location. A few updates are needed but over all nice place. We will definitely be going back there sometime. The staff are really friendly and made us feel very welcome.
Jul 07, 2021
We were very secure leaving our motorhome at the campground every day to visit family. The facility was very clean, quiet and well-maintained. Thank you for your welcome mat being there.
Jul 06, 2021
The park has very few activities. The surrounding area does not have many places to visit. The site are all located on a land do require some leveling blocks. The staff is friendly but lacked area information. The interior roads are not paved and many are only hard pack. The park seems overpriced for what is offered.This the worst KOA I have stayed at will not be returning to this KOA.
Jun 30, 2021
Now granted it was hot and humid and the power went out but a little upgrade in this campground would be helpful. Limited staff might be the problem.
CAMPGROUND RESPONSE / COMMENTS:
The power went out in the area due to weather it was not a campground issue. Our town and parts of the neighboring towns were out for about 2 hours.
Jun 29, 2021
Very friendly people. Nice pool and laundry.
Jun 28, 2021
We stayed here for about a year while on contract doing covid testing.Jayar and Becky are incredibly friendly, the sites are level and well maintained, and the park is peaceful.
Jun 25, 2021
No problems, bathrooms and showers were clean and hot, Laundry on site was very convenient.
Jun 24, 2021
This place needs a lot of work. I can not believe this a KOA.
Jun 24, 2021
Perfect site, great people and staff. We will be back in the future.
Jun 24, 2021
We were late in the afternoon making a reservation and they were very helpful in getting us in.
Jun 21, 2021
The owners were great! Even waiting for us for our late check in and taking us to our site. The roads were steep and tight turns and though the site could use some clean up, the place was still nice. Loved the pool though cooler that I thought. I guess you have to ask for it to be heated? Thought that was strange. Otherwise, we'll stay again. Served our purpose.
CAMPGROUND RESPONSE / COMMENTS:
The pool heater is being replaced, this is why it was not on during your stay. We are waiting on a part and for the gas company to reconnect it.
Jun 20, 2021
Very friendly/helpful staff.
Jun 15, 2021
Quiet and peaceful campground. Easy access to all sites. While the sites are well maintained and level, if you have mobility issues be aware that the campground itself is sloped. The owners and staff were extremely lovely and helpful. I will definitely stay here again!
Jun 07, 2021
Another great stay at the KOA! Can't wait to be back.
Jun 01, 2021
The good: The playground and field area was nice. My 4 year old and 2 year old loved it. The not so great: The spots were small - barely big enough for my truck and 32' trailer. The entire campground is on a hill so you're constantly walking up... Not the worst of things but not great for little ones learning to ride bikes. That compounded by the fact that all the roads are very loose grav
Jun 01, 2021
Very level sights
May 31, 2021
Hosts are kind and for just camping it's a good spot. The bathrooms are clean. The activities and facilities as a whole could use better upkeep and communication.
May 25, 2021
It was a really great place for us as a start to the season. We'd only suggest upgrading some of the fun things, like the mini-golf, if practical. Otherwise, a great place and the owners are really down to Earth and personable.
May 23, 2021
The staff was friendly and very helpful. The trees gave us plenty of shade and site was pretty level. On top of that, It was quiet.
May 21, 2021
The owners are very friendly and always there to help out in any way. Many new upgrades to the sites, power and new picnic tables. Always a joy to camp there.
May 19, 2021
This KOA is definitely a work in progress. There are a lot of utility improvements going on. It is very convenient to I295 and the Maine Turnpike. My only complaint is that there is no hot water in the bathroom sinks. There showers were fine and everything nice and clean. The staff I encountered was lovely. I would certainly use it again!
May 19, 2021
We enjoyed our stay at the campground. We hope they are correct the issues with the roadway with washouts and keep working on the water and electric to have them better located for each site. We will be back towards the end of the season.
May 18, 2021
This was run down and about as far from picturesque as you could imagine. Rutted, gravel roads, with the only trash being at the entrance. It looked dirty and completely forgotten about. We could not wait to leave...we had a full hook up site and the septic drain was higher then then RV outlet so we could not use it...because as they say, 'crap only rolls downhill...not up!
May 17, 2021
5 star all the way, cant wait to be back in a few weeks!
May 15, 2021
Love this place. Owners and staff and very friendly and helpful.
May 10, 2021
Nice and quiet, good access, easy pull through and exit. Kinda scary with all the dead trees around, wouldn't want to be there in a high wind! But it looked like they were working on more sites and getting the trees taken care of.
May 07, 2021
Very friendly staff. Clean and quiet
Apr 19, 2021
Very pleasant campground and workers. We had a nice sight with a patio. The nature walk was nice also.
Nov 27, 2020
Very friendly atmosphere, the owners are helpful and knowledgeable of the area and events. Clean restrooms and nice laundry room. many different activities, Fireworks were and extra fun time. The playground is very inviting . Trails to hike and a lake just down the road with free pass's to go swin or just relax and have a cookout. I will definitely stay again.
Nov 12, 2020
The owners are very helpful, polite and informational. I had an extended stay for two months. I needed to work and never had to worry about my belongings.
Nov 03, 2020
Owners were great. Very helpful and always making improvements.
Nov 03, 2020
We stayed a month and loved it.
Nov 03, 2020
We stayed here for 7 nights in October of 2020. The campground was clean and well maintained. The owners couldn't have been nicer. They delivered firewood to our campsite every day while we were out exploring. Their recommendations for day trips and places to eat were spot on. We cannot thank them enough for giving us a vacation we will never forget at a time it was most needed. ��������
Oct 29, 2020
owner helfpful in providing electric adaptor, quiet, clean campground, and toilets need more lighting from campsite to bathrooms, appreciated tiki lights
Oct 26, 2020
Very clean facilities and friendly staff.
Oct 23, 2020
Becky & Jay were very helpful and friendly! Very enjoyable stay!
Oct 16, 2020
Sorry, but this KOA was sub-par. Nice wooded hillside, but the campground was run down. Several campers appeared to be year-round and were run-down with junk all around (which is not allowed per the printed rules we received). The camper next to us was quite an eyesore with a blue tarp flapping on the roof and a mess all around and sadly made our camper reek of marajuana. Too bad, we love KOAs
Jul 18, 2021
This place is THE BEST. The owners are awesome caring people who take pride in this campground and it shows! Pools even heated lol ;-) if you're in the Richmond area looking for a campground, COME HERE!!!! you will not be disappointed! Love the RV community thanks for everything and making it feel like home for us!!
- Tracie Perow on Google
Jun 27, 2021
Nice park over all. So much nicer to feel like you are in the North woods rather than a sterile RV park environment. Stayed her 2 years ago for a bit and the capital improvements are noticeable, roads, pool, etc are all in great condition. Don't stay here if you want bars and noise non stop, the morning and evenings are so quiet you can hear a leaf fall. Great for singles to families, plenty to do if you turn off the TV and go do it, kayak rental, fishing nearby, hiking, what ever your fancy you can do it at this campground. Very canine friendly too, owners have plans to enlarge an already good dog park.
- C L on Google
Jun 21, 2021
Made a boo boo by making a reservation while too far away, so canceled. Then, ended up there anyway. KOA charged me $10.00 even though transaction happened within hour of each other. ☹
- Barbara Damato on Google