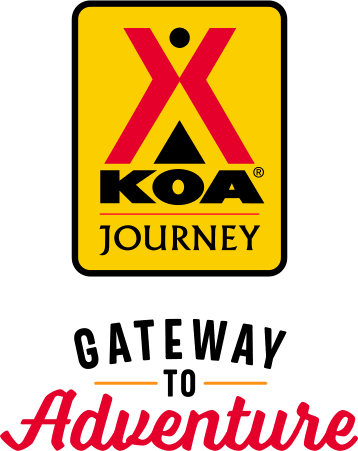 KOA Journey Campgrounds
KOA Journey campgrounds are the perfect oases after a day on the road. Whether it's along the way or a quick getaway, they've got you covered. Located near the highways and byways of North America with long Pull-thru RV Sites, they deliver convenience to the traveling camper. Pull in, ease back and take a load off.
KOA Journeys Feature:
Pull-through RV Sites with 50-amp service
Premium Tent Sites
Well lit after hours check-in service
Directions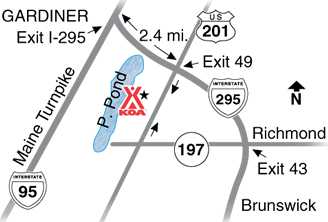 Traveling North on Maine Turnpike (I-95): around Portland take I-295 North to Exit 49, left off exit go 2 1/4 miles.
Traveling South on Maine Turnpike (I-95): take I-295 South, then Exit 49, right off exit go 2 1/4 miles.
GPS info: Latitude / Longitude 44.15111, -69.8675, 44 degrees 9 Ft 4" N, 69 degrees 52 Ft 3" W.
Get Google Directions
Nov 27, 2020
Very friendly atmosphere, the owners are helpful and knowledgeable of the area and events. Clean restrooms and nice laundry room. many different activities, Fireworks were and extra fun time. The playground is very inviting . Trails to hike and a lake just down the road with free pass's to go swin or just relax and have a cookout. I will definitely stay again.
Nov 12, 2020
The owners are very helpful, polite and informational. I had an extended stay for two months. I needed to work and never had to worry about my belongings.
Nov 03, 2020
Owners were great. Very helpful and always making improvements.
Nov 03, 2020
We stayed a month and loved it.
Nov 03, 2020
We stayed here for 7 nights in October of 2020. The campground was clean and well maintained. The owners couldn't have been nicer. They delivered firewood to our campsite every day while we were out exploring. Their recommendations for day trips and places to eat were spot on. We cannot thank them enough for giving us a vacation we will never forget at a time it was most needed. ��������
Oct 29, 2020
owner helfpful in providing electric adaptor, quiet, clean campground, and toilets need more lighting from campsite to bathrooms, appreciated tiki lights
Oct 29, 2020
Staff was absolutely friendly and willing to help anyway possible! I enjoyed it very much and want to see it during busy season!
Oct 26, 2020
Very clean facilities and friendly staff.
Oct 23, 2020
Becky & Jay were very helpful and friendly! Very enjoyable stay!
Oct 20, 2020
The staff was very friendly and the cabin was exactly as represented. It's impossible to tell from the site how wooded/isolated the cabin location is so we were a little disappointed that it was so close to other camping spots/the road. It would have been nice if the fire ring was at least in the back where it's a little more secluded.
Oct 16, 2020
Sorry, but this KOA was sub-par. Nice wooded hillside, but the campground was run down. Several campers appeared to be year-round and were run-down with junk all around (which is not allowed per the printed rules we received). The camper next to us was quite an eyesore with a blue tarp flapping on the roof and a mess all around and sadly made our camper reek of marajuana. Too bad, we love KOAs
Oct 16, 2020
Friendly staff. Quiet location.
Oct 13, 2020
We really liked our cabin & our stay. Everything was super clean and the KOA was super accommodating of pets. I also appreciated that we could order wood and get it delivered to our cabin.
Oct 10, 2020
Quiet, nice staff/owners. Everything worked well, and the grounds are beautiful.
Oct 06, 2020
Jay & Becky are exceptional hosts and provide such a great friendly vibe at the campground. Can't wait to return next year!
Sep 30, 2020
The people running the campground here very friendly and very helpful. It was quiet and staying here was a great experience. I also that it was also very pet friendly.
Sep 30, 2020
Very friendly staff!
Sep 29, 2020
While the staff was very friendly and the back drop of the camp sites were beautiful, this KOA is a little older. Bathrooms were cleaned, and property is well maintained. BUT there's long term/semi-permanent campers right next to the tents sites. This would have been fine if the resident did not start playing music on a speaker from 2am until 6am. Bring ear plugs and this is a affordable stay.
Sep 25, 2020
very quiet campground, friendly workers
Sep 21, 2020
We had a great time; owner family and crew were very friendly, and super inclusive with our grandchildren. The amenities and grounds were very clean. I would have rated 5 stars had the roads been a little more walking friendly.
Sep 21, 2020
Jane and the kid from Kentucky were an awesome team!! Can't wait to come back
Sep 15, 2020
Nice tent spot.
Sep 14, 2020
Great stay. Smaller KOA with a real homey-feel. The front desk and store were great and they dropped off firewood as we were pulling in. Definitely would stay again.
Sep 10, 2020
Excellent campground and hosts. Convenient location and nice amenities. Would recommend to anyone coming to to the area.
Sep 09, 2020
Kids had a great time with the hosted activities.
Sep 04, 2020
Friendly owners and staff. Nice, clean, quiet campground.
Sep 02, 2020
I arrived not all employees were wearing masks. I was not escorted to my cabin, the employee just stepped outside and waved in the general direction and said your cabin is over there.The cabin was filthy. I spent 1.5 hours just cleaning the cabin. Dirt, dust, cobwebs, sticky substance on the table. The screens were ripped showers had mold. I had to duct tape a blanket over window no curtains
Sep 01, 2020
Lovely campground, sites are nicely wooded, and wonderfully terraced. Restrooms clean. The campground is easy to get to. Itin the was great to sit outside out camper and watch the woods and the mountains in the distance. Would definitely return again.
Sep 01, 2020
The sites were well kept and clean. We used the pool, showers and bathrooms and they were clean and well kept. The hookups were all easy to use and worked well. We felt the sites were to close together, and being on a steep hill had its problems.
Aug 25, 2020
Very relaxing
Aug 24, 2020
Friendly and clean. Sites did not match descriptions on web site. The pull through site had sewer connect at the end of the site. That meant you had to disconnect your TOAD. We picked pull thru to avoid this. You can not back up with a TOAD Overall needs some TLC on the grounds and with the seasonal camper sites
Aug 23, 2020
The campground was clean and well kept. The sites are layered on a hill, so you have a bit more privacy with the trees. The campground has all country trees at the sites so it is shadier than most, so satellite TV won't work. Good cellular connection.
Aug 21, 2020
Our stay was just what I planned on, axcept the cabin was a bit smaller than anticipated. Very comfy bed though...
Aug 19, 2020
loved the location but my family are all older and couldnt take climbing the hill! people there were very nice..no complaints!
Aug 18, 2020
The location was good. The water was horrible. Tasted, smelled could even see the iron it. Nasty. The site was really tight, almost triangular, with a three foot drop/ledge to the neighboring site. Very difficult to maneuver around. Won't go back. Very unlike a KOA.
Dec 27, 2020
Staff were super friendly!
- Uiri Han on Google
Oct 18, 2020
Been here 19 days nice place.
- Lisa Haskell on Google
Sep 04, 2020
Great
- bluehairedmama mama on Google