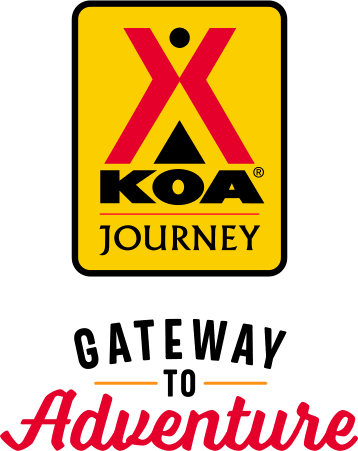 KOA Journey Campgrounds
KOA Journey campgrounds are the perfect oases after a day on the road. Whether it's along the way or a quick getaway, they've got you covered. Located near the highways and byways of North America with long Pull-thru RV Sites, they deliver convenience to the traveling camper. Pull in, ease back and take a load off.
KOA Journeys Feature:
Pull-through RV Sites with 50-amp service
Premium Tent Sites
Well lit after hours check-in service
Directions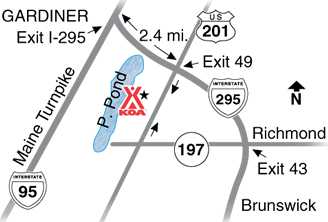 Traveling North on Maine Turnpike (I-95): around Portland take I-295 North to Exit 49, left off exit go 2 1/4 miles.
Traveling South on Maine Turnpike (I-95): take I-295 South, then Exit 49, right off exit go 2 1/4 miles.
GPS info: Latitude / Longitude 44.15111, -69.8675, 44 degrees 9 Ft 4" N, 69 degrees 52 Ft 3" W.
Get Google Directions
Sep 16, 2021
The sites were close together and the chipmunks drove out dogs crazy. All in all it was good
Sep 15, 2021
Needed some updating. Rough road into park, sites uneven, very small pool, and dog park very uneven.
Sep 15, 2021
The owners are very friendly and helpful. This KOA is very well kept and in a beautiful setting.
Sep 13, 2021
Older park with lots of trees. Sites are terraced into the side of a hill but are very level. Site was a little short for our motorhome and towed vehicle without unhooking. Entry/interior roads are gravel and, in places, are really rough & rutted and could use some attention. Restrooms and laundry are good. WiFI was really weak. No cable but there are a number of over the air stations.
Sep 13, 2021
Nice place to hang out with family .. need more entertainment like weekend bands and things for kids to do like a arcade room or claw machines .. the movies are nice and the people that run the place are super nice
Sep 09, 2021
Site was good, dog park needs work - open it up, dry it out, grass it in. Great stuff to do for kids. Relatively quiet, nice relaxing time.
Sep 09, 2021
Nice campground with very clean bathrooms. Enjoyed our stay very much.
Sep 08, 2021
It was not very well kept. I got a good shock off the electrical box when I tried to connect. expensive for what you get!! Old collapsed camp with asbestos shingles quite close to my site.
CAMPGROUND RESPONSE / COMMENTS:
Don't know what box camper was talking about he was on primitive tent site with no building near this site
Sep 07, 2021
The cabin was wonderful, very great for the value, all the amenities with it: bathroom, tv, fridge, a/c, microwave! Wished we'd had time for the pool. Disappointed that the mini golf, which was on the map and website, was not functional.
Sep 07, 2021
Excellent family campground! Activities and amenities for all ages! We camp for three nights and had an awesome time, and the owners were very helpful and very friendly!
Sep 06, 2021
Just ok Very dated
Sep 06, 2021
Convenient to location I needed to get to time wise.
Sep 04, 2021
This CG was our base camp for touring the southern coast of Maine. We loved the tiered slanted pull thru sites with ours being adorned with an odd sculpture we think maybe a gorilla hand?!? We planned to stay here 6 nights, but with a hurricane tracking south of us, we asked if we could stay another night. They were very nice and accommodating! Even though we have no children with us, I found
Sep 03, 2021
Stayed for four months. Hosts were pleasant and knowledgeable. They were always prompt to correct any problems that might have come up. Nice atmosphere.
Aug 31, 2021
This place is amazing! Very clean!! We go every year!
Aug 31, 2021
Convenient to the VA where we wanted to go. The site we had, #1 was too close to the pool and a bit too narrow; all the RV sites were narrow and not woodsy.. So narrow people had to sit beside the neighbors car. We had a screenhouse with walls for privacy otherwise the whole world was 'joining' us., Good for the owners to see so many sites reserved. Pool was warm, and sounded like a gentle river
Aug 30, 2021
Love the campground and the owners!
Aug 26, 2021
This KOA is becoming rundown. Amenities are being neglected. The deck area is dangerously warped. The rec hall is full of broken activities with missing pieces and is very outdated. The disc golf course is overgrown. We arrived to a large sewage spill in our site. This should not be a KOA - it does not meet KOA standards.
CAMPGROUND RESPONSE / COMMENTS:
Sewage backed up due to rock down the pipebut it was cleaned up and sanitized immediately. Amenities do get broken and we our removing and/or replacing them. Our disc golf course gets moved once per week.
Aug 25, 2021
VERY WELL MANAGED SITE. UNFORTUNATE THAT THE SITE IS SO MUDDY AND SCARED BY DRAINAGE. DIFFICULT TO GET ACROSS SOME OF THE DRAINAGE WAYS. NEEDS SOME SERIOUS RE-GRAVELING.
Aug 24, 2021
Very friendly, safe place for your family. Really enjoy our time there.
Aug 23, 2021
The owners are very friendly. Cabin was clean. Always enjoy staying. Close to home but a great weekend getaway.
Aug 23, 2021
Had a great time. People behind the desk were nice and attentive. Very helpful nice staff. Would definitely go back again
Aug 23, 2021
Very nice hosts. Nice place to spend the night while on the road.
Aug 22, 2021
Tough campsite to back into because of drainage ditche,s. Not a good site
Aug 21, 2021
Very nice owners !! Very welcoming and helpful , I'll be back for sure !!
Aug 20, 2021
Very nice location. Easy ride to Augusta and Waterville. They were flexible in scheduling when I had to extend. Very friendly service. Clean showers and toilet stalls.
Aug 18, 2021
It was fine.
Aug 18, 2021
Had a great time the staff was helpful friendly
Aug 16, 2021
Was off putting when I had guests. Sometimes they charged, sometimes not. When there was confusion on the part of my guest as far as who was registering who, felt like we were being inundated by the campground helpers In golf carts driving back and forth our site checking up on us. I didn't realize what was going on until someone finally stopped to remind us my guest had to register.
Aug 16, 2021
We were very impressed with how clean and well kept the grounds and buildings were! We stayed 9 days as we have lots of friends and relatives in the area to visit, and our children were made welcome as they came and went over our stay. My daughter plans to come back in her own at a future date, and we will be back to visit !!
Aug 16, 2021
We stayed for two nights only. The place is beautiful, very well organised, clean and fun.
Aug 16, 2021
We really enjoyed our stay! We are looking forward to coming back soon!
Aug 16, 2021
This campground could use some TLC. Our site was fine, the restroom/showers were clean. While the pool was clean, the area around the pool needed to be swept. The grass needed trimming and shrubs could use pruning in some areas. The campground driveways are uneven and need work.
Aug 14, 2021
No cable TV and the sewer connection was to high from the ground making draining my tanks a challenge. Sure was a good size.
Aug 14, 2021
A no frills campground. Sites are small. Staff provides wifi password only to find out once sign in, a fee is attached to it. Pool is small. Works well as a basecamp to do day trips. Definitely fits a journey description. Served our purpose but definitely not as nice as any of the other koa's we have stayed at.
CAMPGROUND RESPONSE / COMMENTS:
Our WIFI is free, we do not charge, all you have to do is accept the terms and conditions
Aug 11, 2021
The staff was very nice and the laundry room was clean. So how would I describe Augusta/Gardiner KOA "Rustic" In the true definition It's a campground. My only complaint would be the roads need some work. It a great small park to stay for a week or couple days. We would stay again.
Aug 11, 2021
Loved our 3night stay . So much room on our site, our dog loved seeing other dogs and was very comfortable and safe. Brought our grandkids to the pool and playground, they loved it and can't wait to go back. We will definitely go back!!!
Aug 11, 2021
The staff are very friendly and welcoming and the site was nice enough for my small 16' camper. There were what appeared to be permanent campers with sketchy looking trailers and vehicles with no license plates, which seemed strange. As for the cleanliness, the shower curtains very much need replacing.
Aug 10, 2021
Very pretty campground with terraced sites.
Aug 10, 2021
It had a store..only good part. No mini golf....ZERO privacy...sites are literally on top of each other...staff constantly out in loud golf carts....watching you...$60 a night was a rip off....I've stayed other places $38 a night with Far more privacy and amenities. Wasn't much fun...loose dogs all over...dogs barking constantly
Aug 09, 2021
Very clean and quiet campground. Sites are moderate size and level. Very accommodating, allowing us to check out late and keep the RV on site. Owners are very pleasant and friendly.
Aug 09, 2021
Staff extremely helpful and accomodating.
Aug 09, 2021
would definately go again!
Aug 07, 2021
Nice wooded tiered sites. Easy access to town.
Aug 07, 2021
Nice park! No Issues! Raining so unable to use facilities But park was clean
Sep 18, 2021
Awesome family camp! Owners and staff very friendly and helpful! Would highly recommend!
- Ashley Otis on Google
Aug 24, 2021
It is beautiful and wooded, peaceful and quiet. It's the first Campground I've been to where I haven't been blinded at night by everyone's porch lights and LEDs, it's nice and dark so if you want to look at the stars you can. The staff is very friendly and very helpful. I really liked it here
- Allison Cook on Google
Aug 23, 2021
This is our second year camping and second time visiting this campground. Quiet, clean, with a friendly atmosphere. Our grandchildren love the playground and trail through the woods hopefully the weather will cooperate next time so we can use the cute clean pool 😆 . Our site was large with a table and chair set, grill and fire pit. Will be back next month and years to come. Thank you to the hard working owners and staff that kept things flowing. 😂
- Jacquie Wilks on Google