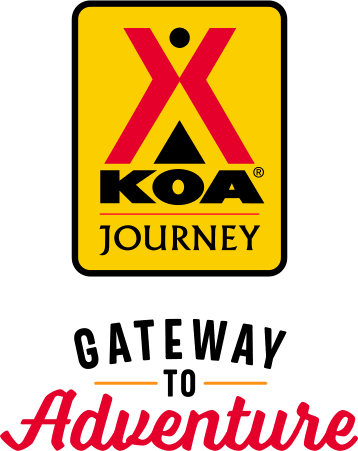 KOA Journey Campgrounds
KOA Journey campgrounds are the perfect oases after a day on the road. Whether it's along the way or a quick getaway, they've got you covered. Located near the highways and byways of North America with long Pull-thru RV Sites, they deliver convenience to the traveling camper. Pull in, ease back and take a load off.
KOA Journeys Feature:
Pull-through RV Sites with 50-amp service
Premium Tent Sites
Well lit after hours check-in service
Directions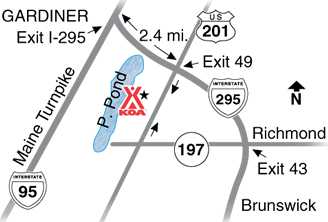 Traveling North on Maine Turnpike (I-95): around Portland take I-295 North to Exit 49, left off exit go 2 1/4 miles.
Traveling South on Maine Turnpike (I-95): take I-295 South, then Exit 49, right off exit go 2 1/4 miles.
GPS info: Latitude / Longitude 44.15111, -69.8675, 44 degrees 9 Ft 4" N, 69 degrees 52 Ft 3" W.
Get Google Directions
Oct 12, 2021
I was disappointed, the websites lists many activities including mini golf and a pool in which both were closed, mini golf was nonexistent. I prefer campgrounds that have pools for my son and booked this because the pool was suppose to be open until Oct 31st.I've never stayed at any other KOA campgrounds but I assumed they offered more. Slightly disappointed because website makes it seem differe
CAMPGROUND RESPONSE / COMMENTS:
Our pool is open Memorial to Labor Day.It is listed that way on our website/general infomation paper. We had to pull our mini golf for safety reason early this season.
Sep 21, 2021
Our stay was fine. A few things we used to enjoy had changed in the last 10 yrs. We plan to camp again.
Sep 20, 2021
The cabin is great! Everything you need for a nice getaway! Owners and staff are helpful and very nice �
Sep 07, 2021
The cabin was wonderful, very great for the value, all the amenities with it: bathroom, tv, fridge, a/c, microwave! Wished we'd had time for the pool. Disappointed that the mini golf, which was on the map and website, was not functional.
Aug 23, 2021
The owners are very friendly. Cabin was clean. Always enjoy staying. Close to home but a great weekend getaway.
Aug 21, 2021
Very nice owners !! Very welcoming and helpful , I'll be back for sure !!
Aug 16, 2021
We stayed for two nights only. The place is beautiful, very well organised, clean and fun.
Aug 05, 2021
KOA Journey was great. The cabin was immaculate and perfect for what we needed it for!
Aug 02, 2021
Clean cabin. Friendly owners. Nice location for us for a quick weekend getaway.
Aug 02, 2021
Our children enjoyed it a lot. They said that staff was very friendly to them.
Jul 24, 2021
Too many dogs barking,mini golf course was disappointing,staff was verynice
Jul 07, 2021
Awesome stay as always.
Jul 02, 2021
Stayed a month in a cabin and Becky and Jayar are always accommodating.
Jun 01, 2021
First time at this KOA and was very pleased with our stay. We were in one of the cabins was very cozy. Playground was great for my 6 year old granddaughter. Activities for her to do. The daughter of the KOA eased my granddaughters stay which was awesome. We have 2 more weekends booked. The owner was very pleasant. You should try Richmond koa
May 12, 2021
Our stay was amazing, Beckey is such a sweet and wonderful host and made the stay so worth it!!!!!!!
Oct 20, 2020
The staff was very friendly and the cabin was exactly as represented. It's impossible to tell from the site how wooded/isolated the cabin location is so we were a little disappointed that it was so close to other camping spots/the road. It would have been nice if the fire ring was at least in the back where it's a little more secluded.
Oct 13, 2020
We really liked our cabin & our stay. Everything was super clean and the KOA was super accommodating of pets. I also appreciated that we could order wood and get it delivered to our cabin.
Oct 06, 2020
Jay & Becky are exceptional hosts and provide such a great friendly vibe at the campground. Can't wait to return next year!
Sep 30, 2020
Very friendly staff!
Sep 02, 2020
I arrived not all employees were wearing masks. I was not escorted to my cabin, the employee just stepped outside and waved in the general direction and said your cabin is over there.The cabin was filthy. I spent 1.5 hours just cleaning the cabin. Dirt, dust, cobwebs, sticky substance on the table. The screens were ripped showers had mold. I had to duct tape a blanket over window no curtains
Aug 21, 2020
Our stay was just what I planned on, axcept the cabin was a bit smaller than anticipated. Very comfy bed though...
Aug 17, 2020
Very nice cabin and the owners are super nice
Aug 16, 2020
Becky and hher family were lovely , welcoming, and charming, the campgrounds were immaculate, lots of activites to do for families, amd located by Augusta, iking trails, river walks, restaurants, brewerys, dog parks lakes, it was FANTASTIC Also it was chill quiet and mellow Perfect Thak you , will viist again Colleen
Aug 13, 2020
We stayed for 3 nights from Aug 9th to 12th. The couple who runs the place were fantastic. They were very nice and helpful. The husband was very accommodating by opening the store even after it closed, so we can buy some ice and firewood. He brought us the firewood straight to our cabin. The cabin was clean and was spacious for 4 people. We will 100% stay here again.
Aug 10, 2020
Staff was helpful & kind. Other campers were friendly. Cabin was clean and had everything they needed. Look forward to staying there again in the Fall!
Aug 02, 2020
Cabin 1 was beautiful. The fan was a nice touch.
Jul 28, 2020
Very nice hosts, very relaxed atmosphere.
Jul 16, 2020
Staff was very sweet and helpful... they kids loved the pool and playground. There is a beach around the corner and a restaurant that was featured on diners dives and drive ins on food network close by we went to on a Rainey day.
Jul 13, 2020
Super friendly and kind owners. I can't imagine being a family-owned business amd trying to get up and running after all the Covid craziness. I hope the owners have a good season, as Becky and JR seem to be wonderful people. Nice camp store. Great location. Quiet, peaceful, wooded area which is what Maine is about.
Jul 11, 2020
Great place for the family and the owners were great
Jul 05, 2020
Excellent customer service, excellent clean bathrooms, very friendly owners, cabin was great, very accommodating. Thinking about going there every year
Jun 27, 2020
This was our first stay at a KAO and I'm officially a big fan!! We had a fantastic stay at this site, everything was really clean (not a single spiderweb In the cabin) and staff was very helpful! Would definitely stay again. I recommend it to all!
Jun 13, 2020
Amazing hospitality. The staff went above and beyond in multiple occasions to make sure I had everything I need even though my stay was a little unconventional. Would return and recommend to anyone in a heartbeat.
Jul 15, 2019
Nice clean cabin. Will stay there again.
Nov 05, 2018
We had an awesome stay here! I was worried about arriving late at night but the night registration was great. The cabin was perfect, we really loved the swing on the porch. The campground overall was also very nice and clean. Wood bought from their store was brought right to the site for us, which was much appreciated. The Miller family was very kind and welcoming. Thank you for a great weekend!
Oct 30, 2018
Super nice, attentive, and kind staff. Had a couple of very minor issues & they addressed them right away. Looking forward to next year. Thank you!
Oct 15, 2018
Hot water in cabin was a bit funky seeing it came from the cabin next door. But after a long wait it was fine and plenty
Oct 14, 2018
Thank you Millers. They were so friendly helpful and very gracious towards my son. Thank you for a wonderful stay. The fall colors were so beautiful this year and your hospitality made it even better. Our first trip to Maine was also made better because of your kindness.
Aug 31, 2018
We stayed in the little cabin, it was a perfect get away. All staff very friendly and helpful. The cabin was more than expected with decent WiFi and even a small tv with cable. Cabin was clean and comfortable. All around perfect experience.
Aug 18, 2018
As usual VERY ENJOYABLE. The kids really loved their stay.
Aug 14, 2018
Great additional perks such as a free hot dog meal, lake passes and fireworks!
Jul 14, 2018
I spent 4 nights in a deluxe camping cabin with my kids. Love Augusta/Gardiner KOA! Cabin, bathrooms, showers, pool, all very clean and well maintained. Have stayed at this KOA 3 times now, and plan to stay again each summer as long as they're open. Beautiful woodland surroundings, with lots for kids to do. Owners are super helpful. Great facility for a reasonable price. Excellent value!
Jul 04, 2018
Relaxing and fun
Oct 12, 2021
Very friendly owners and other campers. Always have a great time. Grandkids love the playground and indoor pavilion to do crafts and write on a huge white board. Will be back next season.
- Jacquie Wilks on Google
Oct 10, 2021
Definitely a relaxing atmosphere. Grandkids visited on weekend. They were entertained and enjoyed the experience. The bathrooms were clean, along with the showers. There are stools if you need to use them in the shower. Pets are welcome, nice well kept area. Good value at landry mat and dryer work well. All around great experience, will definitely return.
- Gail Geissler on Google
Oct 04, 2021
We had a very good time there. The staff that works there are fantastic.
- Ozzie Hart on Google