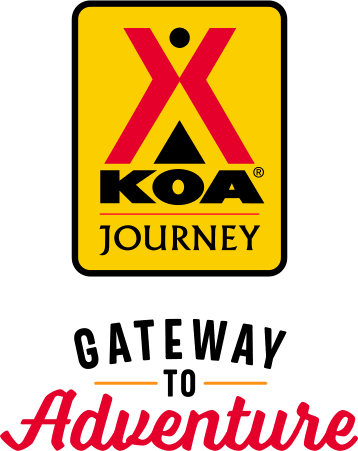 KOA Journey Campgrounds
KOA Journey campgrounds are the perfect oases after a day on the road. Whether it's along the way or a quick getaway, they've got you covered. Located near the highways and byways of North America with long Pull-thru RV Sites, they deliver convenience to the traveling camper. Pull in, ease back and take a load off.
KOA Journeys Feature:
Pull-through RV Sites with 50-amp service
Premium Tent Sites
Well lit after hours check-in service
Directions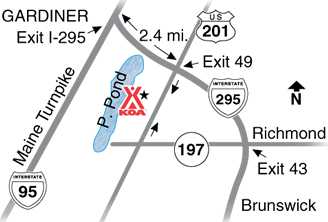 Traveling North on Maine Turnpike (I-95): around Portland take I-295 North to Exit 49, left off exit go 2 1/4 miles.
Traveling South on Maine Turnpike (I-95): take I-295 South, then Exit 49, right off exit go 2 1/4 miles.
GPS info: Latitude / Longitude 44.15111, -69.8675, 44 degrees 9 Ft 4" N, 69 degrees 52 Ft 3" W.
Get Google Directions
Aug 01, 2021
Great family run campground! Restrooms and showers are very clean. The staff is extremely friendly and helpful. The location is great and is located within a few miles of hiking, kayaking and very close to Gardner Maine. However, This campground is more of an RV campground than for tenting. There are 8 tent sites and are very small (but clean). I would definitely go to this campground again!
Jul 26, 2021
Great tent site location, site was very clean and beautiful woods backdrop.
Jul 19, 2021
Nice site protected from the sun. Firewood bundle was a very nice mix of wood, easy to splinter. Friendly and helpful staff. Camp store had nice mix of items available
Jul 12, 2021
It was easy to check in, and everyone was very friendly. There was a fun playground and a couple of other amenities that we didn't have time to try out. We did buy some firewood and they hand delivered it to our campground!
Jul 09, 2021
Beautiful campground, love how wooded the sites are! Bathrooms and amenities were immaculately clean! Thank you so much!
Jul 05, 2021
As far as the tent sites they're not really in the woods or spacious at all. It felt really cramped together. Wish there was more adult activities as basically all there is to do is sit at your own campsite your whole stay. Would recommend for a family with small children but there's nothing to really do unless you actually leave the campground to do activities around where the campground is.
Jun 23, 2021
Bon camping avec des emplacements de taill raisonnable pour les tentes. Les sanitaires sont propres mais un peu vieillots.
Jun 12, 2021
We had tent site. Site very small. Campground clean and neat especially the bathrooms. Quiet. Just how we like it. Will stay again.
Jun 09, 2021
It was really nice, although the pool wasn't opened and they were still setting up for the season you can tell the couple runs a tight ship there, the bathrooms were phenomenally kept, as well as the camp grounds and grass.
Oct 29, 2020
Staff was absolutely friendly and willing to help anyway possible! I enjoyed it very much and want to see it during busy season!
Oct 16, 2020
Friendly staff. Quiet location.
Sep 30, 2020
The people running the campground here very friendly and very helpful. It was quiet and staying here was a great experience. I also that it was also very pet friendly.
Sep 29, 2020
While the staff was very friendly and the back drop of the camp sites were beautiful, this KOA is a little older. Bathrooms were cleaned, and property is well maintained. BUT there's long term/semi-permanent campers right next to the tents sites. This would have been fine if the resident did not start playing music on a speaker from 2am until 6am. Bring ear plugs and this is a affordable stay.
Sep 15, 2020
Nice tent spot.
Aug 16, 2020
Great grassy campsite, very quite and peaceful, very welcoming.
Jul 18, 2020
Great time! Easy to book and comfortable environment!
Jul 12, 2020
Had a great stay. It was so nice to camp in the trees. Thanks!
Jul 10, 2020
Great campground ! Bathroom where super clean and everyone in the office was super friendly and helpful . Hoping to come back soon.
Jul 06, 2020
Best staff that I have ever had the pleasure of meeting. Extremely kid friendly, and accommodating. Best camping trip to date!!!!!
Jun 29, 2020
Everything was great about our stay. The only down fall was all the jagged rocks on our tent lot we stayed at. I do know that due to Covid-19 and places trying to open and make money as soon as possible i didnt put up a stink about it. we were in need of a place to stay and it was convenient. I rebooked for a a different lot. Nice clean friendly!!
Oct 26, 2019
Nice well--maintained campground. Showers and amenities were clean and readily available. I would definitely come again.
Sep 27, 2018
The owners of this site are AMAZING!!!!
Sep 25, 2018
The hosts were extremely accommodating! We needed firewood late (after the office was closed) and one of the owners came to our site and helped us out.
Sep 04, 2018
The whole family had fun as we introduced badminton, ping pong, shuffle board, putt-putt and frisbee golf to the youngsters. As an extra treat their was a candy hunt with flashlights, fireworks, craft hour and even a heated pool.
Sep 02, 2018
It was amazing. Crews are friendly. They will provide the best service that you've never imgined to. Thank you for having us.
Aug 29, 2018
We had a great stay. Staff & managers were very friendly and helpful. The facilities met our needs. We appreciated that the store and laundry didn't blow our budget. The only suggestions we have are mostly safety related. The putt-putt golf course felt very unsafe and there was also major bowing of boards on the deck that weren't marked which may give them trouble at some point if someone falls.
Aug 27, 2018
The family that runs this campground are so nice they went out of there way to make it an amazing stay!! We will be back again!!
Aug 27, 2018
Had a great experience all around, great staff fun games . We had no children with us but wouldn't hesitate to bring them seemed like a very family friendly camp !
Aug 19, 2018
Well maintained, clean. Staff were friendly and helpful.
Aug 19, 2018
Everything was good except there was no change machine in the laundry room.
Jul 22, 2018
Drove in and my stuff was all packed up because they thought I had left?
Jul 04, 2018
Pleasant stay courteous staff enjoyable sites quiet peaceful and relaxing
Jun 21, 2018
Excellent friendly staff, nice clean campground, quiet, showers and restrooms clean and well maintained. Would definitely stay here again!
Jun 19, 2018
The neighbors on the first night were a little belligerent, I know that has nothing to do with the Gardner family and they did offer to relocate us if they continued there stay! It wa as great place! Extremely family friendly and quiet. Will absolutely return!!!
Sep 06, 2017
Lots of activities and amenities. Clean facilities and very nice people. Will definitely return.
Sep 05, 2017
We had a great time! The campground is close to our home but gave us a nice break away from home! The people were nice the campground was clean and quiet! Pool was spotless and fun! Can't wait to come back! Thank you! P.S. Even our dog loved it!
Sep 03, 2017
This is the first time I have stayed at a KOA campground, the staff was very friendly and accommodating. The camp ground was well maintained and clean. We purchased several things from the store and felt we got a great value. We also purchase fire wood which was well seasoned and easy to start. I would definitely stay there again if my journey took me there.
Aug 19, 2017
We had a wonderful time staying at this KOA. The new owners were so welcoming and made our stay a totally positive experience. Jayar and Becky's whole family treated us like family. Clean bathrooms / plenty of fun activities / sunny and shady areas to choose from. When we head back to Maine, we will definitely be staying here! Thank you Miller family for your loving care!
CAMPGROUND RESPONSE / COMMENTS:
We enjoyed meeting you. Sophia is still looking for Mary in the morning.
Aug 17, 2017
It was nice and quiet. The washrooms were very clean! Enjoyed our visit!
Jul 29, 2021
Becky and her husband run a great camp ground. They both are friendly and accommodating. Support this camp ground 👍
- Richard Link on Google
Jul 22, 2021
Nice campground grate for kids and pets
- Sean Hazard on Google
Jul 18, 2021
This place is THE BEST. The owners are awesome caring people who take pride in this campground and it shows! Pools even heated lol ;-) if you're in the Richmond area looking for a campground, COME HERE!!!! you will not be disappointed! Love the RV community thanks for everything and making it feel like home for us!!
- Tracie Perow on Google