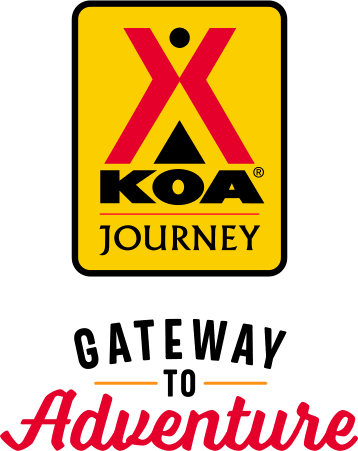 KOA Journey Campgrounds
KOA Journey campgrounds are the perfect oases after a day on the road. Whether it's along the way or a quick getaway, they've got you covered. Located near the highways and byways of North America with long Pull-thru RV Sites, they deliver convenience to the traveling camper. Pull in, ease back and take a load off.
KOA Journeys Feature:
Pull-through RV Sites with 50-amp service
Premium Tent Sites
Well lit after hours check-in service
Directions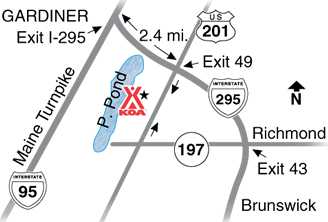 Traveling North on Maine Turnpike (I-95): around Portland take I-295 North to Exit 49, left off exit go 2 1/4 miles.
Traveling South on Maine Turnpike (I-95): take I-295 South, then Exit 49, right off exit go 2 1/4 miles.
GPS info: Latitude / Longitude 44.15111, -69.8675, 44 degrees 9 Ft 4" N, 69 degrees 52 Ft 3" W.
Get Google Directions
Aug 21, 2018
Large pull through sites, good separation between sites and friendly staff.
Aug 20, 2018
Very well kept grounds. The sites are very nice with fire pits. The dog park is great. The owners are hands on and very friendly.
Aug 19, 2018
Well maintained, clean. Staff were friendly and helpful.
Aug 19, 2018
Everything was good except there was no change machine in the laundry room.
Aug 18, 2018
As usual VERY ENJOYABLE. The kids really loved their stay.
Aug 18, 2018
The long term campers and office folks were wonderful! @we had no problem extending our stay when our truck had to go in the shop for another 3 days. Everyone we met was more than helpful, and shared their stories. My only criticism is, the dog park was small, with no opportunity for medium-large dogs to sniff, run and play together within the chain link fence. My greyhound mix was frustrated.
Aug 17, 2018
We had never stayed at a koa before, and we loved it! My only disappointment was the weather! Owners are great, bathrooms were clean. I like the radio in the bathroom. We will definitely be back!!
Aug 16, 2018
Good. Just an overnighted.
Aug 16, 2018
Great campground. All of the staff is absolutely committed to insuring each and every camper have a good time. They didn't disappoint. Staff went above and beyond to help with an issue we had and everyone volunteered.
Aug 15, 2018
The moment I pulled in the driveway I was greeted by staff Chriatian, he showed me to my site, got water & electric hooked up since this was my 1st time ever RVing. Clean restrooms, great fireworks and pleasant staff. Will recommend this KOA to others. Enjoyed my visit so much, I've bookes another stay..
Aug 14, 2018
Large pull through lots, clean campground and friendly staff. Would definitely stay again.
Aug 14, 2018
Great additional perks such as a free hot dog meal, lake passes and fireworks!
Aug 14, 2018
Campground was beautiful and the staff was kind and most helpful.
Aug 13, 2018
I loved the camp ground till Thur. night when the motor homes started coming. They leave their AC on even when they are gone all day. Also we came 10 minutes early according to their paper but they said they let people stay till 3 so we didn't have the nice shady one we reserved.(20) the sheet said out by noon. Other than that is was nice and clean.
Aug 13, 2018
There was a mix up initially on the site I booked, but the manager made every gesture to correct it and were so accommodating when I extended. My first trip to Maine made better by their hospitality.
Aug 13, 2018
As a VIP KOA Rewards member, we needed an easy-to-use, pull through site for one night while traveling. We were given a site that was so sloped that we had to raise one side of our trailer 5 1/2". The sewer cover was broken so I was not able to attach my hose. So much for easy-to-use, with a site rate of $50+ I expect better. Owners were very nice at check-in, but knew what they were giving me.
CAMPGROUND RESPONSE / COMMENTS:
We will address your issue with the maintenance staff. The cap was screwed back on no other issue visible to sewer. We are waiting for shipment of gravel to re-level site
Aug 12, 2018
Good stay. Used laundry facilities and pool. Would return if passing thru.
Aug 11, 2018
Are stay was good. People were kind and helpful. The only thing was that the pool ladders going into the pool were slipper. Should try and something to make it not slipper. Also it would nice if they could get cable in there for the future.
Aug 11, 2018
Overnight stop, easy in and out 45' Motorhome towing. Level site, utilities work well. Would stay again.
Aug 08, 2018
No problems, easy pull through, comforable
Aug 07, 2018
Wonderful people and location
Aug 06, 2018
Friendly staff, very comfortable site with concrete next to the RV.
Aug 05, 2018
What a wonderful experience! When checking in they were very friendly and helpful. I really appreciate this especially after driving 500 miles. They escorted us to the site and helped get camper situated where it needed to be. I will stay here again if given the opportunity. Thanks for the great 7 day stay.
Aug 05, 2018
Staff we very friendly and helpful. Ice was a little high priced. But other than that it was a very pleasant stay. And would not hesitate to stay again.
Aug 05, 2018
A very nice and quiet campground centrally located for excursions to the coast and other areas.
Aug 05, 2018
Close to everything we wanted to see
Aug 02, 2018
They were very accommodating as we were running late because of traffic and arrived at about 9:30 to 10 in the evening and in the rain so the last thing we wanted to do was set up in the rain obviously so we got a hotel be called that night at about 9 to let them know we would not make it they cancelled our reservation no problem and then refunded our deposit. This place was awesome
Aug 02, 2018
Site and grounds were excellent. Washrooms a little "tired".
Jul 31, 2018
Closed pool because somebody said it was thundering. Beautiful flowers, steep rough gravel roads, nice people, no cable, pricy for value, I would go here again.
Jul 31, 2018
It was perfect for my two night stay, my 5th wheel is 42 ftl long, I was escorted to my pull through, and assistance was offered.
Jul 31, 2018
We rented lot 16. The breaker tripped once when we first hooked up making us lose power. Getting to the dump station was very difficult space wise with a narrow turn around. The ground was so unlevel at site 16 we couldn't level our camper very safely. The managers were very nice.
Jul 30, 2018
We have not been here in 10 years. Impressed with all the changes!
Jul 29, 2018
Great staff. Amazing place
Jul 28, 2018
My family and I spent 2 days here and it was off the beaten path. We enjoyed the idea of it being so close to Augusta as we were on our way to Bar Harbor Maine.
Jul 27, 2018
Camp owners are extremely nice and friendly, grounds were well kept and clean.
Jul 26, 2018
Warm and friendly greeting and very convenient. The site was dry and easily accessible. The bathroom facilities were fair but getting old. One shower stall was out of order and there were cleaning materials hanging around so that it appeared that the work was in progress BUT that was not in fact so as there were still there the next day.
Jul 25, 2018
Only one night but the facility and staff were great.
Oct 10, 2021
Definitely a relaxing atmosphere. Grandkids visited on weekend. They were entertained and enjoyed the experience. The bathrooms were clean, along with the showers. There are stools if you need to use them in the shower. Pets are welcome, nice well kept area. Good value at landry mat and dryer work well. All around great experience, will definitely return.
- Gail Geissler on Google
Oct 04, 2021
We had a very good time there. The staff that works there are fantastic.
- Ozzie Hart on Google
Sep 18, 2021
Awesome family camp! Owners and staff very friendly and helpful! Would highly recommend!
- Ashley Otis on Google