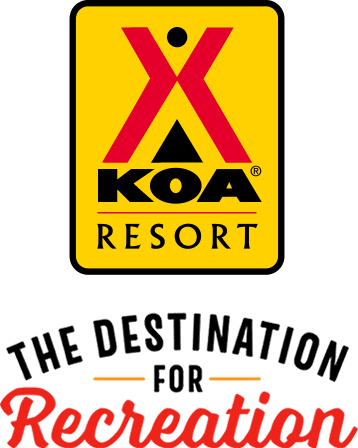 KOA Resort Campgrounds
KOA Resorts offer a carefree vacation in the great outdoors. Enjoy robust recreation and staff-led activities, kick back and relax by the resort-style pool, or grab a bite to eat, all while never leaving the campground. And with plenty of RV Sites with KOA Patios® and Deluxe Cabins with full baths to meet your needs, it's the ultimate camping getaway.
KOA Resorts Feature:
RV Sites with a KOA Patio®
Deluxe Cabins with full baths and linens
Premium Tent Sites
Resort-style pools
Indoor and outdoor group facilities
Directions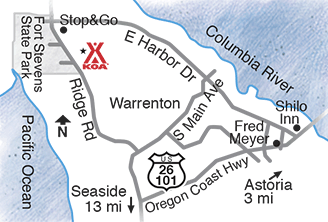 From US 101: Follow signs to Ft Stevens State Park.
From I-5: Take WA State Exit 36 to Hwy 30 West. Follow signs to Ft Stevens State Park campground entrance.
If you are using a GPS system please use the Ft. Stevens State Park as a reference.
Get Google Directions
Nov 14, 2020
very friendly service behind the counter. we stayed during the pandemic so just stayed in our trailer. it was so peaceful and the moose was great to.
Nov 13, 2020
Quiet this time of year. Very Wel kept up. Bathrooms were clean. Staff was very friendly and helpful. We'll beback
Nov 12, 2020
We had the best stay! The park is exceptionally clean and the staff is super helpful!! Would absolutely recommend!!
Nov 11, 2020
Very clean Cabin, and amazing Camp Ground. Hope to come back sometime when things are open, however with Covid it makes things a bit difficult. The safe was very helpful and quick to reply with any questions I had. We will be back some day.
Nov 10, 2020
Had a great time everybody was very kind and courteous everybody was wearing a mask they did a great job nice clean park I'll definitely be back
Nov 09, 2020
The site that we first checked into didn't work for our trailer size and they were able to find us a site that was perfect! There was fun activities for the kids all day and really cool and scary haunted cabins. We will come back for Halloween every year!
Nov 09, 2020
Very nice stay. Cabin was clean and staff very friendly and helpful.
Nov 09, 2020
I dont feel like our cabin was very clean, there was dog hair on top of the microwave and the blankets in the bunk room had dog hair all over them. The room did not smell very good and the bathroom sink would not drain. Wish cabin would have been cleaned better especially with covid right now.
Nov 09, 2020
Just all around favorite campground when things are open, otherwise I genuinely appreciate that your store and office are open late!
Nov 09, 2020
Rustic cabin beds were comfortable, heater was sufficient, cabin very clean
Nov 09, 2020
What a lovely place and friendly staff, my wife absolutely loved it
Nov 09, 2020
Great service, very pretty campsites with at least some room between them. Quiet. Observed Covid regulations very well. Best feature for me was super easy pull in / out propane refill service right outside the camp office. Extremely convenient. Location to explore Astoria is perfect.
Nov 09, 2020
Wonderful. Clean. Friendly. Beautiful.
Nov 08, 2020
The KOA staff made our stay very nice despite the CoVID19 restrictions. Wifi and cable signals were strong and consistent. No Cons other than the rain most of three of the five days and nights but definitely not the KOA's fault. Nice time
Nov 07, 2020
First time staying at your deluxe cabin. Loved it!
Nov 07, 2020
We enjoyed ourselves in spite of the pandemic. The resort is well maintained and the staff was friendly and helpful. We would love to visit again.
Nov 07, 2020
Loved everything about my stay. Grounds were kept spotless. Staff very friendly and followed Covid requirements
Nov 06, 2020
Cabin was clean and well kept.
Nov 06, 2020
Halloween was a surprise for us. Many families returned to experience a haunted village, costume parade, costume contest, best decorated RV contest, and safe trick or treating. This was so much fun for us to watch. Their attention to detail was evident. You must put this KOA on your bucket list. You will not regret your decision.
Nov 05, 2020
Great place lots to do in the area.
Nov 05, 2020
peaceful & comfortable
Nov 04, 2020
Beautiful campground! Lots to do and full of amenities. Loved our stay!
Nov 03, 2020
Stayed over Halloween weekend they did such an amazing job and we had a ton of fun.
Nov 03, 2020
next year for Halloween. You should wait until dark to do the campsite judging. A lot of the sites looked totally different in the dark. I think that the results may have been different.
Nov 03, 2020
The only issue I had was the floor in the bathroom of our cabin was in disrepair which I reported to the front desk and campers in the neighboring site were constantly smoking Marijuana. We didn't ask when we were there, but does the park have rules about that? I know its legal but it smells awful and having your kids asking what that bad smell is doesn't really fit the family feel of KOA.
Nov 03, 2020
Fantastic experience. I highly recommend attending every Halloween.
Nov 03, 2020
We had an amazing experience we were down at the 400 level I think it was 401 was our deluxe campsite and we loved it right across from the bathrooms very quiet we were loud LOL I ran out of wood and had a hard time finding some so I walked up to the store and I forgot my money and one of your staff spot me a pile of wood and gave me a ride back to my campground . Can't wait to come back thank you
Nov 02, 2020
We enjoyed the weekend and all the Halloween activities. Our only disappointment was that our grandkids weren't with us. Next year they will be!
Nov 02, 2020
Beautiful campground, great location, and the staff was so nice and responsive! I'll definitely be staying here again
Nov 02, 2020
We loved the haunted cabins!
Nov 02, 2020
So fun lots of festive activities for Halloween, had a ball!
Nov 02, 2020
This was a fantastic campground, plenty of stuff to do and see. I came with several work friends and we had a blast, although I wished we had been closer together, we had a great time. Definitely would recommend to anyone to come check this location out.
Nov 02, 2020
Our Family has a great stay. So much to do and see. Will defiantly come again.
Oct 31, 2020
We really enjoyed our stay and got lucky as the weather was beautiful and sunny and we plan on coming back again sometime. We also enjoyed seeing all of the elk.
Oct 31, 2020
Felt safe and cabin had everything we needed!
Oct 29, 2020
Check in staff very good. Several partiers 30 ft from my RV bed named Loud, Dumb & Drunker. I finally woke up the "after hours" contact person at 1140pm, no showed to "take care of it right away". Had boon docked 5 peaceful & quiet nights prior to this. $58 for no quiet or sleep, should have parked anywhere but here. Packed up & left early next am.
Oct 28, 2020
Always love staying here! They have great activities for kids (even during Covid-19 times) and are always so positive. It's also super clean and the staff are amazing! Look forward to visiting every year!
Jan 11, 2021
You won't be able to do all the activities they have to offer in a weekend trip.
- Neil Javier on Google
Jan 11, 2021
Wonderful place. Seriously even during covid I would recommend this location. A lot of things were shut because of Covid but my daughter enjoyed the swings and the big chess and checkers. Every kid that was playing was wearing a mask which was nice because we make our kids wear their masks pretty much every where. We have an RV and the hook ups were premium. I'd recommend this place for people that have friends that don't have RV's or fifth wheels because they have cabins for those friends of yours that don't have them.
- Nicholas Irvin on Google
Jan 10, 2021
Roomy enough for 4. Kitchen, drinking glasses and such provided. TV provided, no dvd nor dvr, yet they offer excellent amenities.
- JC Shaw on Google