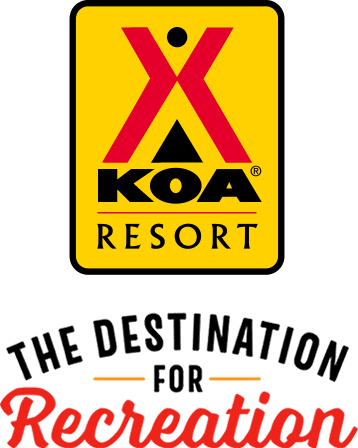 KOA Resort Campgrounds
KOA Resorts offer a carefree vacation in the great outdoors. Enjoy robust recreation and staff-led activities, kick back and relax by the resort-style pool, or grab a bite to eat, all while never leaving the campground. And with plenty of RV Sites with KOA Patios® and Deluxe Cabins with full baths to meet your needs, it's the ultimate camping getaway.
KOA Resorts Feature:
RV Sites with a KOA Patio®
Deluxe Cabins with full baths and linens
Premium Tent Sites
Resort-style pools
Indoor and outdoor group facilities
Directions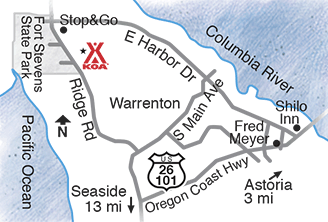 From US 101: Follow signs to Ft Stevens State Park.
From I-5: Take WA State Exit 36 to Hwy 30 West. Follow signs to Ft Stevens State Park campground entrance.
If you are using a GPS system please use the Ft. Stevens State Park as a reference.
Get Google Directions
Apr 06, 2021
Clean, organized, nice staff, very helpful, piles of stuff to do, 2nd time at this campground, low key.
Apr 06, 2021
This will definitely be our go-to location when we are in the area.
Apr 06, 2021
It's everything I have come to expect with KOA. This in fact is my favorite place to stay. I base my standard on your park. Thank you for a perfect weekend.
Apr 06, 2021
This is our favorite campsite. Will be even better when the pools are open again.
Apr 06, 2021
First Time staying at a KOA, loved it. My wife an I may consider becoming a member in the near future.
Apr 05, 2021
Excellent staff, very friendly and a super easy process. We checked in on a Friday and it was busy, but handled very efficiently. During the week, we were the only RV for probably 50 spots, so very quiet and out on our own. We saw staff cleaning the camp sites as well as the cabins. Definitely a place to come back to.
Apr 05, 2021
Our stay was wonderful, the kids especially had a great time and everything was clean and updated. We loved the new fire pits and benches!
Apr 05, 2021
Had a great time. Kids had a blast. Staff was all amazing and so friendly. So many things to do. Can't wait to come back.
Apr 05, 2021
We love staying at Warrenton KOA it is our favorite of all the KOA's we stay at.
Apr 05, 2021
Always good, our favorite KOA.
Apr 05, 2021
Well kept park. Very clean. Very friendly!! Thankyou
Apr 05, 2021
We had a fantastic time and my kids LOVED the Easter Egg hunt!
Apr 05, 2021
Cabin was cute, remote in bedroom didn't work. The light above the bed did not work as well. Tried to use the stove and only one burner worked, very disappointing as we we're trying to cook breakfast. The thermostat was broken on the wall bad the cabin had 2 baseboard heaters that clicked all night long—very annoying. Disappointed that I paid almost 500 for the weekend and had all these
Apr 05, 2021
it's dirty, cabins are not cleaned. Bathrooms are dirty. Not all campers are wearing masks. The cabin we stayed in needed repair, holes in the floor and door. Huge air gap around the door. We were cold even with the heater running all the time. The cabins really should be cleaned and sanitized for the prices your charging. Your heater should work for the prices your charging. Grounds need maintenc
Apr 05, 2021
Always so much fun! The bikes were great to rent and so much for the kids to do. Thank you KOA
Apr 05, 2021
Wonderful campground and staff. Will be back!
Apr 05, 2021
We went for easter weekend. All the planned activities like the smores train- creativity( bunny headband and the easter egg hunt were so much fun for my 2 6 year old grandchildren. We chose cabins next to each other for my 2 daughters and I so we could enjoy and still abide by covid restrictions
Apr 05, 2021
A very lovely park. We will come back!
Apr 05, 2021
The Deluxe Cabin is amazingly equipped with almost everything you may need for an getaway! Even during covid time, the place is well maintained and kept clean and all the towels and toiletries are sealed to make sure it is new and cleaned. We'll definitely come back and reserve this KOA site. Thank you
Apr 05, 2021
It was great. Really good spot. The cushion for the mattress was terrible otherwise all 10s
Apr 05, 2021
We absolutely loved our little cabin!! Can't wait to stay again but longer :)
Apr 05, 2021
We called last minute and got a pull through spot, which was awesome. Staff was friendly and we loved all the amenities.
Apr 04, 2021
Nice campground, lots of things for kids to do! Will definitely be back!
Apr 04, 2021
Beautiful and clean campground. So many things for kids to do! This is a "destination " campground d for me. I will be back
Apr 04, 2021
Clean, quiet, and friendly, doesn't get any better than that
Apr 02, 2021
Loved the cabin very cute and in a great location very family friendly. Only this is online I didn't see any info about what specific things here closed like the RC track. Also didn't see any info about the pool. My niece and nephew where a bit disappointed but still had a blast.
Apr 02, 2021
Very friendly staff from check in to check out. Great for families.
Apr 02, 2021
It was lovely and quiet
Apr 01, 2021
We really enjoy this campground, and have stayed here several times . On this particular trip, we stayed in a lovely spot that happened to be the first spot in one of the rows right off of the main driveway into the campground. We did notice that many people do exceed the posted speed limit of the campground as they come down the hill and make the corner onto the road we stayed on.
Apr 01, 2021
I first discovered the magic of this KOA when friends brought me along 3 years ago. Now it's our go to place when staying on the north OR coast. The staff if BEYOND helpful and friendly, the accommodations are perfect, (I've now tent camped, stayed in the rustic cabins and the deluxe cabins) and although it's big it really doesn't seem like when you're here. See you soon!!!
Apr 01, 2021
My family LOVED staying here! EVEN with COVID restrictions and the pools being closed, there was a ton to do (mini golf, volleyball, basketball, playground, bike rentals, bouncy mound, even walking round the campground was fun! The staff was SO friendly and helpful, and the little store on-site had a good selection of items. While not walking distance to the beach, it was a quick drive away.
Apr 01, 2021
One word, WOW! An absolutely amazing facility. Without a doubt it's a destination resort. There's lots to see and do in the area, but there's more at this KOA. It's not a 'parking lot layout. Nice large sites, plenty of shade trees. The Cafe features good food, and the play area for kids has everything to keep them actively busy. We didn't get to try the swimming pools but they look great.
Apr 01, 2021
Beautiful site, amazing staff.
Apr 01, 2021
1st time I stayed at a KOA. It far exceeded my expectations. I'll be back!
Apr 01, 2021
Honestly love Koa but didn't realize how stingy this campsite is about money. First off I originally booked it and wanted to cancel after 30 minutes they canceled my reservation and weren't going to refund originally canceling without my verbal permission. And then when I try sort it out they told me I had covo. Then another note they charge 8.50 for extra adult we're I actually only had two
Apr 01, 2021
Post Covid lockdown overnight get away. Cabin was very clean and comfortable. Nice resort but wish sites had a little more privacy. Overall it's a really nice KOA!
Apr 01, 2021
We stayed in a camping cabin for the first time and it was great, the staff is always so friendly and nice.
Apr 09, 2021
Awesome 👌 My 3rd KOA and Yep repeat..... 👏👊
- C. H. on Google
Apr 05, 2021
Great place to make memories any time of the year!!
- Randy K on Google
Apr 05, 2021
Amazingly equipped and cleaned during covid times. Super family friendly and kids! Our fav campground to stay at especially with kids
- Ella Browning on Google