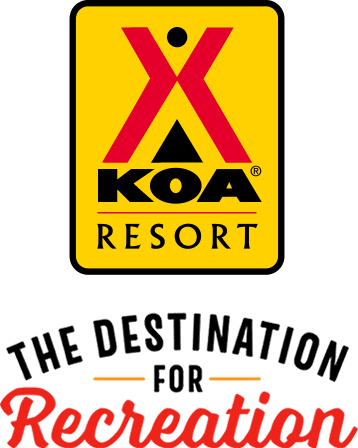 KOA Resort Campgrounds
KOA Resorts offer a carefree vacation in the great outdoors. Enjoy robust recreation and staff-led activities, kick back and relax by the resort-style pool, or grab a bite to eat, all while never leaving the campground. And with plenty of RV Sites with KOA Patios® and Deluxe Cabins with full baths to meet your needs, it's the ultimate camping getaway.
KOA Resorts Feature:
RV Sites with a KOA Patio®
Deluxe Cabins with full baths and linens
Premium Tent Sites
Resort-style pools
Indoor and outdoor group facilities
Directions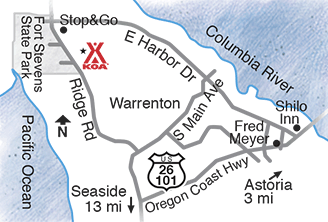 From US 101: Follow signs to Ft Stevens State Park.
From I-5: Take WA State Exit 36 to Hwy 30 West. Follow signs to Ft Stevens State Park campground entrance.
If you are using a GPS system please use the Ft. Stevens State Park as a reference.
Get Google Directions
Sep 15, 2021
Nice facility except the bathrooms attached to the office building. Only one of two women's toilets was functioning. Shower we're full of hair and sand. Checked the next morning and they hadn't been cleaned yet.
Sep 15, 2021
We had a great time at the Astoria KOA! The staff was super friendly and did an amazing job. There were so many activities, and the kids had a blast. We can not wait to come back!
Sep 15, 2021
I really enjoy this KOA. It is great for kids and adults. Very friendly and helpful. I will stay again soon. Come enjoy the fun.
Sep 15, 2021
We were there to celebrate a birthday. The camp did a great job making sure all our family/friends were close together. Even when some were in cabins & others in RV spots. We appreciated that! Thank you for a wonderful stay!
Sep 15, 2021
Awesome every one was very nice �
Sep 15, 2021
Our cabin was great! (KS10). We only missed having a kitchen sink…very comfortable bed and great fire pit!
Sep 15, 2021
Campground nice and clean staff is awesome kids love all the activititys we will be back
Sep 15, 2021
We love it here and will keep going back! It's so well maintained and clean, with friendly staff.
Sep 14, 2021
Nice place but you have in-filled cabins and additional site way too close together!! There is no sense of privacy anymore. Also, why is the Nature Trail not maintained? I like that you switched it to the other side of the drainage ditch. However, the trail is neglected and hard to get to.
Sep 14, 2021
We stayed in a deluxe cabin and our friends stayed in a separate cabin. Everything was clean and the kids loved all the amenities! We will definitely come back with an RV and stay longer. Also, close to Seaside which was nice as well.
Sep 14, 2021
Our stay was great!! The staff was super welcoming. Our dogs loved the K9 park. Our daughter loves the indoor pool and all the kid activities!! Our cabin was perfect for our stay and was clean upon arrival. Definitely will stay here again!!
Sep 14, 2021
We had a wonderful relaxing weekend, everything was clean and well run with appropriate pandemic rules in place. Thanks!
Sep 14, 2021
Amazing facilities. They have activities and fun things to do for every age groups. This is hands-down the best KOA in the state!
Sep 14, 2021
One of the best KOAs we've stayed in.
Sep 14, 2021
We had an excellent stay. Our only critiques are that it would have been nice to know in advance that some amenities would be closed (such as the Forrester Cafe). All info online said that the Cafe would be open. Also there was hair from the previous guest in our cabin shower. Otherwise everything was wonderful!
Sep 14, 2021
We had a wonderful time! The kids loved it. The bathrooms were so nice and clean and the activities were fun as always. The people were friendly and it was really great. My only disappointment was that even though it was beautiful weather the outdoor pool was closed. It would have been nice to use that this weekend but other than that it was perfect. Thanks!
Sep 14, 2021
the staff were very friendly and helpful
Sep 14, 2021
park was nice, staff help and pool were open this time, last time there pool was closed for covid-19 my son loved pool and spa, loved the area around park, this time stayed longer, will return soon
Sep 14, 2021
It is a nice campground with a lot of activities. Very family friendly.
Sep 14, 2021
Everyone is always so friendly and our family always has so much fun and loves this place!!! Thank you for everything you do! We will see you soon!
Sep 13, 2021
Super clean. Many activities. Friendly staff. Close to attractions
Sep 13, 2021
Everything above expectations. Good job KOA team
Sep 13, 2021
We stayed 4 days for Rod Run in Long Beach. Campground was kept very clean. Nice access to running/biking trails at Fort Stevens, literally across the street. Though we don't have children, there were a lot of activities for kids, which is great. It's also amazingly quiet considering how many people were there.
Sep 13, 2021
At first we were a bit disappointed because when I called I was sure the gal said it had a microwave but luckily I had brought the oven with my camp stove so things worked out the cabin was nice and the people were good to us so we really have no complaints the girls loved the pool
Sep 13, 2021
This time I was a little discouraged, we were assigned a site that did not have a cable connection. When maintenance came by to fix it, they were already aware that it did not work. In this case they should not have assigned this site (there were a few around us that were available). They had us connect to a cable that was connected to the utility shed, which was also right in our site ugh.
Sep 13, 2021
The campground staff were friendly and helpful. The park was very full and a lot of people had dogs; we were awoken every morning to dogs barking, every day we were bothered by aggressive dogs when we were out walking in the park. It's for this reason that I'm not sure if we'll return to this park.
Sep 13, 2021
Everyone was extra friendly and plenty to do. We love coming here!
Sep 13, 2021
Stayed for member appreciation weekend! Love this gift you give us! Astoria/Warraneton/Seaside is one of my favorite KOA's and we return often. I would have rated a 5 if there would have been more activiites planned for the families during this weekend. Recognizing the global pandemic, it may be a staffing issue, but I would have liked to have seen a bit more.
Sep 13, 2021
Always a great time at this KOA. Staff is super friendly! Love the text updates.
Sep 13, 2021
Wonderful. Very nice camp sites. Well kept.
Sep 13, 2021
We enjoy it so much. Lots to do. Great staff
Sep 13, 2021
Campsite and campground well maintained. Plenty of activities planned and things to do. Will be making a longer visit next year.
Sep 13, 2021
It was very nice it was quiet by 10 people were very respectful it was a great stay
Sep 13, 2021
We loved everything about it. So much to do. We.will definitely be back.
Sep 12, 2021
Very noisy campers party late into night, also gravel roads adds to noise and dust. Very expensive place to stay
Sep 12, 2021
Loved it as always. Great cabin and great place to stay. Recommend always!
Sep 12, 2021
It was great! I loved my stay!
Sep 11, 2021
The site we were assigned was very poor. Sloped in 2 directions way too much. If I would have backed in all the way my door side tires would have to been 9 inches off the ground. I lifted my front tire 6 inches off the ground, my rear tire was wasn't even touching the ground. i was charged the same as those that had level sites. Not right. If backed in all the way, needed extension cord.
Sep 11, 2021
Would prefer grass instead of tree roots for site
Sep 13, 2021
This is our favorite of many KOA's in WA state. It has so much to do in the grounds themselves as well as a 20min dive to seaside and the ocean. The only thing I'd say about the grounds would be if it's packed, it can sometimes be loud with fellow campers. Otherwise this sound be a yearly stop on anyone's list
- Scott McConnel on Google
Sep 12, 2021
Awesome lots for the kids to do!
- Kysa Stephenson on Google
Sep 09, 2021
Peaceful
- Lois Smith on Google