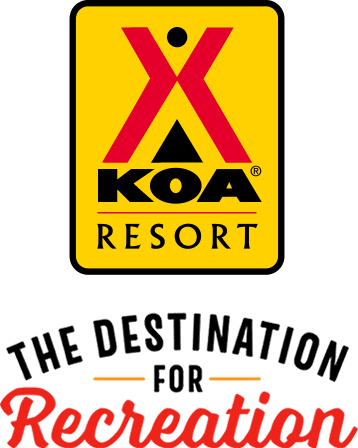 KOA Resort Campgrounds
KOA Resorts offer a carefree vacation in the great outdoors. Enjoy robust recreation and staff-led activities, kick back and relax by the resort-style pool, or grab a bite to eat, all while never leaving the campground. And with plenty of RV Sites with KOA Patios® and Deluxe Cabins with full baths to meet your needs, it's the ultimate camping getaway.
KOA Resorts Feature:
RV Sites with a KOA Patio®
Deluxe Cabins with full baths and linens
Premium Tent Sites
Resort-style pools
Indoor and outdoor group facilities
Directions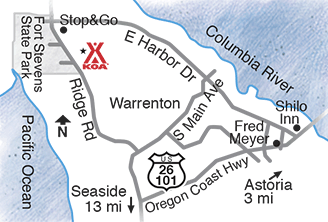 From US 101: Follow signs to Ft Stevens State Park.
From I-5: Take WA State Exit 36 to Hwy 30 West. Follow signs to Ft Stevens State Park campground entrance.
If you are using a GPS system please use the Ft. Stevens State Park as a reference.
Get Google Directions
Jan 16, 2021
Beautiful KOA. Unfortunate that covid has closed so many activities. Would love to come back.
Jan 12, 2021
This KOA is always great! The location is perfect and the facilities are clean! Oh, nice people too!
Jan 12, 2021
Came down for a quick stay over to see the huge surf, stayed in a really nice cabin, normally take our travel to stay at this Koa. This is one of our favorites Koas. We will definitely be back many times this year. Can't wait till all the activities open back up!!!!
Jan 12, 2021
they got us a site when the thousand trails in longbeach screwed us out of a spot were very kind and took care of us at night when there was a very bad storm strong winds and very heavy rain and we were having a very bad night but they took care of us and got us the space
Jan 12, 2021
As always, super friendly and courteous staff during check in. Cabin was clean, property was clean and we always enjoy this campground!
Jan 12, 2021
The staff were very professional and helpful! The campsite is kept up and clean! It is family friendly and my kids really liked being able to walk around the camp grounds plus Elk like to visit so you can get cool pictures!!
Jan 11, 2021
We stayed 3 weeks and I have never seen a RV Park so well kept and maintained. Staff was constantly coming by checking on things, doing landscape work and misc maintenance around the park. This is in the heart of winter when it's slow, can only imagine the activity in the busy months. Great park and the largest of over 20+ parks we have stay at. Will definitely be back.
Jan 11, 2021
very nice, off season so it was quite
Jan 09, 2021
Always a great stay. You'll never want for a thing. The staff are the absolute best. Professional, competent, helpful, friendly, and abundant. Our cabin was perfect and we enjoyed ourselves immensely.
Jan 09, 2021
This KOA was so far, the best KOA I have stayed at. It has a lot of amenities for the family, although due to COVID many of those activities were closed. Nonetheless, the cabins we stayed in were very nice, clean, warm, and it was a pleasant surprise to have linen's provided. Also off-lease areas for dogs - nice. We are envisioning bringing our grandkids here when COVID restrictions subside.
Jan 07, 2021
Awesome cabin! The living space was not what we expected. I can't imagine 8 people being inside if they're doing anything other than sleeping. We were winter camping and meeting friends at the campground. We expected to have room for guests to play cards. The freezer had not be cleaned. There was meat juice in there. eeewwww The plug in the bathroom sink needed repair. All in all loved staying!
Jan 07, 2021
Cabin was nice except for it leaking water all over the floor and under the bed. We enjoy staying at Warrenton KOA. We will be back!!!!
Jan 06, 2021
This was the second time I stayed at this KOA and I will continue to stay here! Even though it was raining and almost everything was closed because of COVID it is still a great place to do and there are plenty of things to do in the surrounding area. The people working in the store are always extremely helpful and kind. Absolutely nothing to complain about!
Jan 06, 2021
Beautiful and clean, quiet! Private camp site! Our trash can blew in the wind in the night and they located it next morning and brought it back to us! Our site ended up costing more than advertised by $7/night. We also chose our site but very little other campers so was a waste of $40, we will only do that during peak seasons.
Jan 06, 2021
Very friendly staff, first time using cabin because usually have our camper. Cabin was great and enjoyed our stay!
Jan 05, 2021
My 16-year-old son and I stayed at one of the deluxe cabins for a mother son weekend trip. We had fun seeing so many of the local sites and the staff was very welcoming. Unfortunately, the cabin itself was not as clean as it really should've been for the price. I am hoping that the standard of cleanliness will improve because I would really like to come back and stay with the rest of my family.
Jan 04, 2021
We enjoy staying at Warrenton KOA. We stayed 4 nights over New Year but our cable was very fuzzy and in and out. A gentleman came by and checked it to see if it was us or the cable and determined it was the cable. He said he would put a note on our account for a discount then or our next visit but no one ever contacted us.
Jan 04, 2021
Well maintained property, friendly staff. Cabins were clean and cozy.
Jan 04, 2021
Rained the whole time but a really nice park.
Jan 04, 2021
It was a rainy weekend, but we made the best of it. Staff was friendly, kind and informative. The campground is amazing and looks as though outside of COVID this would be a great place for kids and adults alike. We are likely to return.
Jan 04, 2021
It was great! Quiet, due to Covid & Weather... Nice
Jan 04, 2021
I've camped several times, literally across the street, at Fort Stevens State Park and decided to check out the KOA. At least in January, the rates where within $2 of the state park but with high speed internet.  The staff was beyond helpful and accommodating.  The site was nice and clean even in torrential down pouring rain and wind.   Will absolute
Jan 04, 2021
Staff was very friendly and helpful. The resort grounds are fantastic! Tons of amenities and a beautiful layout. My only complaint would be that the cabin we stayed in was clearly not swept or deep cleaned in a while. We pulled the bed out from the wall to put sheets on, and there was food crumbs, dog food kibble, and dead bugs. Not a big deal, just kind of gross. :). Thank you & take care!
Jan 03, 2021
Upon our arrival the cabin had areas that had not been cleaned and sanitized as there was old food left on shelves and the fridge. There was also a dead bug on the pillow in the bedroom. The rate to stay was seemed over priced considering most park amenities were closed. Theres an up charge for EVERYTHING including an additional fee for kids, but all the kids activities and pool were closed.
Jan 03, 2021
Is this KOA my favorite, no. Is it horrible, no. I have stayed here 3 times now and typically really like KOA's for their convenience but I feel that this KOA is a little too uptight. There was at least 4 workers per hour driving down our street, I guess patrolling for Covid protocol. I don't think this KOA was even at 20% capacity. It seemed a bit much.
Jan 02, 2021
Nothing was open during Winter hours. Sad for kids. At least the miniature golf and cafe.
Dec 30, 2020
Easy check in/check out. Friendly staff!
Dec 29, 2020
It was great! Can't wait for the pandemic to be over, so we can use all of the awesome stuff you have!
Dec 29, 2020
Was clean and internet worked but they placed us in a spot right at the entrance of the park when the entire 100 loop was empty, made for a noisy (people driving by) and outside space was not worth using (just staring at the entrance to the park). Was really too bad as the facilities seemed nice but the spot chosen for us was unfortunate.
Dec 27, 2020
Staff was super friendly and helpful. We were chilly in our Kamping Kabin so they brought us a spare space heater, which really made our stay comfortable and warm! Bathrooms were clean and the overall campground was in good condition. Nice location across the highway from Fort Steven's State Park and the beach.
Dec 27, 2020
$80 a night with zero amenities was ridiculous. If everything was open, this place would be awesome. But during COVID they really should drop their prices. What did we pay $80 for? Had all the same stuff as the dirt sites for half the price. So I paid an extra $40 a night for a cement slab?? Not a happy camper. Plus, couldn't find a bottle of water on the whole property. All the machines were empt
Dec 24, 2020
Great location and very kind employees. The front desk did an amazing job.
Dec 24, 2020
Great campsite and friendly staff! Our camping lodge was the perfect getaway during this crazy year!
Dec 24, 2020
REALLY NICEPEOPLE AND PARK
Dec 23, 2020
3 days was very nice. Don't have a kitchenette though. At least not what I would consider a kitchenette. Microwave and coffee maker, with a BBQ outside and utensils for it.
Dec 21, 2020
We are looking forward to another stay in the summer months when we can utilize all of the amenities that the Astoria KOA has to offer. The only downside of the stay were the very bright blue spectrum LED street lights around the nearby cabins. Perhaps a warmer light option would be less of a distraction at night time. Other than that A+
Dec 21, 2020
It is always so great when we stay with you guys are so friendly and always helpful.
Jan 19, 2021
THE BEST KOA! It really is a luxury and the facilities and everything was just spot on clean! Love the staff!
- Kevin Lee on Google
Jan 11, 2021
You won't be able to do all the activities they have to offer in a weekend trip.
- Neil Javier on Google
Jan 11, 2021
Wonderful place. Seriously even during covid I would recommend this location. A lot of things were shut because of Covid but my daughter enjoyed the swings and the big chess and checkers. Every kid that was playing was wearing a mask which was nice because we make our kids wear their masks pretty much every where. We have an RV and the hook ups were premium. I'd recommend this place for people that have friends that don't have RV's or fifth wheels because they have cabins for those friends of yours that don't have them.
- Nicholas Irvin on Google