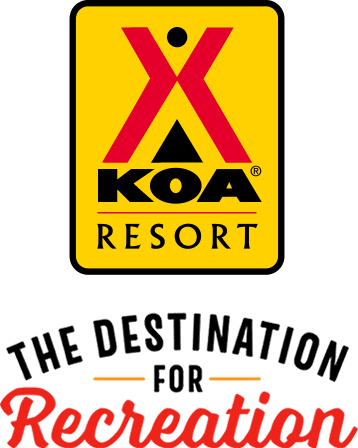 KOA Resort Campgrounds
KOA Resorts offer a carefree vacation in the great outdoors. Enjoy robust recreation and staff-led activities, kick back and relax by the resort-style pool, or grab a bite to eat, all while never leaving the campground. And with plenty of RV Sites with KOA Patios® and Deluxe Cabins with full baths to meet your needs, it's the ultimate camping getaway.
KOA Resorts Feature:
RV Sites with a KOA Patio®
Deluxe Cabins with full baths and linens
Premium Tent Sites
Resort-style pools
Indoor and outdoor group facilities
Directions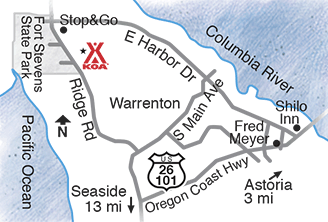 From US 101: Follow signs to Ft Stevens State Park.
From I-5: Take WA State Exit 36 to Hwy 30 West. Follow signs to Ft Stevens State Park campground entrance.
If you are using a GPS system please use the Ft. Stevens State Park as a reference.
Get Google Directions
Jun 20, 2021
Best KOA I have been to.
Jun 20, 2021
Best KOA in America. Clean, excellent staff, and large variety of services. We try to get there once every year.
Jun 20, 2021
Site was very uneven.
Jun 19, 2021
The staff were courteous. I wished the menu at the cafe wasn't changed and serving less. The community showers could be better. The hot and cold shower faucet was wrongly labeled or mixed up. And, I wish there was far better ventilation in the shower stalls and bathrooms. The humidity in both areas was very high and uncomfortable.
Jun 19, 2021
Shower valves are backwards in some of the showers, no cleaning crew at night so when someone crapped in the shower it sat all night even though the customer service representatives were told there was crap in the shower, and the heated pool apparently only is actually heated one day a week because it only worked one day. Should have got a yurt at an Oregon state park for a quarter of the price.
Jun 19, 2021
We loved our stay. The campground is beautifully maintained, quiet, with a great staff. We were sad that the pancake breakfasts weren't offered due to the pandemic.
Jun 19, 2021
Very enjoyable! Everything was just perfect!
Jun 19, 2021
Everything was great. But the showers and toilets were not clean.
Jun 19, 2021
Best KOA I have been To
Jun 19, 2021
Very clean and beautiful.
Jun 19, 2021
nice and clean. Friendly staff
Jun 18, 2021
The park is very nice and clean. We will be back, again
Jun 18, 2021
Too much to do! We seriously needed two weeks to see and do everything...we had a very busy two days! We will be back for a longer stay.
Jun 18, 2021
I'm giving 3 stars due to the bathroom not being cleaned thee entire time we were there and one of the toilets we couldn't even use because there was poop on it. This was our first time staying at a KOA so we had a couple questions, The gal at the fun center was rude and seemed annoyed that we were asking questions. The saving grace is the tent site was awesome!
Jun 18, 2021
Loved the campground and rustic cabin. The bathrooms and showeres were pretty bad. Lookedlike they cleaned on wednesday. The barking dogs and dogs off leash running through space very irritating. I get it dogs bark but dont leave dogs and go walking or just let continually bark. And let dogs bark while sitting there. Not on you guys. All in all great visit.
Jun 18, 2021
We stayed right near the entrance. Site was adequate. Lower section seemed very crowded. Trash pick up needed some help..
Jun 18, 2021
I enjoyed my stay everything was perfect everyone is always so happy I love seeing everyone so happy well with the exception of one guy who drives the smaller koa Chevy truck he's always kinda rude and just doesn't seem too happy we hardly never see him. Only issue was in Bigfoot they have the best cookies except for this time it seems as though they began to make them ahead and they're hard
Jun 17, 2021
Great time, great amenities, great help from staff changing to a better campsite.
Jun 17, 2021
Cabin was clean. No breakfast and no warning at check in. Sewage back up outside our cabin. Very loud clean up. Staff at fun center were very young teens. They were goofing off with each other, didn't give us correct info that left our kids extremely disappointed when we showed up for the pool at 900am and it didn't open until 10am. Charging for bike rentals after paying $220 a night is just i
Jun 17, 2021
We were only here a night and were so sad we couldn't stay longer! What an amazing place. Our family enjoyed free arts and crafts, mini golf and ate at the little cafe on site. We will definitely be back. We had one of the smaller cabins and it had it's own bathroom! Glamping!
Jun 17, 2021
Loved the stay staff was awesome facility was very clean and a lot to do as in activities
Jun 16, 2021
A little over-populated feeling for my liking, but then again, this is a very popular location. Our cabin area was shadier and more restful than most locations at this KOA, which was nice. Lots of mosquitos in our area.
Jun 16, 2021
Lots of great things and experiences. One improvememt would be to put some hooks and curtians in the showers. Loved the private rooms .
Jun 16, 2021
Beautiful place! Great store! Large, lovely spaces and facilities. A recommendation would be to leave the pool open a little later.
Jun 16, 2021
Staff was nice and my site was clean and roomy.
Jun 16, 2021
It was awesome! We've camp here before, but it's been a few years. The kids had a great time. Even though it was raining there was still things to do. We were camping with other family members and we both booked different type spots, but you were able to rearrange and accommodate us to get us next to eachother. I really appreciate it!!!! Thank you!! We'll definitely come back.
Jun 16, 2021
It was very nice. Lots of things to do even with Covid restrictions.
Jun 16, 2021
Cleanest, best taken care of private campground I have stayed in over the past 60 years
Jun 16, 2021
The site was really good, the staff we encountered was really helpful. The only problem we had was we paid $23.00 for a $12.00 value pizza that had a burnt crust.
Jun 15, 2021
Good stay as usual, but our cabin didn't have a freezer compartment in the fridge. Made it difficult to keep breakfast and dessert items. Also microwave was complicated and frustrating.
Jun 15, 2021
We rented a basic camping cabin. The cabin was cobwebby and mattresses were dingy and need updating. The KOA is large and in a great location, the cabin needed some TLC.
Jun 15, 2021
Wonderful and great time. Staff and ground keepers were excellent. It's a kids paradise! Bring back the free breakfast! Definitely see you next year!
Jun 15, 2021
Stay was nice. It was my boyfriends first time at the KOA and he really liked it. Already planning our next stay.
Jun 15, 2021
When we arrived After traveling from Spokane there was hair in the bathtub spiders and spiderwebs everywhere inside and out all over the porch all over the AC all over the windows couldn't open the windows because of the spiders and spider eggs couldn't turn on the AC because we were worried of spiders coming in call the maintenance people they came and did a quick little brush off the porch
Jun 21, 2021
Always so fun to Kamp KOA's, so many amenities offered to families!
- Justin Barbeau on Google
Jun 20, 2021
The nicest KOA we've been to before! Great amenities and beautiful location. Only downside was a ton of mosquitos (June) that made sitting outside difficult.
- Jonathan Brown on Google
Jun 19, 2021
This is the best koa in the state my girl's love to come here
- Chalo Acosta on Google