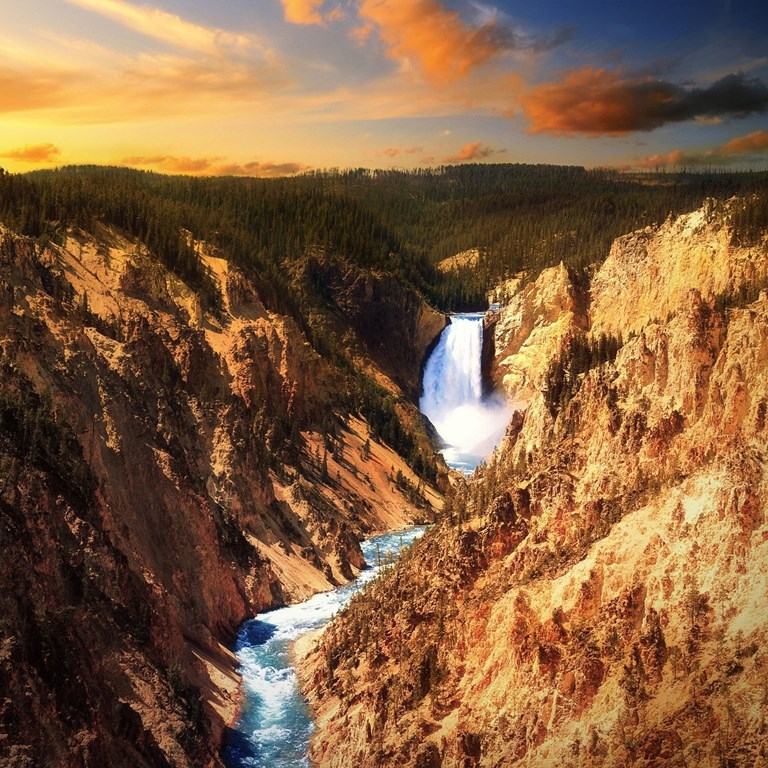 Yellowstone Park / West Gate KOA Reviews
Directions
From West Yellowstone: 6 miles west of Yellowstone National Park West Entrance at West Yellowstone, Montana on US HWY 20, aka. the Targhee Pass Hwy.
From Idaho: 3 miles east of the Montana/Idaho border on US HWY 20, aka.the Targhee Pass Hwy.
Be aware that we are 1.5 miles east of the new Mountainside Journey KOA which is also on US Hwy 20.
GPS: N44.686. W111.2179
Get Google Directions
Oct 16, 2020
High quality park. It is convenient for visitng Yellowstone National Park
Oct 09, 2020
Cold and wet!! (not your fault!!)
Oct 09, 2020
Nice folks full service koa with propane. Great spot near Yellowstone Park
Oct 07, 2020
Absolutely loved our stay. Great staff and super clean facilities.
Oct 07, 2020
They were very accommodating to us, even though it was the last night of their season....clean, nice folks.
Oct 06, 2020
This is a large KOA with some of the sites on level ground and others built into the side of the hill. We had one of those and should have pulled forward a little more so we stepped out on a level surface. Park personnel came over to help us with getting level and were extremely useful. We were glad they were around. Yes, we would come back again.
Oct 06, 2020
The sites are VERY close together. The campground is kept clean and the staff are friendly. The bathrooms are not nearly as clean as other KOAs where we have camped. That was extremely disappointing. Zero wifi reception created difficulties with work and school. Left one night early - no refund. Even though our space was rented again. Overall, overpriced for what we got.
Oct 04, 2020
trees need to be trimmed up so as not to damage rooftop equipment-parking spots need to be graded - to pitched
Oct 04, 2020
This was our 2nd time staying at this location. A great home base for all locations within Yellowstone. The shower was horrible, the shower head was too high and had no pressure - you couldn't wash the soap out of your hair.
Oct 04, 2020
First vacation in 7 years and booked all my stop overs with KOA camp grounds. being from a family that built and owned a RV park I was pleased with the cleanness and attitude of all the staff. very professional and organized. I will stay again on my next trip to the area.
Oct 03, 2020
Great campground with a great location for Yellowstone adventures. Site was level, easy pull through. Full hook-up. Friendly staff nice store. Will return earlier in the season so I can enjoy the pool and BBQ. Staff works hard to keep the grounds and your visit 5 star. Thanks again for the great week.
Oct 03, 2020
This is a beautiful campground, with nice access to the west gate of Yellowstone NP. The downside, though, as with most other KOAs and other privately owned campgrounds is that the camping sites are a little too close together, limiting privacy. Aside from that, we will definitely stay there again if, or when, we decide to visit Yellowstone in the future.
Oct 03, 2020
Nice location for Yellowstone. It was difficult to get reservations due to the location. A nice park. The outside help was very friendly and very helpful. With the nice weather, it was too bad they did not stay open on October 1st. But we enjoyed our drives into Yellowstone.
Oct 02, 2020
Nice park with a great view, close to the west gate entry to Yellowstone National Park. Friendly staff
Oct 02, 2020
Maintenance employee, older guy w facial hair, when in store/check inside didn't wear masks &walked around the store right next to people. The reservation people were lacking in niceness. They weren't rude just acted like robots who just wanted to get done with you. The park was very clean, well kept. store had 1 icecream in freezer &very few options no microwave popcorn, the shelves were empt
Oct 02, 2020
Every thing was great. Loved the dog park.Loved the pool
Oct 02, 2020
We arrived the week before they closed for winter, caught the pool on its last open day. Great complex. BUSY BUSY place. The heated indoor pool was great we were bummed it closed after our first day but as an ode to GOT - "winter is coming". Very helpful and cheery staff. Busy but nice laundry facilities with a detergent and quarter machine. We enjoyed our stay & easy access to Yellowstone.
Oct 02, 2020
A little cramped in and internet was not very reliable but otherwise a fairly nice campground. Employees were friendly and helpful.
Oct 02, 2020
We were there for the end of the season. The staff was great even with the additional work being done to prepare for their winter shutdown. See you next year!
Oct 02, 2020
Great campground! Staff was very friendly and the maintenance team were very helpful. Great stay overall. Thank you!
Oct 02, 2020
We loved the camp ground, all that it had to offer, well maintained and close to yellowstone, diamond p ranch.. the crew outside was friendly, and a couple of the office folk were friendly, but there was 3 different office staff that were just rude and unfriendly, irritated with questions that it made us feel unwelcomed. They seemed to not like their job.
Oct 02, 2020
We enjoyed our stay! Staff was very friendly and the park has beautiful trees and is very campy! Very close to Yellowstone park! The store is really big and has most of the stuff you would want/need. The WiFi was good for the first 3 hours then it was terrible. Site are small, and we had a deluxe site. We brushed a tree making the turn into the site, it's not really big rig friendly.
Oct 02, 2020
Internet was not strong - needed it for my child's school work. Stayed during the last week of operation so many of the amenities were closed down so could not take advantage of them.
Oct 02, 2020
Terrible. I understand they were closing the camp on the first, but SUPRISE! People are still there and camping until 10/1. The WiFi closest to me was turned off at 8:30. And on 9/30, the break down of the check-in front desk was worse the. A preclose at a restaurant. I felt like I shouldn't even had been there, extremely unwelcoming. Will never go again. West Glacier KOA 10000% better.
Oct 02, 2020
A little tight on the space and a little noisy. Probably better for RVs and us tenters.
Oct 02, 2020
The sites were very nice and maintained. However, we stayed the last night they were open and they were already shutting down the park. Buildings were boarded up, the indoor pool was closed, some bathrooms were closed, they took all the swings down from the playground. I understand they are closing for the season, but as a KOA member I believe you should complete that work when the parks closed.
Oct 01, 2020
Initially, I was put off by the site we were in. It did not look like we would fit. But we did. We had to park our truck parallel to the trailer to do it. Once we were settled, it was okay. Our type of site backed up to another row of sites, so we had RVs on both sides and right behind us. There were lots of trees in our section of the park, so that was nice. A ways out of town.
Oct 01, 2020
We had a great stay at the KOA in West Yellowstone. It was quiet and nice. The site we had was not level and we had a very hard time leveling our trailer because of it. We did not go into the restrooms so not sure what those were like.
Oct 01, 2020
Clean and well run
Oct 01, 2020
Very clean and orderly. Having the fireplace cleaned out is unique. The only difficulty was returning to the camp in the dark. The lit yellow sign is a great marker.. The actual driveway at road level is tricky. The yellow markers on the post are not reflective or not reflective enough. When we come again, we will stay in your KOA. Ideal distance from Yellowstone. Thank you for everything.
Oct 01, 2020
We stayed 4 nights. Everything was OK. Quiet, clean, good services and shop. It will be a good idea to refurbish the sanitaries....
Oct 01, 2020
They said the camp was sold out. I seen 1/2 of the place wasn't even being used. Had to move sites 3 times for a 6 day stay.
Oct 01, 2020
Great time. Clean facility. The small dog park next to the miniature golf area needs smaller fencing ie chainlink fencing so that smaller breed dogs cannot escape while they are in there.
Oct 01, 2020
I rarely stay at KOAs due to other campers. They don't understand etiquette. One guy opened and repacked car doors numerous times at night. How do I know? He belted his horn every time. Not your fault but KOA campers don't understand. People were great at the desk and security.
Oct 01, 2020
Beautiful site!!
Oct 01, 2020
They closed so many things super early didn't restock items in the store. Felt like they were getting an early start on closing at the expense of the people staying there. Felt like we were an inconvenience to them
Oct 01, 2020
very clean, friendly, busy, dogs every where
Oct 01, 2020
Very helpful office check in staff. Thanks
Sep 30, 2020
This is one of the best KOA we stay at. We will be coming back. Craig & Kim Hunter (From Pennsylvania)
Sep 30, 2020
Kitchen area/tent was neat, great idea. We didn't see that at an other campsites on our journey. Laundry room was very accommodating.
Oct 18, 2020
Super convent location. Helpful staff. Price vey reasonable for location. Spots were a bit tight. We weren't in bathrooms to comment. Fenced area for dogs was very nice.
- Bria H on Google
Oct 04, 2020
Best place to stay during your yellow stone trip.
- Kumar Ekansh on Google
Sep 30, 2020
Nice clean campground and friendly staff.
- Jon Haverty on Google

Yellowstone Park / West Gate KOA
Open May 21 - October 1
3305 Targhee Pass Highway
6 miles West on US Hwy 20
West Yellowstone, MT 59758
Check-In/Check-Out Times
RV Sites, Tent Sites
Check-in: 11:00 am, Check-out: 11:00 am
Accommodations
Check-in: 2:00 pm, Check-out: 11:00 am
Operating Hours
Sunday: Open 8:00 AM to 9:00 PM
Monday: Open 8:00 AM to 9:00 PM
Tuesday: Open 8:00 AM to 9:00 PM
Wednesday: Open 8:00 AM to 9:00 PM
Thursday: Open 8:00 AM to 9:00 PM
Friday: Open 8:00 AM to 9:00 PM
Saturday: Open 8:00 AM to 9:00 PM
Yellowstone Park / West Gate KOA
Get Google Directions

© 2020 Kampgrounds of America, Inc.