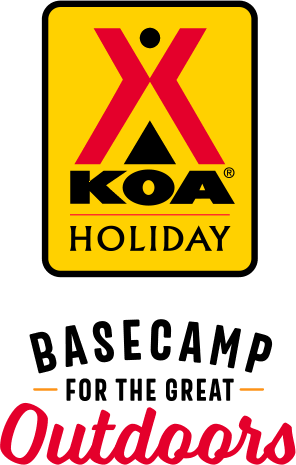 KOA Holiday Campgrounds
Whether you're exploring the local area or hanging out at the campground, KOA Holidays are an ideal place to relax and play. There's plenty to do, with amenities and services to make your stay memorable. Plus, you'll enjoy the outdoor experience with upgraded RV Sites with KOA Patio® and Deluxe Cabins with full baths for camping in comfort. Bring your family, bring your friends, or bring the whole group – there's plenty of ways to stay and explore.
KOA Holidays Feature:
RV Sites with a KOA Patio®
Deluxe Cabins with full baths
Premium Tent Sites
Group meeting facilities
Directions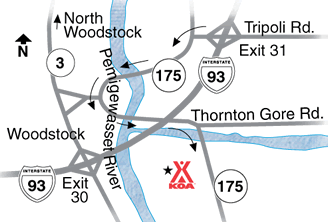 I-93 Exit 31, 2 miles south on Route 175; (East Side Road). Please note that our physical address does not appear on most GPS devices. Should you continue to have issues to locate us, please phone the campground directly. (800-562-9736).  GPS Coordinates: 43.962 Latitude 71.675 Longitude
Get Google Directions
Sep 21, 2021
Had a great time at the campground. Wonderful hosts and an extremely well kept facility. Something fun for all ages. We have been coming for years and are currently booked for the next 2 seasons as well. One not: The address should be corrected to "Eastside" Road as one word, not East Side as printed. This fixes the misdirection on GPS systems.
Sep 21, 2021
The only issue we had was with a fee when booking our reservation. We accidentally submitted our online reservation twice. They called us right away to see if it was a mistake, which it was, but then charges us $10 to cancel the second booking.
Sep 21, 2021
We had a campsite that we just loved and would request in the future. Everyone was helpful and top of the line. (Love the store and food). We were there for a festival but am thinking about going there in the next few weeks just for a quite break. One of my new favorite campgrounds.
Sep 21, 2021
My poor rating is do to the fact we had a positive COVID test in our family tried to take precautions and cancel our reservation just under 48hours prior to our reservation we were told we would loose our full payment as they have no COVID exceptions. We choose to go and take a chance and they were fine with that. I think it was not a good business move. The facility was very nice ,employees too.
Sep 21, 2021
Friendly staff. Great location for exploring the White Mts. Extremely clean modern bathrooms with free hot showers. Reasonable pricing of 39 bucks for a primitive tent site. Well-stocked camp shop with microwave/oven/toaster and only a short walk/drive to the highly rated StrEatz Mobile Food Truck.
Sep 20, 2021
We come as a family every year for the Highland Games. Lincoln/Woodstock KOA is always our preferred campground. Friendly, clean and spacious. Love it here.
Sep 20, 2021
Love the bathroom remodel. Campground was clean and nice. Only negative is the highway traffic which there isn't a fix for. People close had dogs that were left in the dog park and the dog would bark a lot, also when anyone walked by they were very loud.
Sep 20, 2021
Wonderfully friendly, clean, fun with so many amenities
Sep 20, 2021
Staff was very helpful finding our way to activities. Very quiet campground.
Sep 19, 2021
The help and owners are friendly and helpful. The place was clean and peaceful. We had an excellent time and will be back.
Sep 18, 2021
It was a clean and well-kept campground, bathrooms are very clean I'd recommend you stay here. It wasn't very far from the trail that I took me and my dog had a great time.
Sep 17, 2021
very nice camground, loved the hiking trail.
Sep 16, 2021
Friendly hosts, already booked for next year
Sep 16, 2021
Campground is very well maintained, the staff is friendly and helpful and the bathrooms look new and exceptionally clean. I had a problem with my water tank and asked if someone on staff could give me some advice. The owner, Rob, actually spent several hours removing the tank from my motorhome, fixing the problem and refusing payment. he just wanted us to enjoy our stay. Super guy!!!
Sep 14, 2021
The campground is beautiful and clean and the owners were very nice and very accommodating! We will definitely stay there again!
Sep 14, 2021
We absolutely LOVED this campground. We had so much fun and we're all in our 20's. Bathrooms are nice and clean. Staff is super nice. Would recommend this campground and will be staying again next year!
Sep 14, 2021
We had a wonderful stay. The cabin was immaculate and the bathrooms were spotless. The staff was amazing and there were so many things for my daughter to do. We wish we could go back tomorrow! Wonderful.
Sep 14, 2021
LOVE It! So many activities for kids - one of our favorite weekends of the summer!
Sep 13, 2021
First time camping with a camper, they were great!
Sep 13, 2021
Very convenient access off of the interstate and good proximity to N. Woodstock, Lincoln, Franconia Notch, etc. Only drawback is that many sites are all rock/gravel surface with little or no grass. Otherwise well run and clean. Seems very "kid oriented."
Sep 13, 2021
Great campground. We had to leave early this time due to a bicycle accident on the Franconia Notch Mulituse Trail. If not for the accident we would have stayed the entire weekend. Only negative issue is no cable. I feel for these prices cable should be included.
Sep 13, 2021
Staff was super friendly, site was clean and spacious, plenty to do and we all had such a fun time. Will come again for sure!
Sep 13, 2021
Great stay at a beautiful location. Thank you for your hospitality we look forward to seeing you again soon
Sep 13, 2021
Campgrounds was very nice and close to areas of interest. Would have given it more stars however unknown when we booked the KOA did not have any cable and the WIFI was all but useless.
Sep 13, 2021
Really enjoyed the stay....very friendly staff and many activities to entertain the children. One not so nice feature was the highway noise for the lower electric ready tent sites. The other was the Fire Engine ride(very nice activity for the kids, however, for smaller children it was very scary when sounding the horn and siren....if that could be muffled a bit I think it would be less scary.
Sep 12, 2021
The deluxe cabin was very clean, well stocked with cookware, towels and anything else that we might have wanted. The site was comfortable and uncrowded. The grounds are lovely, and we enjoyed the walking path down to the pond. Notes to future glampers: the coffee pot is the pod type and the cable tv was not in service at the time of our visit, but the wifi was strong enough to stream from.
Sep 10, 2021
Nice campground. Nice people work there. The issue was,the campground was very noisy due to the constant noise coming from the 2 air blowers inflating a large inflateable trampoline. Constant annoying noise. Great place for kids though.
Sep 10, 2021
Nice well maintained campground. Has lots of things to do on site or short drive. The people who run the grounds are polite and professional. Can't wait to go back
Sep 09, 2021
This was our 4th year staying here. This year was much different than the last 3. I feel this year people were more strict with things happening at the campground. We were told to put our dog on a leash and he was already on a leash. Our children were spoken to by other parents multiple times for being kids. I do however, appreciate the 2nd bathroom had a makeover.
Sep 08, 2021
As always an excellent facility, we had several new campers with us, and they already booked additional stays.
Sep 21, 2021
Great place to stay with kids.
- Matty C on Google
Sep 20, 2021
Very nice experience. All facilities immaculate and very friendly staff!
- Kevin Kilpatrick on Google
Sep 16, 2021
What a great place. Very friendly staff, wonderful family environment, and super nice, clean and modern campground. We loved it.
- sheila cole on Google