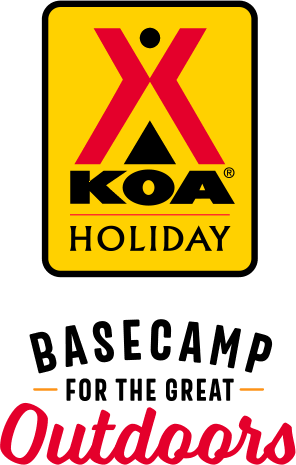 KOA Holiday Campgrounds
Whether you're exploring the local area or hanging out at the campground, KOA Holidays are an ideal place to relax and play. There's plenty to do, with amenities and services to make your stay memorable. Plus, you'll enjoy the outdoor experience with upgraded RV Sites with KOA Patio® and Deluxe Cabins with full baths for camping in comfort. Bring your family, bring your friends, or bring the whole group – there's plenty of ways to stay and explore.
KOA Holidays Feature:
RV Sites with a KOA Patio®
Deluxe Cabins with full baths
Premium Tent Sites
Group meeting facilities
Directions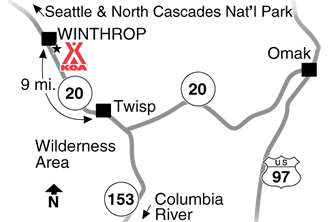 1 mile east of Winthrop on SR 20/Cascade Loop Scenic Hwy.
From SR 20 W: Turn right at stop sign in Winthrop, continue 1.2 miles.
From east on 20: Pass through town of Twisp, continue approximately 8 miles.  Look for the Large KOA sign on the east side of the road.
Get Google Directions
Sep 20, 2021
This KOA campground is nestled right up against the Methow river. The campground could use some maintenance attention & some fixing up/upgrading but all in all not bad. We got our 42' 5th wheel in/out easily. The cute western themed town of Winthrop is 2 miles down the road. Beautiful scenery all around. Great winery and the Cider House has great cider and great smoked ribs! Both in town.
Sep 20, 2021
It is always relaxing and weather never disappoints! A lot of great improvements to infancy the stay!
Sep 20, 2021
Great work by all in keeping your camp welcoming and clean. The spaces were generous and the river locational ideal. Easy access from the road, close to town and fun for kids of all ages. Ben Rasnick
Sep 20, 2021
The staff was really great and we enjoyed our stay!!
Sep 20, 2021
Campground itself was nice. Cabin was smallish but clean and nice. Beds were beyond AWFUL! Bathrooms were nice and clean.
Sep 20, 2021
Very clean park with good amenities and great service.
Sep 19, 2021
Office people were so friendly and helpful. The showers by the main store were clean and so was the bathroom. Lots of things for kids to do even though we didn't have kids with us! Close location to Winthrop and walked to pizza one night.
Sep 19, 2021
Thank you for a nice quiet time, very peaceful stay, always enjoy coming over there, Michael Landwehr
Sep 18, 2021
Outstanding! We stayed on a super site. The site is completely surrounded by a 6' wooden fence. The site includes a large patio, picnic table, Hot Tub, Gas grill and s fair amount of shade. Very quiet, loved it here.
Sep 18, 2021
Our cabin far exceeded our expectations. Clean, comfortable, well appointed! Maintained impeccably - like no one ever stayed there! KOA staff was friendly and helpful. It just doesn't get any better when you're traveling and looking for a nice place to stay.
Sep 18, 2021
Great location, nice staff. Not much privacy. It takes a LONG time for hot water to reach shower heads.
Sep 18, 2021
Loved this park. Great setting by the river. Peaceful place with even and wide spots. Staff was very friendly! Would stay here again for sure.
Sep 17, 2021
Beautiful location. Clean, clean, clean!
Sep 16, 2021
We have been staying at this KOA for more than 40 years and always have a great time.
Sep 16, 2021
very nice quiet park
Sep 16, 2021
This the best KOA I have ever stayed at, the staff are all wonderful. They were very helpful and friendly. We can't wait to come back again someday.
Sep 16, 2021
Very accommodating staff. They go out 0f their way to make sure you're taken care of. Wouldn't hesitate to stay again.
Sep 15, 2021
Great family campground! Nice group of people that work the camp. Sites are nicely spread out. We've used the cabins and trailer hookup sites and both are very nice. They do a good job keeping everything clean, grounds and showers/bathrooms. All around great place
Sep 15, 2021
Traveling 5000 miles across the USA, and this was the best place we stayed....camping the whole way. Super friendly and helpful folks there
Sep 14, 2021
We had a nice relaxing time at the campground. It was quite.
Sep 14, 2021
This KOA is always our go-to each year. The location is beautiful and the grounds are as well. Everything is kept clean and the staff is friendly.
Sep 14, 2021
It was awesome! The only downside was the people smoking at the next cabin over and the drinking party beyond that. Otherwise, everything was great and we enjoyed our stay immensely.
Sep 14, 2021
Nicest Koa there is !!
Sep 14, 2021
Great campground and very well maintained. Staff were friendly and accommodating.
Sep 14, 2021
We rented a tent site the first night and upgraded to a cabin the second night. Facilities were clean and campground was pleasant. My only complaint is the grass should be mowed for people camping in a tent.
Sep 13, 2021
I've stayed here several times with trail running friends. Bathrooms and showers very nice. Campground quiet at night. Our cabin #8 for this visit had a not-too-comfortable mattress on the large bed, unfortunately. Probably just wearing out. But we like this KOA as it's not over large and crowded.
Sep 13, 2021
Had another nice stay at this koa always clean close to winthrop and twisp
Sep 13, 2021
I understand that this was car show weekend but, the people in the cabin next door were very loud until 11:30 PM. I might try your KOA again but, it certainly will not be on car show weekend!! I did not have a good stay and to top it off, it was my birthday weekend!!
Sep 13, 2021
always enjoy our stay at Winthrop KOA
Sep 13, 2021
Staff was very helpful and kids really enjoyed it. Especially the 4 wheeler train rides. Thank you
Sep 12, 2021
My parents and I loved our stay in on of the premium cabins. Everything about it was cute and thoughtfully laid out. The bathroom was spotless and well appointed. Dishes, towels, linen, and basic toiletries... all present and accounted for. The grounds were quiet and inviting. The pools seemed nice, though we didn't use it. The staff was friendly and helpful.
Sep 11, 2021
Nice town. Quite camp ground. Great place to recharge yourself.
Sep 10, 2021
Love Winthrop KOA. The river, the playground, the good mining, pool, train rides! My grandkids loved it. We didn't need to go into town to keep them occupied. The staff are so friendly and helpful
Sep 09, 2021
The setting is beautiful, the staff very friendly, the restrooms really nice, and the convenience to town and North Cascade trails is super. This is the best KOA we've stayed in and one of the best RV parks. I'm usually not an RV park fan, usually prefer state and national parks, but this was great.
Sep 08, 2021
The service was amazing super friendly staff and very helpful!!! Thank you
Sep 23, 2021
Excellent. Clean well run campground
- Wallace Hobson on Google
Sep 08, 2021
I'm not a big KOA fan, generally prefer public parks, but this one has a beautiful setting on the Methow River and is nicely landscaped, super clean and quiet, and friendly. A good grocery store is a 10 minute stroll. You can walk a nice trail to town. We stayed two nights after driving over the NCascades hwy and hiking along the way. We went back up to a beautiful trail 30 minutes or so back west, the Blue Lake trail. There's a really nice new restroom/ shower/laundry building on the far end toward town. Definitely a bargain for Winthrop. If you aren't camping they have cute cabins.
- saraholy on Trip Advisor
Aug 28, 2021
Right on the river. Fantastic location. Really welcoming camp host.
- Ashley Smith on Google