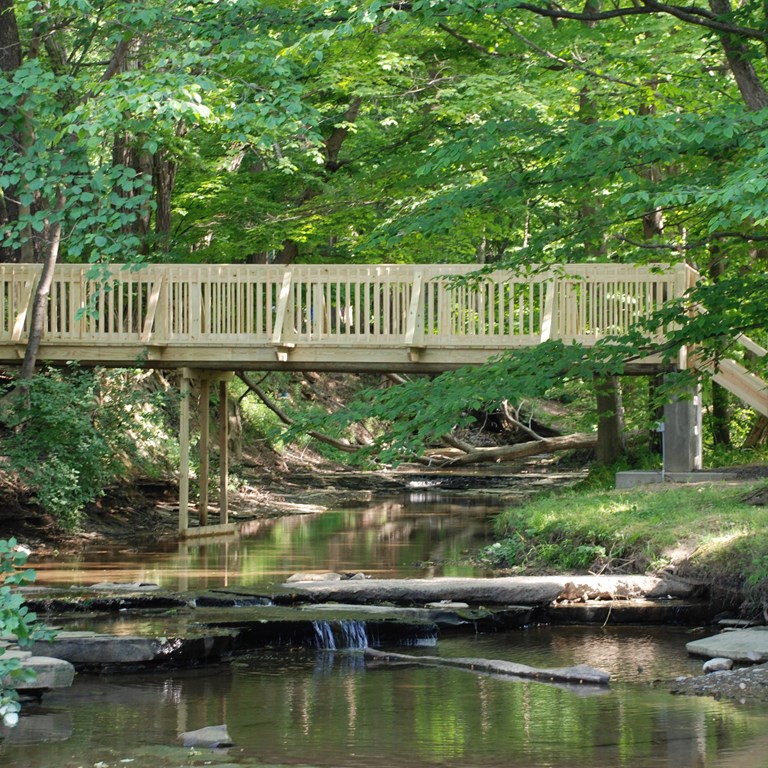 Westfield / Lake Erie KOA Reviews
Directions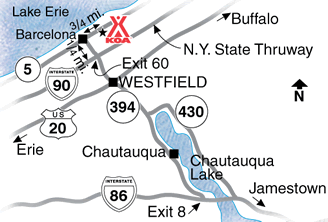 60 miles west of Buffalo, NY, 30 miles east of Erie, PA.
Exit 60 from I-90: Follow signs.
On Rt 5: Go 1 mile east of Rt 394 or 16 miles west of Dunkirk.
From I-86 Exit 8: Go north on Rt 394 to Rt 5, turn right, 1 mile to KOA.
GPS: N42.344141, W79.579864
Get Google Directions
Sep 22, 2020
Stayed 3 enjoyably days guite great area with the welch's grapes all around
Sep 21, 2020
The stay was very nice as is the park. The staff was extremely friendly. The only negative is the noise from the NYS Thruway. It was extremely loud and went on thru the entire night. I am not sure if it was or is less during non covid times.
Sep 21, 2020
Super friendly staff. Great experience. Look forward to next year!!
Sep 21, 2020
It was a great stay and exactly what we needed. The interstate as louder than I thought it would be but it did not bother me when we were sleeping.
Sep 20, 2020
The staff were very accommodating, especially since we were arriving late in the day. We had to leave early the next morning so we didn't get a chance to experience any of the accommodations. I've never stayed at a KOA before, but thought it as rather pricey for the size of the camping area were were in. The grounds appeared to be in good condition and well kept. We didn't use the water or e
Sep 15, 2020
Wounderful people and staff nice clean facility I was just disappointed because I wanted to camp and fish but there was only a blue gill pound if it had a bigger and more devirse fishing pound it would be perfect
Sep 15, 2020
This is a beautiful campground run by a friendly and helpful staff. Stream and vineyard a great plus. Only downside is proximity to NY Thruway.
Sep 08, 2020
Loved the friendly staff and the super nice, updated bathrooms. They are the best we have ever seen at a campground. We cannot wait to come back again next year!
Sep 08, 2020
Very friendly staff. Brenda and cliff where welcoming the whole experience. Definitely making it a yearly trip. Thank you so much Brenda and cliff for everything.
Sep 08, 2020
Everything about this KOA is wonderful. The staff couldn't have been more helpful. The food was delicious. The bathrooms were cleaned and checked several times a day. The price wasn't outrageous. Unfortunately with it being right next to the thruway, I was kept awake most of the night due to traffic.
Sep 08, 2020
Staff was very accommodating and helpful.
Sep 07, 2020
Positive was that our camping area was spacious and bathrooms clean, nice atmosphere. Negative...pools were very small, hard to sleep at night due to loud trains and very loud tenters next to us that stayed up until 2 pm, so curfew of 10 pm was not being enforced.
Sep 07, 2020
Cost of a tent site was 2 times what it was at nearby KOA's. Granted, it was Labor Day Friday, but that still seems like a ridiculous amount for a tent site, $67. It was to be a deluxe site with a tent pad, and there was nothing there except dirt. We were told virtually nothing by the man who checked us in. Our escort never came, so we found our own way. The shower rooms were wonderful, tho.
Sep 02, 2020
Campground is right next to Interstate 90, and the noise is constant all night long.
Aug 31, 2020
Everything about our stay was fantastic! I had requested a specific honeymoon site and was assigned that site! From the escort to our site, food, wood and ice delivery option to your site, to their store that seemed to have everything we couldn't have been more pleased. The front desk worker, the woman who showed us to our site, and the woman who delivered our food were all so polite and friendly!
Aug 30, 2020
I made a reservation for a secluded site. Upon arrival, we were given a normal site in the middle of the park. We were allowed to move to a more desirable empty site without a problem. Much appreciated!
Aug 28, 2020
The campground being nestled between 2 highways is very noisy and really took away from the beautiful area. Unfortunately the dog owners do not pick up their waste the campground was littered with dog feces causing flies and a smell. .
Aug 26, 2020
Pleasant staff, easy to book. Sites very close together and we were right by the NY State Thruway and there was lot of traffic noise. (We were warned about this when we booked, btw. But still a major detractor). Also surprised by the expensive campsite we had on a 3 week trip and our site was only water and electric. Nice park across the street to watch the sunset on Lake Erie.
Aug 25, 2020
Very nice. Difficult to level however.
Aug 24, 2020
Beautiful campground! We loved the creek! Everything was very clean! We will recommend to stay here!
Aug 22, 2020
Nice place but close to the interstate and noisy.
Aug 21, 2020
Very nice campground. Staff was great! Only concern was a little to much noise from I90. A good sound buffer would help.
Aug 18, 2020
IT WAS OUR 5TH YEAR THERE AND WE LOVE IT
Aug 18, 2020
My daughter and I enjoyed our stay and will visit again.
Aug 17, 2020
Nicely maintained. Smallish site. Friendly staff.
Aug 17, 2020
It was too loud. The camping site that is next to us had at least 10 people. The food truck they advertised online and as we checked in wasn't open. Tent sites are too small and close to one another to implement social distancing especially when kids are around. Restrooms we
Aug 12, 2020
Fantastic Campground! Love the staff and the grounds! We have camped here several times, never a bad moment to report! Great family atmosphere! We can't wait to come back!
Aug 11, 2020
Great people. Lisa pizza is best. Site 52 is awesome. Only thing I disliked was noise from rt 90. You can't fix that but was real downer for me
Aug 10, 2020
It was a very nice stay, the staff was very friendly and the sites were shaded. It was also great to be so close to Lake Erie!
Aug 10, 2020
Not very kid friendly if you have active louder children ...they use to be when Shelly and Dennis ran it
Aug 10, 2020
We had a great time. Clean bathrooms, showers and pools. Food from the food truck was good and delivered right to our tent site. Definitely would love to come back.
Aug 09, 2020
The spot next to the highway was extremely noisy and made it near impossible to sleep. You need to make mention of this on your website, when making reservations.
Aug 07, 2020
Asked for a tent site only got a site with electric 7 dollars more a note. This is the second year in a row you pulled this little trick. Won't be back
Aug 06, 2020
Very clean facilities which was very nice and kind workers. But it is RIGHT on the highway. Very noisy and smells like diesel.
Aug 03, 2020
We stayed for the weekend and went fishing Saturday. Had an awesome time.
Aug 02, 2020
Very clean park. Bathrooms are very nice. Nice Mature trees. Unfortunately it is so close to I90 that the roar of the trucks kept us up most of the night.
Jul 28, 2020
Staff was very friendly, campground and bathroom s were clean loved that the beach was so close definitely would come back again.
Jul 28, 2020
Would of gave it a 5 if was informed of the wifi being out. But we will definitely be back and enjoyed the campsite and clean bathrooms.
Jul 28, 2020
It was a clean park. Our site was roomy. Too close to the thruway, but didn't realize this is the type of KOA. But overall it was a nice stay.
Jul 28, 2020
Very clean and great place to enjoy with your family couldn't ask for some very hard working employees to keep it that way
Jul 27, 2020
The tent campsite was relatively expensive (almost $60) and was about 30 feet from i-90, where trucks roared all night long. I felt like I was trying to sleep on the median strip. Although the staff was cordial, the bathrooms were clean, and we were across the road from beautiful Lake Erie, the extreme proximity to the NYS Thruway and the noise that resulted made it a place I couldn't wait to leav
Jul 27, 2020
Great spot and great sites. Facility was very clean. I just couldn't get over the thruway noise. But thanks for great hospitality.
Jul 26, 2020
Great KOA overall, but what made the experience brilliant was the employees. SO incredibly kind, accommodating, helpful, friendly, and personable. This was our first night on the road and our experience here made the start of our journey perfect!
Jul 25, 2020
Kenny and I had an awesome camping getaway !!���� �����the staff the sites and especially the bathrooms were amazing !! We loved it and will return again oh and the cherry on top was that we got to visit with our old friend Nate the owners son he is genuine and amazing we were sure Happy campers!! Kuddo's to all���♥���
Jul 23, 2020
Stayed on what they call their Honeymoon lot and it was just beautiful with a stream and waterfall running right in front of our tent.. we will defiantly be going back.

Westfield / Lake Erie KOA
Open March 27 - November 1
8001 East Lake Road
Route 5
Westfield, NY 14787
Check-In/Check-Out Times
All Sites
Check-in: 1:00 pm, Check-out: 12:00 pm
Westfield / Lake Erie KOA
Get Google Directions

© 2020 Kampgrounds of America, Inc.