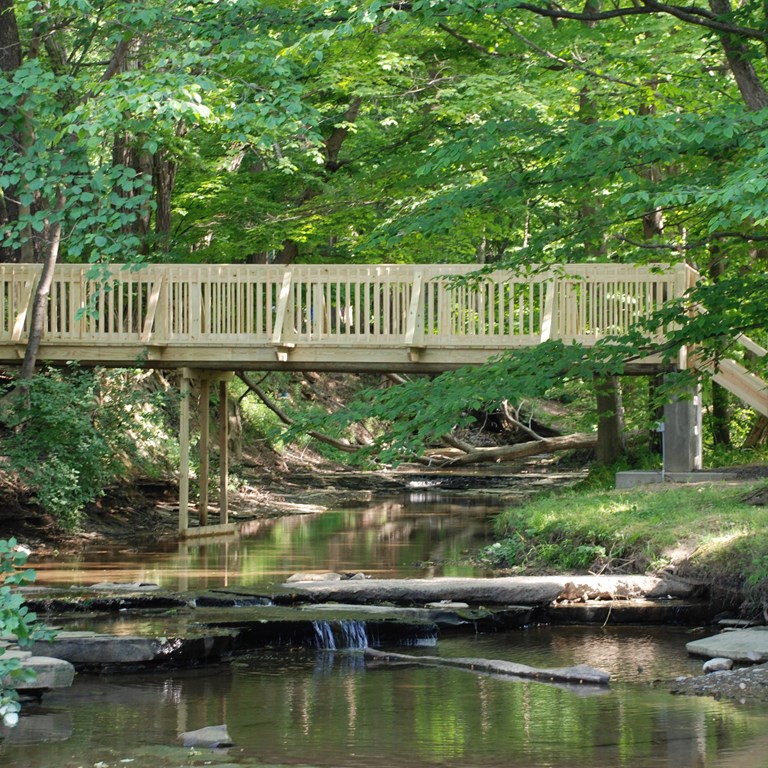 Westfield / Lake Erie KOA Reviews
Directions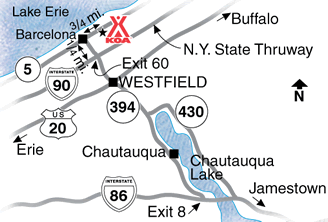 60 miles west of Buffalo, NY, 30 miles east of Erie, PA.
Exit 60 from I-90: Follow signs.
On Rt 5: Go 1 mile east of Rt 394 or 16 miles west of Dunkirk.
From I-86 Exit 8: Go north on Rt 394 to Rt 5, turn right, 1 mile to KOA.
GPS: N42.344141, W79.579864
Get Google Directions
Aug 13, 2018
This was our 3rd time at Lake Erie and each time was awesome. Thanks Hug Family
Aug 13, 2018
The campground was very nice! The whole camp was very clean, the staff was very friendly and wonderful to deal with. If I had one complaint it was the road noise from the highway, but honestly it wasn't too bad. My family and I enjoyed our stay and would not hesitate to stay with them again!
Aug 13, 2018
Very friendly and helpful staff. We stayed two nights visiting the area in a 34ft travel trailer. Grounds were clean and easy to access. Playground and pool area were very nice. Food truck with delivery to site was an added bonus. Water/electric/sewer/cable tv worked well without issue. Wifi was very slow and basically unusable. The only major negative was the road noise from the Thruway.
Aug 13, 2018
Great campground experience. Cliff at the front office was awesome! The food truck on site was a great option for our kids the staff was very friendly and helpful. The location was great a short distance from the beach and right across the road from a public park to view the sunset. We wish we had more time to explore the campground and area. This one will be on our list to visit again.
Aug 13, 2018
Nice campground and owners! Great location for site seeing in the area. I rated it a 3 because of the noise off interstate 90, especially during the day.
Aug 13, 2018
Very nice park and lake across the street
Aug 13, 2018
Got to campground and was escorted to our site. Very helpful! Staff were all knowledgeable. Sites were large and clean. Pool was great and evening entertainment was great. Highly recommend.
Aug 12, 2018
Everything was great!!!!!
Aug 12, 2018
Tent site was larger, more private and shadier than most KOAs that I stayed at across the country in the last month on my NY - Portland OR drive. Bathrooms & showers were well maintained. Having a public park on Lake Erie across the street was a plus.
Aug 11, 2018
Campground was very clean, staff was very nice. Water was heavily chlorinated - so we didn't drink it.
Aug 11, 2018
Very nice people, could use the drives paved. Very dusty
Aug 11, 2018
The camp has put money into the bath house, but we are fully contained so did use those facilities. The sites are short and narrow for big rigs. They've placed the water right next to the electric service and the faucet head on my site was broken off. They do have a food wagon, but there's a good barbecue hole in the wall a mile and a half from the park - two meals worth with one order.
Aug 11, 2018
Was excellent other than a few noisy dogs
Aug 11, 2018
The man who escorted us to our site was very rude and condescending. I have never had this experience at a koa so I was quite upset. He was a camp host. I did not mention it to the woman at the desk as I wasn't sure if she was his wife. The campground was lovely.
Aug 10, 2018
Great, lovely, friendly accomodationg staff. Big rig friendly. Well laid out campground. Laundry clean. Convenient to area attractions and interstate. Will definitely stay again when in the area.
Aug 10, 2018
New owners need. To do a lot of work. Fill holes with gravel trim trees and weeds site 102 dig out roots I fell over them and scratch my knee.
Aug 10, 2018
Our stay was great the washrooms are a state of the art I will definitely visit again. The grandkids really enjoyed the swim and play ground and the staff were excellent. Wish there were more movies to watch like on Friday and Sunday and the food was great.
Aug 09, 2018
A nice well maintained campground in a good location. All of the staff was very helpful and friendly.
Aug 09, 2018
We had no idea!!! The campground was very nice...loved that you set up hook-up side to hook-up side with lots of space out your front door. TONS to do in the area! We learned more about grapes and wineries than anywhere else! You have to go to When Pigs Fly BBQ! Beautiful sunsets right on Lake Erie and good food...great prices and atmosphere!
Aug 09, 2018
Drove across the country from California, stayed at Lake Erie, the staff was super!
Aug 08, 2018
De passage pour un retour de vacance plusieur fois utilisé comme dernier dodo . Tres pres du lac tres apprécier .
Aug 08, 2018
You need to do something about your water pressure and volume. It would be nice to have a designated dog walking area.
Aug 08, 2018
The new bathrooms are amazing! One complaint is that you offer free Wi-Fi but unless you are right next to the office it is basically non-existent. Please boost up your Wi-Fi range! We will be back over Labor day weekend.
Aug 08, 2018
Nice campground Just a hop skip jump away from many attractions
Aug 08, 2018
Friendly phone reservation and check-in. They worked with my specific needs. Arriving, needed help for EVERYTHING with my back causing bend-over pain. The owner's son, Nate, couldn't have been more understanding and helpful with car disconnected, situated, connected. Facilities are shaded, family oriented and conveniently located for activities in easy drive distances. Lake Erie beckons!
Aug 08, 2018
The campground was nice and located right on Lake Erie. It was only a mile to a nice beach. Our site was not as nice as others but they accommodated our last minute request.for a site.
Aug 08, 2018
To short to say anything
Aug 07, 2018
"GREAT STAY"
Aug 07, 2018
Nice campground.
Aug 07, 2018
Extremely clean, great customer service. Sites are small, lack of grass on the sites.
Aug 06, 2018
Very nice campground. Staff very friendly and helpful. Very, very crowded on the weekend.
Aug 06, 2018
Everyone was very courteous and helpful. Across the street is a gorgeous view of the lake
Aug 06, 2018
We will remember this Campground as a prime stop-over location for our trips from Northern KY to upstate NY and VT. Shower facility was immaculate and the creek looks like a great place to spend a day with grandkids whenever they accompany us on travels. The campground is well laid out and with an abundance of shade trees and level pull through sites. Tent campers will welcome the wooded area.
Aug 05, 2018
Campground was nice. Dumpsters were overflowing when we arrived on Tuesday, and were still full when we left on Friday.
Aug 05, 2018
Clean easy access from highway
Aug 05, 2018
Best bathrooms & showers. Food & entertainment on-site. Great location.
Aug 05, 2018
Very nice campground, the staff was very friendly. The bathroom by the office was always clean. I did not visit the other bathroom. The groungs on the other side of the creek are very nice, with the grape vines and the pond.
Aug 05, 2018
Clean, quiet, well managed Park, friendly and knowledgeable Staff, Would stay again when in the area.
Aug 05, 2018
Very clean grounds and facilities, and great activities for kids. Salt water pools wonderful. Beautiful location to see Lake Eris sunsets.

Westfield / Lake Erie KOA
Open March 27 - November 1
8001 East Lake Road
Route 5
Westfield, NY 14787
Check-In/Check-Out Times
All Sites
Check-in: 1:00 pm, Check-out: 12:00 pm
Westfield / Lake Erie KOA
Get Google Directions

© 2020 Kampgrounds of America, Inc.