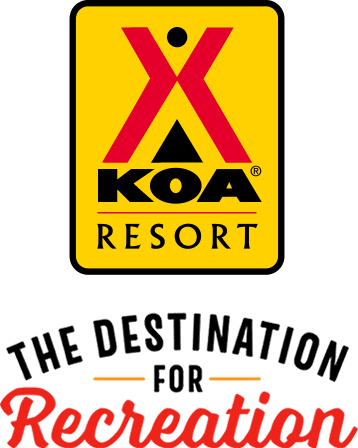 KOA Resort Campgrounds
KOA Resorts offer a carefree vacation in the great outdoors. Enjoy robust recreation and staff-led activities, kick back and relax by the resort-style pool, or grab a bite to eat, all while never leaving the campground. And with plenty of RV Sites with KOA Patios® and Deluxe Cabins with full baths to meet your needs, it's the ultimate camping getaway.
KOA Resorts Feature:
RV Sites with a KOA Patio®
Deluxe Cabins with full baths and linens
Premium Tent Sites
Resort-style pools
Indoor and outdoor group facilities
Directions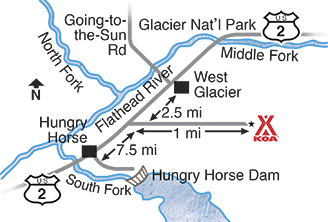 2 1/2 miles west of West Glacier on Highway 2: 1 mile east on paved road.
GPS Info: Some GPS devices try to direct you to a destination in Kalispell, MT., rest assured, we are in West Glacier on Highway 2. Some Apple devices need ZIP code 59901. GPS Coordinates: 48 degrees 27'51.74"N, 113 degrees 58'51.30"W
Get Google Directions
Sep 18, 2021
Great KOA. Spaces in some of the areas are tight, but others are not. With our slides out we could not walk around the motorhome. Stayed in a super landscape. Would pick a different spot. Also stayed at west Glacier RV, doesn't have the amenities but very very close to west glacier and spots are big! Koa is a bit nicer but both are fine.
Sep 18, 2021
We had an issue with our rv and the staff was absolutely wonderful!!
Sep 17, 2021
Great site was perfectly level on site. Had ice cream shop with good variety. Highly recommended.
Sep 17, 2021
Everything top-notch! Well run faciity. One of the best KOA's we've stayed in
Sep 17, 2021
Love the adult pool section and the grounds are beautiful!
Sep 17, 2021
quiet campground; great trails to walk on; loved the Sunday night pizza and quick eating options they offered
Sep 17, 2021
Loved the KOA beautiful landscape and the cafe food and waitress!!
Sep 17, 2021
Wonderful campground. The staff was friendly, the grounds were immaculate. Enjoyed our visit.
Sep 17, 2021
Our cabin was extremely clean, well laid out, and supplied with useful kitchen items. Ample towels and linens. It became a standard for other places we stayed. I do believed we were dinged at the Lazy Moose"(?) cafe. $10 for four ounces of mediocre wine served in plastic cups was extremely over the top. A rip-off. Staff was very nice, particularly one young man who gave us good advice on hi
Sep 17, 2021
We tried to have breakfast at 7:10 and after 20 minutes no one had even acknowledged us so we left. We tried to have ice cream at 8:55 and they were already closed, even the sign said they were open until 9:00. Schedules apparently do not mean anything. The ladies restroom needed some attention. The quality of service has slipped from several past visits.
Sep 17, 2021
This was by far the best campground I ever stayed at. We will definitely be going back.
Sep 17, 2021
W Glacier KOA is a delightful surprise, will definitely stay there again!!
Sep 17, 2021
Outstanding park. Our favorite! Large grass sites. Well maintained and clean. Staff are all very helpful and courteous.
Sep 17, 2021
Tent camping space rented for a single overnight stay after a long hike in Glacier NP. Very nice to see walking trails straight from the site as we have a dog. Showers were top notch. We enjoyed a nice evening meal at the grill on site. Friendly staff. When I saw the sign claiming this to be a KOA RESORT, I was dubious, turns out it really is a Resort.
Sep 16, 2021
The only reason 4 instead of 5 stars is the area we were in, very close together, long term residents. A little uncomfortable. If I had to to again would strongly argue for a better site. Our view consisted of a dozen storage boxes and a beat up pick up parked partially on our site. Neighbors got home late from work and barbecued until after midnight.
Sep 16, 2021
Beautiful, well maintained campground with amenities that make it the best KOA resort we've ever stayed at. Ray was always around with a smile on his face and ready to assist this very busy resort as needed. Office staff friendly but at times appeared flustered with questions and perhaps system itself.
Sep 16, 2021
Beautiful and surprisingly quiet campground, given how large and populated it was. Our cabin was small as expected and a good option for us. However, the door handle was loose, a bit difficult to close and lock from the outside. It was clean and mattress was comfortable.
Sep 16, 2021
Fantastic KOA!! Not all KOAs are equal. This KOA was truly great. Clean grounds, nice amenities, friendly and helpful staff. Easy access to GNP.
Sep 16, 2021
The best KOA! The cabin was beautiful. The staff were great. Couldn't ask for anything more. Love it here. Will come back again���
Sep 16, 2021
The resort is beautifully landscaped! Our cabin was adorable, comfortable and very clean.
Sep 15, 2021
Beautiful landscape, nice sites, great location. In the top 5 KOAs that we have stayed at. Would definitely stay here again and have recommended it to several people we have met at campgrounds.
Sep 15, 2021
Everything was fantastic: our site, the cafe food, the ice cream parlor, the grounds, the proximity to the Park. Can't wait to return.
Sep 15, 2021
Great clean staff were very friendly. Only bad mark. Wifi went down day one and never came back on. Need to stay on that.
Sep 15, 2021
The grounds at West Glacier KOA are fantastic. I liked *the adults only pool * the large lawn in the "middle" of the campground * the bathroom/shower house. How nice to have showers separate from toilets. I also liked the friendly staff. Arriving at a busy time, they were organized with a greeter in the driveway who wrote our license plate down and sent me off to the check in desk.Gr8, Gr8, Gr8!!!
Sep 15, 2021
Great place. Has everything. I'll go back.
Sep 15, 2021
Perfect getaway for our large family. Secluded..quiet..canpfire outside. Had everything we needed...and more than we expected.
Sep 15, 2021
It was nice to find a pool open after Labor Day! Conveniently located. We booked a tent campsite and noted (with some jealousy) the beautiful, green manicured grass adjacent to each RV site... while our tent sites were dry and dusty. The raised tent platform was rough gravel and dust which got onto and into everything. A grass pad (or even a bed of river pebble) would've greatly improved our stay.
Sep 15, 2021
Very clean and well maintained. Staff was also friendly and courteous.
Sep 14, 2021
Park is in excellent condition with top notch service. I Highly recommend it.
Sep 14, 2021
While not cheap .. this is the best KOA. So close to West Glacier entrance.. adult only hot tubs and pool now as well as a newer family pool, restaurant open for breakfast and dinner an ice cream shop and events like live music on Saturday night.
Sep 14, 2021
Great place to stay! Highly recommend the cabins. I do wish there were more motion sensor lights on paths throughout the camp, and signs on the bathrooms behind Scoops for people to indicate that they're taking a shower vs just using the bathroom.
Sep 14, 2021
Amazing facility. We will come back!
Sep 14, 2021
Great experience. Campground was very clean and well maintained. Sites are beautiful. And the location could not be better to the park.
Sep 14, 2021
Loved our location within the KOA. Had a issue with out bathroom. There was no place to put belonging while using the shower. A large stool would be great. Also, the trashcan was overflowing and it was like that when we got to camp around 6pm and stayed that way until after we left the next morning.
Sep 14, 2021
Very beautiful
Sep 14, 2021
This koa was amazing from the people to the perfectly landscaped sites!! Will definitely be back!!
Sep 14, 2021
Nicest campground I have ever been to.
Sep 14, 2021
Great location, beautiful grounds and great food at the Lazy Bear Cafe. Would highly recommend staying here while visiting close by Glacier National Oark.
Sep 13, 2021
Lovely stay in KL02. Beautiful area with Montana pine in the air and beautiful views. We are coming back next year. What a way to camp! All the comforts of home! Our queen bed had very small sheets that wouldn't stay in place. Queen-sized sheets needed.
Sep 13, 2021
Evening's were great, cool relaxing
Sep 13, 2021
This is (by far) the nicest KOA we have stayed at across the whole country. We probably stay 30+ Nights a year in KOAs. The on-site restaurant was amazing! Homemade breakfast & the dinner we had with slow smoked ribs and flat iron steak…wow! Had a live musician in the tent. 5 minutes to the NP entrance. Oh, and the dog park was off the charts nice! You all do an amazing job!
Oct 23, 2021
Glacier KOA is our favorite National Park destination. The staff is so awesome and kind! Jack Flanigan is my favorite staff member, he is always very helpful and knowledgeable on Glacier and different hikes or activities. He remembers me every year! Besides being 5 minutes from the most gorgeous National Park, the KOA has really fun activities for kids! We tie dyed matching shirts, played games, heard live music and also had a ton of delicious ice cream! Their pool is fabulous and I especially love their detail to the landscaping! The most beautiful wild flowers bloom and the view of the flowers with the mountains in the back is incredible! We love Glacier KOA so much our only problem is now we don't want to try any new parks since this one is so great!
- Starr Smith on Google
Oct 14, 2021
Fabulous
- Ann Leonard on Google
Oct 14, 2021
Very nice family oriented great spots and lots to do. Recommended
- Elaine Counts on Google