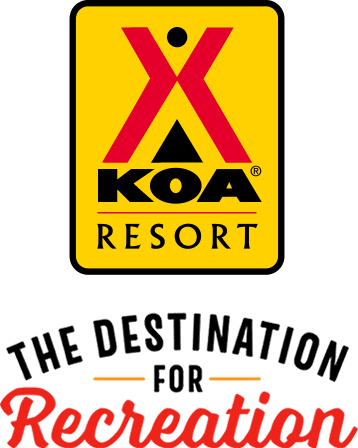 KOA Resort Campgrounds
KOA Resorts offer a carefree vacation in the great outdoors. Enjoy robust recreation and staff-led activities, kick back and relax by the resort-style pool, or grab a bite to eat, all while never leaving the campground. And with plenty of RV Sites with KOA Patios® and Deluxe Cabins with full baths to meet your needs, it's the ultimate camping getaway.
KOA Resorts Feature:
RV Sites with a KOA Patio®
Deluxe Cabins with full baths and linens
Premium Tent Sites
Resort-style pools
Indoor and outdoor group facilities
Directions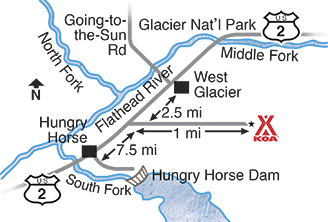 2 1/2 miles west of West Glacier on Highway 2: 1 mile east on paved road.
GPS Info: Some GPS devices try to direct you to a destination in Kalispell, MT., rest assured, we are in West Glacier on Highway 2. Some Apple devices need ZIP code 59901. GPS Coordinates: 48 degrees 27'51.74"N, 113 degrees 58'51.30"W
Get Google Directions
Oct 13, 2021
I hand picked my site a year in advance, I was very pleased with my selection. Majority of sites are nice & spacious. Found dog poop on my site when I checked in, which was troublesome especially knowing the charge we paid for the site. Don't care for the newly implemented resort fee charge since we don't utilize the offered activities. Dog Park had alot of dog poop that was never cleaned up.
Oct 12, 2021
This was a great campground. The grassy landscaped area with patio and fire pit was very nice. It was far off the main highway and felt like a true campground. You could see the stars and hear coyotes! Best of all, it is extremely close to Glacier National Park which made it an ideal place to stay while we visited the national park.
Oct 12, 2021
Beautiful campground and very friendly staff! We will be back!
Oct 12, 2021
Great camp facility and very friendly staff.
Oct 11, 2021
We had a great time! The campground and facilities were very well maintained and super clean. Can't wait to return!
Oct 11, 2021
Very nice and clean. Everyone that worked there was friendly and helpful.
Oct 11, 2021
Had a great stay, loved that this KOA was only 15 minutes from Glacier NP. Overall, the place is immaculate and well maintained. The grounds/campsites are well manicured, the showers/restrooms always clean. Very friendly staff, had a pleasant conversation with one of the owners and his wife!
Oct 10, 2021
We really enjoyed our stay here. The staff are very friendly and helpful. The sites are large and well maintained. I would definitely recommend staying at this park.
Oct 09, 2021
Excellent staff and a beautiful camp ground!!
Oct 09, 2021
Overall great looking facility. Didn't see any issues. Staff was friendly. Since it was off-season most of the amenities were closed which was expected. We had a popup without a bathroom, would have been nice to be a little closer to the bathroom when assigning sites.
Oct 09, 2021
Best KOA we have ever stayed at! Loved the store, ice cream, restaurant/bar - everything!
Oct 08, 2021
Great place to stay, clean restrooms, staff very accomodating, close to YNP entrance. Ammanities close by for grocery and dining. Cowboys was a waste. Elk wandered around the park. Sysyed for a week, big thumbs up!
Oct 08, 2021
Facilities were very clean. The campground is in a nice setting. All connections were easily accessible. Don't stay herr because I may not be able to get a site next time I plan to visit Glacier National Park.
Oct 07, 2021
great campground, second time that we have stayed and will be back in the future.
Oct 07, 2021
Camp and pet awesome!! Loved every minute of this beautiful quiet place!!
Oct 07, 2021
Not only is this campground extremely close to glacier national park, but it's gorgeous. There are also so many additional amenities. The trail on the side of the camp deep into the trees is the icing in the cake. Makes you feel as if you are in the park already. We are definitely coming back!
Oct 07, 2021
Of all the KOA's we stayed in across this beautiful country West Glacier KOA is by far the best landscaped, prettiest and laid out Park we have seen.
Oct 07, 2021
Great stay and hospitality, beautiful site with a view and amenities! We toured Glacier and surrounding area. Really enjoyed the on site nature walk and dog parks. Thanks
Oct 07, 2021
Great campground. Friendly staff.
Oct 07, 2021
Everything you'd want in a campground, and in such an amazing location! Thanks for keeping the adult pool and hot tubs open later in the season for us to enjoy -- not only great relaxation and exercise, but a fun way to meet other campers who also were enjoying God's creative genius on display in Glacier National Park and its surrounds!
Oct 07, 2021
The campground is beautiful and the entire staff was very friendly and knowledgeable. We especially want to note the care we received after we realized our emergency exit window in our rv fell out during our travels.. Terrill, Tobin, and Tom went way above and beyond to help us make a temporary cover that was so complete that we won't have to replace it until we get act to Michigan. Thanks guys
Oct 06, 2021
Beautiful!! Great sites, my dog loved the dog park. Wished we didn't have to go. . .
Oct 05, 2021
We had the BEST time! We spent 4 days here during our girls weekend in GNP. The staff was awesome, especially Mara, the young man that delivered firewood & the younger boy that delivered firewood. We will definitely be back!
Oct 05, 2021
We stayed at this park four days. The site was beautiful, the weather was great, the people were friendly, the location was convenient. No complaints, only positive memories. We will return to this park whenever we travel to this area in the future.
Oct 05, 2021
Staff was really great! We had landscaped space and was very nice. Between the narrowness of the space and our trailer configuration, had I known there were a few wider spaces I would have asked for those. Wished the pool was heated
Oct 05, 2021
amazing place
Oct 04, 2021
Greatest KOA, and a very nice & helpful staff!
Oct 04, 2021
Loved how this campground was tucked away from the main Highway. Very clean facilities. I would have preferred some recycling container near the dumpsters. However, I didn't mind walking to the main office area to recycle. Dog park was one of the best I've seen and our dogs loved it. Definitely will come back. Thank you.
Oct 04, 2021
Everyone was very friendly and nice. The grounds were beautiful. Everything was clean. We really liked the privacy shrub/tree screen between the sites. I'd suggest some of the bushes shouldn't be trimmed too low, though. The dog parks were super. Thanks for a wonderful stay!
Oct 03, 2021
Love the camp grounds, beautiful set up for everyone
Oct 03, 2021
The staff were very friendly and knowledgeable.
Oct 03, 2021
Everything was closed early but the site is beautiful. There was a problem with the 30A hook-up, but the maintenance guy loaned me a 50A adapter and everything was fine.
Oct 02, 2021
Great location, lovely campground, already booked for next year.
Oct 02, 2021
The site was really well taken care of and the text feature was so convenient. That's a great new feature!
Oct 02, 2021
We enjoyed our stay at the Glacier KOA so much we have already reserved another week for the 2022 camping season.
Oct 01, 2021
Friendly staff! Clean grounds! The only complaint is that some guests that left their dogs unattended and the constant barking was very unpleasant.
Oct 01, 2021
Lovely site, nice views of mountains. They have the best grass I've seen at a campground in a while. Laundry room, fenced dog park, staff were all great. Most of the other amenities were closed due to end of season. We would recommend this park to everyone.
Oct 01, 2021
This is a nice campground but I'd advise anyone to not wait so late in the year to visit here. We have stayed here three different times. Apparently it is under new ownership and I don't think the condition of the park is quite as good as it used to be but still a good place to stay and very convenient for visiting Glacier.
Oct 01, 2021
Love the landscaped sites and the privacy they provide. Dog parks were great, especially the larger one with the big "tunnel" and hill. They enjoyed climbing on the rocks and sniffing around the little bushes also. Very well cared for RV park.
Sep 30, 2021
We stayed 3 nights. We were very impressed by your park, especially as compared to some other KOA's we have visited. We would definitely recommend this park to our family and friends.
Oct 11, 2021
Great campground resort worthy of its being the #1 KOA in the country. Great sites and great amenities (two pools, hot tubs, restaurants, bar, weekend entertainment, fantastic doggie parks etc.) plus lots of different accommodation choices from RV site to camping cabins to larger cabins capable of handling large families and groups
- David Mabry on Google
Oct 06, 2021
Help was very friendly. It was very clean. Would stay there again if I get back this way.
- Peggy Bukovatz on Google
Oct 05, 2021
Tucker Lodge, despite being in the middle of the KOA campground felt fairly private; now we were there in late September, so perhaps it would feel different if the campground was filled. Nicely kept and well furnished with full kitchen with all modern appliances. Includes washer and dryer. Now there is only one bedroom with a queen bed. Then there is an open loft with 2 queen and a bunkbed. So the only rooom with real privacy is the single bedroom. The loft is wide open to the living area. Two full baths - 1 down and 1 in the loft. Nice fireplace and a fire pit outside. Just minutes from the park entrance.
- HoustonFamily on Trip Advisor