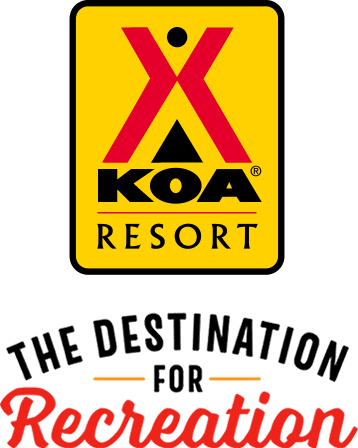 KOA Resort Campgrounds
KOA Resorts offer a carefree vacation in the great outdoors. Enjoy robust recreation and staff-led activities, kick back and relax by the resort-style pool, or grab a bite to eat, all while never leaving the campground. And with plenty of RV Sites with KOA Patios® and Deluxe Cabins with full baths to meet your needs, it's the ultimate camping getaway.
KOA Resorts Feature:
RV Sites with a KOA Patio®
Deluxe Cabins with full baths and linens
Premium Tent Sites
Resort-style pools
Indoor and outdoor group facilities
Directions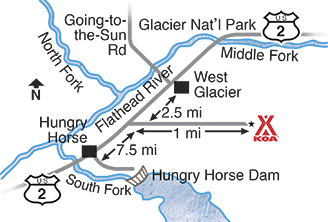 2 1/2 miles west of West Glacier on Highway 2: 1 mile east on paved road.
GPS Info: Some GPS devices try to direct you to a destination in Kalispell, MT., rest assured, we are in West Glacier on Highway 2. Some Apple devices need ZIP code 59901. GPS Coordinates: 48 degrees 27'51.74"N, 113 degrees 58'51.30"W
Get Google Directions
Jun 16, 2021
One of the nicest I have been to very well maintained
Jun 16, 2021
Beautiful resort KOA! excellent location close to the west entrance of the park.Hot tubs and heated pools. The grounds are well maintained and restrooms very clean. Firewood bundles contained kindling pieces and large pieces of wood. Very helpful for fire starting. Jennifer. in the store/office area, was extrememly helpful providing local information. Best KOA Ive stayed in - Rebecca Wagner
Jun 16, 2021
Great stay in the Tucker Lodge. it was large enough for a family gathering and so nicely outfitted. Very functional kitchen.
Jun 16, 2021
We loved everything about the KOA, West Glacier. Except one thing. The speed limit sign was almost never observed and dust storms with every passer by was the norm. Cleaning the van (Which we kept closed) and all of our belongings after our trip was so tedious that we have a bad taste, and probably won't want to stay there again. Even though we loved everything else 10/10.
Jun 15, 2021
This is our second time here, looking forward to our next trip, sites are fantastic as well as the employees, not only are the sites great but location location location
Jun 15, 2021
Best KOA we have ever visited!
Jun 15, 2021
Great park and great location
Jun 15, 2021
Super clean awesome RV park! It's a 10+ Great staff, beautiful property, well laid out and maintained
Jun 15, 2021
It is the best KOA we have ever stayed at in the last 10 years. The sites are immaculate, the staff is very courteous and the deluxe sites are actual deluxe sites.
Jun 15, 2021
Rented a cabin to visit friends who trailer camped. First time for a KOA cabin. Great experience..
Jun 14, 2021
Definitely one of the cleanest and well maintained parks we have stayed in. Friendly staff and very close to Glaciers national.
Jun 14, 2021
Beautiful Campsite!! Well manicured grounds & lot do activities to do. Love the adult pool/Spa!
Jun 14, 2021
Well kept and clean. Nice landscaping. Site was nice and level. Poor or no internet service and poor tv reception. For the price we paid for the site, internet and tv service should be much better. Connecting to the campground wifi was good but then internet was poor to non-existent. the campground did not offer cable tv so we were only able to get 3 channels.
Jun 14, 2021
Very nice park. Clean and well kept up. RV spaces were roomy and clean.
Jun 14, 2021
The cabin with two bunk beds and a queen bed was small, but adorable with a great, large outdoor space including a grill, table and fire pit. It did have a microwave and mini-fridge and included cups/plates, however there was no sink apart from the small bathroom sink. I was also disappointed in the $20 resort fee which I didn't know about ahead of time, and the restaurant prices were outrageous.
Jun 14, 2021
The pinnacle of KOA camping. Amazing! Great location and wonderful amenities. Wish we could have stayed longer.
Jun 14, 2021
The staff made it Very easy to check in. The adult Pool and Hot tub are excellent. Very clean and well kept KOA. Sites are very nice and spacious. Definitely will stay here again if in the area.
Jun 14, 2021
The grounds are beautiful and the staff was very friendly. The potato leek soup was so tasty! It was very good! Very conveniently located and easy to find.
Jun 14, 2021
This facility is a Gem! We had 2 sites and the staff worked diligently to try keep us next to each other and in the same location. It is was really important to us and they helped in anyway they can. Look at the pictures of this facility. They are real time and yes, it is a resort! The kids were having so much fun at the pool and other activities that we had to drag them into the park.
Jun 14, 2021
Simply amazing! The electric fence around the property adds an element of safety from wildlife. The facilities, pools and hot tubs were clean and there was so much to do here! We loved the pool and hot tubs for adults only, the scenery was beautiful! There was live music and good food when we arrived on Saturday. I can see why they received the campground of the year award in 2017! Stay here!
Jun 13, 2021
An absolutely beautiful KOA Cabin stay and Dog-friendly. Clean, spacious, GREAT amenities, heated pools and hot tub, a very nice nature trail to walk the pup, and a mountain view to leave you speechless. Location is perfect to Glacier National Park, convenient to gas, but no real food-store nearby. The entire staff are genuinely welcoming, extremely helpful, and amazing hosts.
Jun 13, 2021
Very helpful team! Breakfast place was yummy!!
Jun 13, 2021
Excellent stay. Great facility and excellent staff. I would come back in a heartbeat!!
Jun 12, 2021
This was our second visit. My husband and I stayed four years ago enjoyed it so much we invited our family to come this time. Love the amenities. Will plan to stay again.
Jun 12, 2021
What a beautiful park. Everything was kept up and perfect. Couldn't have been better. Thank you
Jun 12, 2021
One of the most beautiful campgrounds we have ever stayed in! Friendly staff and spectacular grounds - 2 miles from the West entrance to Glacier National Park - 10+!
Jun 12, 2021
The staff is great. The pull through sites on the upper level area near the office are too close together. The views are blocked if you have a neighbor. If the sites were staggered it would be helpful in that respect.
Jun 12, 2021
This is the nicest KOA we've stayed at, by far. The kabins were so comfortable with the heater, microwave, and nice fridge. The staff were all incredibly friendly and kind and thoughtful. The dinners at the Lazy Bear Cafe were kind of pricy, but we enjoyed one dinner there and the service was great and the ambience just what we wanted. The amenities are outstanding. We loved our time there!
Jun 12, 2021
My favorite campground ever!
Jun 12, 2021
The park was clean and quiet with superb service from the staff.
Jun 11, 2021
We had a very nice stay at West Glacier. The sites are very nice, with plenty of room. We were able to be parked 2 sites away from our friends, which made it very convenient. The neighbors were very nice. We are planning on going back again next year and we want to try the sites with the cement patios.
Jun 11, 2021
Absolutely the nicest campground that we have stayed at! Very friendly and helpful staff and lots of things to do while in the camp.
Jun 11, 2021
The deluxe cabin was great, as were the entire facilities! Will definitely be back and recommend you to our friends!
Jun 11, 2021
Clean kinda on the big side. So not a real warm group. Then had $20 few tacked on at camp. That was not told about when reserved.
Jun 11, 2021
Very knowledgeable customer service workers. So helpful and pleasant. Loved the paper maps of the area. Was very disappointed to hear there was an additional $20 charge for all reservations. This info was not clearly explained when the reservation was made. I think the rate is high enough as it is. (Including charging for additional adults.) But i do love the pools hot tubs, showers, cafe.
Jun 11, 2021
This was by far the nicest KOA we've stayed at. We were in a basic cabin; it was clean and comfortable and close to all amenities. Entire staff was excellent; friendly and helpful. We would definitely stay here again.
Jun 10, 2021
Very nice place! It's neat and clean a lot of amenities! I like the icecream shop!
Jun 10, 2021
We had a great time, thank you!
Jun 10, 2021
Great campground. Facilities are clean and well organized. We really enjoyed our stay.
Jun 18, 2021
First of all this is a beautiful huge park in a great location with lots of amenities. Hundreds of sites from tents to the ultra expensive patio sites. It is also very expensive, but we thought we knew that. We prepaid for two nights and when we arrived the snuck in a $21 "mandatory resort fee." I asked about where this info was mentioned on the website and they replied it is in a (sneaky my words) line under the advisory "other applicable fees may apply." I feel this is disingenuous at best. First of all, they were not up front about it even on our estimated receipt for the deposit. Second, the "other applicable fees may apply" is also misleading because the "may" doesn't make sense because it is mandatory. Unfortunately this is becoming very common at resort hotels and most of them too don't provide the info up front.
- Hal Hendrix on Google
Jun 18, 2021
We were really happy with our stay in West Glacier KOA. Our RV site was spacious and clean. There isn't any cable hook up but that was fine because we have a mifi. Our family enjoyed the pool one day and it's a quick trip into the park as well. I only wished we'd had the Deluxe Patio site with concrete. Those looked nice and many were shaded. We got Blueberry ice cream at Scoops and it was delicious. In our 3,000 mile travels this was the best KOA hands down. Is definitely recommend this place if you're traveling. No RV? No problem, they have adorable little cabins to rent too.
- Debra White on Google
Jun 18, 2021
Amazing facility. Bathrooms leave something to be desired, but the amenities and activities more than make up for it.
- Nathan Adams on Google