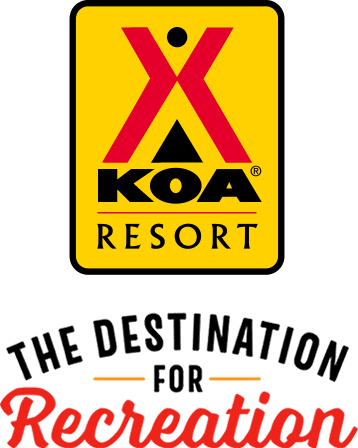 KOA Resort Campgrounds
KOA Resorts offer a carefree vacation in the great outdoors. Enjoy robust recreation and staff-led activities, kick back and relax by the resort-style pool, or grab a bite to eat, all while never leaving the campground. And with plenty of RV Sites with KOA Patios® and Deluxe Cabins with full baths to meet your needs, it's the ultimate camping getaway.
KOA Resorts Feature:
RV Sites with a KOA Patio®
Deluxe Cabins with full baths and linens
Premium Tent Sites
Resort-style pools
Indoor and outdoor group facilities
Directions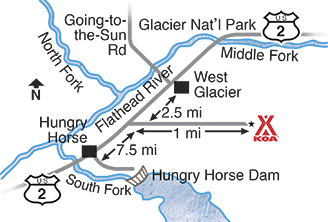 2 1/2 miles west of West Glacier on Highway 2: 1 mile east on paved road.
GPS Info: Some GPS devices try to direct you to a destination in Kalispell, MT., rest assured, we are in West Glacier on Highway 2. Some Apple devices need ZIP code 59901. GPS Coordinates: 48 degrees 27'51.74"N, 113 degrees 58'51.30"W
Get Google Directions
Apr 01, 2021
We stayed five days. Initially, we were running late due to mechanical issues. I called the resort and they had late check-in for us. We didn't get there until after 11pm and there was someone still working and guided us to our spot. So much to do at the campground you really don't have to leave. Great staff everything was super clean and family friendly. We would definitely come back
Mar 13, 2021
It was Amazing, The housekeeping staff was Great. The Amenities were nice and the location was perfect. It was Cute and Cozy, and all my Friends and Family back in Texas Loved the Pictures of our Cabin.
Oct 25, 2020
We love West Glacier KOA. Site is more than long enough for our 42 foot fifth wheel and truck. We were away from trees, so satellite dish was not blocked.
Oct 17, 2020
This is our 2 time here in 3 years; drive 1200 miles to get there. We love the campground! Everything about it attracts us back. We stay over in the back with our fifth wheel in a pull through spot which are beautiful. Spots are beautiful, groomed and level. KOA employees are so friendly and willing to help us with our questions �. We will be back. Thank you.
Oct 16, 2020
Very good park, convenient location for visit to Glacier National park! Nice surroundings for park in the forest.
Oct 13, 2020
The property is clean and well-maintained, and the staff was very friendly and helpful. Loved the trails through the woods along the edge of the property. Enjoyed the BBQ provided at the restaurant. We spent 3 of our 6 nights in the older area where there are small campers and vans. We recommend that you make this area a bit more private between campsites and delineate the spaces better.
Oct 12, 2020
Beautiful campground with large campsites. Perfect location for visiting Glacier NP. The staff in the store were very helpful.
Oct 11, 2020
This undoubtedly is one of the most beautiful KOAs in the country. The staff was very nice. It was their last weekend open. EVERYTHING was closed. They were draining the pool while we were in it. I understand the need to close but if your going to charge full price you should provide the amenities offered. Close The campground then give yourself a few days to close up for the season.
Oct 09, 2020
Beautiful campground - great spacing between sites - laundry facilities need updating and adding a facility given size of campground. Highly recommend this campground!
Oct 08, 2020
Our stay was good. The design of the cabin is questionable. You have a partial kitchen and NO KITCHEN SINK. You are asking for plumbing problems. People will wash dishes in the bathroom sink, which is not designed to handle what will go down the drain. There is room for a sink in the kitchen counter. The water heater is not efficient enough either
Oct 07, 2020
Excellent park and people. Friendly staff. Great landscaping and amenities. Would definitely stay there again.
Oct 07, 2020
Probably the most beautiful campground we have stayed at. Very well-kept and clean! Even though we were too late in the season to enjoy most of the amenities, it was still lovely there. Very close and convenient to the west entrance of Glacier NP. And, beautiful dog park too!
Oct 07, 2020
Tip top all good all fine, it is always dependent on our neighbors if they are quiet at night or come light at night and make noise
Oct 06, 2020
Such a wonderful staff. The grounds are immaculate and the facilities are first-rate. I loved my stay and did not want to leave. It is by far the best campground I have ever stayed at. Worth noting that the wifi worked great throughout the grounds. That was a huge help as I am working remotely and really need a reliable connection. I had a fantastic stay and can't wait to return.
Oct 06, 2020
Love the area. The dog bark for big dogs was amazing.
Oct 06, 2020
Beautiful campground, very well maintained. We enjoyed it very much and would definitely stay there again if we were in the area.
Oct 06, 2020
Great place but pricey.
Oct 06, 2020
Wonderful-accommodating-friendly-we loved our stay.
Oct 04, 2020
Our stay was from 9/16 to 9/25/20. This is our 2nd year staying & we love it! Staff is friendly & very helpful. Love Dinner w/Gene-food was awesome, especially the ribs & cheesecake w/huckleberry sauce! We moved 3 times during our stay-2 cabins & 1 studio lodge-all were nice. I do wish you would give FREE coffee to your paying campers-All the other KOA's we've stayed at do! Thank you!
Oct 04, 2020
This is a beautiful KOA, with spacious sites and the most awesome landscaping
Oct 02, 2020
This was a great place to stay. Very clean and friendly staff.
Oct 02, 2020
We loved the comp site. I loved walking my dogs on the trail. We specially liked that it was very close to the west entrance of Glacier National Park
Oct 02, 2020
Mixed up my reservation but took care of it to my satisfaction
Oct 02, 2020
We loved our stay at the West Glacier KOA! Super clean cabin. Close to west entrance which made visiting the National Park easy. Have stayed at a few KOA's on this vacation and this location was by far the best.
Oct 02, 2020
Wonderful place-very friendly and helpful staff. We enjoyed our stay and even stayed longer than we had planned because it was so nice and convenient.
Oct 01, 2020
West Glacier KOA is the best KOA we have stayed at! Beautiful setting!
Oct 01, 2020
Wonderful welcoming staff. Beautiful landscapes spots. Panoramic views of gorgeous scenery. Great amenities provided. Close to West Gate of Glacier and Sun Rd. Would definitely return again.
Oct 01, 2020
Clean, spacious, quiet location with great amenities and friendly staff. Our best stay so far!
Sep 30, 2020
This was the nicest KOA campground we have ever stayed in. Everyone was very friendly and helpful with questions about the area. I would recommend this campground to anyone looking to stay in this area.
Sep 30, 2020
Nous sommes restés 3 nuits et tout a été parfait. L'acceuil, le lieu, l'entretien du camp et des sanitaires. La possibilité de restauration est un plus. de même que la présence d'une piscine et de SPA. Et à 10 min de l'entrée du parc
Sep 30, 2020
Wonderful place, staff was super friendly.
Sep 30, 2020
Fabulous campground! Friendly, clean, spacious within a beautiful setting! Also enjoyed the scrumptious BBQ prepared by Gene!!!
Sep 30, 2020
I absolutely enjoyed this KOA, very clean, staff was very helpful and beautiful location...highly recommended
Sep 29, 2020
Best KOA we have ever stayed at. There isn't a bad site.
Sep 29, 2020
Awesome park and super nice staff. The only thing you need to improve is your WTFI. It's pretty lame! Been KOA'ers for over 35 years. Love you guys!
Sep 29, 2020
Beautiful campground and nice even though they have a lot of sites. You don't feel over crowded. All the people we encountered were friendly and helpful. You also can't beat the ice cream!
Dec 28, 2020
Spent 3 nights at a deluxe cabin in this very large KOA. Location is excellent, near Glacier National Park. Office/store was crowded and not as large as expected for such a busy campground. Restaurant and ice cream shop were great, as reported by others. Breakfast before a busy day was ideal and worth the wait for a seat. The adult pool area is fabulous for those who do not have children. Two hot tubs with a great view of the mountains during the day and the stars at night. Cabins well cared for and clean. Ours faced the woods and was quiet, but others were closer to the road and probably had traffic noise. This is an active KOA with constant movement in and out, but it is so convenient to Glacier and so well maintained/landscaped, that I can't imagine staying anywhere better.
- SgtMom2 on Trip Advisor
Nov 18, 2020
We couldn't get in to camp, but ate at the restaurant on the recommendation of my sister-in-law and brother-in-law. The grilled meats were the best we've had in a long time. Summer chef from Scottsdale Arizona and his son make a great 1-2 combination!
- Charlie K on Trip Advisor
Oct 15, 2020
Beautiful well maintained campground surrounded by pines and the mountains. About 10mins from Glacier National Park entrance. Friendly helpful staff too.
- Natalie Breyer on Google