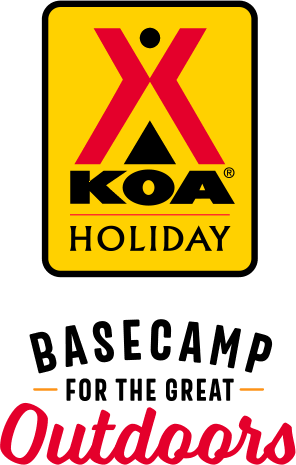 KOA Holiday Campgrounds
Whether you're exploring the local area or hanging out at the campground, KOA Holidays are an ideal place to relax and play. There's plenty to do, with amenities and services to make your stay memorable. Plus, you'll enjoy the outdoor experience with upgraded RV Sites with KOA Patio® and Deluxe Cabins with full baths for camping in comfort. Bring your family, bring your friends, or bring the whole group – there's plenty of ways to stay and explore.
KOA Holidays Feature:
RV Sites with a KOA Patio®
Deluxe Cabins with full baths
Premium Tent Sites
Group meeting facilities
Directions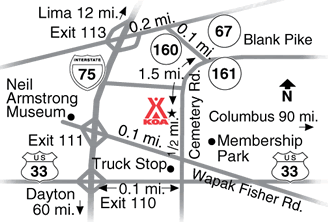 I-75 Northbound: Use Exit 110 - Southbound: Use Exit 111.
Go east 1/2 block to first intersection, then north 3/4 miles on Cemetery Road, past membership resort. KOA on left.
From Route 33: Go north on Cemetery Road (first intersection east of I-75). Proceed 1/2 mile.
I-75 Southbound:  DO NOT USE EXIT 113.  Southbound use Exit 111 and Northbound use Exit 110.
Get Google Directions
Nov 03, 2020
I rented a premium pull through spot for my 35' toy hauler that had a full concrete patio, as well as a concrete pad on which to park and level the trailer. So very worth the small extra charge to have a perfectly level, clean and dry parking spot for the trailer. It made setup a snap and got me to the fun, family time that much quicker. Great staff, great sites and lots of family fun.
Nov 02, 2020
Kevin and Karen (campground host/managers) are so friendly and helpful! There is a new owner this season and they are making some improvements! Can't wait until next season to see them all! This is a small campground and well maintained!
Nov 02, 2020
Camp sites are very close together.
Nov 02, 2020
The husband and wife management team showed they truly appreciated we were staying with them. It is a very well kept campground with a great playground area, we will certainly be back next year!
Nov 02, 2020
The people there were very nice and friendly. We were there the final weekend of their season and they treated us like it was still opening weekend. We go back for sure.
Nov 02, 2020
Late in the season and they were having sewer problems. We paid for a full hookup site but couldn't use the sewer connection. It would have been nice if they had given us a discount but they didn't. I shouldn't have to ask.
CAMPGROUND RESPONSE / COMMENTS:
Review of the past week found this comment to be true and the difference between a full hook up and a water and electric site was refunded. This was an oversight that could have been happily corrected on the spot.
Nov 01, 2020
Just stopped for the night but park was clean and hosts were great. Wrong time of year for the pool and such but that's the way it is in the north.
Oct 30, 2020
Very happy with our stay here. Very nice heated showers and laundry room
Oct 29, 2020
I like that it is close to I-75 and has full hookup pull through sites.
Oct 28, 2020
Very friendly and helpful staff. Perfect site and quite area.
Oct 28, 2020
Great place to stay. Staff very friendly....
Oct 27, 2020
Very clean campground, staff was super nice and helpful
Oct 27, 2020
Our stay was perfect. We were there for 2 nights in one of the cabins with a mini fridge and microwave. To my surprise, the queen mattress was very comfortable. We were very pleased and the staff was all friendly, they spoke every time you saw them. Thank you for the very clean and pleasant weekend.
Oct 27, 2020
Easy to get to, very friendly staff who answered all our questions, and, for us, an easy drive to get there! Nice facility too!
Oct 27, 2020
Nice staff, very friendly.
Oct 26, 2020
We really like this campground. The staff is always super friendly and helpful. The park is always very clean and well kept. With every stay we have the same thing that we wish couple be improved but space will not allow it and that is to space things out just a bit more. Luckily the camp was not full this time so it was nice. Full makes it very tight there.
Oct 26, 2020
The campground was clean and owners were very polite, however, the sites were extremely small. Compared to camping at state parks, we normally would have a site 2-3x bigger than what we experienced here. Also, fire pits were small and at the edge of our site, almost on the road.
Oct 26, 2020
East check in and very friendly
Oct 26, 2020
We always enjoy staying at this KOA. The only issue we had was firewood. For the second time this year we paid a large price (>$8/bundle) for firewood that would not burn. It obviously not seasoned. We left the pile of wood by the fire ring as we could not get the wood in the ring to burn at all. Highly disappointed for the second time this year.
CAMPGROUND RESPONSE / COMMENTS:
Thank you for your comments. We are working with the supplier to get better, quality burning wood. Campfires are part of camping and something that most anticipate! So sorry that this was taken from you....
Oct 25, 2020
It was good . Met friendly people also and had a very good time
Oct 25, 2020
all of the staff was very helpful and nice
Oct 24, 2020
Enjoyed the night stay and the quite
Oct 20, 2020
Liked everything about it other than the highway noise. Nice shaded location, friendly staff. We will definitely be back
Oct 20, 2020
Very relaxing three night stay. Campground was clean. All sights were almost full but every one was courteous quiet. Would stay again.
Oct 20, 2020
Nice people, not many masks in sight. Clean restrooms, level lots.
Oct 19, 2020
The Wapakoneta KOA was very well maintained and the sites were nice. We stayed in site 42. We arrived on a Thursday so there were not very many other campers yet but as Friday went we got neighbors on both sides and across from us. As this happened it became very tight to be out on our site and even along the road. Other than that we really enjoyed our stay.
Oct 19, 2020
Very nice fall weekend. Only complaint, it was a bit cold in the showers. Thermostat set at 60. Other than that, all good.
Oct 19, 2020
Very peaceful place ,smaller than other koa's will be back for sure.
Oct 19, 2020
Spent a weekend with family - central location to meet our daughters. This is a nice KOA for an overnight stop while you are going somewhere but nothing to really make this a destination.
Oct 19, 2020
The staff members were very nice. This KOA compared to others is cramped and dated. Needs TLC.
Oct 19, 2020
Very nice, sites are too close together, very cramped site's
Oct 19, 2020
Arrived late and left early. Will stay there again.
Oct 19, 2020
Very nice park Well taken care of Would return again
Oct 18, 2020
Friendly staff WiFi didn't work though. In order to get level spot our septic hose then wouldn't reach which isn't deal breaker but worth a mention. Spots are tight. But Happy to have place to sleep for night.
Oct 16, 2020
We have stayed here before as a one night stopping point and always feel relaxed. Really enjoy being able to order food from the cafe and have it delivered to our campsite so we don't have to unhook the tow vehicle and find someplace to eat. Management is extremely cooperative and friendly.
Oct 15, 2020
Just an overnight traveling through.
Oct 15, 2020
Nice place, friendly workers.
Oct 14, 2020
Great stay. Very clean and quiet - just what we love. Spaces are tight but that is what I expect at KOA
Oct 31, 2020
Nice well kept campground Only stayed one night, but would return
- Stephen Hill on Google
Oct 20, 2020
Good overnight stay
- Douglas Heerspink on Google
Oct 17, 2020
We have been coming to this KOA a couple times a year for the last 5 years. Always clean and always friendly campground with lots of pull through sites for a easy stay. Just off the interstate makes it good for overnight stopping or for a weekend away like we use it. This also means there is a little noise from the interstate, but not all that noticable. It is a smaller KOA without some of the amenities of a larger one, but does have a pool, mini golf, gem mine, activities, and pizza and other food. All sites have fire rings.
- Scott Rowden on Google