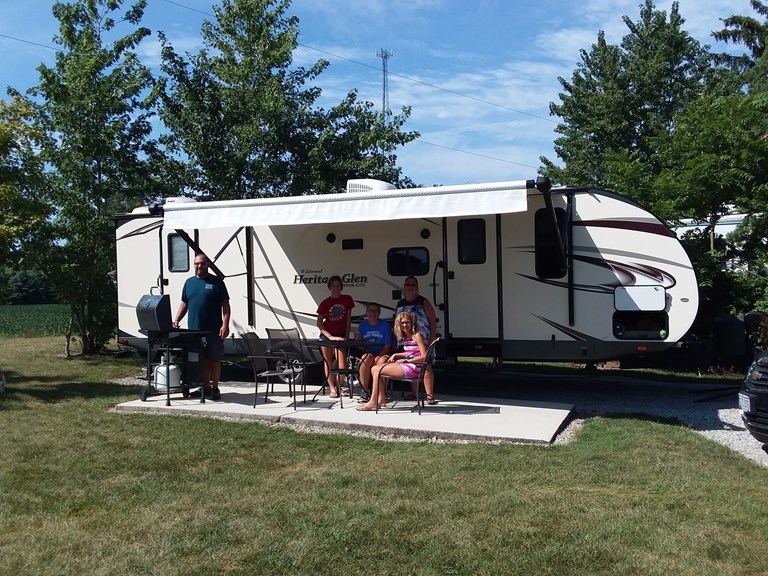 Don't feel like cooking? No problem. Our KOA kitchen has a nice variety of items. Our pizzas are made to order... we sauce them and top them to your liking. No frozen box pizzas here. Our menu also consists of: Delicious Honey BBQ Wings, Tangy Hot Wings, Huge Hot Pretzels with dipping sauces, Cheese sticks with marinara sauce, Chicken Parmesan Sandwich, Sloppy Joe Sandwiches, Pulled pork sandwich, loaded fries and sloppy joe nachos.
Everything is made right here and delivered hot to your door. Just kick back and relax.
Food Menu
Here's our menu.  Subject to change based on inventory.
PIZZAS:  Personal size:  2 toppings $5.99  ($0.75 extra toppings)  Deluxe (all toppings) $8.99
12 inch (8 slices)  2 toppings $10.99  ($1 extra toppings)  Deluxe (all toppings)  $15.99
TOPPINGS:  Pepperoni   Dbl Cheese   Sausage   Bacon    Green Pepper    Mushrooms  Onions   Jalapenos     Banana Peppers
Wings (5) $4.99 BBQ or Hot  Add ranch dressing $0.25
Fries $1.99
Large Loaded Fries $5.99
6 Cheesesticks w/ Pizza Sauce $3.99
Nachos (meat, cheese, onions, Jalapenos)  $6.99
Ultimate Nachos (pulled pork, onions, green peppers, chees & Jalapenos) $8.99
Pulled Pork sandwich w/fries $6.99
Chicken Parm Sandwich w/fries  $7.99
Sloppy Joe sandwich w/fries $4.99
1 hot dog w/fries  $3.99 (ketchup/mustard/relish)
2 hot dogs w/ fries $4.99 (ketchup/mustard/relish)
Grilled Chicken Sandwich w/fries  $6.99
Smoked Sausage w/fries $5.99 (ketchup/mustard)
Large Pretzel (salt or sugar) $2.00 Add Cheese or mustard $0.25