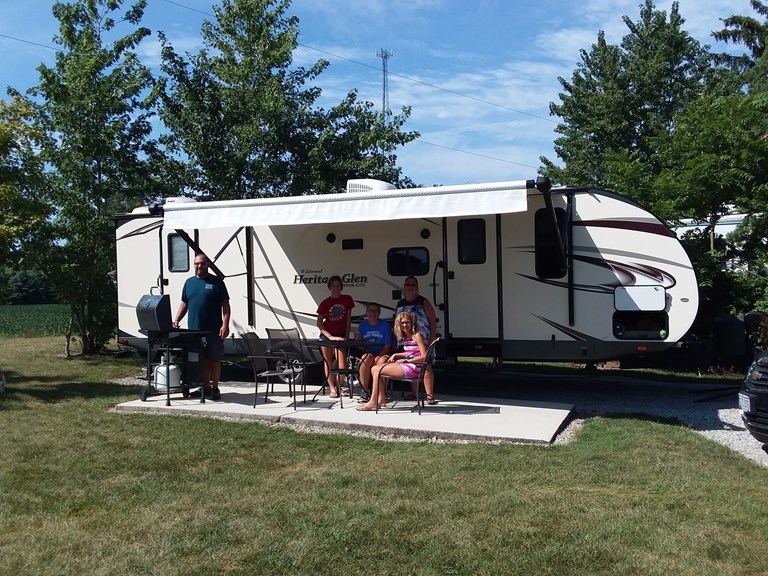 General Campground Information
Check IN and Check OUT times
RV and tent sites: Check in 12:00 Noon
Cabin and Deluxe Cabins: Check in time: 2:00 p.m.
All cabins and RV sites Check out time: 11:00 a.m.
No Smoking in the fenced Pool area
No smoking in the pool area. A nearby smoking area will be designated. Thank you for your cooperation.
Store Hours
Store Hours are based on season.  If you have a reservation and are arriving after we close, please call us that day and we can make arrangements for your later arrival.  If you don't want to make a reservation and arrive after the office is closed, there is a night registration area on the side of the main building.  This shows sites available, prices, envelopes to be filled out and a site map.
March hours:  2 p.m. to 6 p.m.
April hours: 9 a.m. to 10 a.m. and 2 p.m. to 8 p.m.
May 1 to May 23 hours:  9 a.m. to 10 a.m. and 2 p.m. to 8 p.m.
May 24 to September 1 hours:  Sunday thru Thursday 9 a.m. to 8 p.m.; Friday & Saturday (& Sunday of a holiday weekend) 9 a.m. to 9 p.m; 
September 2 to October 1 hours:  9 a.m. to 10 a.m. and 2 p.m. to 7 p.m.
October hours: 9 a.m. to 10 a.m. and 2 p.m. to 6 p.m.
WI-Fi Internet
We have free internet.  Access codes are given at check in.
Check In & Check Out Times
Check in Times:
RV and tent sites 12:00 Noon; All cabins 2:00 pm
Check out Times:  11:00 a.m.
Why there is a fee for Visitors
Most campers fail to understand why a park requires their visitors to pay a fee for entering and/or using the facilities. Due to the extra liability and utility expenses with the additional strain placed on the facilities, visitors are required to pay a fee.
Visitor fees are donated to the Gary Sinise Foundation for Veterans.
Pool Hours
Social Distancing is required in and around the pool  Seating is now limited on the pool deck. Additional seating will be available for sunbathing and lounging outside the pool area.    
Pool will be open until Labor day.  Pool hours are based on weather.  If there is lightening in the area, the pool will be closed for safety reasons.  If the air temperature is below 70 degrees, the pool solar cover will remain on and the pool will be closed. 
Sunday to Thursday 9 a.m. to 8 p.m.;  Friday & Saturday 9 a.m. to 9 p.m.  Sundays of a holiday weekend 9 am. to 9 p.m.  (These hours may vary if Dusk comes sooner than 8 or 9 p.m.).  
There is NO SMOKING allowed in the pool area.  A designated smoking area is near the pool.  
There are no lifeguards in the pool.  Any child under the age of 14 needs to be supervised at all times by an adult over the age of 21 years. 
We do have a chair lift in the pool.   Please notify us prior to your arrival so we can make sure the batteries are completely charged.  Office assistance is required to operate the lift.
Number of People on Site
For the enjoyment of all campers, we do limit the number of people on a site to 6 people. This includes all registered campers ages 6 and over and visitors. Only exception is a family who has more than 4 children of their own.
Visitor Dog Policy
Due to C-19, daily visitors will not be allowed on the park until further notice.  If you are planning to have visitors during your stay, please ask your visitors to leave their dogs at home. Thank you for your cooperation.
Visitors
As of May, 2020, due to C-19, daily visitors will not be allowed on the park until further notice.
Meet Your Hosts
We have great campers! We love to hear your camping stories and all about your adventures. Thank you for staying with us.
John and Debbie Schuettler had always dreamed of owning their own campground. They were lifelong campers, having progressed from a popup trailer to a fifth wheel over the years.
In 2001, they decided life was just too short not to enjoy what you do for a living, and they purchased the Wapakoneta KOA.
"Customer service is Number One with us," says Debbie. "We treat all of our customers like we would like to be treated - with a welcoming 'hello' and a smile."
In their "pre-KOA" lives, John was a universal grinder operator for 24 years, while Debbie worked as a secretarial supervisor for a law firm for 15 years.
Now, their lives center around getting to know their campers and making their camping experiences memorable.
"We are interested in their travels - where they come from and where they are heading," said Debbie. "Since we are located on a north/south route, we have a lot of overnight camping business. Regardless if you are just passing through, or come for a weekend, or become a seasonal, we want to build a friendship with each and every camper."
"We hope your travels take you through our area. We would love to see you!"