Alert
We will be OPENING 6/1/2020 our RV Sites and Cabins. Tent sites will open 6/30.
We will be open for registered guests only. At this time visitors not staying in our park will not be allowed on the property. We will continue to stay with-in occupancy limits. We will be following OHA Guidelines-- Maintain 6' distance, wash your hands regularly, you are encouraged to wear a mask in places you can not maintain 6' distance, do not touch your face, respect others personal space, respect others pets personal space.
If you are not feeling well, than please stay home.
Thank you for your patients and understanding as we navigate all these new requirements.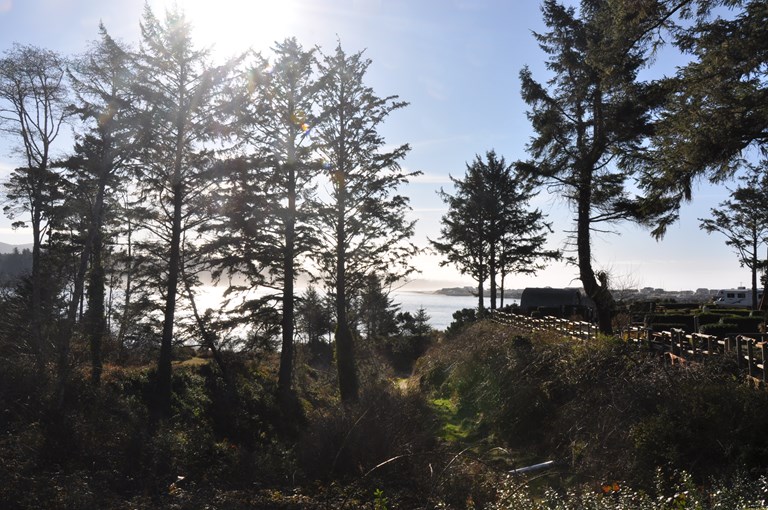 Waldport / Newport KOA Reviews
Directions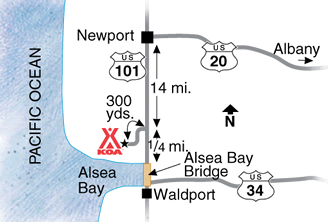 1/4 mile north of Waldport or 14 miles south of Newport on west side of US 101 on north side of Waldport/Alsea Bay Bridge at MM 155.
Get Google Directions
Aug 07, 2020
Nice Park. Friendly staff. Had ocean view site, but hedges need to be cut lower so when sitting outside one can see the bay. In addition our fire pit was almost in adjacent campsite.
Aug 07, 2020
The facility was excellent but the staff left something to be desired. Example: I asked about things to do in the area and was told to check out the information center in town for all the info I could possibly want. Went there the next day and it was not only closed that day but had been closed all summer long because of covid! Other interactions with staff were less than helpful.
Aug 07, 2020
The staff at the Waldport KOA are extremely friendly and helpful.
Aug 07, 2020
Great view of the bay. Nice bathrooms. Thank you
Aug 06, 2020
This was a favorite of our 11 day trip! We camped by the bridge. It was beautiful at night! The bathrooms/showers were individual and great! The employees were friendly. The gift shop was nice. The welcoming cat was a reminder of home. We would definitely come back! Great view!
Aug 06, 2020
It was amazing. Access to the bay. Friendly staff. Thank you. Will stay again
Aug 06, 2020
Very clean and comfortable
Aug 06, 2020
Probably one of the nicest KOA's to date I've stayed at over the years. My only feedback was from my adult kids who complained about cleanliness of the bathrooms.
Aug 06, 2020
Nice location, clean. Had to look hard for water faucet. Needed some trimming on bushes.
Aug 05, 2020
Best camping experience I've had!it's our new yearly tradition.
Aug 05, 2020
Basic park with small spots. Expensive for location and amenities offered.
Aug 04, 2020
Friendly helpful staff. Facilities are clean.
Aug 04, 2020
Was great loved view , the KOA staff was very nice an informative! Have been here before Love it!
Aug 04, 2020
Before booking I specifically asked about the internet (because of work) and was assured connections were strong and consistent. The internet was non-existent. I was advised to move my laptop and paperwork to an empty site's picnic table "by the tower" and it was still so slow I was unable to complete any work. The sites are level but very cramped. Views are nice. We will not return.
Aug 04, 2020
Enjoyed the site with the hedges between each RV. Will definitely stay here again!
Aug 04, 2020
to close together. cost for what you get out of sight. we have stayed at several koa campgrounds this was the worst one. next campsite sewer right by our picnic table. dead grass. dirty showers
Aug 03, 2020
Beautiful views of the bay! Clean campground. Friendly and helpful staff. Thank you! We will be back in September.
Aug 03, 2020
Wonderful clean place. Water sites are beautiful.
Aug 03, 2020
Nice location and friendly staff.
Aug 02, 2020
Sites were narrow if you have slide outs.
Aug 02, 2020
A small beautiful campground.
Aug 02, 2020
Confused why the bathrooms weren't cleaned daily. If your accepting customers to stay at your park, the bathrooms should be kept clean everyday. Attitude at front desk?? Only a few were kind with a nice attitude. Possibly the COVID is wearing people down??
Aug 02, 2020
Very nice park. Great views. We will be back.
Aug 01, 2020
Enjoyed the view! It seemed well managed, appreciated the safe policies in regards to Covid.
Aug 01, 2020
Had a good time. Wish there was more privacy in trailer spots on backside.
Aug 01, 2020
We love the views from this campground. This was our third visit. The grounds didn't look as well groomed as in years past. Hopefully after Covid they can get more staff to tend flower beds and mow weeds and grass.
Aug 01, 2020
Wonderful small campground, near the ocean but not right on it, which is our preference. excellent beach access is just 2 milles up the road at Driftwood Beach State Recreation Site with free parking. Sites are spacious and semi private with nice hedges between the sites. Staff is friendly and helpful. Good options for walking the dog as well. We would definitely stay here again
Jul 31, 2020
Staff were welcoming and appreciated them following COVID rules. Sites were a bit too tight however and would appreciate more room between RVs.
Jul 31, 2020
The view sites are very nice and The trail to the beach is lined with blackberries. Gary the cat, along with the staff was friendly.
Jul 31, 2020
This camper comment has been removed by KOA due to profanity.
Jul 31, 2020
The front office staff was very helpful but there were only three toilets and two showers for the entire campground. There was no soap nor paper towels in the bathrooms. If you're in a tent, don't stay here. The tent sites are just off hwy 101 and it is super loud. Also, the tent sites are located next to the office so diesel trucks are constantly left idling while people check into the office
Jul 30, 2020
Staff unaccommodating - would not allow us to move sites when we arrived even though several were empty. Paid for a deluxe site for view, but it was blocked by overgrown vegetation. Picnic table and fire pit poorly placed to one side of the site, just 6-7 ft from the sewer clean out of the neighboring site. 3 days in a row we had move away while eating as each guest dealt with his sewage.
Jul 30, 2020
Well located by Waldport, in between Newport and Yachats. Clean grounds, efficient check in. Some sites very close but our pull through site was good. Short walk to the bridge and water views.
Jul 30, 2020
Everything was clean and staff was great! Fellow campers were being respectful and wearing masks (great because most people don't know if they are carriers of COVID-19). We had a great time!
Jul 30, 2020
Nice place in quite a surprise it was clean close to the water great view of the ridge great location for sightseeing in the area. One of my favorite places was Newport and buying fresh fish and crab right off the boat. Washer and dryer worked well ���
Jul 30, 2020
The showers were dirty Campground ok
Jul 30, 2020
Camp sites in great shape, and well-maintained/cleaned between arrivals. Restroom/shower facilities need more attention.
Jul 30, 2020
We only stayed 1 night during July. The weather was great. Follow the trail down to the bay for a stunning site of the bridge. Campsites clean and well maintained. Looking forward to visiting again.
Jul 29, 2020
Friendly staff. Very clean sites. Large sites.
Jul 29, 2020
Great spot staff is very friendly park very clean
Jul 29, 2020
'So glad that your facility is enjoying good business after the COVID disruption. We were greeted by a VERY friendly lady upon checking in. We arrived well before 2:00 check-in time...but she got in touch with "grounds-crew workers", verified that our site was vacant and told us go head...Much appreciated! The grounds were clean, well maintained (as usual)! 'Been there before, Will be back again!

Waldport / Newport KOA
Open All Year
1330 NW Pacific Coast Highway
Waldport, OR 97394
Check-In/Check-Out Times
All Sites
Check-in: 2:00 pm, Check-out: 11:00 am
Operating Hours
Sunday: Open 10:00 AM to 8:00 PM
Monday: Open 10:00 AM to 8:00 PM
Tuesday: Open 10:00 AM to 8:00 PM
Wednesday: Open 10:00 AM to 8:00 PM
Thursday: Open 10:00 AM to 8:00 PM
Friday: Open 10:00 AM to 8:00 PM
Saturday: Open 10:00 AM to 8:00 PM
Get Google Directions

© 2020 Kampgrounds of America, Inc.