Directions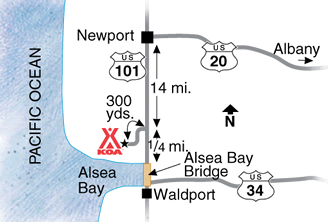 1/4 mile north of Waldport or 14 miles south of Newport on west side of US 101 on north side of Waldport/Alsea Bay Bridge at MM 155.
Get Google Directions
Apr 06, 2021
Great campground! We got a site with a view of the ocean and it was so beautiful. Sites were super clean, the staff was very on top of flagging any new visitors to make sure campers were the only ones on the campground. Loved it!
Apr 06, 2021
We had a great spot right along the ridge. It was beautiful but windy, so we may try a different spot next time. Bathrooms and campground were clean. Two parks for the kids. Beach access is a narrow nature trail, so not the most accessible for differently-abled. Would definitely camp here again.
Apr 06, 2021
Very nice campground with a lovely view of the bay and bridge. The staff was very friendly and helpful.
Apr 06, 2021
Wonderful! The staff were super friendly and always had a smile. Well kept grounds and restrooms! Very clean! However the padding in the cabins we slept on were BAD! They REALLY need to improve the quality of what guest sleep on. My husband and I woke up with severe pinched back nerves (we're only 28 & 30 years old ) we didn't sleep well at all :/ aside from that, we would come back! :)
Apr 05, 2021
Had a very good stay. Location was excellent for exploring the coast between Newport and Yachats. Staff was friendly and supportive. Bathroom facilities were a bit dated and in need of some cosmetic repairs, but that's the only negative for the park.
Apr 03, 2021
In all our years of staying at KOA campgrounds it was the best spot we have ever parked. Lying in bed at back of our Motor Coach we had a spectacular view. And we had called Amanda that morning asking if we could come one day earlier. She was cheerful and quickly invited us to come. The RV park was beautifully maintained.
Apr 03, 2021
Very clean and friendly
Apr 02, 2021
Grounds are well kept and clean.
Apr 01, 2021
My Wife and I stayed 2 nights and back in camp spot #27 was great; the view of the BAY and Waldport was Great! We used the nature trail to go down to beach to explore and go to dinner @ Waves restaurant for Dinner. We also biked around the resort and went to the beach! The KOA staff was friendly and had a great time!
Apr 01, 2021
Trash was over flowing to ground in trash area. Bathrooms were not stocked and dirty. Theft occurred while we were there on a patrons trailer. Overall very disgusted during our visit, would of left early but was very windy and raining.
Mar 31, 2021
Great stay, very clean, friendly, quite, and the staff was great.
Mar 31, 2021
Beautiful campsite with view of bridge and bay. Clean. Covid/winter closures so much of the campground was closed. Looks like fun? Not easy to get to the water. Town food and beach very close. Nice area.
Mar 31, 2021
Breaker popped every night at around 9 PM, worked fine after reset until 9 ish the next night and so on, did not turn anything on or off in the trailer and never had any problem prior.
Mar 31, 2021
Clean shower/restrooms. Very friendly staff. Good wifi. Some road noise.
Mar 29, 2021
Womderful as always!!
Mar 28, 2021
Staff were friendly and helpful. The kamp site was neat and clean when we arrived. Kamp sites were cleaned promptly after each kamper. We enjoyed our stay.
Mar 28, 2021
Nice camp site and staff.
Mar 27, 2021
Nice people, nice and clean park, nice views.
Mar 26, 2021
Excellent very clean well maintained will stay there again
Mar 26, 2021
Clean and safe facility and gorgeous setting!
Mar 24, 2021
Amanda was absolutely wonderful and so sweet. She gave our pups lots of treats and loves. Definitely will stay there again soon!
Mar 21, 2021
Love the Waldport KOA! We've been coming here for many years and the owners have improved it very nicely over the years. Latest addition is a brand new Wi Fi system that works perfectly. Even in a rain and wind storm.
Mar 20, 2021
Best moonlight view of a bay on the Oregon Coast...
Mar 19, 2021
Had to leave early, due to illness. Was told n/c past Weds. night, if we could be out by noon (Thurs.) which we left at 11:30. Received receipt - 2 nights.
Mar 15, 2021
So clean and quiet!nice place
Mar 11, 2021
This RV Park was clean and well maintained and quiet. Staff was friendly and helpful. We had to change our reservation several times and they were always very understanding and patient with us! We had a great view of the Bay from our spot. Looking forward to our next trip!
Mar 09, 2021
Everything was very clean. Amenities were as described. I love how pet friendly the park was and also poo free!
Mar 04, 2021
Very nice park. The store was awesome. Very friendly staff. Wish we had time to stay longer.
Mar 04, 2021
We just needed to get away from our daily Ruben and unwind. Pulling in forward gave us a picture prefect view of Alsie Bay and bridge.
Mar 03, 2021
Clean, quiet, and well-kept KOA. Even with the Covid 19 restrictions, we were able to have our needs taken care of and keep everyone compliant. The view is great, location works for the places we want to visit. Very friendly people.
Mar 01, 2021
Wonderful park! Clean great staff. The only little complaint I have is that at the dog poop stations around the park there were no poop bags. Which is very abnormal of this park. This is by far our favorite KOA park and if you visit you will see why.
Feb 26, 2021
Beautiful view!! should have read better and packed better - my bad. The staff was incredibly nice. And....the special greeter - Gary - so cute!
Feb 25, 2021
We had a wonderful time...clean campground and friendly staff. We hope to return!
Feb 17, 2021
We enjoyed our stay. Clean facility. Nice people.
Feb 16, 2021
The park was clean and nice. we did have an issue with one of the groups in a cabin behind us. they stayed outside talking until 11:30 pm and were loud...we were told that quiet time started at 10:00 pm.
Feb 13, 2021
WIFI is very weak as is the cable TV.
Feb 13, 2021
Picturesque location. Quiet. Due to Covid and a winter month, however, the camp was basically inactive. Only the laundry mat remained open. One person at a time. The office was only open for a few hours a day. The wifi and Verizon signal there are useless. We could only use wifi early am, late at night. The monthly sites were not level. Due to rain, our site became a muddy pond and marsh. Gloomy.
CAMPGROUND RESPONSE / COMMENTS:
Mr. Gladkoff, we have to say we are a little shocked at this review. We accommodated all your requests. You were in our office frequently, borrowed movies, chatted with us. You never mentioned any problems to us. We have no control over Verizon. You picked your site because it was level.
Feb 10, 2021
A spectacular view supported by a caring management. We'll certainly be back.