Last-Minute Vacations From Roanoke, VA

Nestled among the stunning Blue Ridge Mountains is a charming city with a rich history — Roanoke, VA. There is a lot to love about this Appalachian city, from nearby outdoor adventures to the heritage of mountain living. However, if you are looking for nearby vacation deals and packages to escape from your normal routine, there are plenty of places to enjoy that are just a quick trip away from the Magic City.
Wondering where you should go on vacation close to Roanoke? Here are some fun weekend getaways to add to your bucket list.
1. Take a Drive on the Blue Ridge Parkway
Sometimes a beautiful ride is the perfect escape from the hustle and bustle of city life. The world-famous Blue Ridge Parkway runs through the spine of Virginia's scenic mountain country and offers tons of opportunities for spectacular views. If you are in the mood for some hiking, trek the rugged trails of Mount Rogers and boast that you conquered Virginia's tallest peak.
2. Delve into History in Alexandria
Virginia is for history lovers — and nowhere is that better seen than in Old Town Alexandria. This pedestrian-and dog-friendly city offers a delightful way to delve into Virginia's rich past. The historic homes here date back to the 1700s. You can also visit the many noteworthy museums and take a riverboat tour of the famed Potomac River. While here, be sure to stop by our first American president's residence, Mount Vernon, just a short jaunt from Alexandria.
3. Discover the Vineyards and Wineries of the Shenandoah Valley
The Shenandoah Valley is well-known for unforgettable hiking, gorgeous waterfalls and enough scenic views to last a lifetime. If you are looking for a little extra romance, though, then spend your weekend exploring the Shenandoah Valley Wine Trail. This indulgent escape features some of the state's best wineries and fine cuisine. Take a horseback ride through gorgeous vineyards or stop for a candlelit dinner and watch the sun slip behind the mountain peaks.
4. Enjoy Peaceful Lakeside Living at Lake Anna
Located in Central Virginia, Lake Anna is the epitome of peaceful lakeside living. This coveted vacation destination offers sparkling waters with tons of lakefront activities like kayaking, swimming and wakeboarding. Be sure to explore the locally-owned shops, markets and eateries to enjoy the area's famed hospitality.
5. Experience a Seaside Oasis in Virginia Beach
While you may have to drive a bit further, the pristine beaches of Virginia Beach are well worth the trek. For a true escape, Virginia Beach is the perfect destination for some fun in the sun. From the three-mile bustling boardwalk to the sandy shores, your days will be filled with leisure, relaxation and lots of seaside antics. However, the beach is not the only draw to this resort town. Be sure to explore the regional state parks, take a trip to the local aquarium or zoo or plan a day on the links at a nearby golf course as well.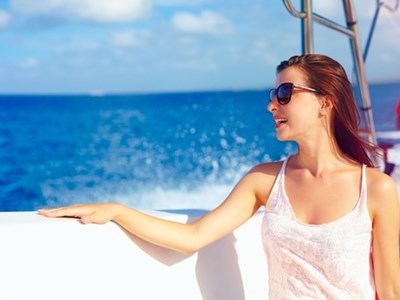 Want an affordable and luxurious way to stay near the water? Look no further than Virginia Beach KOA Holiday®. KOA has a little something for everyone:
Romantic Deluxe Cabins for couples looking for a seaside escape.
Rustic Tent Sites if you want to introduce your kids to the joys of beach camping.
Convenient RV Sites for those making their way from the mountains to the sea.
Plan your trip from Roanoke today, and enjoy a refreshing, relaxing and socially distanced weekend getaway at Virginia Beach KOA.