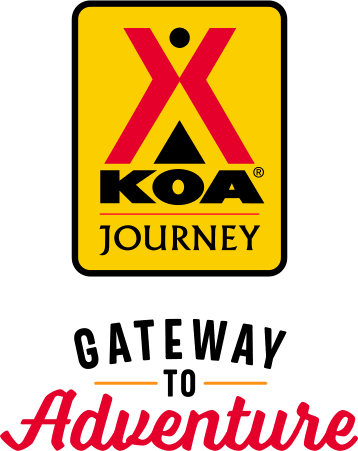 KOA Journey Campgrounds
KOA Journey campgrounds are the perfect oases after a day on the road. Whether it's along the way or a quick getaway, they've got you covered. Located near the highways and byways of North America with long Pull-thru RV Sites, they deliver convenience to the traveling camper. Pull in, ease back and take a load off.
KOA Journeys Feature:
Pull-through RV Sites with 50-amp service
Premium Tent Sites
Well lit after hours check-in service
Directions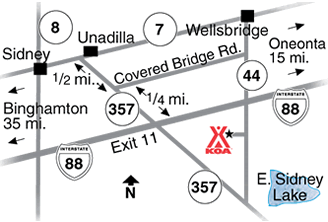 I-88 Exit 11: Don't use GPS after Exit 11, Head West on Route 357, Take the first Right onto Covered Bridge Rd, Follow to the End, Then Take a Right onto Route 44, Follow to Union Church Road, Take a Right, We are on the Left. We are 3.5 Miles off of Interstate 88. WE WAIT FOR EVERY RESERVATION. So if you will be Arriving after Hours Please Call.
Get Google Directions
Oct 19, 2020
This was our second stay and though it was just one night, it was just like the first time - great.
Oct 19, 2020
We stayed one night only. Arrived just after 3pm and left at 8:30am the next day. The bathroom was clean, the property was well equipped, my tent lot was fantastic, but the entire campground was full. Not a bad thing, tho. Maybe everyone loves it there. I can't disagree with them!
Oct 19, 2020
Best campground!! Will be back
Oct 19, 2020
Great as Always, the Fall is a Beautiful time of year to camp, The cabins are clean and cozy, as well as the bathrooms. Thanks again Mike & Kathy , See you next season
Oct 18, 2020
Nice one night stop. Follow the Signs to get to the campground! We will stay here again if in the area.
Oct 18, 2020
Nice quiet campground. Owners are very pleasant & helped me with a minor problem with my camper. Would definitely stay there again.
Oct 18, 2020
Very dated bathroom showers, but very nice people to deal with
Oct 18, 2020
Took a lot of time to check in. People very friendly. Baths need upgrading , falling apart
Oct 17, 2020
Very very cramped sites. Not even room enough to put out our awning if we'd wanted without it being over our neighbor's campfire pit and our slide came super close to neighbors on other side. Would not stay here again.
Oct 15, 2020
Overall, a great stay for our overnight purposes. If I was coming to visit Cooperstown, it would suffice. The lack of full service with sewer might be an issue for some campers. The staff was very friendly and accomodatong.
Oct 13, 2020
I had a great time. This KOA is clean, everyone is friendly, and helpful. I am already booked for next year.
Oct 13, 2020
Super nice facility. Renter one of their campers that were on site. It was immaculate and everything worked. Cathy and Mike love what they do and it shows. Will definitely be back. Nice relaxing long weekend away was just perfect.
Oct 13, 2020
The campground needs updating. Too many RVs packed too closely together. Tent site was not laid out well. There was no set fire ring. It was a moveable ring. There was no BBQ grill.
Oct 13, 2020
From the moment we pulled in we felt a real family positive atmosphere! Spots are a little too close together, but the whole feel of the camp makes up for it.
Oct 12, 2020
Fun time. The playground and the camper we rented are starting to show their age, but a pleasant stay was had by all.
Oct 12, 2020
A good location for us. We went to the Bethel Center for the Performing Arts (Woodstock) and Cooperstown Baseball Hall of Fame and a beautiful drive through the Catskill Mountains from here. Park was clean and tidy, owners were very nice. 45' and towing. No problems if you enter and exit the location as directed by the owners. FYI, there are no sewer hookups, however, they run a honey wagon
Oct 09, 2020
Beautiful foliage, with awesome Wineries and breweries nearby. A farm with a corn maze and pumpkins, apples and a variety of other products for sale just minutes away. Very friendly seasonal campers
Oct 08, 2020
Amazing campground! Will return
Oct 08, 2020
Amazing stay! Thanks again!
Oct 06, 2020
Reserved a full hook up site, get there and no sewer hookup. Crowded and cluttered feeling. The fire pit had a ton of cigarette buts in it and it reeked.
Oct 06, 2020
Love it as always, Clean well kept, Extra clean bathrooms,Love the people, Many laughs and great memories. Can't wait to return .
Oct 06, 2020
The staff and residents were very friendly, although there was no social distancing at all. Was not clear to us that they did not have any sites with sewer hookup when we booked online for 1 night. It did say W&E, so that was on us I guess. Would stay again for 1 night but not longer.
Oct 01, 2020
attention to detail in cleaning: ladies bathroom had spider webs in the corners, could use a paint job?
Sep 30, 2020
It was absolutely gorgeous at this campground. It is in the mountains so no sewage at every site but a great dump station for you to use. We loved our stay. The regulars had get togethers but they were quiet by 10 pm.
Sep 30, 2020
Always a great stay.
Sep 29, 2020
Beautiful scenery and quiet location.
Sep 28, 2020
nice respectful campground
Sep 24, 2020
Beautiful campground- Hosts very welcoming -I needed a new hose, their store had it at a very reasonable cost. Felt safe and welcome there.
Sep 23, 2020
The staff is great and the trout stream is tranquil and beautiful. We had a great time with some of the seasonal folks too. Great place!
Sep 22, 2020
Good place to stay over night
Sep 21, 2020
We only stayed overnight, but discovered a gem, hope to return at some point for a longer stay. The park has a family feel to it. We were led to our campsite, and revisited a little later to make sure we got set up ok. Next morning as we were leaving there were families at the pond fishing and some in a paddle boat. Our only complaint is the very loud music Friday night at a nearby site.
Sep 21, 2020
We stayed for 2 nights and it was amazing! We can't wait to come back. Owners were very sweet, campers were very warm and friendly. Showers and toilets were very clean as well and we had a beautiful spot right on the creek witch we loved. Thank you so much for our stay it was great!
Sep 21, 2020
This was a one night stop on the way home. Takes a long time to get there from the thruway but it was very quiet. Unfortunately, we could not get any TV, cell service or radio. We tried our satellite and our antenna - nothing. Very disappointing, although it kept everything quiet. You should really ensure that everyone has access to some media!! Otherwise, did what we wanted . . .
Sep 18, 2020
Owners Mike and Kathy were very accommodating, as always. Welcomed by seasonal campers like we were part of the group. Will definitely come back again!
Sep 17, 2020
Beautiful, clean, very friendly. People and fun and nice. Its a ok at this KOA
Sep 17, 2020
Our site was very clean and well prepared for us to arrive which was very nice in this time. The owners are very friendly and it is clear that they care about everyone in the campground. We are looking forward to our next stay very soon!
Sep 16, 2020
Just one night, on travels from VT to FL. A small, very clean, friendly RV park. A bit out of the way, but not difficult. Will definitely stay here again.
Sep 15, 2020
WE had a very nice relaxing vacation stay And would like to thank Mike and his wife for treating us like family while we were there.
Sep 14, 2020
People are very friendly and accommodating. Rv. rentals are very clean.
Sep 14, 2020
Very enjoyable. Freindly owners. Clean. Only wish quiet time was at 8 pm not 10 pm. We like our quiet time.