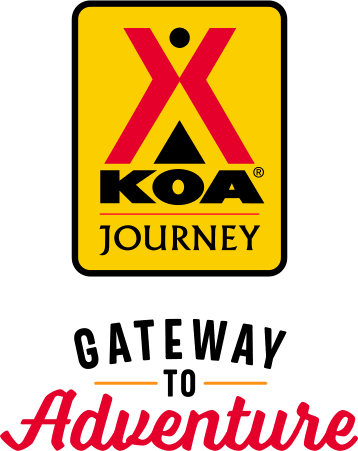 KOA Journey Campgrounds
KOA Journey campgrounds are the perfect oases after a day on the road. Whether it's along the way or a quick getaway, they've got you covered. Located near the highways and byways of North America with long Pull-thru RV Sites, they deliver convenience to the traveling camper. Pull in, ease back and take a load off.
KOA Journeys Feature:
Pull-through RV Sites with 50-amp service
Premium Tent Sites
Well lit after hours check-in service
Directions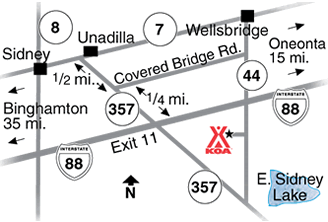 I-88 Exit 11: Don't use GPS after Exit 11, Head West on Route 357, Take the first Right onto Covered Bridge Rd, Follow to the End, Then Take a Right onto Route 44, Follow to Union Church Road, Take a Right, We are on the Left. We are 3.5 Miles off of Interstate 88. WE WAIT FOR EVERY RESERVATION. So if you will be Arriving after Hours Please Call.
Get Google Directions
Jul 30, 2021
The best campground I have ever stayed at! Beautiful property and amazing owners and staff. We will definitely be back!
Jul 29, 2021
It was a great stay we go every year my kids love it
Jul 26, 2021
KOA staff was very accommodating and helpful. Campground was clean and well maintained. Our best KOA experience yet!
Jul 25, 2021
Very peaceful and tranquil despite the amount of people that were there. The owners are very accommodating. Everyone there respects their fellow campers. Had a blast! Really enjoyed the local things to do like rustic Ridge winery And the baseball at Cooperstown and Oneonta
Jul 16, 2021
Quiet-quiet-quiet!!! Wonderful pool!!!! Just what we needed after fleeing another KOA at Bar Harbor!!!!!!
Jul 13, 2021
Had a great time. No real complaints. The people there are very friendly. Love the pool. Very dog friendly.
Jul 12, 2021
The owners and staff are very friendly, and they go all out for the customer, but there was no picnic table, the sites are far too close together and right on the road, and the bathroom plumbing is a shambles.
Jul 09, 2021
Our stay was very nice. The rv was spacious for our family and very clean. The staff was very accommodating and friendly.
Jul 06, 2021
We always have the best time at the unadilla KOA. Stayed in one of the cabins and they are perfect! Will be back. Very clean and a lot of activities for the holiday weekend
Jun 28, 2021
Limited restroom facilities. Dirty Kamp Kabin. Attractive location.
Jun 24, 2021
Understand this is a KOA journey okay for a one night stay. They did have a nice pool. We stayed in one of their RV rental units. Honestly the place needs a little love. The was junk piled in the men's bathhouse and it had only one working toilet. The showers were pretty disgusting with an old tarp draped across the back wall. They offered us an upgrade to one of their newer units for $50.
Jun 11, 2021
Nice staff had a great time.
Jun 08, 2021
reliable,convenient
Jun 01, 2021
Amazing time! Live that place! Can't wait to go back!
Jun 01, 2021
Always a great time at the Unadilla KOA rain or shine!! Owners are amazing and the workers are the nicest people. Will be back!!
May 31, 2021
Wonderful staff, friendly atmosphere, clean location, everything you need. Will be back soon, love this place!
May 31, 2021
We went for a relaxing weekend away. Our cabin was in a corner overlooking water which was beautiful, but the campers next door were loud and partying all the time. They had an RV that I believe was seasonal. At one point we were relaxing and I had finally dozed off when one of the neighbors ( a woman) came into our site, onto our porch and started yelling at her unleashed dog (Bella Marie) so I
May 24, 2021
Very quiet campground. Owners/staff were extremely friendly. Great place to unwind and relax!
Apr 19, 2021
The owners Mike and Kathy were great. They went out of their way to help me set up a special weekend for me and my girlfriend. We rented one of their campers and the RV was clean and enjoyable to stay in. I would recommend hibachis at the RV sites, for those who like to cook outside when camping. but overall, we definitely enjoyed our stay. I really feel like they took care of us there.
Oct 21, 2020
No complaints Clean. Friendly
Oct 19, 2020
A great place to stay, we will be back next year.
Oct 19, 2020
Best campground!! Will be back
Oct 19, 2020
Great as Always, the Fall is a Beautiful time of year to camp, The cabins are clean and cozy, as well as the bathrooms. Thanks again Mike & Kathy , See you next season
Oct 13, 2020
Super nice facility. Renter one of their campers that were on site. It was immaculate and everything worked. Cathy and Mike love what they do and it shows. Will definitely be back. Nice relaxing long weekend away was just perfect.
Oct 12, 2020
Fun time. The playground and the camper we rented are starting to show their age, but a pleasant stay was had by all.
Oct 09, 2020
Beautiful foliage, with awesome Wineries and breweries nearby. A farm with a corn maze and pumpkins, apples and a variety of other products for sale just minutes away. Very friendly seasonal campers
Oct 08, 2020
Amazing campground! Will return
Oct 08, 2020
Amazing stay! Thanks again!
Oct 06, 2020
Love it as always, Clean well kept, Extra clean bathrooms,Love the people, Many laughs and great memories. Can't wait to return .
Sep 29, 2020
Beautiful scenery and quiet location.
Sep 18, 2020
Owners Mike and Kathy were very accommodating, as always. Welcomed by seasonal campers like we were part of the group. Will definitely come back again!
Sep 17, 2020
Our site was very clean and well prepared for us to arrive which was very nice in this time. The owners are very friendly and it is clear that they care about everyone in the campground. We are looking forward to our next stay very soon!
Sep 14, 2020
People are very friendly and accommodating. Rv. rentals are very clean.
Sep 14, 2020
Very enjoyable. Freindly owners. Clean. Only wish quiet time was at 8 pm not 10 pm. We like our quiet time.
Sep 13, 2020
All around amazing stay! Highly recommended!
Sep 08, 2020
We had a great time . Staff and other guests were very nice and friendly making us feel right at home. Looking forward to getting a seasonal spot and enjoying next summer.
Sep 04, 2020
My favorite campground, beautiful scenery and super clean
Aug 29, 2020
The owners were fantastic polite and professional, loved every minute their, the nice part is that is hidden from street, quiet at night time great place to relax and have fun will be back in the future
Aug 27, 2020
Very friendly, helpful and accommodating. Thanks for everything and we will see you next year!
Aug 27, 2020
We brought our 4 grandchildren to the Unadilla KOA for a special weekend and stayed in the RV. It was a hit! Lots of room, clean, and fun. They loved the pool, fishing, basketball, hiking along the stream, playing games in the field and hanging out at the playground. Special memories made!! Mike and Kathy were the perfect hosts! I totally recommend this KOA!!