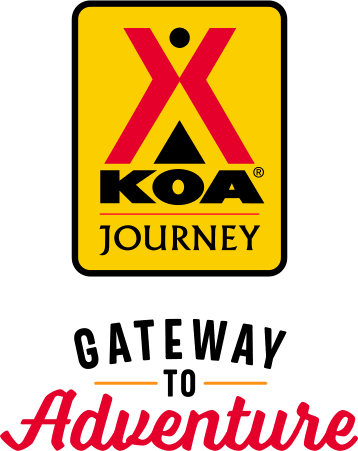 KOA Journey Campgrounds
KOA Journey campgrounds are the perfect oases after a day on the road. Whether it's along the way or a quick getaway, they've got you covered. Located near the highways and byways of North America with long Pull-thru RV Sites, they deliver convenience to the traveling camper. Pull in, ease back and take a load off.
KOA Journeys Feature:
Pull-through RV Sites with 50-amp service
Premium Tent Sites
Well lit after hours check-in service
Directions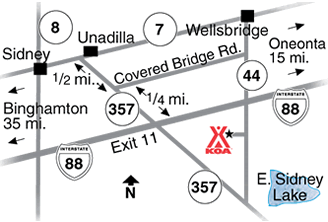 I-88 Exit 11: Don't use GPS after Exit 11, Head West on Route 357, Take the first Right onto Covered Bridge Rd, Follow to the End, Then Take a Right onto Route 44, Follow to Union Church Road, Take a Right, We are a on the Left. We are 3.5 Miles off of Interstate 88. WE WAIT FOR EVERY RESERVATION. So if you will be Arriving after Hours Please Call.
Get Google Directions
Jun 15, 2021
An ok campground. Was only there one night didn't see much of the place.
Jun 15, 2021
It was perfect! The owners & workers were so friendly!
Jun 14, 2021
Fantastic place great people clean restrooms
Jun 14, 2021
Very very very nice people run this KOA. Would definitely stay here again.
Jun 14, 2021
If you have children, like to party, have a dog that barks constantly this is the place for you. If you want peace & quiet you will be disappointed. The place is beautiful. The owners are so friendly and nice that I feel bad complaining. But adults and children running around on golf carts all day and teenagers partying all night was too much.
Jun 13, 2021
Quaint campground with friendly personnel .
Jun 13, 2021
Great little campground, very friendly and helpful personnel. Grounds in great shape, spots along river are superb. Bathrooms need upgrade, but that is only critique.
Jun 12, 2021
The staff were very friendly and helpful. Very quiet campground. Only 3 stars because of all the full time trailer dwellers and the packed in like sardines sites. Men's showers need help. Good location if you are traveling through north or south. Rural area, campground is on a large stream. Plenty of shade. Pull thru sites are just long enough if pulling a trailer or car.
Jun 11, 2021
Problem with low voltage but seemed to be resolved after worked on by staff. Sites are on grass and dirt which was muddy on our stay. Sites were also too close together.
Jun 11, 2021
Nice staff had a great time.
Jun 11, 2021
Awesome people and beautiful camp grounds.
Jun 10, 2021
At the time of my stay the access to the site was not motorcycle friendly. The uphill loose gravel road turned into an uphill grassy field that was muddy in places. In my opinion this is unacceptable for a motorcycle pulling a small tent trailer. The restroom was a 10 minute walk back down the hill.
Jun 09, 2021
Campground crew were great. Have been here manty times before as it is a convenient stop on our way through. No full hook-up sites, but we can live with that.
Jun 08, 2021
reliable,convenient
Jun 04, 2021
Although our site was not ideal being a new site not designed for our camper, it was good. Camp is very clean. Bathrooms were being updated and not in great shape currently but I'm sure will be. Owner Mike was very helpful and the kindest guy. Went out of his way to ensure we were happy and taken care of. Otherwise beautiful campground with many opportunities to keep the little ones happy.
Jun 03, 2021
The hosts are wonderful and very helpful. The seasonal campers are very friendly. The owners are making great upgrades to the campground. It was clean and quiet and affordable for a.tent camper. I will always come back.
Jun 02, 2021
Outdated playground, poorly maintained sites
Jun 02, 2021
It was nice we were a little bit disappointed that we didn't get over by the water but in all it was OK I wish they had sewage would've been easier okey-dokey have a great day
Jun 02, 2021
First time ever at a KOA that we had to cancel return stay. Place is dirty and run down. Filling the pool with brown creek water. No toilet paper in bathroom. No one in office until 900. Geared to full time people not campers. Weeds over grown all over. Picnic table in horrible shape. Place is neglected.
Jun 02, 2021
The owners were very nice and accommodating. It was wooded and clean.. Unfortunately, the campsites were all very small ( ours was practically in the camp road, all stone, tiny swatch of grass) The playground was off to the side in a loop and much older equipment. No kids activities or pavilion for gathering. Just not what we were expecting after our other KOA experiences.
Jun 01, 2021
It rained pretty much the entire time but we still had a wonderful time.
Jun 01, 2021
Amazing time! Live that place! Can't wait to go back!
Jun 01, 2021
Loved the site, the layout of the campground, and their wood burned nicely! This is huge compared to other campgrounds we stayed at and bought their wood. I wish there was an option to buy bulk vs per bundle because we ended up spending a couple hundred dollars on wood.
Jun 01, 2021
Our stay was steady rain . Mother Nature dictated that. Great campers, no contact with staff. Not so good camper on top of campers. Loved being on the river for sure. Happy with dog play area. Very clean.
Jun 01, 2021
Always a great time at the Unadilla KOA rain or shine!! Owners are amazing and the workers are the nicest people. Will be back!!
Jun 01, 2021
Stayed Memorial Day weekend, bathrooms were being renovated along with showers. Sites were a little cramped and close to other sites. The place has changed a lot since I stayed there 25 years ago.
May 31, 2021
Wonderful staff, friendly atmosphere, clean location, everything you need. Will be back soon, love this place!
May 31, 2021
We went for a relaxing weekend away. Our cabin was in a corner overlooking water which was beautiful, but the campers next door were loud and partying all the time. They had an RV that I believe was seasonal. At one point we were relaxing and I had finally dozed off when one of the neighbors ( a woman) came into our site, onto our porch and started yelling at her unleashed dog (Bella Marie) so I
May 29, 2021
internet and phone service is good here. This place needs work and a lot of it. Not full hook-ups.
May 28, 2021
80%longterm.men's room under construction & trying to operate a same time-couldn't even wash hands.no attempt to control speed-dust everywhere. Managers dog running free against rules.no cable &no antenna reception. No sewer. Corporate KOA should be embarrassed to have name associated with this campground. Only positive - strong WiFi.
May 28, 2021
Mostly seasonal sites n pull throughs are very small. Some of the smallest pull through sites we have ever seen. Small campground but lots of golf carts. Sometimes people just drive around the CG for long periods of time without stopping. Staff is very friendly, nice and accommodating. CG is quiet in nice setting. Seasonals definitely can be ugly! Not one of the best of KOA.
May 26, 2021
The site is in a lovely freed area and the hosts were helpful and fruendly
May 24, 2021
Great place to stay and relax, great staff!!!!
May 24, 2021
Very quiet campground. Owners/staff were extremely friendly. Great place to unwind and relax!
May 23, 2021
Had a nice shady gravel pull-through. Staff was friendly and helpful. Other campers were nice. Evening was quiet. We stop here twice yearly when traveling to VT and FL. Plan to do this stop in the fall.
May 21, 2021
Site #8, AWESOME. On the bank of a good sized brook, fast moving water with refreshing sound & feeling. Flat ground for tent, electric, water, space, options. Fire pit located with great view of water - perfect for morning coffee! Family run, friendly, owners proudly spoke of their three children & 17 yr operation. They even helped me fix a motorcycle camping equipment mistake!
May 20, 2021
Nice location along side a stream on one side and a high bluff on the other. A great little campground with very friendly and helpful staff. We purchased propane and met some very neighborly folks here. It felt welcoming
May 18, 2021
No internet after being told there was. No real playground. The area we were in is a bunch of season campers.the guy across from us was rude and mean to my 3 year old granddaughter. The seasonal click made it very clear we were not welcome.
May 17, 2021
This is not a good short stay campground. The sites are close with just some gravel thrown over grass. Many, many long term units that are not well cared for. No full hookup sights. Roads in camp are very narrow. Avoid this KOA.
May 17, 2021
Very nice the people were nice to we were bye the river and it was so peaceful
May 13, 2021
Small campground, very small dog area to unleash your pet. The only men's bathroom was under construction. No showers available for men. Probably not use this campground again.