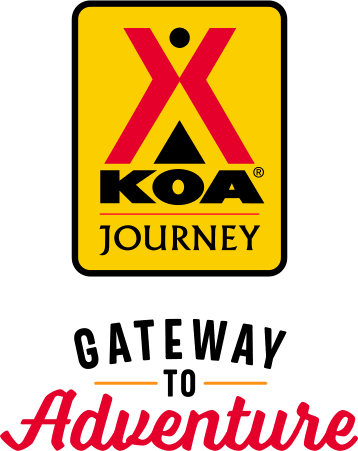 KOA Journey Campgrounds
KOA Journey campgrounds are the perfect oases after a day on the road. Whether it's along the way or a quick getaway, they've got you covered. Located near the highways and byways of North America with long Pull-thru RV Sites, they deliver convenience to the traveling camper. Pull in, ease back and take a load off.
KOA Journeys Feature:
Pull-through RV Sites with 50-amp service
Premium Tent Sites
Well lit after hours check-in service
Directions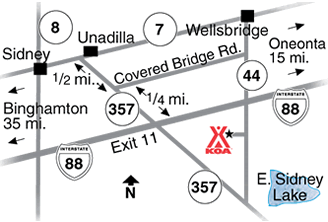 I-88 Exit 11: Don't use GPS after Exit 11, Head West on Route 357, Take the first Right onto Covered Bridge Rd, Follow to the End, Then Take a Right onto Route 44, Follow to Union Church Road, Take a Right, We are on the Left. We are 3.5 Miles off of Interstate 88. WE WAIT FOR EVERY RESERVATION. So if you will be Arriving after Hours Please Call.
Get Google Directions
Aug 01, 2021
A fantastic "Stay-cation" in a beautiful setting nestled between rolling farmlands. Close to Cooperstown and the town of museums. Great place to stay for the Derek Jeter induction. Generous hosts who are helpful all day long to make sure your stay is comfortable. One of the nostalgic KOA campgrounds that keeps getting better. The country roads and quiet camping experience brings me back.
Jul 06, 2021
The owners are always putting our area of the campsite down. Telling our visitors that the corner area is loud and have complaints all the time. Then the owner had some family or friends staying near us and they called our area "the ghetto". Very disappointed that the owners are disrespecting the seasonal campers that have paid $1800 per year. We have brought in a couple seasonals and weekend.
Jul 05, 2021
My tent site was secluded, well maintained, neighbors friendly and quiet during the night. Toilet facilities, clean. No issues with scavenging night creatures.
Jul 02, 2021
Another good overnight stay. Nice and quiet. Escaped the heat in the pool and comfortable game room. Will be back soon!
Jun 29, 2021
I thoroughly enjoyed my stay. It was a quiet community with very friendly people. They even had a craft fair and a live band on Saturday. The camp store had a great selection. I had forgotten to bring my benedryl and the store had some. This seriously saved me when my allergies started acting up. My only complaint was that the showers were not working. However they had a great pool.
Jun 23, 2021
Public bathroom needs some TLC Quiet family friendly place
Jun 03, 2021
The hosts are wonderful and very helpful. The seasonal campers are very friendly. The owners are making great upgrades to the campground. It was clean and quiet and affordable for a.tent camper. I will always come back.
Oct 19, 2020
We stayed one night only. Arrived just after 3pm and left at 8:30am the next day. The bathroom was clean, the property was well equipped, my tent lot was fantastic, but the entire campground was full. Not a bad thing, tho. Maybe everyone loves it there. I can't disagree with them!
Oct 13, 2020
The campground needs updating. Too many RVs packed too closely together. Tent site was not laid out well. There was no set fire ring. It was a moveable ring. There was no BBQ grill.
Aug 24, 2020
The grounds were beautiful. The layout is also very welcoming, when you first arrive you see the pool and lawn game area, the facilities were super clean and organized. The staff was super friendly and helpful, I will 100% come back to this site.
Jul 30, 2020
Very relaxing. The campground was quiet and friendly like it always is. Hosts make sure you have everything you need. Will be there again soon.
Jul 29, 2020
Very nice place
Jul 05, 2020
It was a perfect night with a perfect full moon. Clean and organized and catered to our needs.
Sep 05, 2019
Friendly staff went beyond what was expected and spent time baking the frozen pizza purchased from the store. My only negative concern was the young man weed trimming the site next to mine with a gas trimmer at 6:30 pm, while I was trying to talk to my wife in NC. It was ear splitting. But I love this campground and it's babbling brook, the best sound track for sleep imaginable.
Sep 01, 2019
Nice people and Campground.
Aug 19, 2019
We had a great first-time camping experience and met some really good people on the campground. Aside from the tree branch that fell on our tent, the weekend went without a hitch. I wish we picked a less rainy weekend to visit so we could have enjoyed more of the amenities offered. Overall, we had fun and look forward to visiting again. Thanks for your hospitality.
Aug 17, 2019
Relaxing stay with great hosts. Went to a nearby farm market and enjoyed fresh corn and vegetables with the hosts. Campground was clean, quiet and comfortable. Can't wait for my spring trip.
Jul 14, 2019
Very happy with the section of sites we were offered for our camping hammocks; host was great, we could not have done better for our last-minute reservation on a busy weekend
Jul 10, 2019
Loved the tent site near the river. The facilities were exceptionally clean.
May 24, 2019
The hosts are gracious and make sure my stay is always the best. The Rec House is a great place to hang out and watch a ballgame with other guests. I look forward to staying there 2 times each year.
Sep 25, 2018
Very friendly and helpful staff. Clean restrooms.
Sep 05, 2018
Enjoyed the site the nature the people they made it feel like I been there before very welcomed to be there
Sep 04, 2018
My family and I have gone camping quite a few times, but this has definitely been one of my faves. We had a large site by the creek which was perfect! Waking up to the sound of the stream was wonderful. There was also a trail that led you to this beautiful field, totally recommend going there to watch the sunset! All in all it was great. Wish we stayed longer.
Aug 21, 2018
Kathy and Mike were expecting me as I stop there twice a year. They make me and everyone feel like family. I know I can always have a great stay at their KOA and look forward to seeing them again.
Aug 01, 2018
Very Friendly and helpful
Jun 12, 2018
We had a wonderful stay! Our site was right near the creek and it was very peaceful.
Jun 02, 2018
1 night stay during a solo motorcycle tour. Super tent site. Friendly owners. Very well-maintained facilities. Handy location. Thumbs up! I hope to return on a future trip.
May 30, 2018
Hosts were very gracious. All staff was very helpful. When you stay there, it is like you are family. The campground was very clean on a busy weekend.
Oct 17, 2017
My stay at Unidilla was very relaxing and I noticed that I was the only tent when I got there on Friday and when I left on Sunday. The Showers were very clean. The weather stayed nice until Sunday morning when I had to take the Tent down ,In the Rain. Oh well,,So much for Mother Nature.I liked the little walk that I took up the road to the Cow Pasture and Horses. I was able to take some Photos.
Oct 17, 2017
Friendly management and clean facility. I enjoyed my time there.
Sep 24, 2017
The site itself was good. It was raining and the staff offered to give us a cabin at a discounted rate which was nice. However, while during the time in the laundry area, the staff was bickering and fighting about what they were wearing and whether or not it was appropriate for the workplace. They also had a large dog which had the run of the place. We're allergic!
Aug 21, 2017
Quiet, tranquil setting. Very clean. Hosts are gracious and friendly. One of the most pleasant, small KOA campgrounds I have stayed. I always look forward to my stay there each year.
Jul 08, 2017
Peaceful - thanks
Jul 03, 2017
Very friendly and helpful. clean too.