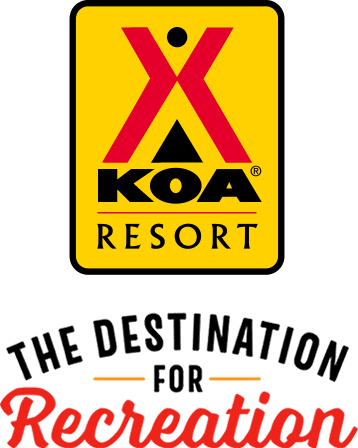 KOA Resort Campgrounds
KOA Resorts offer a carefree vacation in the great outdoors. Enjoy robust recreation and staff-led activities, kick back and relax by the resort-style pool, or grab a bite to eat, all while never leaving the campground. And with plenty of RV Sites with KOA Patios® and Deluxe Cabins with full baths to meet your needs, it's the ultimate camping getaway.
KOA Resorts Feature:
RV Sites with a KOA Patio®
Deluxe Cabins with full baths and linens
Premium Tent Sites
Resort-style pools
Indoor and outdoor group facilities
Directions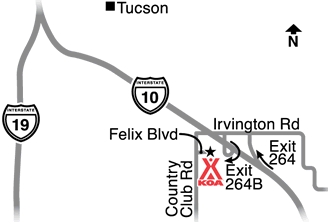 From I-10 East: Take Exit 264B merging onto Palo Verde Road North. Make a left on Irvington Road. Continue to Country Club Road and make a left. The main entrance is at 5151 S. Country Club Rd. Tucson AZ 85706
From I-10 West: Take Exit 264. Left on Irvington Road and left on Country Club Road. Left on Irvington Road and left on Country Club Road. The main entrance is at 5151 S. Country Club Rd. Tucson AZ 85706
Get Google Directions
Apr 06, 2021
The staff was great! BBQ Rush was great! Dog run is huge - but could use some grass - otherwise great! Orange, Grapefruit and Lemon tress were great! We had a contractor next to us in 1568 and their site was junky. Benson Rd was a loud drag strip 24x7, KOA should put some pressure on the city to shut that down.
Apr 06, 2021
It's a very nice place.. stayed here before, but this time it was crazy noisy with too many barking dogs. Also for the high price of staying here, the WIFI should be upgraded to work. It's very weak.
Apr 06, 2021
Very nice place to stay. Everything is clean, well cared for, lots of amenities and friendly staff. Will definitely stay again.
Apr 06, 2021
Loved the pool and TV recreation room for kids nice air conditioned clean beautiful , pleasantly surprised when we arrived - and staff was wonderful all the way around - service with a smile - we accidentally left our phone behind at the camp site and was p/u by staff ( Jeff ) and taken back to office and picked up when we rolled back in that evening ���
Apr 06, 2021
Beautiful place and loved the way it is maintained. Would highly recommend to anyone.
Apr 06, 2021
What a fabulous KOA. Really enjoyed our stay there.
Apr 06, 2021
We were able to check in early so we could visit our relatives.
Apr 06, 2021
What a great RV Resort. So well maintained and lots to do. We'll definitely be back.
Apr 06, 2021
Overall a fantastic campground. Loved all of the citrus trees throughout the grounds and the fenced in dog areas at some of the sites. Showers could have been a little cleaner. Also like that you have a nice restaurant on site and the pool with waterfall was lovely.
Apr 05, 2021
This stay was 5+ months...Rhonda & MaryAnn on the front desk provided excellent customer service throughout my stay and were always very heplful. They are two of the reasons why I am returning to this KOA for next winter. All in all this is a very good RV park.
Apr 05, 2021
This was our 3rd stay and it's on our permanent list of go-to for a great stay, immaculate facilities and superb customer service!
Apr 05, 2021
Great friendly staff. Enjoyed our cabin stay.
Apr 05, 2021
As always the staff was great and the campgrounds are very clean. Kids had a blast at the planned events. Thank you for a wonderful weekend
Apr 05, 2021
Stayed a month ... it's a 'mega park' with nice facilities. We've stayed before, and next time we'll probably stay elsewhere with similar amenities at a lower price. Customer service generally good, but there were several people that should not be in customer service positions.
Apr 05, 2021
Great place good employees
Apr 05, 2021
Very clean & friendly park
Apr 05, 2021
First time there and we will be back!
Apr 05, 2021
A nice spot for parking. Spots are large. The BBQ Rush restaurant on site has a text or call to order food. After waiting 20min for a confirmation of our order, we called in several times before answering. They confirmed our order and would call back to get payment. 30min later we called back and they had no record of our order so we canceled and expressed our disappointment in the lack of service
Apr 05, 2021
We stayed there for easy assess to Tucson and it filled that need. The orange trees were pleasant. The one bathroom near our site was not clean which is concerning during COVID. The staff was nice and helpful. We prefer smaller campgrounds with larger sites so we will be looking for a different place next time
Apr 05, 2021
Southwestern fire feature is a must!!! The citrus fruit trees smell divine! BIG dog park up front! Pools were fun!! Love the on-site trash removal! Only negative we had was BBQ Rush- ordered drinks and food and they didn't bring it out to us. Good would have been delicious if it were hot- just go in snd get it yourself and bring to your poolside high top. KOA staff were extremely friendly!!
Apr 05, 2021
Tons of amenities, good restaurant and excellent pull thru sites. Only there 1 night but was very impressed.
Apr 05, 2021
Our go to KOA for cross country travel with wonderful large spots, great amenities and very professional staff! RUSH BBQ- We ordered Two Smoke House platers- outstanding food, service, PORTIONS and delivery was very prompt! You have truly redeemed yourself from our previous past experiences, which may have been in part to Covid 19, but you are on the right track. Thank you!
Apr 05, 2021
Campground is nice but wasn't quite as nice as when we stayed 2 years ago. I was charged an extra $48 for extra people—there were 4 of us total and website says it includes 6 people.
Apr 05, 2021
Absolutely wonderful experience from beginning to end! The text messages throughout our stay of events was really awesome. The park is pristine and gorgeous. Staff is super nice. The daily activities were awesome for the kids!!! Was so nice to get to do Easter activities while camping. Only complaint is the restaurant was horrible, grossly overpriced and food wasn't very good.
Apr 05, 2021
Campground was amazing! Staff is super friendly. Lots of accomodations...love the main patio area and pickleball courts. Grounds are gorgeous and very clean. Restaurant was horrible.
Apr 05, 2021
Outstanding trip, the staff was very nice in all interactions. The facilities were well maintained and clean. Will stay here again.
Apr 05, 2021
Our first RV trip. We had no idea what to expect.
Apr 05, 2021
Always a good time, clean and friendly/
Apr 05, 2021
Great place. Definitely will return.
Apr 04, 2021
Over LazyDays. Already have reservations for next year. Only issue...restaurant staff aren't very friendly ��
Apr 04, 2021
Well, we had only planned to stay a month & extended to 3! We met so many others who did the same. Loved the citrus trees so much — we had a lovely orange tree at our site that gave so much shade & were delicious. The staff is super friendly & I liked how they let people live their lives without screaming about rules. So nice, so relaxed & in a great location off I-10 for getting around Tucson.
Apr 04, 2021
nice, clean, secure, professional!
Apr 04, 2021
Beautiful sites. One of the best. Don't be swayed by the undesirable area of Tucson. Very safe.
Apr 04, 2021
We have a pop up camper and we stayed at the end of a row. It was a beautiful campground and everyone that went by with their dogs was friends. It was not too far to walk to the clean and heated restrooms. The park is very pretty and well maintained. Super clean. My favorite area is the lake and also the firepits at night.
Apr 04, 2021
This place is immaculate and well groomed, but has two serious flaws for us: not enough restrooms for its size and terrible WiFi. There were lines at our restroom in the morning with many people were driving to it. They farmed out their WiFi to a 3rd party and was terrible. It was hard to log into and once you did, wondered why you bothered. Not acceptable for the price you pay.
Apr 04, 2021
Not sure why I was charged for coffee pods one day and not the next. Is coffee included with a cabin or not? The shower head in DC-5 needs cleaning.
Apr 04, 2021
We enjoyed the covered parking. Amenities were great. Liked being able to get propane on site. BBQ was tasty. We will come again. Look forward to staying at another KOA (this was our first time).
Apr 04, 2021
So very impressed with the whole experience...especially your staff!
Apr 04, 2021
Awesome place to visit! Lots of things to do. Great bike trails close and everyone around is very pleasant.
Apr 17, 2021
I fill so welcome when I go into the lazydays KOA ...PEOPLE are so nice the staff help you with a smile on their faces....come on down and enjoy all the amenities they have for you and your children and bring your pets too😀😀😀🐕🐇🐈
- Teresa Gulino on Google
Apr 15, 2021
Very nice campground. Great sites well layed out.
- John Davis on Google
Apr 15, 2021
It is a great campground. Koa in Tucson has a wonderful size. You can choose a site with fireplace or balcony, there is site with outdoor kitchen or a corral for dogs. It very clean and quite. Perfect place to spend your time.
- E2103YZalessandroc on Trip Advisor