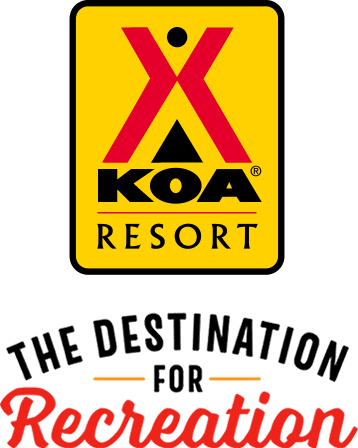 KOA Resort Campgrounds
KOA Resorts offer a carefree vacation in the great outdoors. Enjoy robust recreation and staff-led activities, kick back and relax by the resort-style pool, or grab a bite to eat, all while never leaving the campground. And with plenty of RV Sites with KOA Patios® and Deluxe Cabins with full baths to meet your needs, it's the ultimate camping getaway.
KOA Resorts Feature:
RV Sites with a KOA Patio®
Deluxe Cabins with full baths and linens
Premium Tent Sites
Resort-style pools
Indoor and outdoor group facilities
Directions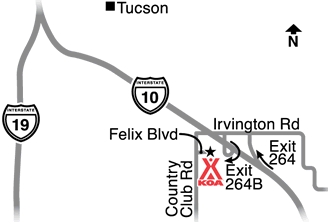 From I-10 East: Take Exit 264B merging onto Palo Verde Road North. Make a left on Irvington Road. Continue to Country Club Road and make a left. The main entrance is at 5151 S. Country Club Rd. Tucson AZ 85706
From I-10 West: Take Exit 264. Left on Irvington Road and left on Country Club Road. Left on Irvington Road and left on Country Club Road. The main entrance is at 5151 S. Country Club Rd. Tucson AZ 85706
Get Google Directions
Jun 15, 2021
We've stayed at several KOA locations and everywhere the staff are great. KOA LazyDays is by far the largest and has the best amenities. If we go back to Tucson, we would definitely return.
Jun 15, 2021
Stayed under the solar roof so knocked a lot of the sun off the camper. We always request there when staying in Tucson.
Jun 15, 2021
Very friendly and helpful staff. The internet is great. The covered site came in handy during the hot days.
Jun 15, 2021
Very clean, lots to do, surprisingly quiet, tent site was great — shaded table, sink, shaded pad
Jun 14, 2021
Sabrina was the BEST!!! Front desk was great! BBQ brisket was just like we get in Texas. It was a 10! Kids had a great time. One man on golf cart, yellow shirt about 60ish light colored hair hates his job. We had 2 encounters with him. He doesn't smile just looks at you like you are really a pain in his butt. We will be back soon.
Jun 14, 2021
Love the overhead sun screens.
Jun 14, 2021
One of the best KOA parks I have ever stayed at. Very well managed and the covered spaces are a plus in the southwest sun. Amenities were top-notch.
Jun 14, 2021
Even the premium internet was shoddy. Still didn't get my credit of $51. back yet.
Jun 14, 2021
wifi service needs to be easier.
Jun 14, 2021
very clean the laundryroom was large and well kept. nice pull in sites. great place to stay
Jun 14, 2021
Everything was great from checkin to checkout. The guy who helped us checkin was awesome, he was very helpful and friendly our whole stay. The deluxe cabin was quiet roomy and had everything we needed, such as kitchen supplies, a cook top and full size refrigerator. The beds were so comfortable and everything was super clean. The pool and spa was amazing and all the activities provided.
Jun 13, 2021
Loved all the amenities. Putting greens were fun. Horseshoes available. Nice areas for the dogs too.
Jun 13, 2021
The restaurant had great food. The DJ was so friendly and welcoming. Kids loved the pool area. Our spot was adorable. They also have great security.
Jun 13, 2021
Only stayed one night to be able to plug in and avoid the heat of Tucson summer while passing through. The park was much larger and quieter than I expected for an in-city park. It was extremely clean and well-kept. I'll be passing through again next week and will stay there again.
Jun 12, 2021
Staff was extremely friendly, always attentive to our requests. The resort is very clean and they have lots if activities for the guests.
Jun 12, 2021
We really like your Tucson lazy days koa. It's easy access off of I-10. Your admin staff are very good. The grounds are in excellent shape and easy to navigate. Love the on-site restaurant Rush BBQ. We will always include your facility on our trips to the west coast.
Jun 12, 2021
Very well run, clean grounds, the staff was out picking up wayward trash as it popped up. Showers were hot with good pressure. The store and lobby staff were excellent, and great rate for long term stay. Thanks, we will be back
Jun 12, 2021
Your park was awesome we are going to stay there on our way home
Jun 12, 2021
We travelled this trip from CA to VA and back again. We have stayed at KOA's, Good Sam parks, and state parks. In our opinion the Tucson KOA is in the TOP 1% across the board. Staff, cleanliness, amenities, recreation, and restaurant 5 Star! Their RV sites are amazing! We will be back very soon!
Jun 10, 2021
Very difficult to find site by myself. No escort in a very large campground
Jun 10, 2021
No notification on the pool closure, which resulted in over crowding on the one pool. The faciity seemed to be in disarray, from the other times we have stayed there. When we first arrived we were sent to a site that was occupied, it took awhile to find another site we had reserved with a fireplace. With so many sites open, it seemed that everyone was lumped into one area and again over-crowded.
Jun 09, 2021
The partial covered sites are a plus. Did not appreciate seeing a clothesline strung across the site across from us. And the BBQ restaurant we will not recommend. Went to the onsite BBQ restaurant at 11am for lunch on May 26, and first thing waitstaff said was "we are out of ribs", they are not available now. This is unacceptable for a BBQ restaurant.
Jun 09, 2021
My favorite staycation destination!!
Jun 09, 2021
Loved it ! Wish we planned ahead to stay longer. Planning to be back and stay in a cabin.
Jun 08, 2021
Incredibly wonderful, helpful staff. Would definitely return.
Jun 08, 2021
All ways fantastic in every aspect. Totally camper and pet friendly.
Jun 08, 2021
We had a great over night stay. Clean park friendly staff.
Jun 08, 2021
This was by far one of our favorite campgrounds on our trip. It's the Oceanlakes of the desert. If ever in the area again definitely will stay there!
Jun 08, 2021
Aaaaasume!!!!!
Jun 08, 2021
Friendly staff
Jun 08, 2021
On Lot 1342, people use the hammock and the grassy area for their dogs. We get tired of cleaning up all the dog poop. If you could put up a couple of posts with plastic chain, it would help. The area could be easily opened up by unhooking the lightweight chain for mowing.The way it is now, people seem to think it is a common area of the park for their use. Then, we have to wait to use it.
Jun 08, 2021
We really enjoyed our stay great amenities
Jun 08, 2021
3rd time staying here and we've lived it every time!
Jun 08, 2021
It was pleasant and relaxing.
Jun 08, 2021
Bring your own hotspot...TengoInternet is absolutely useless.
Jun 07, 2021
Sites were not level
Jun 07, 2021
It was great. They did a lot of neat things for the kids.
Jun 16, 2021
Been traveling far the Best Koa so far...The staff is super friendly....the park well cared for...Next time I'm in Arizons I'm stopping here
- Keith Byrd on Google
Jun 16, 2021
Beautiful grounds, the pools are perfect, friendly staff, earth shattering margaritas (I recommend coconut mango) while relaxing in the pool. Reasonably priced and a perfect place for anyone.
- Jamie Unknown on Google
Jun 14, 2021
First time here. Attended vows renewal wedding celebration. Very nice place. Restaurant is okay. Ordered the supposed texas inspired brisket with 3 sides, and my 2nd ling island iced tes. 25 bucks. Plenty of brisket, no smoke flavor and bbq sauce was vinegar laced (not sure what part of Texas inspiration reached). Nice size pool, well maintained and staff friendly and accommodating
- Juan Varela on Google