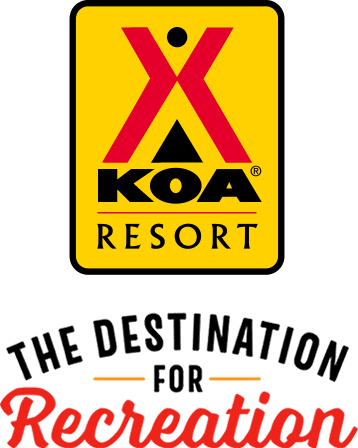 KOA Resort Campgrounds
KOA Resorts offer a carefree vacation in the great outdoors. Enjoy robust recreation and staff-led activities, kick back and relax by the resort-style pool, or grab a bite to eat, all while never leaving the campground. And with plenty of RV Sites with KOA Patios® and Deluxe Cabins with full baths to meet your needs, it's the ultimate camping getaway.
KOA Resorts Feature:
RV Sites with a KOA Patio®
Deluxe Cabins with full baths and linens
Premium Tent Sites
Resort-style pools
Indoor and outdoor group facilities
Directions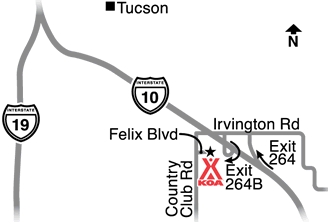 From I-10 East: Take Exit 264B merging onto Palo Verde Road North. Make a left on Irvington Road. Continue to Country Club Road and make a left. The main entrance is at 5151 S. Country Club Rd. Tucson AZ 85706
From I-10 West: Take Exit 264. Left on Irvington Road and left on Country Club Road. Left on Irvington Road and left on Country Club Road. The main entrance is at 5151 S. Country Club Rd. Tucson AZ 85706
Get Google Directions
Jan 21, 2021
Very well kept. Resort like property. Very friendly staff.
Jan 21, 2021
Very nice place to stay. Only negative is the barking dogs. Neighbors would leave for day and dogs barked the whole time
Jan 21, 2021
We love the Tucson Lazydays KOA. We come here several times a year. We really like the patio grass sites with lots of room and privacy hedges. Having a citrus fruit tree in our yards is a special bonus. We also take advantage of their RV storage facility in between trips.
CAMPGROUND RESPONSE / COMMENTS:
Thank you for your kind words! We are so glad that your enjoyed your stay.
Jan 20, 2021
Had a great time. However, several people allowed their pets (dogs) to drop their waste in the area around our campsite, 1514. I did confront, politely, some of them but they apparently assumed that the area near the bushes was an appropriate are to allow their pets to do this. I think there should be additional signage in these areas informing them to find an appropriate area to do this.
Jan 20, 2021
Very nice campground with lots to do
Jan 20, 2021
Nice KOA with lots to do. Liked the cabin with comfortable bed.
Jan 20, 2021
All the staff is very nice. The park is well taken care of. They have social activities and live bands at the pool and restaurant. We have been to this park a couple of times as a good place to stop and do laundry and connect again to the world after boondocking in eastern and southern Arizona. This is a go-to park. One of the better KOAs we have ever been to.
Jan 20, 2021
We had a nice stay at Tuscan Koa. Everyone was so eager and helpful! Thank you. Our only disappointment was the man at the rush bbq. He was so stressed he started hollering at me. I meant no harm, I tried calling in an order , he set the phone on the counter so I walked to the restaurant after many minutes. I told him that I was on hold and he lost it with many people listening. Very unnerving.
Jan 20, 2021
Great as always, but pricey!
Jan 20, 2021
Stayed a month in December. The workers were so friendly, everything is kept very clean and safe. Everyone is having a good time. I like that it is big enough to take 3 mile walks up and down the rows with only one repeated row.
CAMPGROUND RESPONSE / COMMENTS:
Thank you for staying with us, and thanks for the kind words! We are so glad that you enjoyed the park. Come back soon!
Jan 19, 2021
Great sites. Le el and large pull thrus. Wonderful food and service from bbq rush - poolside.
Jan 19, 2021
Very nice site and we ate at BBQ Rush for lunch and it was very good.
Jan 19, 2021
Nice campground, staff is friendly but not overly helpful. The location is central but the surrounding area is rough
Jan 19, 2021
We stayed in site 1395...beautiful site with brick fireplace. The grounds are kept exceedingly clean. Lots of staff everywhere.
Jan 19, 2021
I already told my friends they need to stay here when visiting Tucson!
Jan 19, 2021
Very clean and quiet. Pool was nicely heated.
Jan 19, 2021
Love the convenience of the restaurant. The bartender Ms. M was outstanding! Pool and hot tub was great!
Jan 19, 2021
What a great place. Lots of things for families and kids!!!
Jan 19, 2021
Been to this KOA five times now. Love it. It has everything. Only improvement I would suggest is the WIFI.
Jan 19, 2021
The grounds are well kept and nice, but the staff need training on respecting the people that stay in the park. There is one Stella person and his name is Christian. He helped us move into our Jew space, as we were too weak to do it ourselves as we were just discharged from hospital. That's right, the office made us move as we needed to extent our stay to recover. Thank you Christian
CAMPGROUND RESPONSE / COMMENTS:
Thank you for staying with us. We are sorry to hear about your recent hospital stay. In every situation all efforts are made to keep guests in their original sites when they decide to extend. Unfortunately, for many reasons we are not always successful. We apologize and hope you are feeling better!
Jan 19, 2021
Everything was great up until the last few days. Kids running around on dirt bikes and scooters without masks on. Parents using the k9 areas as daycare to corral the kids. An unbelievable amount of ppl walking around without masks on in common areas in front of staff without being corrected. Just absolute chaos and very poor management for a park this size. Disappointing.
CAMPGROUND RESPONSE / COMMENTS:
Thank you for staying with us. We want to clarify; we don't require masks outdoors. We do ask that all guests use 6-foot social distancing, and we require masks indoors when not seated and eating or drinking. Free masks are given to any guest who may need one.
Jan 19, 2021
Was very impressed with whole set up. From the reception people, to the cleanliness, and size of the place with all the amenities. I will definitely come back in the future!
CAMPGROUND RESPONSE / COMMENTS:
Thank you for the wonderful compliments! We can't wait for you and your family to come again.
Jan 18, 2021
Overall the stay was excellent. Most staff were courteous and friendly. One member needs to find another position. Love the plentiful citrus and grass on our site. Location was central to our needs. Quiet and relaxing.
Jan 18, 2021
Great park with lots to to including an on site restaurant. Staff was friendly (except for the older gentleman with a beard that drove around in the golf cart checking sites to see who was out and who was in. He was VERY grumpy and not friendly at all. Nearly ran us over in his golf cart on more than one occasion and was not a good representative for the park.)
Jan 18, 2021
All employees were courteous and professional. The grounds and buildings were very clean. We had plenty of space at our site
Jan 18, 2021
Our site was very nice. It had its own fenced dog area and fireplace with furniture. It was a bit out of level, but that can be overlooked because of how nice the rest was. The water pressure was up and down but never over 50 psi per my regulator. Electricity was stable. On site restaurant was nice.
Jan 18, 2021
Five night stay, 1/2021, excellent campground, excellent staff and location. Fairly close to all area attractions, very close to RV dealerships and Camping World. Would recommend and will return, when in the Tuscon area.
Jan 18, 2021
LOVE Lazy Days Tucson!!! We had such a great time there! Good BBQ restaurant!
Jan 18, 2021
Nice campground! Good central location when visiting Saguaro National Parks (East & West) or other hiking/biking options. Angled sites allow easy landing of trailer. Lots of on-site activities. Clean and well maintained park. The only downside is the surrounding area (outside of park) is not one where I'd take an evening walk; however, the park is large enough to get some steps in.
Jan 18, 2021
Nice pull through site. Easy access for visiting local sights. Like having a restaurant at park
Jan 18, 2021
We loved it… You guys have everything that a family needs for entertainment…
Jan 18, 2021
This is the best KOA I've ever stayed in. Clean facilities, friendly and helpful people. My trailer was next to a lemon tree loaded with lemons. Spacious sites, and very dog-friendly. The restaurant delivery was excellent and unexpected. I'd definitely stay at the Tucson KOA again!
Jan 18, 2021
Excellent RV resort, very clean and well kept. Access roads were wide and sites had lots of shade(orange trees)
Jan 18, 2021
Very well run. Really nice park with many nice amenities. Only complaint is the constant train whistles, aviation and traffic noise in the wee hours of the morning
Jan 17, 2021
MaryAnn got me a site that accommodated me and my trailer. I really appreciate that....
Jan 17, 2021
Wonderful a very well run park
Jan 17, 2021
Beautiful, clean amenity filled RV park. The trains seem to pass by about every 15 minutes and LOUDLY blow their horn even at night. That can't be changed. But the problem of loud, unruly, unsupervised children playing in the roads all hours of the day can be changed. You need to police your park.
Jan 16, 2021
Campground is always cleaned and trash picked up everyday. Staff is friendly and helpful. Nice laundry and pool areas.It just had a feel of a big happy family even after all the 5 months we were there waiting for our home to be built. Thank you for giving us a nice safe place to stay during our transition.
Jan 16, 2021
Very disappointed that many employees were maskless while walking/working in the park. We are in a severe pandemic.
Jan 16, 2021
Lovely campground with nicely heated pools. Everyone was friendly, staff & other guests.
Jan 20, 2021
We spent a week here in our motorhome. Enjoyed getting out of the cold. Clean well maintained park. Lots of various sizes of motorhomes. We were in a back row flanked by an orange and lemon tree and a grapefruit tree down the street. Lots of people walking dogs and staying socially distant. Masks worn everywhere. Trash pickup daily was great.
- lindakmom on Trip Advisor
Jan 18, 2021
Great place to park for a night or a week or longer. Lemons and oranges galore. Enjoyed some good food and tasty cocktails in the pub. They gave us nothing to complain about.
- Chris Elwonger on Google
Jan 15, 2021
Great place
- Mike Huberty on Google