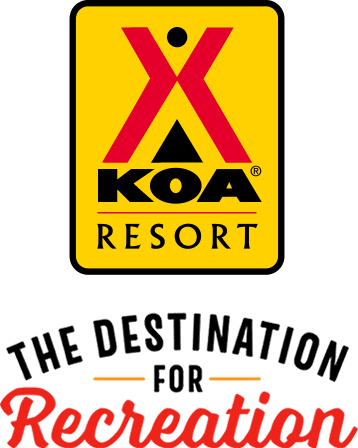 KOA Resort Campgrounds
KOA Resorts offer a carefree vacation in the great outdoors. Enjoy robust recreation and staff-led activities, kick back and relax by the resort-style pool, or grab a bite to eat, all while never leaving the campground. And with plenty of RV Sites with KOA Patios® and Deluxe Cabins with full baths to meet your needs, it's the ultimate camping getaway.
KOA Resorts Feature:
RV Sites with a KOA Patio®
Deluxe Cabins with full baths and linens
Premium Tent Sites
Resort-style pools
Indoor and outdoor group facilities
Directions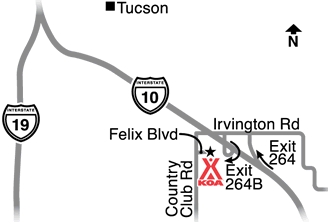 From I-10 East: Take Exit 264B merging onto Palo Verde Road North. Make a left on Irvington Road. Continue to Country Club Road and make a left. The main entrance is at 5151 S. Country Club Rd. Tucson AZ 85706
From I-10 West: Take Exit 264. Left on Irvington Road and left on Country Club Road. The main entrance is at 5151 S. Country Club Rd. Tucson AZ 85706
Get Google Directions
Sep 16, 2021
Beautiful park, friendly and efficient staff.
Sep 16, 2021
Great Time At your KOA
Sep 16, 2021
Asked for certain location close to store, restaurant & showers. Got call arrival day asking us to take another location. Told people in that spot had trouble & weren't able to move. We said of course. On arrival found out weren't disabled but had extended stay. Honesty would have been better. Then found out showers in that area were closed for 30 days. Would have been nice to know before hand.
Sep 16, 2021
Beautiful park, wished we could have stayed longer!
Sep 15, 2021
We always enjoy staying at this KOA. Plenty of space
Sep 15, 2021
Staff was very friendly park very clean spots had a lot of room had a cover over the motorhome really helped in the heat enjoyed our stay
Sep 15, 2021
We have stayed at this KOA many times and enjoy it every time, I think more every time. They are really making many improvements.
Sep 15, 2021
We stayed in one of their. Cabins it was clean and better than some that we have stayed at. We would stay there again
Sep 14, 2021
Our electrical pedistal kept turning off. It ran 3-4 hours and the breakers would turn off. The first time was after hours and we plugged into the one next door. In the morning a young man said he fixed ours and he plugged us into it. This lasted until noonish, I called and you sent someone to check it who had no idea what he was doing. turned off again, used the one next door until we left.
Sep 14, 2021
We loved Lazy Days! We stayed here for about a month and were sad to leave. We LOVED the Fitness Room. We are workout junkies so we were very appreciative of the free weights and machines. We have three little kiddos and the loved the swimming pool and hot tub. We swam pretty much every night. The Play Room for the kids was AWESOME and well thought out. The staff is so great and helpful.
Sep 14, 2021
Beautiful and well kept KOA. We'll be back for sure.
Sep 14, 2021
Clean toilets and showers, friendly and informative staff.
Sep 14, 2021
It was nice!
Sep 14, 2021
Clean, quiet and all of the staff were pleasant.
Sep 13, 2021
We enjoyed the campground and activities. Sabrina was great with the grandkids and went out of her way to make sure they were having fun. Everything was clean and well kept. Our campsite was wonderful and we loved the privacy hedge. The greenway trail near the campground was a nice bonus for a bike ride.
Sep 13, 2021
Very impressed with the environment measures the park has taken. Clean, friendly staff, amenities galore. Kid and senior friendly.
Sep 13, 2021
Clean, quiet and convenient to shopping, movies, etc. We had a nice, relaxing time.
Sep 13, 2021
Enjoyed the stay. Awesome koa. Appreciated the extensive recreation opportunities. Enjoyed feeding the turtles in the pond. Liked the frequent security patrols / trash pickup. Did not like the bathhouse cleaning (closing) at 830am. Most koas do this between checkout and check-in time.
Sep 13, 2021
The large dog park needed mowing badly. I asked one of your employees if he could have some one fill a large hole where we would park our car and he asked why I could not park some where else. I told him fine I would ask at the office and walked away. Later he came back and filled the hole and I apologized thinking I overreacted. He said I should have parked in front of my motor home. Not nice!
Sep 13, 2021
Staff are very friendly and accommodating. Park is kept clean and inviting. Only recommendation would be to have a convenience store with longer hours besides 9-5pm. Thank you KOA!
Sep 12, 2021
Once again another great stay at the Tucson KOA! We recommend this location to all our friends and family.
Sep 12, 2021
This KOA is huge with a lot of activities for kids. It has 2 pools, 2 laundry mats,and a weight room. I love it has gates that were closed at night. The only downside is Tucson is HOT. I would stay here again if I were in the area
Sep 12, 2021
Personnel were very friendly and helpful and went out of their way to make sure that the stay was good. Restaurant food and staff were great as well.
Sep 11, 2021
Tucson lazy days is the best rv resort that we ever stayed at.
Sep 11, 2021
Outstanding experience. We were having repairs done next door and they were great about holding our spot while we were waiting on completion of the repairs.
Sep 11, 2021
Staff was friendly, park was very clean, lots of nice amenities, great restaurant and caters to dogs. Wonderful!!!
Sep 10, 2021
This is one of the nicest KOA campgrounds I've stayed at. The onsite BBQ restaurant has great food! Check-in was fast with a very friendly staff.
Sep 10, 2021
Our stay was excellent as always, with a slight inconvenience this time in that the main shower facility was closed for upgrades. Very inconvenient due to the LONG walk to the other shower facility at the rear of park. Glad for the facility upgrade but sure could have used a shuttle.
Sep 10, 2021
Lots of available spots and they put us right next to were they started a noisy park construction project two days after we arrived for a five night stay. The workers started at 7:00 including the playing of loud music. KOA staff were friendly.
Sep 09, 2021
Paid for covered. Because the panels are so high the sun beats down on you in the afternoon just like an uncovered. Bathrooms and showers are pretty bad, although one set being redone when we left. Labor Day weekend, lots of big dogs barking at 6am. Each day. Nobody from Koa addressed. Doubt we'll stay here again.
Sep 09, 2021
I loved staying at Lazydays KOA. It was the very first RV park that I never had to visit the office for anything. I was checked in and given directions to my spot by one of the assistants that met me as soon as I entered the park (gated) as well as my paperwork all needs were met at that time. Since we were in the area to visit family members we never had a need for anything from office.
Sep 09, 2021
Very clean, staff was friendly
Sep 08, 2021
Staff is amazing!!! Food was great!
Sep 08, 2021
The park was beautifully landscaped. We had a grapefruit tree by us and lemons/oranges nearby. Could use more shade but it was an option to upgrade under shade. Had nice patios and tables, good lodge, nice pools and activities, laundry and showers. Appreciated that they recycled! Good location to visit Saguaro National Park and Tucson.
Sep 11, 2021
Fritz trees on every site!
- Brenda Lombard on Google
Sep 10, 2021
This KOA is excellent! After many years we decided to stay here while visiting friends in Tucson. Very friendly and professional staff. Bathroom and showers very clean. Pet areas for pets, swimming pool, play areas for kids and more!
- James McKenney on Google
Sep 10, 2021
This place is awesome! From friendly staff to a beautiful park, 3 dog parks, solar covered sites and a great restaurant it's a great place to be!!!
- Gail Haebler on Google