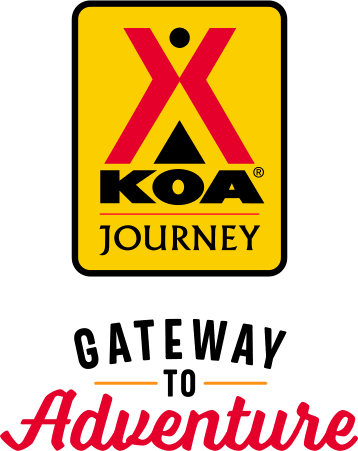 KOA Journey Campgrounds
KOA Journey campgrounds are the perfect oases after a day on the road. Whether it's along the way or a quick getaway, they've got you covered. Located near the highways and byways of North America with long Pull-thru RV Sites, they deliver convenience to the traveling camper. Pull in, ease back and take a load off.
KOA Journeys Feature:
Pull-through RV Sites with 50-amp service
Premium Tent Sites
Well lit after hours check-in service
Directions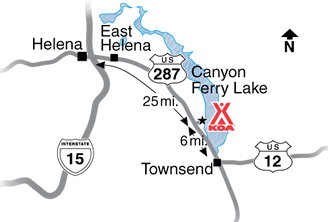 From I-90: Take Exit 274 for US 287, go north 38 miles. At mile marker 70, turn right.
From Helena: Go south on US 287. At mile marker 70, turn left.
GPS: N46.414460, W111.581689
Get Google Directions
Aug 24, 2021
Cute place real close to the lake. The ladies at the front desk were so nice! They have a little library attached to their store that has many books, and a little kids corner. The bathrooms were always clean as well as the campgrounds. My littlest loved the park they also had. The only bummer was there is a fire ban, so no campfires. Overall this is a great place to stay. 10 out of 10!
Aug 12, 2021
Excellent bathrooms and super clean grounds
Jul 07, 2021
Super nice employees and people, great fourth of July on the water
Jul 06, 2021
Clean facilities, friendly staff. The book share and free coffee was an unexpected treat. The location is great but not quite walkable to the lake or to the local burger and ice cream shack - but still nice that its so close.
Jun 13, 2021
Very nice and helpful folks. I stayed at a tent site, had plenty of grass, but no trees for shade (I didn't need this when I stayed there, but sure would have been hot on a calm summer day). Also, the tent sites are very close together. Nice and private bathrooms/showers. I gave a 4 star rating strictly based on the tent accommodations, but the staff gets an A+.
May 16, 2021
Don't stay here if you are tent camping. The "tent sites" are in a patchy spot of grass, and each one is only large enough to park your car, with no additional parking. Half of them did not even have fire rings. It appears a small dog park was "converted" into the tent sites. However, this seems like a fine location if you have a trailer. People seemed nice and bathrooms and showers were great.
Aug 24, 2020
Great place to go camping! Really friendly staff, clean restrooms and showers, reasonably priced. Close to the lake. Food and other convenient supplies on-site.
Aug 17, 2020
The folks at the KOA at Townsend are amazing! The bathrooms and shower rooms were spotless and always fully stocked. Everyone was very friendly and helpful. Will stay again if we are in the area again.
Aug 10, 2020
We stay at KOA when ever we can. However our stay at Townsend was substandard. From the reception to the actual tent site to the 'ribs' at the FFlamingo it was way below KOA's standard!!
Aug 04, 2020
The location of the tent space is not ideal. It faced an old boat & RV lot, as opposed to the water or trees/nature. It smelled like dead carcass.(Perhaps the taxidermy RV/shed next to it) I left within 3 hrs of arriving. As a single traveler, I didn't feel safe.
Jul 12, 2020
Booked 2 nights for tent camping. We were basically in a hole. No view, dried up weeds. Nice people, though who ran it. Left after 1 night. The camper sites looked nice.
Jun 04, 2020
Such a wonderful place! Ran across this campground on accident and now it will be my go to campground for canyon ferry lake. The staff and locals were so helpful and welcoming - I did not want to leave
Sep 20, 2019
Just passing through for one night. Nice location. Quiet. Lovely woman at the office in the morning. And she opens early too. Thanks for the great cup of coffee.
Aug 25, 2019
This campground is geared to fishermen and I wasn't there to fish.
Aug 20, 2019
Nice tent spot! Facilities close by and kept clean. Quiet at night and best price!
Aug 02, 2019
After a few reservation changes these guys are amazing and so accommodating. We love the location and facilities.
Jul 28, 2019
Awesome, clean bathrooms and showers. We were glad to see a playground. The tent sites were a little small and there are only four so it's not somewhere we could meet and camp with friends or family.
Jul 26, 2019
Great staff, clean restrooms, campsite was good.
Jul 20, 2019
It was a very clean and quiet campground, and the location was beautiful.
Jul 19, 2019
Stayed in a tent, sites are not well defined. Campground was clean, good store, and friendly staff. Lake is within walking distance for those without disabilities.
Jul 17, 2019
Bad weather. Permanent residents.
Jul 08, 2019
The bathrooms and showers (free) were very nice, but the campsites were far too small! If we had a larger tent, we wouldn't have fit next to our neighbors.
Jun 21, 2019
We had a great experience at this KOA. The lady at the desk was friendly and helpful. The bathrooms were clean and showers had plenty of room and hot water. They have a nice little camp store too.
Jun 20, 2019
Expensive and very few amenities. Very nice restrooms.
Jun 12, 2019
Office staff were super nice.
May 19, 2019
Good location run by good people. It's right next to Canyon Ferry, and is close to a number of hiking trails and picnic destinations. Owners saw it was going to rain and upgraded my tent site to a cabin for no extra charge. Would absolutely recommend staying here
Oct 04, 2018
There were clean bathrooms but very little views.
Sep 04, 2018
The best part was the huge area for each RV. Most of the area are seasonal people, that make you feel uncomfortable. They are older and we had grand kids who loved to play and had been told to calm down and be quiet. There is not much to do they have a small store that is very over priced, the have a small playground. Compared to other KOAs this is over priced.
Sep 03, 2018
Only bad thing was that we where told that there was water at each tent site and there wasn't
Aug 14, 2018
Enjoyed the camp....staff were friendly and helpful...with the algae problem in the big Canyon Ferry reservoir, they should consider an outdoor pool to give guests a swimming option because right now the reservoir is not a great swimming experience.
Aug 10, 2018
Nice quiet campground, very friendly hosts. Loved the free coffee in the morning too!
Jul 26, 2018
We had a great short stay. The only downside was the high wind that day.
Jul 17, 2018
Dogs were not leashed, ours was
Jul 16, 2018
The tent sites are tiny. The bathrooms need renovating. Usually the hosts ride around and check on things, never saw one employee outside the office. Not much to do. The staff was very pleasant.
Jul 15, 2018
Checked-in late but site assignment was prepared. Loved the grass tent site. Would be better to plant trees for shade from hot summer sun. Clean restrooms & shower. Dish washing sink was likewise clean. Very good KOA operations.
Jul 04, 2018
Extremely hospitable people!
Jul 03, 2018
We were disappointed to arrive at our tent campsite to find dog poop all over. Thankfully the office staff let us move to the campsite next to us because the other site didn't get cleaned up until three hours later. The women's bathroom also smelled awful, like an animal had died in it. I kept telling my husband how bad it was and he was surprised because he said the men's was fine.
Jun 05, 2018
Very friendly staff and good location for an overnight tented stay.
Jun 02, 2018
Nice quiet place on a beautiful lake. The bathroom floors need a thorough cleaning and toilet seats need replacing. It was very difficult to drive stakes in the tent ground.
Oct 12, 2017
Both the staff and the other campers were friendly and helpful.
Sep 10, 2021
Front desk/check in ladies were always a delight when coming in. The little store had a lot to offer, even a little library! The campground and bathrooms were always clean. KOA is pretty close to the lake - a quick 2 min drive. Everything about this campground was just perfect for a one last camping trip before the end of summer. 10 out of 10 would recommend to my family and friends.
- Duderchick on Google
Sep 07, 2021
Great customer service!
- Person Person on Google
Sep 05, 2021
nice people and beautiful sights to see
- Sally Brucks on Google