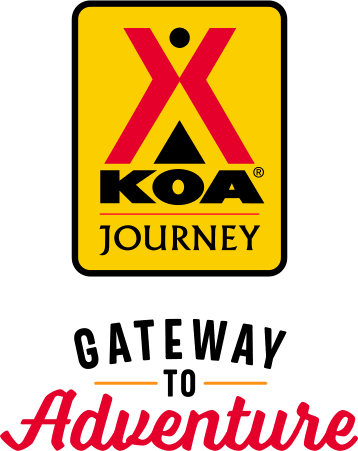 KOA Journey Campgrounds
KOA Journey campgrounds are the perfect oases after a day on the road. Whether it's along the way or a quick getaway, they've got you covered. Located near the highways and byways of North America with long Pull-thru RV Sites, they deliver convenience to the traveling camper. Pull in, ease back and take a load off.
KOA Journeys Feature:
Pull-through RV Sites with 50-amp service
Premium Tent Sites
Well lit after hours check-in service
Directions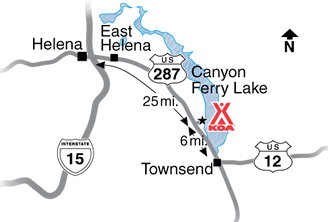 From I-90: Take Exit 274 for US 287, go north 38 miles. At mile marker 70, turn right.
From Helena: Go south on US 287. At mile marker 70, turn left.
GPS: N46.414460, W111.581689
Get Google Directions
Jul 27, 2021
While the staff were very friendly the actual campground needs a lot of work. There are people "living" there and they have junk outside their trailers. I think the KOA should require those people to keep things presentable and should make them pull the weeds and pick up the trash at their own sites. There is no dog park as the website suggest. The big bathroom/showers are nice. That's it!
Jul 26, 2021
Pretty basic, without thr frills of a typical KOA. No grass, very dusty. Price was high for what we got.
Jul 26, 2021
Friendliest KOA we have stayed at. The staff were all polite and helpful.
Jul 26, 2021
It was clean but gravel spots ... they were nice but fairly small... my spot did not have much natural shade but we managed. I would go again.
Jul 26, 2021
Very friendly and helpful. Enjoyed our stay.
Jul 26, 2021
Well stocked office for food & groceries to save a trip to town since you're in the middle of nowhere. Fishing or one night stay is why you're here. No local TV and no cable so need DVDs or satellite which most sites are friendly. Wifi wasn't working the two days we were there. Limited food options for 10 miles, bar food which was good but menu somewhat limited. Didn't try the food truck close by.
Jul 26, 2021
Beautiful area and very nice park. We enjoyed our stay and will return.
Jul 24, 2021
Hey friendly staff. Nice grounds
Jul 24, 2021
The hosts are great!!!
Jul 24, 2021
We were unable to connect to WiFi during our stay. I love the garbage pick up service. Employees are helpful and extremely friendly. E sites could use some grass
Jul 23, 2021
Very convenient location to stay for access to Canyon Ferry Lake. New owner Debbie and staff were very nice. However, the wifi was poor best - had to use a cell hot spot to access email. We were in site #7 - site #8 right next to us had been converted to a men's / women's room with a hose running to it for water - sad to say, we could smell mold when sitting at our picnic table.
Jul 23, 2021
We really enjoyed our stay. Debbie and the Crew are very friendly and accommodating. The cabins are very clean with many amenities including a Keurig, mini fridge, toaster and microwave. Even a propane grill which was much appreciated. The bathrooms are EXTREMELY well kept and cleaned often which is awesome. You can tell they are always trying to improve the grounds. We will definitely be back.
Jul 21, 2021
Great place to stay! Only minus was the laundry room was out of order when we stayed...
Jul 21, 2021
We were rather disappointed with the facility. We couldn't wash our clothes and they only had a dump site. Glad we were there only one night
Jul 20, 2021
Horrible sewage smelling water. We were put in the back 40
Jul 19, 2021
Incredibly friendly and hospitable hosts, clean and spacious bathrooms, clean sites, well stocked front store, close proximity to canyon ferry lake. We loved our stay!
Jul 19, 2021
The number of "residents" make this place look like a trashy trailer park. I though this was a campground? There's no grass, no shade, everything from the dog run to the playground was under construction. People had their boats, their four wheeler's, something that appeared to be rabbit cages?? The worst offense of all was the "resident" w/the 3 percenter flag attached to his truck, Wo
Jul 19, 2021
Great park within walking distance of very nice lake.
Jul 18, 2021
I was blown away at how clean and well thought out our cabin was! The welcome bag we received was such a nice touch! My fiance I have definitely fallen in love with this location and my kids (two 8 year olds) begged for us to vacation there more often, we loved it!
Jul 17, 2021
We had a family emergency. Could not get deposit back. Gave our reservation to another member of the group attending wedding.
Jul 15, 2021
30 amp hookup challenge; 50 amp adapter needed; none at store! It was in the order from Camco but did not arrive so I had to drive to Townsend for an adaptor; end up moving sites that had both 50 and 30 a.m. service
Jul 15, 2021
Spaces are gravel and not very large, but the bathrooms were exceptional. Very clean and well maintained. Garbage was picked up daily which was a bonus. Just a little too far from the lake for us since we had our boat with us. Staff was very friendly.
Jul 15, 2021
Nice park, very v ca lose to lake and boat access. Park doing some renovations, new dryers hadn't been delivered yet, camp K9 not yet installed but plenty of areas to walk dogs and lake very near for long walks/run Enjoyed our stay
Jul 14, 2021
You need to get TVs in the cabins
Jul 12, 2021
Great location. Very clean. Friendly staff.
Jul 12, 2021
The office staff were awesome especially Whitney who went out of her way to take care of us. Several of the sites were very uneven and in addition to our site I could see many travelers having trouble leveling there RV. Several of the sites had a lot of junk items store around them which was a detriment to the site. We had neighbors who hung their laundry on a line right by our entry.
Jul 10, 2021
The laundry wasn't in working condition, the dish sink was disgusting, there wasn't a dog park, horseshoe pit or volleyball court as advertised. Also the electricity was unreliable. Zero shade and our site was basically in the storage yard. The WiFi was so weak we could never connect. We'll never return or recommend. The one pro was that they had clean bathrooms. That's it.
Jul 10, 2021
Expected koa to provide site with sewer hookup and cable tv, but neither were provided in site E1 which is essentially a cramped overflow gravel parking lot with no shade. No effort was made to offer a change in sites by staff even when the main koa sites had openings. This was a poor experience at best. I felt like a "poor cousin" and for the price paid, under appreciated. Wont recommend here.
Jul 10, 2021
Good place to overnight. Clean modern bathrooms. No fenced in dog run.
Jul 09, 2021
Showers and bathrms too far to be useful. No shade at our site. Sewer hookup not user friendly. Debbie the new owner was great. Good luck.
Jul 09, 2021
New balth houses were gresat. Grounds were baren and rundown.
Jul 09, 2021
Awesome clean convenient
Jul 08, 2021
I stayed here for a couple of nights when I was heading from glacier to Yellowstone. W/E site, reasonable price, perfect spot for exploring Canyon Ferry, Missouri River headwaters, Lewis & Clark history. I would definitely stop there again.
Jul 07, 2021
Wonderful staff and take the time to listen to you with a friendly smile. Always helpful.
Jul 07, 2021
Super nice employees and people, great fourth of July on the water
Jul 06, 2021
Just kind of a trashy RV resort. Electricity was not working correctly because of the local power company, so had to limit our electricity use. They did give us a 10% discount because of this issue which was nice. The lid blew off of electrical pedestal and broke my tee that was connected to water facet.......all in all not a comfortable stay.
Jul 06, 2021
KOA is located in rural area and not much shade. We had an Ant problem at campsite, no tv and power outages. Campers from campsite by water drove fast into our area/on the road that leads to the KOA. Dog area rundown, washer and dryers out of order and need more trash cans for us dog owners. Wonderful library as well as friendly and helpful girl in store. Nice bathrooms.
Jul 06, 2021
Clean facilities, friendly staff. The book share and free coffee was an unexpected treat. The location is great but not quite walkable to the lake or to the local burger and ice cream shack - but still nice that its so close.
Jul 05, 2021
Short and sweet.
Jul 04, 2021
Booked a full hookups site power and water were unstable and we had outages throughout the evening. Owner uncaring about issues when we complained. Owner snippy when we refused to sign release for pictures/video of us to be taken & used online (we have young kids). She also made a fuss about us not signing a release of liability for drinking water safety. We will NOT be back.
Jul 03, 2021
This KOA was not in very good shape. There are many repairs that need to be made. Camp K9 was a disgrace! Fencing not installed, tall weeds growing up in the space. Two abandoned boats supposedly for ascetics pose a safety hazard to the dogs and or any people taking a dog to this dog park. For a KOA I can't recall seeing this many permanent type residents. The worst KOA facility I have used.
Jul 02, 2021
Guests smoking cigars & cigarettes at a table by the entrance door to the store. Not pleasant to walk w/ grandchildren through the cloud of smoke. play area is run down as is the dog area (not that we used the dog area, simply noted its conidtion) 9 diget code for rest room is rediculous, especially if out for a walk w/ kids and needing access wish there was more room for comment
Jul 01, 2021
Our stay was for two nights as a sort of pass through, but it was peasant. I like the rural setting because it is camping rather than a resort park in a city. Debbie was most pleasant to deal with and I think our stay next year will be considerably longer. Keep up the good work!
Jul 01, 2021
Unfortunately we did not have a good stay. Temperatures in mid-90s and park electrical system unable to cope. Our EMS shutdown several times due to low voltage. It is hard to tell if this was due to an under performing park electrical system or it could have been due to high demand on their electrical provider. Park staff was very helpful and friendly.
Jul 24, 2021
Friendly staff. Clean facility.
- Carol Rogers on Google
Jul 23, 2021
Beautiful lake. Love that there are options for camping. Paid camping at Marina and store, or unpaid camping away from marina nearby lake, about 25 minute walk from marina store.
- Minnie V on Google