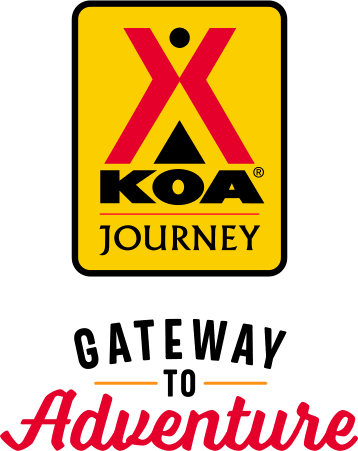 KOA Journey Campgrounds
KOA Journey campgrounds are the perfect oases after a day on the road. Whether it's along the way or a quick getaway, they've got you covered. Located near the highways and byways of North America with long Pull-thru RV Sites, they deliver convenience to the traveling camper. Pull in, ease back and take a load off.
KOA Journeys Feature:
Pull-through RV Sites with 50-amp service
Premium Tent Sites
Well lit after hours check-in service
Directions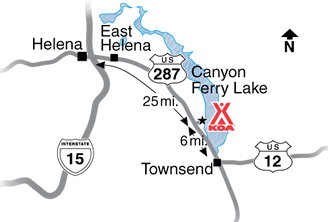 From I-90: Take Exit 274 for US 287, go north 38 miles. At mile marker 70, turn right.
From Helena: Go south on US 287. At mile marker 70, turn left.
GPS: N46.414460, W111.581689
Get Google Directions
May 10, 2021
The staff was friendly and helpful. Our site was nice. I was given 2 pages of rules to follow but upon reviewing the rules, it became evident that a lot of the permanent residents do not follow the rules. The dog park could use some work.
May 04, 2021
Check in was easy, fast and friendly. They emphasize quiet and the park was very peaceful. The views are fantastic. They were doing modifications to the park, so a couple bathrooms were closed and things were a little torn up for plumbing updates. But that's to be expected in off season camping. It should be good soon. The green spaces are very small.
May 03, 2021
Location is great and the access to the lake. Our particular site - we may have misunderstood 50 amp service being available, regardless, our 30amp outlet had an issue that the plug kept falling out. Our plug/surge protector is new, not worn. Blew the Surge twice and then in the middle of the night, the plug 'fell out' of the outlet. otherwise clean and quiet park - we will be back for sure!
May 03, 2021
The owners or employees are great. The people who live there are jerks!
May 01, 2021
The New owners are awesome and are doing a ton of upgrades and repairs this is definitely one of the best KOAs I have stayed at like I said the new owners and other staff are awesome.
Apr 19, 2021
I have stayed here a couple times, in the cabins, and it is a great experience every time. everyone is very friendly, and the bathrooms are clean.
Apr 06, 2021
Check in was so friendly.. spot was clean and nice and easy.. huckleberry ice cream sandwiches were delicious. We could not get internet service however. The lake was so scumpy ��we consider it polite that if a customer wears a mask that the employees do too. We would stay again..
Apr 02, 2021
very nice campground. the staff are very friendly and helpful. wont let me pick 10 on recommendation so i"ll do it here. also 5 star rating
Mar 31, 2021
Great people. Clean restrooms and showers.
Mar 31, 2021
Great staff and great cabins. Very clean.
Mar 31, 2021
Fantastic bathrooms. We jokingly call it the Taj Mahal of bathrooms as it was very clean, spacious, and does not smell musty like most bathrooms do. Great job maintaining it. Grounds and Kabins are clean. Wish the smaller bathrooms were open but they were closed for the season due to weather... but that's no fault of the campground.
Mar 15, 2021
Upgraded cabins are very nice. Bathrooms and showers are very clean and new. The staff is amazing!
Feb 26, 2021
Love my stay. Sharon at the front desk was very nice and friendly. I enjoyed chatting with her!
Feb 22, 2021
Super nice people running the place and the bathrooms were SUPER CLEAN!!! we had a great time for the Ducks on Ice Tournament
Feb 22, 2021
It was a great stay in one of their small cabins. The beds were comfortable and amenities were better than anticipated. Will stay again if fishing at the silos.
Dec 07, 2020
Great management. Good people!
Dec 06, 2020
Always amazing
Nov 19, 2020
We've been staying in the cabins for a few years now in the summer and fall and they are perfect for a quick weekend stay. See you in a few months!
Nov 15, 2020
Wonderful facility... stayed their a few days before our Elk hunt. Then moved to Ranch for week but left Motor Home there Never had to worry about it's safety... Will stay again on next trip
Nov 02, 2020
Very good service. Very good people. On great fishing lake.
Nov 01, 2020
The woman who checked us in was very nice, walking distance to lake, liked the Pink Bus cafe on site. A lot of fulltimers, a lot of weeds. There is a state campground down the street on the lake I wish I had known about instead. Overpriced for what it is.
Oct 13, 2020
We were thankful to have a place to crash for the night. The barking dogs and Trump flags weren't great.
Oct 13, 2020
View was amazing, the staff was helpful. Easy to find and get around in.
Oct 02, 2020
Wonderful staff and beautiful view
Oct 01, 2020
The hosts at this site are fantastic.
Oct 01, 2020
Really quiet considering the campground was full. Staff were really friendly.
Sep 21, 2020
Great staff. Clean camp.
Sep 21, 2020
Very quiet and easy in and out.
Sep 21, 2020
My stay was excellent - loved the tiny Kamper Kabin #6. On Friday morning I read an email that said my stay had been cancelled! Panicked and called the KOA - one or the other of us had set my stay for Thursday-Friday not Friday-Saturday. She quickly adjusted the stay for Friday and fortunately the kabin had not been scheduled for the night. All facilities were clean and operational. Thanks!!
Sep 19, 2020
Awesome staff, very helpful. Lovely place, coming back soon :)
Sep 14, 2020
always a great spot to stay!
Sep 13, 2020
Bathroom very nice and clean. Campground was stark , no grass or trees at site
Sep 08, 2020
Love coming here every year. We will be back again next year. The 2 ladies that run the store are so nice and friendly! Thanks for yet another great stay!
Sep 08, 2020
Facilities are very clean, The staff is AMAZING and we will keep coming back because it is the best place to go to relax.
Sep 08, 2020
The owners and employees were very friendly and nice. The campground was clean as were the showers. We traveled there to camp with out of state relatives and had a great time. I will return and would recommend travelers to stay at this KOA.
Apr 11, 2021
Very clean bathrooms. Sites are very well maintained. Awesome park for kids to play. Super friendly staff. Love this place!
- Alecia Ashton on Google
Feb 26, 2021
Great KOA. I stayed at cabin 5 which was clean and exactly what I was looking for. Sharon at the front desk was very nice and helpful. I enjoyed chatting with her. Can't wait to go back!
- Maura Holcomb on Google
Sep 14, 2020
Best fishing ever!
- Melinda Stoflet on Google