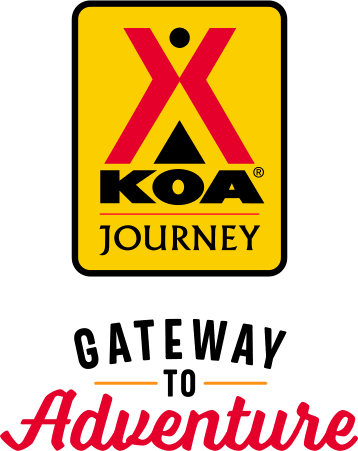 KOA Journey Campgrounds
KOA Journey campgrounds are the perfect oases after a day on the road. Whether it's along the way or a quick getaway, they've got you covered. Located near the highways and byways of North America with long Pull-thru RV Sites, they deliver convenience to the traveling camper. Pull in, ease back and take a load off.
KOA Journeys Feature:
Pull-through RV Sites with 50-amp service
Premium Tent Sites
Well lit after hours check-in service
Directions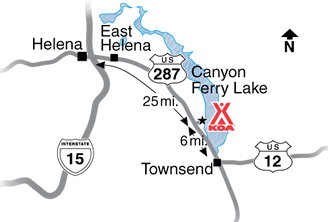 From I-90: Take Exit 274 for US 287, go north 38 miles. At mile marker 70, turn right.
From Helena: Go south on US 287. At mile marker 70, turn left.
GPS: N46.414460, W111.581689
Get Google Directions
Oct 17, 2021
Very friendly staff
Oct 11, 2021
Clean camp spots and very friendly staff. Would stay there again and have.
Oct 11, 2021
Great location. Close to the lake, fishing, hiking, hunting, biking and hiking. Staff and employees were extremely friendly, helpful and courteous. Great gift store and mini mart with lots of supplies. Highly recommend to those traveling thru the area.
Oct 05, 2021
The New owners are awesome and are doing many upgrades and repairs to the buildings and grounds They really care about the campers, they even have garbage pickup service that is awesome ���
Oct 05, 2021
Host Debbie is very nice. Wished there would have been a dryer. Not her fault.
Oct 03, 2021
This is the 2nd time I've stayed here and as the same as last time, everyone is welcoming and extremely helpful. Debbie and her Team go above and beyond to make you welcome. I had friends stay at another campground but I refused to join them as I am always happy to stay here and will continue to do so. Thank you Debbie and your Team, see you next year!
Sep 29, 2021
It was relaxing and quite. Maybe wrong time of the year but too much gravel and not enough grass. Friendly and helpful hosts and employees. Very nice shower houses. Landscaping could be in better condition, little run down in our opinion.
Sep 28, 2021
Clean camp and nice sized sites. Friendly people.
Sep 28, 2021
Clean and the staff was very friendly and helpful
Sep 15, 2021
Excellent condition s. Super helpful �
Sep 13, 2021
All gravel. Extremely small lot. Had a difficult time fitting the trailer and then being able to park the truck. Ok for a one night stay.
Sep 10, 2021
The staff was very friendly and the location was perfect for boaters. Unfortunately some negatives. Laundry did not have a dryer that worked. When paying for a campground with full amenities I expect the amenities to work. There was no advance notification of appliances not working and no partial refund for lack of facilities. Dog waste station was not emptied the entire time I was there.
Sep 08, 2021
Friendly staff. Area was clean. Library was a bonus.
Sep 08, 2021
I don't fish nor have a boat. But, I thought there would be a place to swim, float and play. No activities at camp for children besides swings. Be nice to have a grill or pit to cook on.Good for boaters and fisherman. I probably won't go again, but will tell my friends to go.
Sep 07, 2021
Always a great Fun place to stay and the staff is awesome
Sep 07, 2021
Nice people, our assigned space wasn't long enough for our RV, they gave us a longer spot immediately, no extra money! Everything you might need is right there. Nice mountain views
Sep 02, 2021
Had the opportunity to stay at this KOA a few times this year!!! Awesome ����������. Justin and Debbie are great to work with.... really up grading and the views of the Lake are amazing!! Thanks. Linda S.
Sep 01, 2021
This is a nice park with gravel spaces and driveways. Staff is friendly and helpful. The bathrooms appear to be newly redone and are cute and clean. We'd stay again.
Sep 01, 2021
We had a terrific time here. It's a quick walk to the lake, the owner was incredibly helpful and kind, and the views are very peaceful. We had to stay in a cabin for a night while our rv had repairs and we saw that those would be absolutely perfect for a family. We will return as soon as possible.
Aug 31, 2021
Great host and we had a view of the lake. Would stay again
Aug 29, 2021
Short overnight stay. All was well.
Aug 26, 2021
The staff are amazing. The store and laundry is clean. The grounds are well maintained. Close to the lake and boat dock. Reasonable rates. Highly recommend staying here.
Aug 26, 2021
The site was level and very well maintained. The staff was very friendly and so very helpful. We stayed for only one night but if we were in the area for any length of time, I would most certainly stay here.
Aug 23, 2021
Great place with very friendly people. Will definitely stay again.
Aug 22, 2021
great for 1 or 2 nites
Aug 20, 2021
Staff were very friendly. The campground was nothing notable.
Aug 18, 2021
Nice quiet place. Office personnel are very nice and helpful. Close to the lake. Will be visiting again.
Aug 17, 2021
Good place to stay for the night.
Aug 17, 2021
We stayed for a week of fishing on Canyon Ferry Lake. The campground is a typical RV park. There were a lot of long stay campers. The bathroom and showers were clean. The store had all the incidentals we needed. And the owner and employees are very nice and helpful. I'm sure we will return soon.
Aug 17, 2021
Great Place!
Aug 16, 2021
Nice Campground, friendly people!
Aug 15, 2021
A place that is sufficient for a one night stop, if you are on your way somewhere else.
Aug 11, 2021
Great comfortable stay. The store is great and has everything you could need. Staff was very friendly.
Aug 10, 2021
Stayed in space 5. Not much shade avail in sites. Office staff and on site employees fantastic. Clean bathrooms, didn't use shower. No problem with hookups. Wifi too weak to stream. Lake just a short walk away, tons of skipping rocks. Weekends fill up with fishermen, looks like excellent location for that. Would stay again. Stayed in a motorhome with toad. Site long enough for both.
Aug 10, 2021
I know the park is near a lake but I like to swim in a pool and KOA usually has one. There is some distance to the lake. Friendly staff.
Aug 08, 2021
The campground office is very unorganized with respect to checking in, site assignment, ability to produce a recipe, and explanation of charges. In hind site we should NOT have listened to to staff starting with reservations. Make sure you make your own reservation so things don't get mixed up. Other than the initial sign in everyone was very easy to work with.
Sep 10, 2021
Front desk/check in ladies were always a delight when coming in. The little store had a lot to offer, even a little library! The campground and bathrooms were always clean. KOA is pretty close to the lake - a quick 2 min drive. Everything about this campground was just perfect for a one last camping trip before the end of summer. 10 out of 10 would recommend to my family and friends.
- Duderchick on Google
Sep 07, 2021
Great customer service!
- Person Person on Google
Sep 05, 2021
nice people and beautiful sights to see
- Sally Brucks on Google