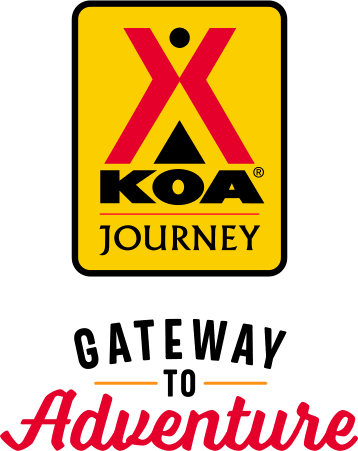 KOA Journey Campgrounds
KOA Journey campgrounds are the perfect oases after a day on the road. Whether it's along the way or a quick getaway, they've got you covered. Located near the highways and byways of North America with long Pull-thru RV Sites, they deliver convenience to the traveling camper. Pull in, ease back and take a load off.
KOA Journeys Feature:
Pull-through RV Sites with 50-amp service
Premium Tent Sites
Well lit after hours check-in service
Directions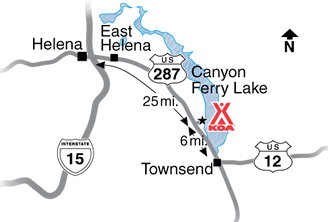 From I-90: Take Exit 274 for US 287, go north 38 miles. At mile marker 70, turn right.
From Helena: Go south on US 287. At mile marker 70, turn left.
GPS: N46.414460, W111.581689
Get Google Directions
Sep 24, 2021
Great staff! Park was clean and store was well stocked
Aug 31, 2021
Arrived late and found our envelope in the late-registration box with gift bag: bottle of water, our cabin keys, a personal note from the owner/manager, a bar of soap, & pamphlets for local sights. Friendliest KOA I have been to. Great store & gorgeous location. My favorite KOA on our trip. Dog area, common bathroom super clean. Highly recommended.
Aug 25, 2021
We enjoyed a thunder and lightning storm. We had easy access to bathroom. Room was clean. Goody bag was provided that had extra things for making coffee. Also had a toaster, microwave, and refrigerator. View of the lake from the parking lot.
Aug 23, 2021
This is our favorite getaway. They have the friendliest owners and staff you will find anywhere. The cabins and restrooms are exceptionally clean.
Aug 22, 2021
Cabins and bath houses are exceptionally clean and well maintained. Staff is super nice. Our stay was awesome.
Aug 16, 2021
Cabin is adorable and I was very pleased with the cleanliness. The only problem was the air conditioning was very loud and could not be used during the evening which made it hot
Aug 14, 2021
My Kids and I stayed 2 nights and we loved it ! The staff treated us like gold, our cabin was clean and very comfortable. We could have stayed a whole week there on the property. It's very quiet at night and everyone staff and tenants are respectful! Thank You again !!
Aug 12, 2021
The people here are great, helped even before we arrived by giving us details to get our motorcycle fixed. Appreciate the people here!
Aug 07, 2021
Nice people working the counter. We appreciated the gift bag we were given, it was a little extra touch of class. The cabin was nice and it having air condition was a great surprise. We've seen multiple bathrooms And showers at KOA's this trip, but this one was by far the nicest. If I could suggest anything I would say some flowers and trees in pots around the property would be wonderful.
Aug 01, 2021
A great place, friendly people, they go out of their way to make one feel comfortable and welcomed.
Jul 31, 2021
The staff was very nice and accommodating. I really liked how there was a sink specifically for dishes. We stayed in a cabin that had a great view of the surrounding countryside. My kids enjoyed the park. The only downside was no slide.
Jul 28, 2021
We rented a cabin for four nights. It was very clean with nice amenities. (Refigerator, microwave, coffee maker?) The staff worked hard at keeping the bathrooms clean. Honestly though, Campers could help in that area by tidying up after themselves. The staff was excellent. The campground is under new ownership and working diligently at making improvements.
Jul 23, 2021
We really enjoyed our stay. Debbie and the Crew are very friendly and accommodating. The cabins are very clean with many amenities including a Keurig, mini fridge, toaster and microwave. Even a propane grill which was much appreciated. The bathrooms are EXTREMELY well kept and cleaned often which is awesome. You can tell they are always trying to improve the grounds. We will definitely be back.
Jul 18, 2021
I was blown away at how clean and well thought out our cabin was! The welcome bag we received was such a nice touch! My fiance I have definitely fallen in love with this location and my kids (two 8 year olds) begged for us to vacation there more often, we loved it!
Jul 17, 2021
We had a family emergency. Could not get deposit back. Gave our reservation to another member of the group attending wedding.
Jul 14, 2021
You need to get TVs in the cabins
Jul 05, 2021
Short and sweet.
Jun 28, 2021
Great cabin, great people at the store! Will be back
Jun 18, 2021
The cabins where cute and very clean! And very clean camp ground!
Jun 16, 2021
Owner was terrific! Cabin we rented was clean! Odd, I called to reserve a cabin, the gal said no cabins available !! I Asked if I could leave my number to be called if someone canceled, she said no, no one will cancel! I went on line 3 cabins were available. I booked on line! I am a retired KOA employee, we want this KOA to do well!!! Hope this info helps as you train your employees!!!
Jun 14, 2021
Super clean!!!!
Jun 13, 2021
Thanks for your help, Debbie.
Jun 02, 2021
Had a great stay in a two room cabin. Just wish that there were garbage cans dispersed around the camping areas instead of all up by the store. We will definitely be back!
Apr 19, 2021
I have stayed here a couple times, in the cabins, and it is a great experience every time. everyone is very friendly, and the bathrooms are clean.
Mar 31, 2021
Great staff and great cabins. Very clean.
Mar 31, 2021
Fantastic bathrooms. We jokingly call it the Taj Mahal of bathrooms as it was very clean, spacious, and does not smell musty like most bathrooms do. Great job maintaining it. Grounds and Kabins are clean. Wish the smaller bathrooms were open but they were closed for the season due to weather... but that's no fault of the campground.
Mar 15, 2021
Upgraded cabins are very nice. Bathrooms and showers are very clean and new. The staff is amazing!
Feb 26, 2021
Love my stay. Sharon at the front desk was very nice and friendly. I enjoyed chatting with her!
Feb 22, 2021
Super nice people running the place and the bathrooms were SUPER CLEAN!!! we had a great time for the Ducks on Ice Tournament
Feb 22, 2021
It was a great stay in one of their small cabins. The beds were comfortable and amenities were better than anticipated. Will stay again if fishing at the silos.
Dec 06, 2020
Always amazing
Nov 19, 2020
We've been staying in the cabins for a few years now in the summer and fall and they are perfect for a quick weekend stay. See you in a few months!
Sep 21, 2020
My stay was excellent - loved the tiny Kamper Kabin #6. On Friday morning I read an email that said my stay had been cancelled! Panicked and called the KOA - one or the other of us had set my stay for Thursday-Friday not Friday-Saturday. She quickly adjusted the stay for Friday and fortunately the kabin had not been scheduled for the night. All facilities were clean and operational. Thanks!!
Sep 08, 2020
Love coming here every year. We will be back again next year. The 2 ladies that run the store are so nice and friendly! Thanks for yet another great stay!
Sep 08, 2020
Facilities are very clean, The staff is AMAZING and we will keep coming back because it is the best place to go to relax.
Aug 15, 2020
This being our 3rd visit to a KOA.....we had been set up for very high expectations...Greycliff/Big Timber, and Red Lodge....set the bar very high! From the moment of check-in until the day before check-out, I was treated with disregard, making me feel every single time I visited the store to make a purchase, as if I was a burden. THE WORST CUSTOMER SERVICE I HAVE EVER ENCOUNTERED...SAD
Aug 10, 2020
Wonderful helpful friendly staff Will be back
Sep 10, 2021
Front desk/check in ladies were always a delight when coming in. The little store had a lot to offer, even a little library! The campground and bathrooms were always clean. KOA is pretty close to the lake - a quick 2 min drive. Everything about this campground was just perfect for a one last camping trip before the end of summer. 10 out of 10 would recommend to my family and friends.
- Duderchick on Google
Sep 07, 2021
Great customer service!
- Person Person on Google
Sep 05, 2021
nice people and beautiful sights to see
- Sally Brucks on Google