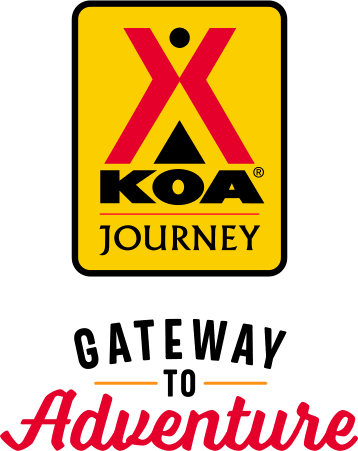 KOA Journey Campgrounds
KOA Journey campgrounds are the perfect oases after a day on the road. Whether it's along the way or a quick getaway, they've got you covered. Located near the highways and byways of North America with long Pull-thru RV Sites, they deliver convenience to the traveling camper. Pull in, ease back and take a load off.
KOA Journeys Feature:
Pull-through RV Sites with 50-amp service
Premium Tent Sites
Well lit after hours check-in service
Directions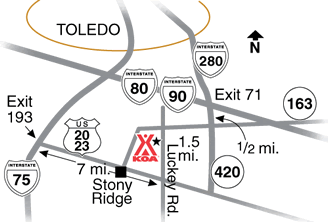 From I-80/90 Exit 71: Go 1/2 mile south on SR 420 then 1 1/2 miles west (right) on SR 163, Genoa Rd, turn south (left) on Luckey Rd.
From I-75 Exit 193: Go 7 miles east on US 20/23, 1/2 mile north (left) on Luckey Rd. No backtracking to I-75 North.  
GPS: N41.51126, W83.49345
Get Google Directions
Sep 29, 2021
The campground is getting old. 35 feet to the cable TV hookup; I have a 25' cable. So, that was useless. The area around our electric box was wet & muddy. So our electric cable was in mud. Electric connection was also 20 feet from our RV. We were told to keep to one side of our side because the site next to us was so narrow that individual needed all space to our pad.
Sep 29, 2021
The office staff person was somewhat impersonal, but not rude or unpleasant
Sep 28, 2021
Came for the Luckey Festival but really like the campground, already booked for next year!!
Sep 28, 2021
Lots were extremely small. Felt like we were sharing it with our neighbors, we were that close. Check in staff was unfriendly. Mini golf had debris covering it. Had to pick it up ourselves so we could play. Playground was okay, nothing special. No planned activities for kids. On a good note, restrooms and showers were very clean and well kept.
Sep 28, 2021
Our Family had a Very Good First time Camping in our New Travel Trailer. Beautiful place and Very nice People . We will be back for sure .
Sep 28, 2021
The cabin had really bad carpenter bees which was super annoying. There was dead hanging flower baskets hanging on the cabin ..This is a Koa u would want to go with just adults because there is absolutely nothing to do with kids except putt putt .. they had an inflatable that was all trashed and deflated laying in the very small park area. The staff was friendly though.
Sep 27, 2021
Fanstastic campground, perfect stop on my way west. Good 50 amp power, good TV, great WiFi Flat large pullthru sites
Sep 27, 2021
Our sewer system was located under our camper. We had a weekend stay but no type of activity. Check in was fast and people friendly.
Sep 26, 2021
We liked it a lot. It was simple, but clean and the sites were very nice.
Sep 26, 2021
Stayed end of September. Staff was great and patient with us. Store prices were fairly priced. Pool was closed. Golf course was half open with branches and leaves all over course. Was only the playground for the kids to do. Probably because summer was over. I recommend calling first to verify what's open. Had a fair experience.
Sep 25, 2021
We stayed 4 nights in a patio site and couldn't be more pleased. Wooded area, clean sites, efficient staff, marvelous laundry facility, nice bathhouse. We came from KS to visit family close to Catawba Island and this was SO much better than other camps closer to the island. Happy to recommend this camp!
Sep 25, 2021
Lots of rain!
Sep 25, 2021
Short overnight stay. Definitely a journey, not much offered.
Sep 25, 2021
They can't control the rainy weather but the sites are essentially below grade so the RV and truck were parked in standing water. Additionally the dump station is poorly placed making it difficult to access.
Sep 24, 2021
It was great
Sep 24, 2021
place was very convenient and clean. the only downfall is the traffic noise.
Sep 24, 2021
Site wasn't level. Had to use 3 boards under front wheels.
Sep 23, 2021
What a Happy place to stay, We enjoyed ever day, the staff was fantastic, We had to change our dates do to Medical issues and Nancy was very accommodating to help us out. We are looking forward to visiting again. Thanks All.
Sep 22, 2021
Pleasant helpful staff, the campsite was clean and accessible for us. Restroom and showers were clean, updated and attractive.
Sep 22, 2021
Our stay was quiet and safe but there wasn't much for the kids to do.
Sep 22, 2021
For two nights, very nice. My wife loved the campsite because it was completely Forrest on the west side.
Sep 22, 2021
Level sites and helpful, friendly staff. Clean and nice showers.
Sep 22, 2021
Newly refinished bathrooms, clean
Sep 21, 2021
Nice campground. Long pull through sites. Mature trees.
Sep 21, 2021
Somehow our site wasn't what we thought we had reserved and we ended up on one too short and only 30 amp. They had nothing available, though one site never filled so must have been a no show, but we made due. We'll stay there again, in fact already have reservations for a premium site.
Sep 21, 2021
Could be a nice place if any of the activities worked. Pool covered and closed. Playground very dumpy, minigolf?? disrepair! but quiet place. Clean cabin and restrooms immaculate.
Sep 20, 2021
This was a one night stay on our trip west. Easy to get to, easy check in, clean restrooms, quiet. Close to Maumee Bay SP, an interesting place to walk.
Sep 20, 2021
My wife and I were there on and off for the whole summer on a nursing contract. These folks took care of us and made the stay very enjoyable. Two thumbs up for Nancy, Bill, and Terry. Thanks again for the help.
Sep 20, 2021
It wasn't a campground that had activities for kids. The putt putt course was terrible, no jumping bag. The sites were small and they cut down trees at 8:00 on Saturday morning
Sep 20, 2021
This campground was not very clean. The bathrooms had hair and mud everywhere and the spots are so close to each other, you can't even open your windows. The dumpsite rinse water hose was broken, so no one could clean their hoses, so it stunk real bad. I felt sorry for the people who had the site by the dump site. Yuk!
Sep 20, 2021
could not have had a better stay
Sep 20, 2021
Clean, Quite, Spacious
Sep 18, 2021
Very helpful and welcoming staff... Bill and " Mrs. Bill"�. Sorry did not get her name but she was very kind. Everything wasneat and clean. Peaceful spot. �
Sep 18, 2021
We had stayed here once before and good location for our needs. They were very accommodating due to the fact we had to extend for several days due to our having vehicle issues.
Sep 18, 2021
After we had to move after a mixup with our sites due to someone initially pulling into the wrong side, we had a pleasant stay. The gentleman that had us move seemed slightly stressed. Nice place!!
Sep 17, 2021
Not well taken care of outside. Sewer conservation was cracked and the top did not close the connection. Bathroom was clean and tidy.
Sep 16, 2021
Should have stayed at a Walmart parking lot.
Sep 16, 2021
The campground was just ok, grounds could be a little better kept. Sites were spacious, staff not overly friendly. Only stayed overnight so can't speak to other listed amenities.
Oct 12, 2021
The staff and service were great. They placed us in a tent camping site where we could keep an eye onour vehicle. It was great, had a privacy fence, and pizza delivery to your site. My kid loved the play area and there is plenty to do in the common area/room such as board games, TV, kid books, etc.
- Amber Ziegler on Google
Sep 22, 2021
We stopped for one night. No complaints. Water & electric site. Typical KOA Journey. The campground is a short way from major highways, and far enough away to be quiet.
- Ed Brandenburg on Google
Sep 11, 2021
Great overnight stop. Needs signage at each end of road.
- W Whalen on Google