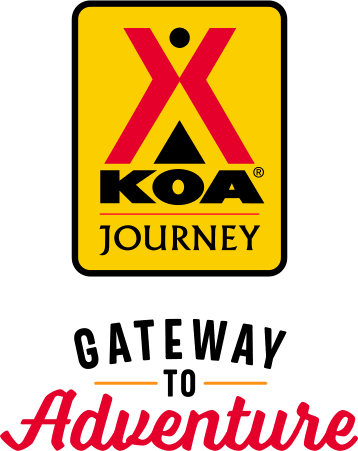 KOA Journey Campgrounds
KOA Journey campgrounds are the perfect oases after a day on the road. Whether it's along the way or a quick getaway, they've got you covered. Located near the highways and byways of North America with long Pull-thru RV Sites, they deliver convenience to the traveling camper. Pull in, ease back and take a load off.
KOA Journeys Feature:
Pull-through RV Sites with 50-amp service
Premium Tent Sites
Well lit after hours check-in service
Directions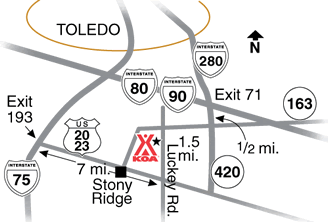 From I-80/90 Exit 71: Go 1/2 mile south on SR 420 then 1 1/2 miles west (right) on SR 163, Genoa Rd, turn south (left) on Luckey Rd.
From I-75 Exit 193: Go 7 miles east on US 20/23, 1/2 mile north (left) on Luckey Rd. No backtracking to I-75 North.  
GPS: N41.51126, W83.49345
Get Google Directions
Sep 20, 2021
This was a one night stay on our trip west. Easy to get to, easy check in, clean restrooms, quiet. Close to Maumee Bay SP, an interesting place to walk.
Sep 20, 2021
My wife and I were there on and off for the whole summer on a nursing contract. These folks took care of us and made the stay very enjoyable. Two thumbs up for Nancy, Bill, and Terry. Thanks again for the help.
Sep 20, 2021
It wasn't a campground that had activities for kids. The putt putt course was terrible, no jumping bag. The sites were small and they cut down trees at 8:00 on Saturday morning
Sep 20, 2021
This campground was not very clean. The bathrooms had hair and mud everywhere and the spots are so close to each other, you can't even open your windows. The dumpsite rinse water hose was broken, so no one could clean their hoses, so it stunk real bad. I felt sorry for the people who had the site by the dump site. Yuk!
Sep 20, 2021
could not have had a better stay
Sep 20, 2021
Clean, Quite, Spacious
Sep 18, 2021
Very helpful and welcoming staff... Bill and " Mrs. Bill"�. Sorry did not get her name but she was very kind. Everything wasneat and clean. Peaceful spot. �
Sep 18, 2021
We had stayed here once before and good location for our needs. They were very accommodating due to the fact we had to extend for several days due to our having vehicle issues.
Sep 18, 2021
After we had to move after a mixup with our sites due to someone initially pulling into the wrong side, we had a pleasant stay. The gentleman that had us move seemed slightly stressed. Nice place!!
Sep 17, 2021
Not well taken care of outside. Sewer conservation was cracked and the top did not close the connection. Bathroom was clean and tidy.
Sep 16, 2021
Should have stayed at a Walmart parking lot.
Sep 16, 2021
The campground was just ok, grounds could be a little better kept. Sites were spacious, staff not overly friendly. Only stayed overnight so can't speak to other listed amenities.
Sep 16, 2021
This was a convenient stop for us on our way from Chicago to Canandaigua, NY.--easy to get to from the interstate with convenient pull through sites. It is a quiet KOA with helpful staff.
Sep 16, 2021
It was a great place to stay and commute to our Grandson's Golf tournament. It was the 2nd time we've done this and will do it again if we have the opportunity. Only thing that could be improved would to be more hangers in the Shower House for clothing.
Sep 16, 2021
Tricky shower, but we otherwise very nice stay.
Sep 16, 2021
Got eaten up by bugs.
Sep 16, 2021
Very accommodating
Sep 15, 2021
Passing thru. Very nice
Sep 15, 2021
We stayed here a week ago on our way out east, and now we're here again for one night. Thngs needing repair then, still are needing to be repaired (no shower heads in the women's showers, broken door going into the men's bathroom, and the shuffleboard is unusable
CAMPGROUND RESPONSE / COMMENTS:
The new Door closer has finally arrived and it has been replaced. There are shower heads in the Women bathroom they are small & very efficient. The same as found in state parks. We did find one that needed replaced. Which has been done. Wish you had said something at the time you were here.
Sep 14, 2021
We had a great time. Fun, quiet campground. Kids loved the playground.
Sep 14, 2021
Maintenance is not a priority at this KOA. The showers in the women's bathroom didn't have shower heads! The shuffle board courts were unusable, the painted lines appeared to have been gone for years and the courts were covered in debris and sticks. The door to the men's bathroom didn't shut (just needed a bolt) but had a sign to please pull the door shut. The workers were very friendly & helpful.
Sep 14, 2021
Our stay was 1 night, this was a stop over on our trip. The staff was very nice and the facilities clean
Sep 14, 2021
A very nice, clean and Level campground with plenty of maneuvering room.
Sep 14, 2021
Tight roads, bad conditions, and full of obstacles. Electric kept cutting off and the box hummed and was hot! We were told there were full hookups but there was no sewer connection. spaces were very tight and hard to get into without driving across the neighbors site and then it was near impossible since there are poles and rocks everywhere.
Sep 13, 2021
Not a bad place to stay although it does need some improvement in some areas. What few staff we had contact with were friendly and there were workers out every day working on something. Lot was fairly spacious and level. Campground is easy to get to from the interstate and items you may need from town is just a short drive. Enjoyed the quiet evenings sitting around the fire. Would stay again.
Sep 13, 2021
Friendly staff, and huge clean sites. We enjoy staying at this KOA . Playground and pool ���
Sep 13, 2021
We had a nice, relaxing time! Park was very peaceful and quiet. Our neighbors were friendly, and our site was pretty, with lots of trees. We appreciated the cement patio, because we didn't have to put out our rug.
Sep 13, 2021
Our pull thru site was wide, clean and level. Courteous staff is always a plus. Would highly recommend this KOA.
Sep 13, 2021
Nice quiet spot with fun activities for the kids. Bathrooms were nice. Staff was very good.
Sep 13, 2021
Nice peaceful clean well maintained and we would recommend our friends to you we enjoyed it would definitely be back
Sep 13, 2021
Good except they decided to power wash the sidewalks to the bathrooms on Sat. Should have been done during the week when attendance is low. Need more activities for the kids.
Sep 12, 2021
Clean, easy access to interstate, quiet.
Sep 12, 2021
This KOA was everything I have come to expect from a KOA. Clean, friendly people and level sites!
Sep 11, 2021
Clean and quiet campground. Some issues with toilet flushing and water pressure in the bathhouse.
Sep 11, 2021
Great staff ! Beautiful location.
Sep 10, 2021
We loved the peace and quiet, and the peeping frogs/crickets and no traffic noise.
Sep 09, 2021
Heated swimming pool not open and wifi didn't work in 605 too far away from router. Other than that we loved it.
Sep 09, 2021
Staff very nice. Patio pull thru sites very nice. Super long. We stayed 24 nights. We been coming here for years. However, it seems to be run down. Pool closed, no warning at time of reserving site. Mini golf is in terrible shape. Water pressure seemed very low at times and smelled of sulfur. WiFi was not so good. Cable stations very good. Laundry bit expensive. Nothing for kids to do.
Sep 09, 2021
Your campground appeared to be well maintained, clean, and welcoming. Ours was a quick overnight stay, Your location is very convenient for our trips to Michigan's UP.
Sep 11, 2021
Great overnight stop. Needs signage at each end of road.
- W Whalen on Google
Sep 03, 2021
I'm staying for labor day weekend and got in late thurs night and it was easy late check in. The owners parents where very sweet and stopped to talk with me. I would recommend staying here.
- Chucky Summers on Google
Aug 28, 2021
Staff is always very friendly and helpful! We had electrical issues with our camper and they refunded our money since we couldn't stay the second night. It was very appreciated after a long stressful day trying to fix it. We will definitely be back!
- Brandi Cunningham on Google