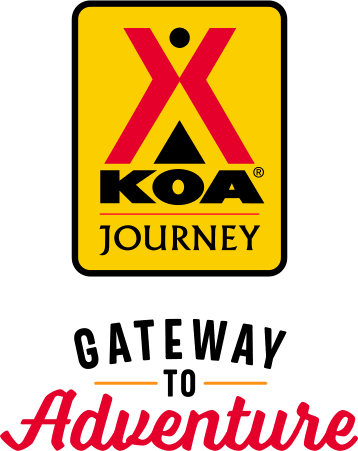 KOA Journey Campgrounds
KOA Journey campgrounds are the perfect oases after a day on the road. Whether it's along the way or a quick getaway, they've got you covered. Located near the highways and byways of North America with long Pull-thru RV Sites, they deliver convenience to the traveling camper. Pull in, ease back and take a load off.
KOA Journeys Feature:
Pull-through RV Sites with 50-amp service
Premium Tent Sites
Well lit after hours check-in service
Directions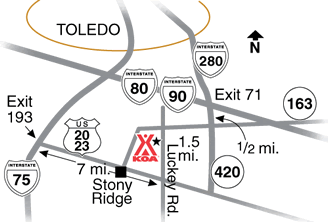 From I-80/90 Exit 71: Go 1/2 mile south on SR 420 then 1 1/2 miles west (right) on SR 163, Genoa Rd, turn south (left) on Luckey Rd.
From I-75 Exit 193: Go 7 miles east on US 20/23, 1/2 mile north (left) on Luckey Rd. No backtracking to I-75 North.  
GPS: N41.51126, W83.49345
Get Google Directions
Apr 06, 2021
Great site! Nice and level. Easy in and out. Didn't use any amenities because of the short time we were there.
Apr 05, 2021
Everything was great other than we rented the 5 person cabin and we had to pay 50$ for parking when we never had more than 4 vehicles and 2 boats
Apr 05, 2021
Always neat and clean. See a lot of improvements being made. Staff is always very helpful and courteous.
Apr 05, 2021
Showers were cold, shower heads point straight out with most of your water shooting out and running on floor & getting clothes wet. Shower heads are horrible. Not much to do at campground.
Apr 05, 2021
Very quiet stay, but it was early spring and not a lot of activities available just yet, so I may get a little louder. Wonderful & helpful staff. Love the trash pickup in the morning (even though that dumpster isn't to far away) and firewood delivery to your site. I would suggest one of the higher number site for more room to stretch. Ones in the from seemed cramped. Would stay again!
Apr 01, 2021
The main reason that I gave the lower rating is that the sites were really muddy and had standing water. The gravel pads need to be wider than the trailer so you don't step out of your camper into mud or a ponding water.
Apr 01, 2021
no drainage around the campsites. Not the typical KOA standards
Mar 31, 2021
The sites were all flooded! Campground is not well taken care of. Fire rings were falling apart! To many un-leveled sites. When it rains you are waking up to a flood mud pit!
Mar 31, 2021
We stayed in the two-room cabin. It was super clean and fit us perfectly! Bathrooms were also very clean! Staff is so friendly and helpful! We will definitely return.
Mar 29, 2021
I have stayed here many times, but this was the first time in 3 years. The campground has been upgraded in may ways. I was impressesd. The cabins could use some sprucing up
Mar 27, 2021
Really nice late check-in system. Thank you!
Mar 23, 2021
Great visit!
Mar 20, 2021
Very friendly, hard working owners. They are doing an amazing job. Quiet park, relaxing!
Mar 16, 2021
Worked out perfectly! Nice property!
Jan 09, 2021
Nice, spacious lots; very friendly and helpful campground folks; convenient to Toledo area. We really enjoyed our stay and will definitely be back!
Dec 01, 2020
We stayed in a Kamping Kabin for 2 nights. Beautiful campground, even though we were there late in the season. Cabin and the restrooms were clean. We would love to stay there again during warmer weather and bring our camper the next time. Staff was very helpful.
Dec 01, 2020
Beautiful campground, quiet, and great hosts!
Nov 30, 2020
Very friendly staff and great location. Bathrooms were clean and well maintained. We will definitely be back!
Nov 23, 2020
Very nice layout of the park.
Nov 17, 2020
It's a long backtrack from the interstate exit to get to the park, but the ground is still close to the interstate with all the downsides that brings. Really big rigs might have a bit of trouble. It's halfway to anywhere, which is its own virtue and charm.
Nov 02, 2020
Wonderful smaller campground within easy distance to Toledo. With the help of the weather, it was very quiet and peaceful. Only minor issue was that the cable was not very good but we were not there to watch Tv. We will be back on our next Toledo journey!
Nov 02, 2020
Very nice campground, Good wifi, large camp sites, clean restroom and showers, spent Halloween night and enjoyed the trick or treaters while honoring covid19 guidelines.
Nov 02, 2020
Very friendly, were there over Halloween, the staff was awesome and provided lots of goodies and activities for the kids. Would go back to have a weekend getaway. Only negative thought was my husband had his car there and was charged $10.00 for it to sit on our camp site. Not sure why it cost that much when we already paid for the site! Neat scavenger hunt clues and free pumpkin too!
Nov 02, 2020
Intake staff was very kind and explained everything clearly. The grounds were clean.
Nov 02, 2020
It was so great. Tent sites were away from RVs. Everyone was nice.
Oct 29, 2020
Stayed 6 nights. Restrooms were always clean. Nice little camping store had everything we needed. Quite possibly the most courteous, friendliest staff I've ever dealt with at a campground!
Oct 28, 2020
No hassles great stay.
Oct 28, 2020
Nice, small place. I would recommend establishing one-way markers somehow because, as we were leaving, we came head on towards another RV and we both had tow-behinds so it took quite a bit of work to get the 40' RVs past each other.
Oct 27, 2020
We were only there one night. I would stay again.
Oct 26, 2020
First stay with new RV
Oct 26, 2020
Amazing staff!
Oct 26, 2020
Nice campground, I'd come back again with the wife and kids next time.
Oct 23, 2020
Great camp with beautiful treed sites. Always enjoy our stay here.
Oct 22, 2020
Friendly girls at check in. Nice sites. Some low limbs that need to be trimmed for big rigs.
Oct 21, 2020
I only stayed one night while traveling - but it was nice, quiet and easy to access. The staff was very kind and helpful. I didn't use any of the facilities, as I stayed in my motor home, but it was clean and well kept.
Oct 20, 2020
Nice, well laid out campground! Very accommodating when we needed to add an extra night. Great that garbage was picked up each day.
Oct 20, 2020
Our stay was pleasant. we did not avail ourselfs of any ammenities.
Oct 20, 2020
Clean, awesome owners, friendly with a few fun healthy safe activities, well maintained facilities. Enjoyed our weekend!!
Oct 20, 2020
Cute and convenient, the campsites were well placed and clean. Our son enjoyed the games and treats in the store.
Apr 05, 2021
Lovely place.
- Glen Buechler on Google
Oct 11, 2020
This is a great campground! The owners are super friendly and helpful. The kids had a great time playing putt-putt, taking wagon rides and hanging at the playground. They deliver wood right to the site, and provide you with a pretty awesome firestarter. We will definitely be back!
- Shelly Sizemore on Google