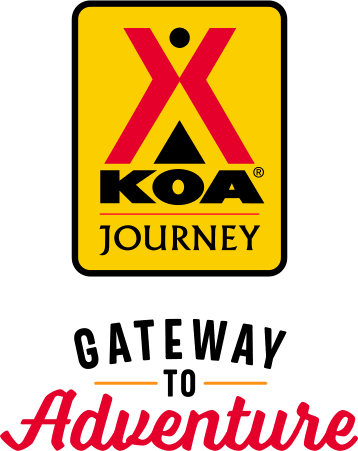 KOA Journey Campgrounds
KOA Journey campgrounds are the perfect oases after a day on the road. Whether it's along the way or a quick getaway, they've got you covered. Located near the highways and byways of North America with long Pull-thru RV Sites, they deliver convenience to the traveling camper. Pull in, ease back and take a load off.
KOA Journeys Feature:
Pull-through RV Sites with 50-amp service
Premium Tent Sites
Well lit after hours check-in service
Directions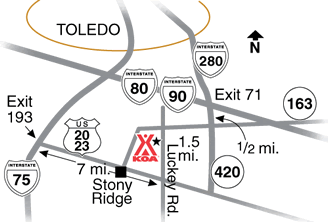 From I-80/90 Exit 71: Go 1/2 mile south on SR 420 then 1 1/2 miles west (right) on SR 163, Genoa Rd, turn south (left) on Luckey Rd.
From I-75 Exit 193: Go 7 miles east on US 20/23, 1/2 mile north (left) on Luckey Rd. No backtracking to I-75 North.  
GPS: N41.51126, W83.49345
Get Google Directions
Jun 17, 2021
We had a great experience. The site was level & roomy, nice shade, quiet campground & well supervised. The pool was closed but we are not pool people. Not one dog off leash the entire time we were there. It was wonderful. Met some new people, lost track of time & had to be told to turn off the music. I was so glad of this since we do not want to bother other campers. Would definitely come again
Jun 17, 2021
We are big on the dog parks (Kamp K9) - no poop sacks. So people who don't have can't clean up. Really cold reception from staff. Best part of the stay - was to see the fire fly.
Jun 16, 2021
Very clean and quiet. Disappointed pool was closed.
Jun 15, 2021
We choose this campground to stay at during our daughter's softball tournament. The site was spacious and had full hookup w/cable. The staff were friendly even loaned us a 50 amp extension cord during our stay. Wished the pool was in service but other than that, a nice, cozy campground to stay at.
Jun 15, 2021
The campsite was great, we had a nice big area however the pool was closed and there was not much for kids to do.
Jun 15, 2021
There was a pool… it was drained! There were ants everywhere! The site we were given had multiple fire pit locations and none of it was level. The tent pad we were promised was not big enough for our tent and the bathrooms were ehhh. Their mini golf consisted of 5 holes and was very dilapidated. I can say the worker I saw present was very nice and apologetic- but that is all.
Jun 15, 2021
Had a great time! Already had reservations for our next trip!
Jun 14, 2021
An excellent stay clean and quiet The staff was very professional
Jun 14, 2021
Small sites, extremely small dog park, and pool out of service with nobody working on it in the middle of June. $20 to check in 1.5hrs before regular time with no one at the site will keep me from using Koa in the future.
Jun 14, 2021
very nice smaller facility. easy access to sites, well maintained, camp store was well stocked and maintained, staff was friendly and helpful. only issue was pool was closed currently but they have a small playground area and had water themed activities for the kids to stay cool. very nice short drive for us and worth the trip. would highly recommend if you are in the Toledo area.
Jun 14, 2021
Requested full hook up and didn't get one, no water at dump station, laundry very expensive and machines had very bad odor and pool had no water. Office attendant was very nice and accommodating.
Jun 14, 2021
Great campsite! The only downfall was that the pool was not open.
Jun 13, 2021
Nice park. Showers need tlc. Shower heads are faced directly onto the shower curtain so the only way to get a shower is to lean against the same shower curtain that everyone else has, or leave it opened and the water goes everywhere.
Jun 12, 2021
Thank you so much for al of your help while we had some car trouble. The friendliness and compassion was above and beyond. The people at the front desk could not have been nicer. Thank you for making a really bad situation not so bad.
Jun 12, 2021
Staff friendly and helpful. Restrooms clean. Quiet, shady campground. A+
Jun 11, 2021
Nice folks, small KOA but very quiet. Far enough away to be peaceful but close to Bass pro shop and camping world. Also close to walmart and other amenities.
Jun 11, 2021
Site not cleared of paper n plastic caps from previous tenant. Overall a bit tired looking campground with few extra services. Pool area closed. However, grateful to have full hookup site and even cable worked. Bathroom (men's) needed cleaning. Would stay if passing through for one night.
Jun 10, 2021
The pool not being open was a disappointment. Our site was pretty wet and muddy.
Jun 10, 2021
The only down side was that the pool wasn't open yet. And it was hot.
Jun 09, 2021
One of the prettiest and cleanest KOA's we have ever stayed in! We have another reservation for next month. Excellent staff. Better than 5 stars.
Jun 09, 2021
Very quiet, lots of shade trees. Good place to stop overnight.
Jun 08, 2021
Sites unbearably close to one another. Our decrepit picnic table was literally almost on top of the unit next to us. Quiet time was 11:00 pm and we had a party site behind us. Several camping friends all met there. Very, very loud. We did not enjoy it at all. **the bathrooms were very clean*** but otherwise would not recommended. The pool was unavailable as well. (Under repair).
Jun 07, 2021
Could use more improvements like better water PSI, more F/H/U sites and the trees need to be trimmed. Sad that the pool was not open and the temp for the day was 89 degs.
Jun 07, 2021
Ok spot for the night. One thing we wished the site had was a grill grate to cook on. Otherwise we had what we needed as we were passing through.
Jun 07, 2021
Sites were small and not well maintained. Grass was cut but no trimming done. Staff at check in wasnt to friendly rushed through showing us the flyer you get. Nothing extra for the kids to do. Store was poorly stocked and didnt offer much. Was told rudely by a employee it was quiet hour when we were talking in normal voices and stereo was VERY low. No other campers said anything to us.
Jun 07, 2021
Comfortable & clean, perfect for our first trip. Pool was not operational, very disappointing. Restrooms are closed daily from 11:30-12:15. Firewood is available, small bundle $5.
Jun 07, 2021
very small campground, 90 degree weekend and pool was empty
Jun 07, 2021
We had a great time !!!
Jun 07, 2021
Pool was out of service. Site was level and check in was good.
Jun 06, 2021
Very nice people!
Jun 06, 2021
Just a 2 nite stop but it was great. Would stay again.
Jun 03, 2021
Just one night stay but was impressed with numbers of great shade trees and campground was off the beaten path so no road noises. Bathrooms were clean, staff was friendly.
Jun 03, 2021
We were here overnight and had no issues. Easy access off the highway.
Jun 03, 2021
Was a great time first trip out camping in our own trailer stayed close to home. Was disappointed that pools was not open but understand fully why. thanks so very much
Jun 02, 2021
Nice clean campgrounds. No activities & still a high price & more on holiday weekend with nothing extra. Laundry expensive $2.50 washer & drier same
Jun 02, 2021
Very nice park. It was quite and really peaceful. Not too far from town if you needed anything
Jun 06, 2021
Great place to stay, quite and relaxing.
- Jewls K on Google
May 23, 2021
Very nice, quiet, clean Pet friendly Large sites Nice playground
- Charles todd on Google
May 21, 2021
Very nice quiet place. Prices were very reasonable. Only 2 things I wasn't very impressed with 1) The pool was closed and it was HOT both days I was there. 2) The bathrooms were said to be closed for cleaning from 12-1 each day but they were never cleaned. I know because when I got there (Tuesday) I checked everything out, there were things on the floor of the shower. When I showered Wednesday the same things were on the floor and when I showered before leaving on Thursday the same things were still there and then some. Not a huge deal considering having a shower while camping is a luxury but they really should be cleaned daily. All in all I would still recommend this place to a friend or family.
- Winter Cudney on Google