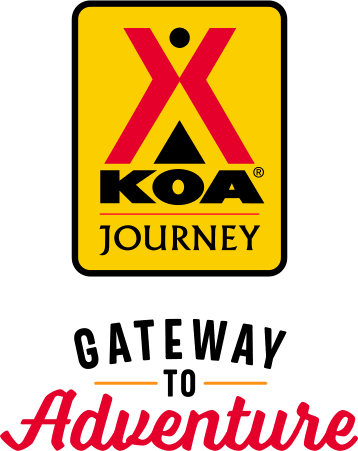 KOA Journey Campgrounds
KOA Journey campgrounds are the perfect oases after a day on the road. Whether it's along the way or a quick getaway, they've got you covered. Located near the highways and byways of North America with long Pull-thru RV Sites, they deliver convenience to the traveling camper. Pull in, ease back and take a load off.
KOA Journeys Feature:
Pull-through RV Sites with 50-amp service
Premium Tent Sites
Well lit after hours check-in service
Directions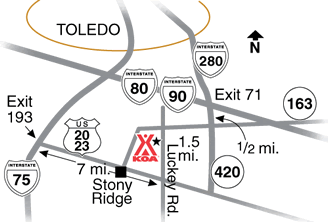 From I-80/90 Exit 71: Go 1/2 mile south on SR 420 then 1 1/2 miles west (right) on SR 163, Genoa Rd, turn south (left) on Luckey Rd.
From I-75 Exit 193: Go 7 miles east on US 20/23, 1/2 mile north (left) on Luckey Rd. No backtracking to I-75 North.  
GPS: N41.51126, W83.49345
Get Google Directions
Oct 16, 2021
Fresh water connection was difficult. Need to update fixtures so they point down, versus up. WiFi signal was highly variable. Need to add/increase WiFi signal boasters throughout the park. Staff was was friendly and welcoming.
Oct 16, 2021
The RV full hookup site was a great location with the trees surrounding us and the peaceful area it made my wife's and I stay very enjoyable. We really enjoy our stay everytime at this KOA the staff there are always nice and courteous, all around a great place to RV and camp.
Oct 15, 2021
Very nice clean roomy showers. Campsite like most not real level.
Oct 14, 2021
Very nice facility, close to many attractions...also great place for a layover on a longer trip...
Oct 14, 2021
The activities were disorganized for the Halloween weekend.
Oct 14, 2021
Great campground for those who want a relaxing camping trip. Professional. Caring. Quiet campground. Perfect spaces. Pull throughs. Cabins ( cute!!!). The Halloween set up was awesome. A haunted barn, trick or treating, pumpkins, and family fun for all. Easy place to go to many outings in Ohio. Great family running it. They love their job. In the woods, but close to everything.
Oct 14, 2021
Very pleasant hosts. Accommodated me with early mail delivery and unknown departure dates. Clean. I used no facilities so that is unknown.
Oct 14, 2021
Ok for an overnight stay but not very well landscaped or maintained. Wouldn't want to be there for an extended stay
Oct 13, 2021
Quiet, efficiently run. Nice level sites. We were just passing through and our site was level enough that we didn't need to unhook. Nice early start to morning.
Oct 12, 2021
Nice and clean and Very family friendly !
Oct 11, 2021
The employees were nice and informative. We had a pull-through with full hook-up. The water, sewage and electric where too far forward for our rig. Most folks unhooked their RV near the front of the pull through, and parked behind the RV. But that is just a sideline issue. It was a really lovely place, and KOA was hosting a Halloween party for kids, and it looked to be a lot of fun!
Oct 11, 2021
This was an overnight stop going east and back west. Easy to get to from the Interstate. Very friendly staff. Excellent internet. Sites are small and close together. Good thing we had nice neighbors. Good for an overnight or while visiting the area.
Oct 11, 2021
Friendly staff, good atmosphere. Wish the grass was cut and the fire rings weren't so close to other campers. Overall nice place
Oct 11, 2021
This review has been removed by KOA due to profanity.
Oct 11, 2021
As usual the staff was well informative and assisted us getting into our assigned position. Excellent job with the Haunted House and Trick or treat.... For the children. Keep up the good work
Oct 10, 2021
The location was convenient to our trip from Cincinnati to Sauder Village and Toledo and back home. the reservation was handled very well. The facility is a little run down for the usual KOAs we stay at.
Oct 09, 2021
We really enjoy staying here. The staff was very friendly and it is a great location to visit Toledo.
Oct 09, 2021
Large sites. Very friendly, helpful staff.
Oct 09, 2021
Very pleasant stay. Thank you for hosting us.
Oct 08, 2021
Just an overnight stay, but friendly clean campground, not far off the highway. Worked perfect for us.
Oct 08, 2021
exactly what i needed
Oct 08, 2021
Staff was very friendly and helpful. Facilities were clean. We had a very pleasant stay.
Oct 07, 2021
Perfect for our overnight stay
Oct 05, 2021
stayed twice this trip and like the fact that it's not right along the interstate right-of-way. On our 2nd stay,we were late after massive road construction and heavy rain. Very dark wet night, and it not for our gps, we'd never have found this KOA - no sign evident at Luckey Rd - can't even see turn off in the dark -you need better signage. That's reason for only 4 stars.
Oct 04, 2021
Very neat, clean, and well organized. We especially appreciated the assistance given when backing into our campsite.
Oct 04, 2021
Nice overnight stay. The young lady at was very helpful and friendly. We would definitely stop and stay again.
Oct 04, 2021
Nice back in site, easy to get into, and it was a nice roomy space. The campground was spotless and very quiet!!!! I enjoyed my stay very much, even though it was only for 1 night.
Oct 03, 2021
It was a lovely quiet place. We enjoyed our stay with the exception of the bugs. There were stink bugs, sink worms and wasps all over. It was so bad we could not sit outside with out in minutes being covered in those worms dropping off the trees. It was unfortunate as we like to be outside.
Oct 03, 2021
Sad to see some KOA's starting to look run down
Oct 01, 2021
We always use this KOA for a yearly visit wi5h family. Easy access. Great for an overnight or two.
Sep 30, 2021
We've stayed here several other times for 1-3 nights. Quiet campground, nice smaller pool. Playground area for kids. Hooks all fine. Our only concern is as the trees continue growing, that they keep them trimmed. Rvs are taller and no one wants damage either to the trees or their rv. 45ft coach plus towed. We will return!
Sep 30, 2021
This was our second visit as I have a college friend in the area. The campground is in a quiet and convenient area. The sites are fine. Unfortunately the showers are not hot enough and the bathroom as a whole smells moldy even though they looked very clean. It was not an issue since we have a bathroom in our camper. I would recommend this campground.
Sep 30, 2021
Very nice campground. We were just there for an overnight. Big pull thru with cement pad, plenty of space. Very friendly and helpful staff. Nice large hardwood trees. We really enjoyed our short stay. Also close to the interstate, but not so close you can hear the traffic, was very easy to get to and to get back to the interstate.
Sep 30, 2021
Great for an overnight! Quiet little park.
Sep 29, 2021
The campground is getting old. 35 feet to the cable TV hookup; I have a 25' cable. So, that was useless. The area around our electric box was wet & muddy. So our electric cable was in mud. Electric connection was also 20 feet from our RV. We were told to keep to one side of our side because the site next to us was so narrow that individual needed all space to our pad.
Sep 29, 2021
The office staff person was somewhat impersonal, but not rude or unpleasant
Sep 28, 2021
Came for the Luckey Festival but really like the campground, already booked for next year!!
Sep 28, 2021
Lots were extremely small. Felt like we were sharing it with our neighbors, we were that close. Check in staff was unfriendly. Mini golf had debris covering it. Had to pick it up ourselves so we could play. Playground was okay, nothing special. No planned activities for kids. On a good note, restrooms and showers were very clean and well kept.
Oct 12, 2021
The staff and service were great. They placed us in a tent camping site where we could keep an eye onour vehicle. It was great, had a privacy fence, and pizza delivery to your site. My kid loved the play area and there is plenty to do in the common area/room such as board games, TV, kid books, etc.
- Amber Ziegler on Google
Sep 22, 2021
We stopped for one night. No complaints. Water & electric site. Typical KOA Journey. The campground is a short way from major highways, and far enough away to be quiet.
- Ed Brandenburg on Google
Sep 11, 2021
Great overnight stop. Needs signage at each end of road.
- W Whalen on Google