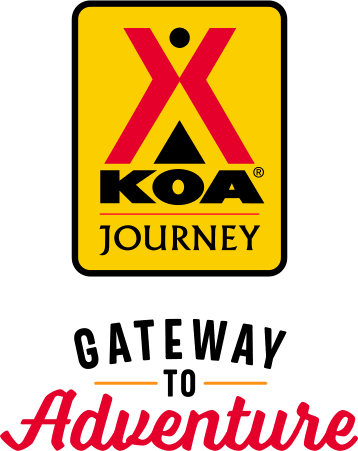 KOA Journey Campgrounds
KOA Journey campgrounds are the perfect oases after a day on the road. Whether it's along the way or a quick getaway, they've got you covered. Located near the highways and byways of North America with long Pull-thru RV Sites, they deliver convenience to the traveling camper. Pull in, ease back and take a load off.
KOA Journeys Feature:
Pull-through RV Sites with 50-amp service
Premium Tent Sites
Well lit after hours check-in service
Directions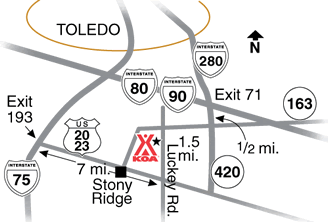 From I-80/90 Exit 71: Go 1/2 mile south on SR 420 then 1 1/2 miles west (right) on SR 163, Genoa Rd, turn south (left) on Luckey Rd.
From I-75 Exit 193: Go 7 miles east on US 20/23, 1/2 mile north (left) on Luckey Rd. No backtracking to I-75 North.  
GPS: N41.51126, W83.49345
Get Google Directions
Oct 15, 2021
I have never stayed in a KOA - didn't know what to expect. I was a solo tent camper looking for one last night in the wilderness before the weather changed. I was disappointed that is was a village of steel. I was placed in T2 so my view consisted of the camp store and playground. The other tent sites were empty near the group site which I think I would of tolerated better. Primitive sites please!
Oct 04, 2021
We stayed on a tent/electric site for 1.5 nights. The rain that was coming in Saturday night helped us to decide to pack up early! Site was about what I expected, nothing more, nothing less. There were a few too many bees around but they didn't seem to be the stinging type. The falling acorns made for a GREAT time laughing the entire stay. Everyone at the front office was kind and efficient!
Oct 02, 2021
Quiet, clean. Nice environment. Laundry facilities excellent and fast. Showers left a lot to be desired. Poor water pressure. Not very hot. And worked at either single line low flow jet or sprinkle. Otherwise good place. Staff very helpful and polite.
Sep 26, 2021
Stayed end of September. Staff was great and patient with us. Store prices were fairly priced. Pool was closed. Golf course was half open with branches and leaves all over course. Was only the playground for the kids to do. Probably because summer was over. I recommend calling first to verify what's open. Had a fair experience.
Sep 20, 2021
Clean, Quite, Spacious
Sep 07, 2021
Great place to stay! Stayed 4 nights Ruffin it in a tent and I love camping.
Sep 05, 2021
The camp site was very well maintained, and the staff were super friendly. Already planning a return trip before the end of the season.
Aug 30, 2021
Pool was down, mini golf was a joke, this place is so run down I will never stay again.
Aug 17, 2021
������ � ��� � ������ ������ ������� ������� ����� ���ω�� ���� ��� ����� ��
Aug 10, 2021
Good fairly quite stay. The bathroom door was broken and not enough hot water. All in all good stay
Jul 24, 2021
Rained and our sight flooded. No water in pool Miniature golf as advertised. Staff was great!
Jul 23, 2021
This campground had a very casual and friendly environment. The office staff needs more customer service training, very kind and knowledgeable just seemed inexperienced. There was no attaction that made our stay more enjoyable, all attactions appeared very worn out/ not maintained and flooded due to a rainy weekend. The sight was in dire need of additional gravel with some sites and cabins flooded
Jul 20, 2021
The site was nice except there was no place to park as the person next to us took the parking spot. They were also pretty noisy.
Jul 14, 2021
Drainage needed as when it rains to much standing water, mosquitoes!
Jun 15, 2021
There was a pool… it was drained! There were ants everywhere! The site we were given had multiple fire pit locations and none of it was level. The tent pad we were promised was not big enough for our tent and the bathrooms were ehhh. Their mini golf consisted of 5 holes and was very dilapidated. I can say the worker I saw present was very nice and apologetic- but that is all.
Jun 15, 2021
Had a great time! Already had reservations for our next trip!
Jun 07, 2021
Ok spot for the night. One thing we wished the site had was a grill grate to cook on. Otherwise we had what we needed as we were passing through.
Jun 01, 2021
Clean. Friendly.
Jun 01, 2021
Very pleasant check in and tent site. Clean facilities. Covid compliant.
May 25, 2021
They did a great job at making us feel welcome and they were very accommodating.
May 19, 2021
Excellent facility/quiet stay
May 13, 2021
We stayed overnight at the Toledo East / Stony Ridge KOA during a short visit to Toledo. The tent sites are nice in that they are slightly elevated and leveled with wood chips which minimizes dirt / water getting into your tent. The restrooms were really nice and clean! This KOA was really convenient as it is very close to Toledo but yet still in the country. We would stay there again.
Apr 12, 2021
Lovely facility. Staff very friendly and helpful. Bathrooms very clean and updated. Only thing is if you're tent camping/ light sleeper the road and train noise is rather loud. But don't let that put you off. I will go again!
Nov 02, 2020
It was so great. Tent sites were away from RVs. Everyone was nice.
Oct 19, 2020
We had a very good stay. We stayed in the large group tent site. Only thing I would recommend is make sure to empty the fire rings more often. We ended up filling the fire ring and needing to use another because it was full. Oh and the soap dispensers in the the womens bathroom were empty..
Oct 19, 2020
Clean campground, friendly staff, great stay. Highly recommended!
Oct 14, 2020
The stay was great. Very peaceful.
Oct 12, 2020
Great stay. Some excessive noise at the empty site next to us around 1am, but that isn't the campground's fault
Oct 12, 2020
The campground is outstanding!! First time staying and LOVED it here!! So beautiful and clean! The store is great! Tons of fun activities! Best part was they had Halloween activities made Covid safe for kids and families—so many great decorations! Exceptional staff!!! Very friendly and so kind and helpful! HIGHLY RECOMMENDED STAYING HERE!! DEFINITELY WILL STAY AGAIN!!!
Sep 19, 2020
Very nice campground. Really made it feel like I was on vacation.
Sep 13, 2020
Passing through traveling. Staff very curious, friendly and helpful. Clean grounds and bathrooms.
Sep 09, 2020
Clean and quiet. We Only stayed one night and left at 5 am so I can't rate the campground. Nice that they're making a hiking trail, and the little bins were cute. The tent sites were expensive.
Sep 09, 2020
Nice, quaint little campground. Amenities left a lot to be desired and would have been nice for some planned kid's activities happening at the campground, especially over a holiday weekend.
Sep 08, 2020
We had a great time and will be returning many more times!
Sep 07, 2020
Very peaceful and clean. Owners were very accommodating.
Sep 06, 2020
Good site the only turn off is the water quality. It smells like sulfer.
Oct 12, 2021
The staff and service were great. They placed us in a tent camping site where we could keep an eye onour vehicle. It was great, had a privacy fence, and pizza delivery to your site. My kid loved the play area and there is plenty to do in the common area/room such as board games, TV, kid books, etc.
- Amber Ziegler on Google
Sep 22, 2021
We stopped for one night. No complaints. Water & electric site. Typical KOA Journey. The campground is a short way from major highways, and far enough away to be quiet.
- Ed Brandenburg on Google
Sep 11, 2021
Great overnight stop. Needs signage at each end of road.
- W Whalen on Google