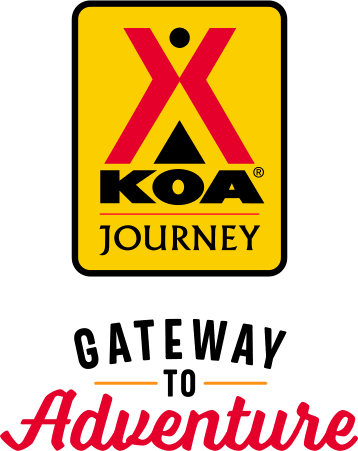 KOA Journey Campgrounds
KOA Journey campgrounds are the perfect oases after a day on the road. Whether it's along the way or a quick getaway, they've got you covered. Located near the highways and byways of North America with long Pull-thru RV Sites, they deliver convenience to the traveling camper. Pull in, ease back and take a load off.
KOA Journeys Feature:
Pull-through RV Sites with 50-amp service
Premium Tent Sites
Well lit after hours check-in service
Directions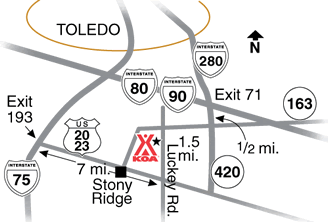 From I-80/90 Exit 71: Go 1/2 mile south on SR 420 then 1 1/2 miles west (right) on SR 163, Genoa Rd, turn south (left) on Luckey Rd.
From I-75 Exit 193: Go 7 miles east on US 20/23, 1/2 mile north (left) on Luckey Rd. No backtracking to I-75 North.  
GPS: N41.51126, W83.49345
Get Google Directions
Sep 28, 2021
The cabin had really bad carpenter bees which was super annoying. There was dead hanging flower baskets hanging on the cabin ..This is a Koa u would want to go with just adults because there is absolutely nothing to do with kids except putt putt .. they had an inflatable that was all trashed and deflated laying in the very small park area. The staff was friendly though.
Sep 24, 2021
It was great
Sep 21, 2021
Could be a nice place if any of the activities worked. Pool covered and closed. Playground very dumpy, minigolf?? disrepair! but quiet place. Clean cabin and restrooms immaculate.
Sep 16, 2021
Got eaten up by bugs.
Sep 14, 2021
We had a great time. Fun, quiet campground. Kids loved the playground.
Sep 10, 2021
We loved the peace and quiet, and the peeping frogs/crickets and no traffic noise.
Aug 28, 2021
Stayed at this campground as we were visiting family and this campground was close to family. Needs a lot of TLC. The mini golf needs work boards were loose on the miniature golf course. Cabin #3 we stayed at the poles need to be fixed. This is a safety issue someone could get hurt if the poles fall down. See pictures. There is no handicap bathroom or shower. The toilets did not flush all the time
Aug 18, 2021
Need somrthing for adult,redo the mini golf area.
Aug 16, 2021
Cabin smelled bad; not fresh and cleaned like other koas I've stayed at. Screen on window unattached letting the mosquitoes in. Woman at out-not very friendly.
Aug 10, 2021
Very friendly and helpful staff. Wonderful clean cabin. Nice sites and grounds.
Aug 07, 2021
Staff failed to tell us the pool was shut down ahead of time, cabin was dirty (cobwebs, dirt and grass on top of beds, bread crust left under one bed) missing curtains in one window, also one curtain didn't cover entire back cabin window. Bathrooms women's had one handicap stall that was closed "for employee use only" other showers had clear dirty curtains, and large gaps between walls and
Jul 31, 2021
Nicely maintained, spacious sites, quiet campground, friendly staff.
Jul 26, 2021
Disappointed that the pool was closed for repairs. Understand that the repair company did not follow through properly with repairs. Have faced that ourselves.
Jul 26, 2021
Easy check in process, very friendly staff. Cabin was as presented on website. Clean and much more privacy than expected. It was peaceful and quiet! Thank you for allowing my fur baby in the cabin. I have already made another reservation for next month!
Jul 19, 2021
Lots of construction going on along with standing water. My lightbulb went out in the middle of the night. Not something you can help but very frustrating when I had to get up and leave in the dark. Luckily I had a flashlight on my phone to help me find things
Jun 28, 2021
We enjoyed our stay. The only thing we would add is to have ample hooks in the bathroom . Another bathroom would be good since a lot of the motor home campers use the bathrooms.The cabin campers and tenters use the bathrooms cause we don't have one closer to our site.
Jun 12, 2021
Thank you so much for al of your help while we had some car trouble. The friendliness and compassion was above and beyond. The people at the front desk could not have been nicer. Thank you for making a really bad situation not so bad.
May 29, 2021
it was very basic cabin which wasn't a problem except they charged me 20.00 for cleaning which I paid 7.50 per day for my dog who apparently spilled his bowl of water which I never noticed and dog hair , and they said they found an ash on the table and we don't smoke, the bathrooms were terrible, and my husband slipped on the soaking wet floor, this place was a very big disappointment
May 23, 2021
Cabin floor needed a cleaning, it was swept but very very dirty when I wiped it with paper towel, towel was black. Also, cabin needs to be sprayed, tons of large bees in the outside wood of cabin. Pool was closed on a hot day, didnt look like it was going to be open any time soon. Positives....nice atmosphere of individuals, no crazies, calm family folks.
May 21, 2021
What a small and quaint campground. We really enjoyed our relaxed stay here. The grounds and facilities are nicely kept. We felt very comfortable here!
May 17, 2021
Carpenter Bees in the cabin!! Not a real problem, but kind of irritating. Everything else was great.
May 08, 2021
Quick and easy to get a space heater that worked after the one in the room stopped—chilly week, so the heater was appreciated. Pricey for the location, amenities.
May 03, 2021
Very nice cabins, bathrooms where close and clean. people and staff super nice. Will stay again.
Apr 18, 2021
stayed in a Kabin and it was perfect. Bathrooms very clean. Love this place!
Apr 05, 2021
Everything was great other than we rented the 5 person cabin and we had to pay 50$ for parking when we never had more than 4 vehicles and 2 boats
Mar 31, 2021
We stayed in the two-room cabin. It was super clean and fit us perfectly! Bathrooms were also very clean! Staff is so friendly and helpful! We will definitely return.
Mar 29, 2021
I have stayed here many times, but this was the first time in 3 years. The campground has been upgraded in may ways. I was impressesd. The cabins could use some sprucing up
Dec 01, 2020
We stayed in a Kamping Kabin for 2 nights. Beautiful campground, even though we were there late in the season. Cabin and the restrooms were clean. We would love to stay there again during warmer weather and bring our camper the next time. Staff was very helpful.
Oct 06, 2020
The cabin and bathrooms were dirty. The water smelled so bad, we didn't want to shower.
Oct 01, 2020
It was raining so I had to upgrade my tent site to a cabin. Took about a minute. Great help.
Sep 20, 2020
Great KOA...nice folks
Sep 15, 2020
Nice small quiet campground. Very courteous staff & clean bathhouse. Will stay here again.
Aug 31, 2020
Reservation initially made for a tent then changed to a cabin due to forecasted weather. No problems with the change at all. Very nice and friendly upon check-in. Prompt firewood delivery. Restrooms clean. Decent small cabin. Some maintenance needed -- screen in door has holes and fire pit was cracked. These are minor. Had a good time. Very peaceful and relaxing.
Aug 24, 2020
We had a great time. Super clean park. Everything was very nice. Cabin was super clean as well.
Aug 14, 2020
The cabin was wonderful!! The showers could have been cleaner!!
Aug 12, 2020
We only stayed 1 night, but everything was nice. Clean bathrooms and the showers were awesome! Staff was very friendly!!!!!!!!
Aug 09, 2020
It was a nice quiet place. A couple things we had issues with was, they didn't pick up our trash as they said they would, the ladies bathroom went a day without paper towels. And the ladies restroom should be checked a little more often. It was terribly bad but could of been better! Pool was nice and clean. We enjoyed our stay, it was nice and peaceful, with some pretty nice people!
Aug 06, 2020
Nice place. Stayed in a cabin that was clean and well maintained.
Oct 12, 2021
The staff and service were great. They placed us in a tent camping site where we could keep an eye onour vehicle. It was great, had a privacy fence, and pizza delivery to your site. My kid loved the play area and there is plenty to do in the common area/room such as board games, TV, kid books, etc.
- Amber Ziegler on Google
Sep 22, 2021
We stopped for one night. No complaints. Water & electric site. Typical KOA Journey. The campground is a short way from major highways, and far enough away to be quiet.
- Ed Brandenburg on Google
Sep 11, 2021
Great overnight stop. Needs signage at each end of road.
- W Whalen on Google