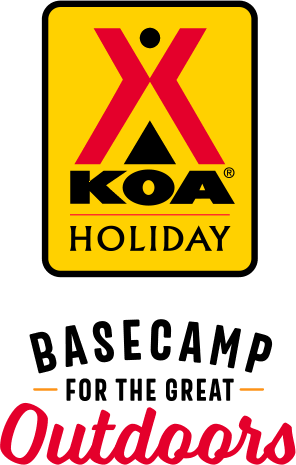 KOA Holiday Campgrounds
Whether you're exploring the local area or hanging out at the campground, KOA Holidays are an ideal place to relax and play. There's plenty to do, with amenities and services to make your stay memorable. Plus, you'll enjoy the outdoor experience with upgraded RV Sites with KOA Patio® and Deluxe Cabins with full baths for camping in comfort. Bring your family, bring your friends, or bring the whole group – there's plenty of ways to stay and explore.
KOA Holidays Feature:
RV Sites with a KOA Patio®
Deluxe Cabins with full baths
Premium Tent Sites
Group meeting facilities
Directions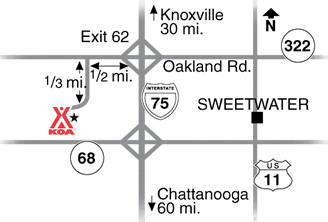 We are located less than a mile off I-75, Exit 62 - Oakland Road. Go west 1/2 mile, then left 1/3 mile to camp. Follow posted directions or signs. Many GPS programs are not accurate. Please call office if you have problems.
Get Google Directions
Jul 21, 2021
The staff was awesome and friendly. The facility was clean and well taken care of. Great time spent. Wish we could have stayed longer.
Jul 19, 2021
This KOA was exceptionally well kept and clean. The grounds were tidy and paths clean. Absolutely no litter at all. The bathrooms were the cleanest bathrooms my family and I have ever seen on a camp site in the entire Southeastern United States! The owner and staff were friendly, communicative, and excellent at what they do as a team. I highly recommend KOA in Sweetwater!
Jul 19, 2021
We had a great stay. The park is very well maintained. The store and café are great. The staff were very helpful and friendly. There were a lot of things for our kids to do while we were there. Very pet friendly, too. We will definitely go back and already have our next trip booked.
Jul 19, 2021
Wonderful weekend and such a friendly staff.
Jul 19, 2021
Beautiful campground, we enjoyed our stay
Jul 19, 2021
Amazing staff, fun activities, clean facility
Jul 19, 2021
This is a really nice place to camp. Very friendly and lots of activities for the kids.
Jul 19, 2021
I have stayed at this campground many times even though I live in Sweetwater. I had two very bad experiences this time. I will not go again.
CAMPGROUND RESPONSE / COMMENTS:
We spent many hours attempting to address and explain your concerns. AND apologized for any miscommunication. We are happy the rest of the family had a good time at the reunion. We are sorry you wont be joining them next year.
Jul 18, 2021
Staff was helpful and friendly! Campground showers and pool were very clean. Very good camping experience!
Jul 18, 2021
We stayed for one night but of it was more it was a friendly stay.
Jul 17, 2021
Visited the Lost Sea and Sweetwater Valley Farm. Really enjoyed stay.
Jul 17, 2021
We have been there several times. Appreciate the nice folks who work there and the cleanliness of the area. Lovely little shop and we were tempted. But, we are in our 80s and getting rid of things. We have a small travel trailer now and gave up on the big Motor homes. They are nice,but so costly when something goes wrong. We are happy with KOA in Sweetwater and will probably be back next year.
Jul 17, 2021
Love it here! Excellent staff support and great sites! Fun!
Jul 17, 2021
Great staff. They stay on ya about the rules but that's a good thing for everyone. Their lot out back and trails are awesome for your pets to be off lease. Best KOA experience ever.
Jul 17, 2021
Wonderful pool and grounds. Very nice people that work here. My complaint is dogs. I don't have dogs and I sat outside my camper and it sounded like a dog pound. People next to us had 2 that barked at everything and everybody. I like dogs but I don't know why they have been adopted as humans. People used to never bring their dogs camping. Couldn't sit outside and enjoy as much
Jul 17, 2021
Great little campground right off interstate. We were heading to Biloxi MS and it was a convenient overnight stop. Staff was friendly and welcoming. Didn't really use any amenities but all of the things look well kept and clean.
Jul 16, 2021
Great campground
Jul 16, 2021
Every time I stay here I fall more in love with the property and the people. The staff is incredible, attentive, and friendly. The gem mine...awesome (and not just for the kids). Activities for the kids? Check. Great staff? Check. Beautiful, peaceful setting? Check. Convenient access to the highway and shopping? Check. I'm not surprised it's one of the top in the country. Keep up the good work!
Jul 16, 2021
This was our first time taking the camper. Everyone there was so nice & willing to help us if needed. The grounds were well kept & clean. There were so many activities for all ages. Families would have a great selection of things to do. This was only a 2 night stay & close to home, but would have no problem staying there again.
Jul 15, 2021
Lovely, peaceful, charming, and quite are just a few words to describe this campground.
Jul 15, 2021
Karen and her staff were awesome. All were very welcoming, friendly, and very accommodating. I would highly recommend Sweetwater Rv Resort in TN to anyone that would like to stay there for 1 night or much longer. Awesome hospitality!!!!
Jul 15, 2021
Short stay, but was really nice. Will definitely be back! Bathhouse was the best I've ever seen. Very accommodating!!
Jul 15, 2021
The sites are a little small,the landrymat was great and the pizza also perfect
Jul 14, 2021
Nice location, lots of trees and birds. Management friendly and helpful. Nice pool, new restrooms and showers.
Jul 14, 2021
A very clean place and the staff are very friendly. Had a great time. Will go back again
Jul 14, 2021
For an overnight it was great! Nice hosts, level paved spot. A little close together for me, but that's just my taste I like to boondock.
Jul 14, 2021
Short stay of one night. Loved the shower Very nice people.
Jul 13, 2021
Have stayed there before. Staff are the best ! Very personal . The Sweetwater exit 62 location off I75 is close to the Smokies but away from traffic. Only 20 miles from Tellico Plains, where you can continue on with to the Skyway and Dragon, as well as Gatlinburg. Highly recommend the Sweetwater Tn KOA !
Jul 13, 2021
We enjoyed our quiet spot at the back of the park. The staff was very friendly, and even delivered a pizza and wings to our site a few minutes after the store closed our first night. We like how they had 2 fenced in areas for dogs! Our most favorite thing about the campground was that it was not right next to the interstate, and it had a "country feel" to it.
Jul 12, 2021
Loved the renovated bathhouse. Staff were very friendly. Far more shade on the sites than any KOA we've been to, which we love. Would definitely stay again.
Jul 12, 2021
We stayed at Sweetwater KOA FOR 4 nights during the week of July 4th. This campground is clean, family and pet friendly, and Iots of activities. My sister and her family of 5 came for a cookout and enjoyed the pool and gem mining activities. We will stay here again.
Jul 12, 2021
Staff was EXTREMELY friendly and campground was very clean. Our site was huge. Loved it, will definetly go back when going that way.
Jul 12, 2021
Only stayed 1 night but would have loved to of stayed longer. Excellent amenities and extremely nice and helpful staff. If ever back in the area I would definitely stay here again.
Jul 11, 2021
Great amenities, large store from hot food to souvenirs, very clean and manicured with mature trees and nature trails. Very friendly, hilarious staff with big smiles!! WILL BE BACK!!
Jul 11, 2021
Very nice park. Clean and friendly and organized with computer e mails and reservations.
Jul 11, 2021
Very nicely decorated and clean. Staff was great!
Jul 11, 2021
Your campground is by far the best koa I have stayed at. Everyone is always smiling, pleasant and very personable. You all go the extra mile to keep your guests happy. You were all super helpful when my ac broke and very understanding about having to leave early because of it. Once again thank you all for a great little getaway. Love the improvements also. Hope to see you in the late fall.
Jul 11, 2021
Friendly people and great service!
Jul 10, 2021
Great location and friendly service
Jul 23, 2021
Love this place! Highly recommend.
- Ryan Lee on Google
Jul 19, 2021
I highly recommend this KOA campground! The grounds are clean, landscaped with beautiful native beds, and absolutely no litter at all! The bathrooms and showers were exceptionally clean and the best ones I've ever been in on a camping ground. They offer a schedule of fun family activities and the campground is located in a beautiful wooded area of Sweetwater with lots of shade for the campers. The staff is friendly and communicative. My family had a wonderful stay and plan on making it a regular part of our summer and fall getaways!
- Vanessa Clemons on Google
Jul 17, 2021
Great staff. Very friendly. They stay on ya about the rules. But that's a good thing. Awesome back lot. Trails and water stream to take pets to relax and run around. Best amenities of any KOA I have visited. Many things for the kids. Nice pool. Store is small but nice. They have some rv parts but be prepared to visit rv store if you. Need anything big. 5 star for sure.
- tom Spain on Google