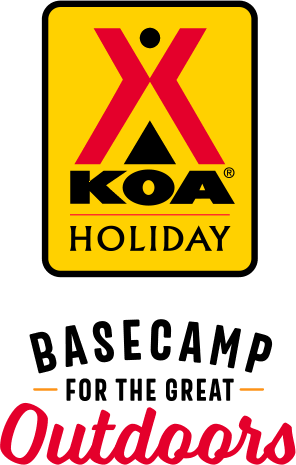 KOA Holiday Campgrounds
Whether you're exploring the local area or hanging out at the campground, KOA Holidays are an ideal place to relax and play. There's plenty to do, with amenities and services to make your stay memorable. Plus, you'll enjoy the outdoor experience with upgraded RV Sites with KOA Patio® and Deluxe Cabins with full baths for camping in comfort. Bring your family, bring your friends, or bring the whole group – there's plenty of ways to stay and explore.
KOA Holidays Feature:
RV Sites with a KOA Patio®
Deluxe Cabins with full baths
Premium Tent Sites
Group meeting facilities
Directions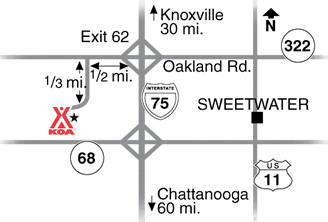 We are located less than a mile off I-75, Exit 62 - Oakland Road. Go west 1/2 mile, then left 1/3 mile to camp. Follow posted directions or signs. Many GPS programs are not accurate. Please call office if you have problems.
Get Google Directions
May 04, 2021
Nice BR's very welcoming
May 04, 2021
Ms.Karen met us at the office as we arrived late and lead us to our site. Very nice lady.
May 03, 2021
Very neat and clean as always and quiet
May 03, 2021
Only spent the night but was able to exercise our dog in the dog play area. We noted the nice play area for children. And we had some wings and they were delicious. Nice campground. We like that it was rural and had many trees etc.
May 02, 2021
Friendly helpful staff. Highly recommended!
May 02, 2021
Best shower facilities ever. Great job!
May 02, 2021
Only stayed a night. Pretty setting. Very nicely maintained. Would definitely stay again when traveling through the area.
May 01, 2021
Great as always, one of our favorite places to stay.
May 01, 2021
Very nice, well maintained, great staff
May 01, 2021
The cabin was beautiful and very well maintained. The amenities were very nice and also taken very good care of. The staff was amazing, very friendly and helpful. I'd like to send a shout out to Tammy and thank her for being so friendly and helpful. This is my third time being at this facility and would definitely come back.
May 01, 2021
Beautifully kept campground. Friendly staff in office and Robbie was great escorting us to our site. Easy to get to via highway. Super quiet. Great water pressure.
Apr 30, 2021
Nice and quiet. Employees are very helpful and friendly. Real nice KOA. Would recommend this park to all are friends.
Apr 30, 2021
Great easy off I-75 location. Park was super clean and well cared for. Our site #45 was nice and level, with a beautiful concrete patio and nice fire pit. Bathrooms were clean and the staff were very friendly and helpful. Definitely a repeat park for us when heading in that direction!
Apr 30, 2021
Beautiful campground. We stayed in late April and the grounds were beautiful and they had spring flowers blooming everywhere. The employees are very accommodating and we could tell they care about their campground. Impressive KOA.
Apr 30, 2021
We stopped overnight to break up a long trip and were very pleasantly surprised by the quietness and cleanliness. Full amenities and facilities we expect at a KOA. Will definitely stop again
Apr 30, 2021
Good location and helpful staff
Apr 29, 2021
Very clean and everyone was so nice and accommodating!
Apr 29, 2021
Our first stay at a KOA and it was incredible. Grounds were clean, cabin was clean, bathrooms immaculate. We will absolutely be back!!
Apr 27, 2021
Beautiful campground and friendly staff
Apr 27, 2021
It was great. Staff was friendly. Responsive. Helpful. My fiancé stayed there about 12 years ago and couldn't get over the improvements. It was clean and family friendly. Kids had a great time. Felt safe and very comfortable. Will be back next year
Apr 26, 2021
Very friendly an helpful. We always see upgrades an improvements every year we stay. It's neat an clean and you can feel that the management team cares. Very much a team effort. Also a great place to stay when traveling from place to place.
Apr 26, 2021
Nice stay. Friendly staff. Quiet site.
Apr 26, 2021
We love Sweetwater KOA! The facilities and staff are absolutely amazing!
Apr 26, 2021
Beautiful! Super clean. Lots of doggie areas. Plenty of space between sites. Super nice ladies in office.
Apr 26, 2021
The Sweetwater RV Park was our best stay on our two-week RV outing in the month of April. Great sites, level, gravel dry with full hook-up. These people have been busy during the pandemic; everything has been done over and brandnew. Great pizza and wings, delivered to your RV!
Apr 26, 2021
Very nice campground the staff was wonderful. Even our dog loved it making new friends at the dog park . We will stay again when passing thru
Apr 26, 2021
We needed a place to receive a part. The folks at the park went out of their way to make us comfortable. Everyone is friendly and helpful
Apr 25, 2021
New very clean bathrooms. We only stayed 1 night to sleep so we didn't use any of the amenities. Nice play area for kids. Tent sites are open and not private. Also are on a little slope. All in all it worked for us.
Apr 25, 2021
we were only able to stay one night, but we've stayed here before and loved it this time and then. Friendly staff, manicured property, quiet....PERFECT!
Apr 25, 2021
It was fine. No problems. Sites a little short but good for us.
Apr 24, 2021
We stay here every year on the way back from Florida, always clean and the staff are excellant.
Apr 23, 2021
Staff is friendly, grounds are clean, convenient trash containers throughout site. New shower heads are great. Started making pizza & wings on-site, looking forward to trying them next time. through.
Apr 23, 2021
My husband's first time camping in our new RV - great experience - helpful staff - clean campsite - love the dog park and the nature trail - so happy with our visit that we booked another trip in May to another KOA campsite in Murphy.
Apr 23, 2021
Helpful staff and very friendly. Clean campground and bathhouse. Nice dog park and walking trails.
Apr 23, 2021
One of the nicest campgrounds we've stayed at.
Apr 21, 2021
Great park and staff is very friendly and very helpful. Totally enjoyed our stay. THe group wants to return in the future. Park is clean, well maintained. Like the trees and amenities.
Apr 20, 2021
The park is wonderful! The owner and her staff are all friendly and very welcoming. They are ever-so dog friendly. They have beautiful grounds all around the park!!!! We will most-definitely be returning to this KOA.
Apr 30, 2021
We enjoyed our overnight stay at this KOA. We are a BIG RIG and towing a large vehicle. We had no problems pulling in to our site and leaving our site to the exit. WiFi Internet was very good. Cable TV was in HD quality. We recommend this KOA campground
- John N on Trip Advisor
Apr 29, 2021
Friendly staff , clean restrooms . Very nice campground.
- Danny Black on Google
Apr 10, 2021
Such a beautiful campground! Everything is so clean and all of the employees are amazing and nice, especially Dory! Thank you Sweet Water for being our home for 3 days!
- Alexandra Clemens on Google