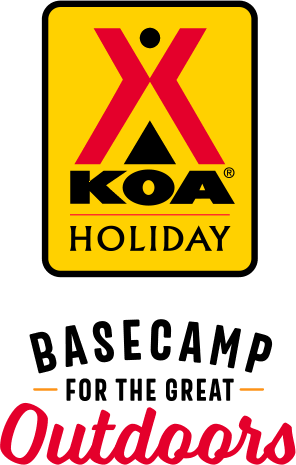 KOA Holiday Campgrounds
Whether you're exploring the local area or hanging out at the campground, KOA Holidays are an ideal place to relax and play. There's plenty to do, with amenities and services to make your stay memorable. Plus, you'll enjoy the outdoor experience with upgraded RV Sites with KOA Patio® and Deluxe Cabins with full baths for camping in comfort. Bring your family, bring your friends, or bring the whole group – there's plenty of ways to stay and explore.
KOA Holidays Feature:
RV Sites with a KOA Patio®
Deluxe Cabins with full baths
Premium Tent Sites
Group meeting facilities
Directions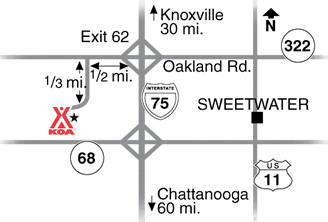 We are located less than a mile off I-75, Exit 62 - Oakland Road. Go west 1/2 mile, then left 1/3 mile to camp. Follow posted directions or signs. Many GPS programs are not accurate. Please call office if you have problems.
Get Google Directions
Mar 01, 2021
Great place ,good people , lots wayer pressure , and good food at dimner bell.
Feb 28, 2021
Friendly staff.
Feb 28, 2021
Excellent location and many amenities. The staff were some of the friendliest and helpful staff we have encountered. They carried doggie treats on their golf carts and our pup looked forward to their quick stops to get a treat while we chatted. Very family oriented!
Feb 27, 2021
The owners and the camp host were very helpful and friendly!! The location and the camp were beautiful and clean. We will recommend this great KOA to our other travato fb friends!
Feb 25, 2021
The campground has conveniently located just off of the interstate. Very very friendly staff clean and one of our favorites
Feb 25, 2021
The staff was awesome!! They were very accommodating!! We enjoyed being there! Thanks for everything!!
Feb 23, 2021
They were very nice and helpful. Will definitely stay there again.
Feb 22, 2021
Nice park. 2 dog runs. Nice staff. I would definitely stay here again. Sweetwater is a nice little town as well.
Feb 22, 2021
The bathroom facilities were being renovated while we were there. The lady that took our reservation should have mentioned that. Our RV was WINTERIZED as we were traveling home to Ohio. It would have been nice to know ahead of time about the bathroom facilities.
Feb 21, 2021
This was a stop over for us on our way south to get ahead of a winter storm! It was very easy to get to from I75 and the accommodations were perfect for us! I highly reccomend a stay here.
Feb 20, 2021
Every person we spoke to and encountered here was exceptional! The customer service was excellent, and check-in was easy. As full-timers, we loved that they're dog (and people) friendly & the 2 dog parks, trails, and large open fields to walk them. We appreciated the store and onsite food as well after a long travel day. Appreciated the ability to text the campground if we needed anything, too.
Feb 20, 2021
Very friendly and a very clean place.
Feb 18, 2021
On the journey to our destination in Florida we stopped at your campground in each direction and enjoyed our stay it was very easy to find, checking in was very easy and staff were very polite, will use you in the future and recommend you to our travel and friends.
Feb 17, 2021
Great stay! We were very please with the location of the KOA. The staff was so helpful, friendly and made sure we had everything we needed. The site was very nice in appearance. People were friendly, lots of birds, and at night was very quiet. Would stay and recommend again.
Feb 16, 2021
We stayed at the KOA in Sweetwater exit 62 for 3 months waiting for our house to be built. The entire staff were very accommodating. I feel that stems from this KOA franchise management. The entire staff seemed to enjoy their job & were very happy. It almost seemed like a big family. I would recommend this facility to everyone!!
Feb 15, 2021
What a nice cabin and even our dogs were very happy lots of area to run. We are looking forward to staying again. Very happy
Feb 15, 2021
Great stay..easy in and out..staff was very friendly..
Feb 14, 2021
Friendly, great staff, clean, nice lots. County road coming into the park is a little tight if you're driving a large RV. I would recommend this park.
Feb 14, 2021
Great place enjoy every time we stay.
Feb 13, 2021
The employees are very helpful and I would definitely stay again. Very quiet and clean park. Thanks Cathy for a good experience.
Feb 11, 2021
Very friendly
Feb 08, 2021
Very clean, excellent sites. We were very late and they still met us and helped us get into our spot. Easy pull through and easy on and off interstate. Highly recommend for quick visit or longer stay. Beautiful pine trees throughout!
Feb 03, 2021
Just passing through. Great place to spend the night. Very friendly staff!
Feb 02, 2021
Very pleased with overall experience
Feb 01, 2021
They went over and above.
Jan 27, 2021
We stayed for two nights while we visited relatives in nearby Loudon. Compared to some other KOAs we have been to, this one was very nice. There was always someone driving around policing the property. Loved the two dog parks and our grandkids would have loved the cool playland if it had been a hot summer day. The staff in the office was friendly and helpful. Would stay again.
Jan 25, 2021
It was wonderful. Very clean and easy to park. The management great people. So helpful.
Jan 25, 2021
2nd time staying there ez in ez out
Jan 24, 2021
The people were so nice. We forgot eggs and 2 of the employees brought us some right to our camper. Very appropriated and so thoughtful. The campground was so clean and well kept. I will definitely be back especially this summer with the grandkids. I would rate them a 10 if I could.
Jan 21, 2021
Campground Staff were friendly & professional. Our cabin was very clean. We really enjoyed our time & definitely will be back.
Jan 15, 2021
Just one night, but seems like a well run park
Jan 10, 2021
Only stayed one night, but what we could tell lovely campground. The staff was super nice!
Jan 09, 2021
Everything and everyone was great!! The service was out of this world. The view was great!!
Jan 09, 2021
This was only an overnight stay on our way home so we wanted a place that was easy on, easy off. This is right off I-75 and the space was wide and flat. It was also a pretty, wooded setting. Will use again on another trip down south�
Jan 08, 2021
Excellent facility. I highly recommend!
Jan 08, 2021
Very accommodating and a nice place to stay very clean
Jan 07, 2021
Lovely site for a campground.
Jan 06, 2021
Incredible staff - so helpful, welcoming, and knowledgeable. Give them 6 stars out of 5!! Really appreciated their help. Big fan of KOA due to this stay.
Jan 04, 2021
We have stayed at 38 KOAs and Sweetwater remains our favorite, no question about it. We love their small-park atmosphere but with all the pleasures of a large facility. The two doggie parks are very convenient, always clean, the bags stocked, and the trash emptied. I appreciate the password protected VPN cspsbl internet and outstanding cable TV. The staff is outstanding. It remains the best!
Jan 04, 2021
Great place nice people great location
Jan 04, 2021
We just stayed one night when we were passing thru but the staff was very friendly and helpful! When ever I called they were very quick to call back with the information I needed. The park was very clean and quite.
Jan 04, 2021
Best staff and facility! Second home.
Jan 04, 2021
We stayed one night on our way to Florida and one night on our way back. It was perfect for what we needed to pull in our trailer. Beautiful facilities, and the staff is very friendly and helpful.
Jan 17, 2021
We stayed on our way to Florida. The staff could not have been nicer. They stopped by when we were outside just to make sure we had what we needed and that everything was ok. Our spot was huge and clean. Hookup was quick and easy. Definitely would stay there again and would recommend . Great job Sweetwater KOA.
- Pam Delucia on Google
Jan 12, 2021
Easy access, friendly staff, clean restrooms. A wonderful stopping/resting point on our recent trip.
- Osborne Family on Google
Jan 06, 2021
Friendly and clean
- lois shultz on Google