Local Area Attractions Near Sugarloaf Key / Key West KOA Holiday
Just a short drive to Key West, Sugarloaf Key/Key West KOA is a relaxing basecamp for experiencing everything the Keys offers. Don't want to drive? Hop the shuttle and you'll be enjoying the magic of the Florida Keys in no time!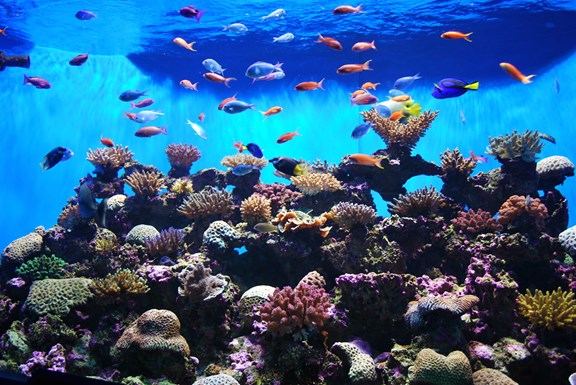 Key West Aquarium
Get up close and personal with marine life at the Key West Aquarium. Cited by some as the most intriguing aquarium in the world, this is a must visit destination in the Keys, especially for families. Learn about all sea life in their many exhibits, including the popular shark exhibit, touch tanks, jellyfish exhibit, alligator exhibit and stingray bay.  Exhibits aren't just educational, they are interactive too. Take part in the museums many tours, activities or conservation lectures while visiting the museum and leave with a better understanding of the natural world surrounding Key West.
Key West Aquarium
1 Whitehead St
Key West, FL 33040
Looe Key National Marine Sanctuary
The underwater adventure at Looe Key National Marine Sanctuary is only a short boat ride away from the campground. The sanctuary contains more than 5-miles of well-developed coral and is home to a diverse fish population. Divers on the northern side can see parrots and surgeonfish while barracudas and and jacks swim on top the reef.  
Because this is a Sanctuary Preservation Area some activities are prohibited at Looe Key including harvesting, removing or possing any marine life, and anchoring on living or dead coral. Bait fishing is allowed with a permit.
35 East Quay Road
Key West, FL 33040
Dry Tortugas National Park and Ferry
Located about 70 miles west of Key West is a cluster of islands that make up the dry Tortugas National Park. Situated inside Fort Jefferson (one of the largest coastal forts ever built), this park is famous for its bird and marine life and legends of pirates and gold. Enjoy a continental breakfast aboard the Yankee Freedom ferry or get outfitted with snorkeling gear aboard the Sunny Days catamaran. The 100-square mile park is mostly beautiful blue open water which makes it an ideal location to visit for both adventurers and history buffs.
Dry Tortugas National Park
40001 SR-9336
Homestead, FL 33034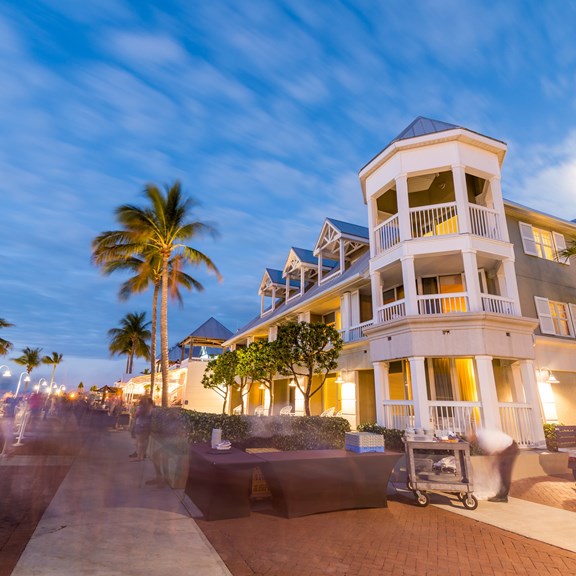 Mallory Square, Key West
Visit the historic waterfront hub of Key West for nightly sunset celebrations or spend the day perusing shops, art galleries, the historic sculpture garden and the shipwreck museum. You'll be entertained with street jugglers, clowns, tightrope walkers and musicians. Find unique gifts and souvenirs from local artisans who set up shops in the square.
Mallory Square
400 Wall St
Key West, FL 33040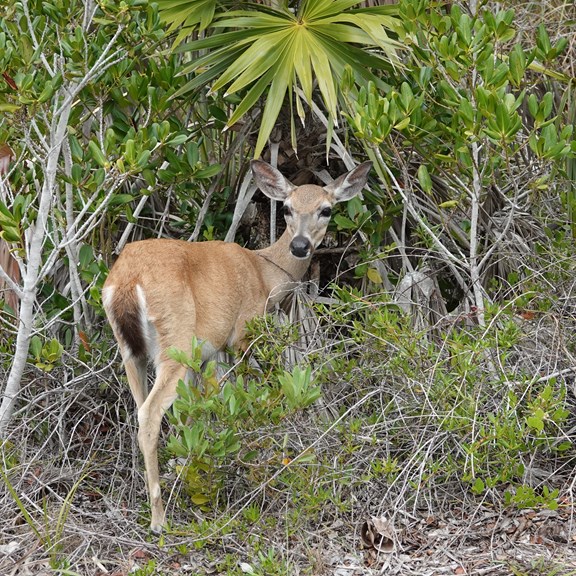 National Key Deer Refuge on Big Pine, FL
This 9,200-acre National Wildlife Refuge was established in 1957 to protect and preserve the Key deer and other wildlife in the Florida Keys. The natural area includes pine rockland forests, tropical hardwood hammocks, freshwater wetlands, salt marsh wetlands and mangrove forests. It is home to 23 endangered and threatened plant and animal species as well as 100s of others.
Key deer are endangered mammals unique to the Florida Keys. They are the smallest subspecies fo the North American white-tailed deer. They were listed endangered in 1967 after years of habit loss and poaching reduced their numbers to just a few dozen. Since the refuge has been established there has been a dramatic recovery of the species.
National Key Deer Refuge Nature Center
30587 Overseas Hwy
Big Pin, FL 33043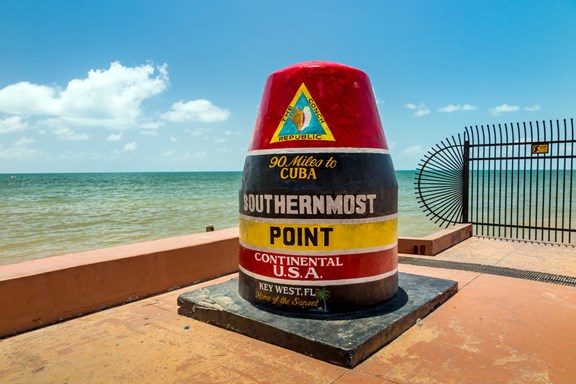 Southernmost Tip
The Southernmost Tip of the keys and the U.S. is accessible to civilians at the corner of South Street and Whitehead Street. Say "cheese" for the camera while standing next to the monument against a backdrop of endless blue ocean. Cuba is 90 miles away and Miami is just over 120 miles away.
Southernmost Point of the Continental US
Whitehead St & South St
Key West, FL 33040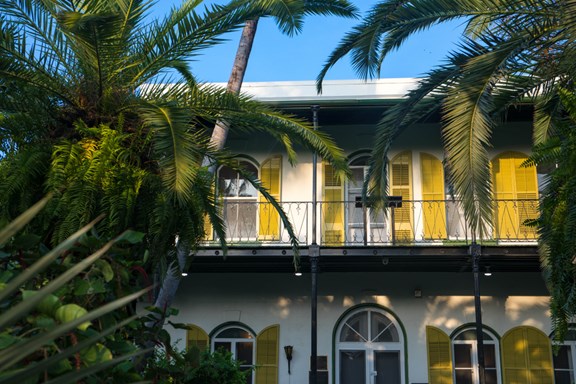 The Ernest Hemingway Home and Museum
Take an educational tour of the house where Ernest Hemingway lived and wrote his novel A Farewell to Arms. Many of the museum's 60-plus cats are said to be descendants of Hemingway's six-toed cat; accordingly, about half of the felines have extra toes. Learn about the legends and facts surrounding one of America's most prolific authors.
The Ernest Hemingway Home and Museum
907 Whitehead Street
Key West, FL 33040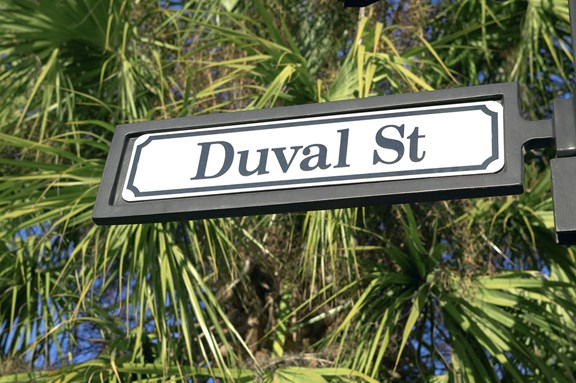 Duval Street
Duval is the pulse of Key West, the heart of Old Town. With points of interest like The Butterfly and Nature Conservatory, along with its quaint shops and unique Caribbean/Victorian architecture, Duval Street offers a mixed bag of entertainment and touring attractions all within walking distance. For more adventure, grab a drink in a selection of hole-in-the-wall bars or scout for spirits in its many haunted establishments.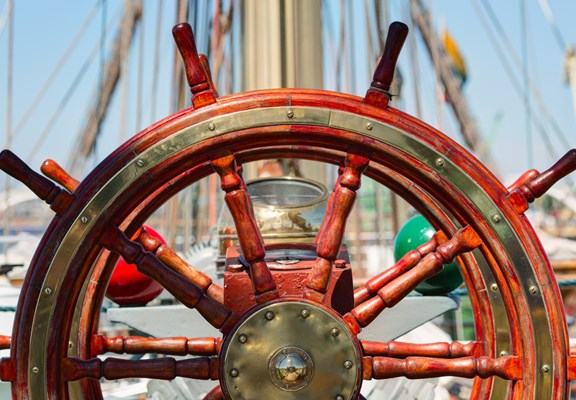 Mel Fisher's Maritime Heritage Museum
Visit the legacy museum funded by the world's greatest treasure hunter. The museum features interactive treasure hunt exhibits utilizing genuine artifacts as clues. From slave ships to sunken Spanish galleons' silver to Mel's own story, this nonprofit museum will keep the whole family engaged for hours.
Mel Fisher was an American treasure hunter who found teh 1622 wreck of Nuestra Senora de Atocha in the Florida waters. With this find and more, he was quickly recognized as one of the world's leaders in historic shipwreck and recovery.
As the only fully accredited museum in the Florida Keys, the museum not only serves as an educational attraction, but it is also a nationally recognized research and archeology institution.
Mel Fisher's Maritime Museum
200 Greene St
Key West, FL 33040
Conch Tour Train - Key West
See the "best of Key West" which is just a few minutes drive south of Sugarloaf Key, aboard the Conch Train. This little tour has been pleasing passengers since 1958. Some of the sights it highlights are Mallory Square, the Harry S. Truman Little White House, Schooner Western Union and more. The 90-minute tour departs several times daily and is available for charter.
Conch Tour Train
108 Sea Grove
St. Augustine, FL 32080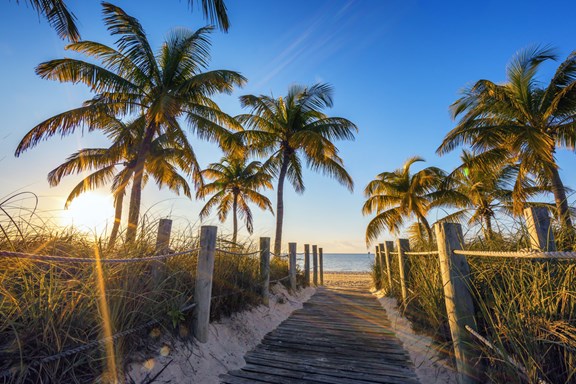 Key West
Key West, located just a twenty minute drive south of Sugarloaf Key, is a historic destination with it's own distinct style. Explore a beehive of narrow streets, learn about its characters like James Audubon, Harry Truman and Ernest Hemingway, shop eclectic boutiques and stop for a lunch of conch chowder and key lime pie. Key West also boasts an unending calendar of events including frequent boat races, performances at Red Barn Theater, concerts at the Tennessee Williams Fine Arts Center and a variety of festivals and fairs.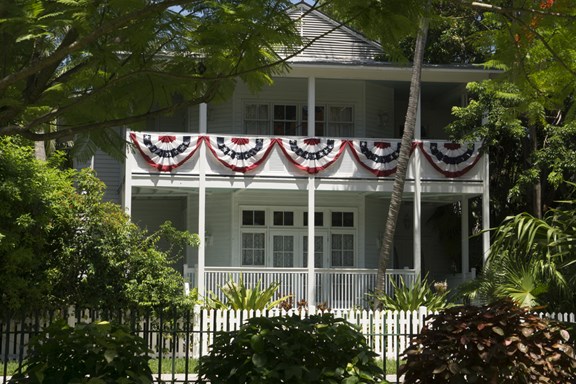 Harry S. Truman's Little White House
Visit Florida's only Presidential Museum. Originally constructed in 1890 as naval officers housing, this landmark has hosted some of histories most influential people including Thomas Edison, Edward Hayden and six American Presidents. However, in the winters of 1946 through 1952, President Harry S. Truman found refuge here amidst the rebuilding of Europe, Civil Rights issues and responses to the Cold War. 
Visitors to the museum will learn more about our nations 33rd President; the many challenges he faced and the impact he had on our nation.
111 Front St
Key West, FL 33040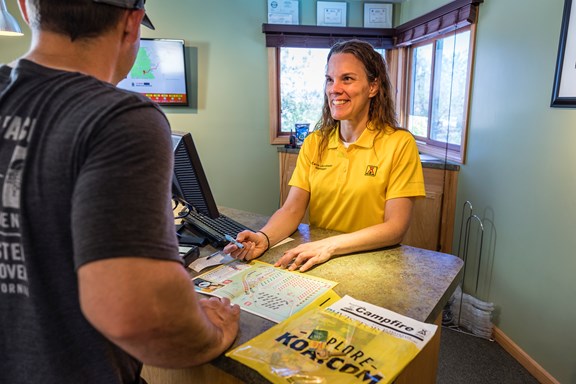 Guided Trips and Tours
Our friendly front desk staff can help you book site seeing tours, snorkeling adventures, boat excursions or other local experiences you'll never forget. Let us help you complete your vacation and make the most of the Florida Keys.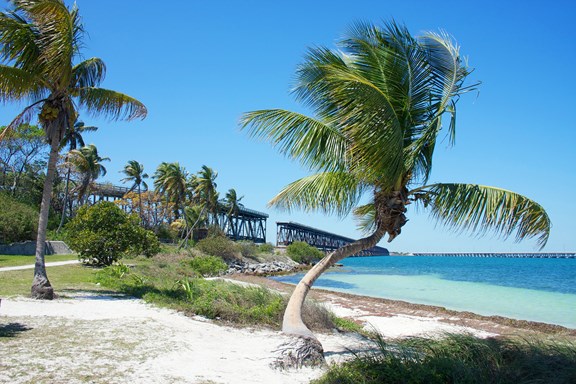 Bahia Honda State Park
Featuring an award winning beach and historic bridge, Bahia Honda State Park at mile marker 37 in the Florida Keys has become a favorite destination for visitors to our island paradise. The park, encompassing over 500 acres and an offshore island offers some of the best snorkeling and beachcombing in Florida. The perfect and quiet getaway for the entire family.
36850 Overseas Highway
MM 37
Big Pine Key, FL 33043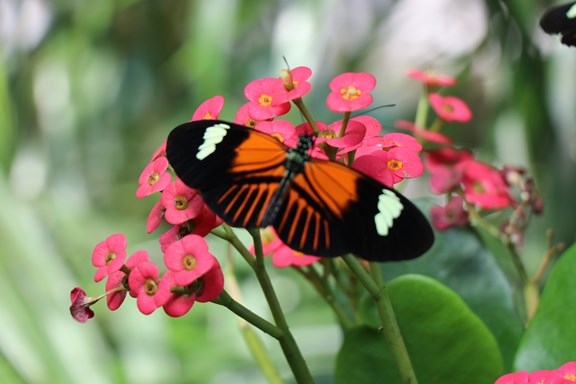 Key West Butterfly and Nature Conservatory
The Key West Butterfly and Nature Conservatory provides you with the unique opportunity to wander the glass-enclosed conservatory where nearly 60 species of butterflies soar freely among the plant-filled habitat. In addition to the butterflies, more than 20 species of exotic birds are also kept here.
1316 Duval St
Key West, FL 33040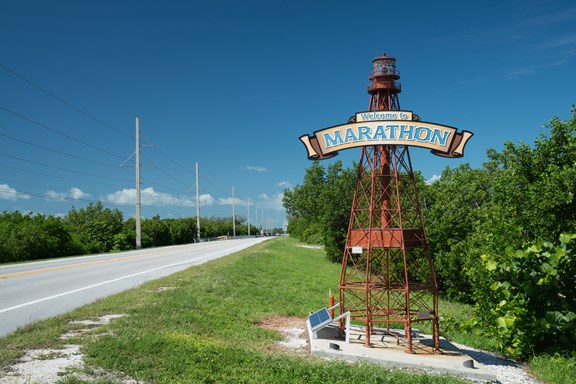 Marathon Key
Marathon is the commercial and sportfishing center of the Middle Keys, and charters are easily arranged from here for deep-sea, reef, and flats fishing. Tourists also enjoy the numerous water sports available, including paddleboarding, kayaking, and jet skiing, not to mention the excellent beaches and waterfront restaurants.  
Marathon is home to top Florida Keys attractions, like the Turtle Hospital, the Dolphin Research Center, and Aquarium Encounters.
Marathon is the starting point if you want to walk along the former seven-mile bridge. This stretch of bridge was left in place, and the walkway is open to walkers, joggers, and cyclists for free.