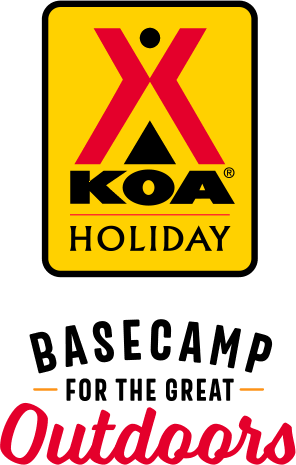 KOA Holiday Campgrounds
Whether you're exploring the local area or hanging out at the campground, KOA Holidays are an ideal place to relax and play. There's plenty to do, with amenities and services to make your stay memorable. Plus, you'll enjoy the outdoor experience with upgraded RV Sites with KOA Patio® and Deluxe Cabins with full baths for camping in comfort. Bring your family, bring your friends, or bring the whole group – there's plenty of ways to stay and explore.
KOA Holidays Feature:
RV Sites with a KOA Patio®
Deluxe Cabins with full baths
Premium Tent Sites
Group meeting facilities
Directions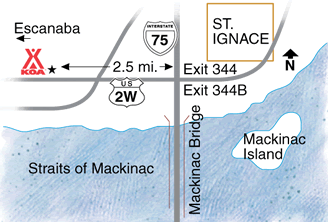 From Mackinac Bridge: 
Northbound I-75 - take Exit 344B or
Southbound I-75 - Exit 344, go 2.2 miles west on US 2.
From US2, we are on the right between Mile Marker 2 & 3.
GPS: N45.853915, W84.773856
Get Google Directions
Jun 16, 2021
Wish the pool would have been open
Jun 16, 2021
Good site Wi-Fi good. Pool not working. Mini golf ok. Very run down golf course
Jun 16, 2021
Great location. However, we have come to expect more from a "Holiday" KOA. We opted for a pull through with water and electricity as there were no pull throughs with full hookups available. When leaving, we stopped at the dump station to empty our tanks. However, the road area next to the dump station slopes away to such a degree that none of our tanks would empty. Unsat!
Jun 16, 2021
Staff were great. Campground is a mess. Before you build more, manage well what is already in place. To charge $70 for those sites, in that condition, is horrible. KOA years ago was way better than we witnessed in our last two locations. Probably won't try again
Jun 15, 2021
The cabin was excellent loved how I didn't have to bring my own sheets unlike another deluxe cabin we stayed at.
Jun 15, 2021
Fire wood they sold was $6 for 6 pieces of wood and it was damp so it was hard to get lit. But they got the wood to you quickly after you payed for it. The lot was incredibly small and I didn't even know what lot I was getting till I got there. It was a tiny corner lot and the fire pit was nearly in the road on the most uneven spot in the lot. They did have many options of rentals though.
Jun 15, 2021
We came early & asked to check in, & were able to. Staff was super friendly & helpful. Grounds a bit rustic, & after some reviews, I was worried - but this is camping, folks, if you want luxury go to a hotel. We had no complaints. The bathroom floors could of maybe been cleaned (swept) more but other than that the facilities were clean. The laundry room was awesome, game room was cool bonus, too.
Jun 15, 2021
The camp ground itself was beautiful. The staff in the office were friendly and helpful. My only concern(s) however, I noticed the bathroom was not cleaned the entire weekend though. And the springs on our Full mattress in the cabin were poking into my back most of the night. We used the two extra twin mattresses (we had 4 people but a 6 person cabin) on TOP of our full for the extra padding.
Jun 15, 2021
I was very disappointed that I had to move spaces in the middle of my stay. which all could have been avoided if owners checked there emails or voicemails. and you can not make changes to your reservation on line once you make it. so when I booked 2 night meaning to book 3 I called and emailed for a month with no reply so I finally got on line and made another reservation. AND VERY DIRTY!!!!!!!!!!
Jun 14, 2021
This was the worst KOA that we have stayed in. The men's bathrooms were a dirty mess both days we were there. The camp store had very little to offer. We were on a lot with no sewer but the one beside us did have sewer, we asked to switch & were told no. The lot with sewer was empty our first night and the second night had a tiny tear drop camper that didn't even have a sewer connection. sad K
Jun 14, 2021
Don't go during motorcycle rally
Jun 14, 2021
Bathrooms were not clean, pool was broken, overall feel of the camp was very run down. Disappointed with this KOA.
Jun 14, 2021
Bathrooms were disgusting. Sites are small. Campground was dirty.
Jun 14, 2021
Restrooms weren't as clean this time
Jun 14, 2021
We were given space #9, as narrow as it was it was a battle to dodge tree branches in order to decide which we to do: open our bedroom slide or use our awning on the other side. In the only area possible, to open our bed slide, we had to dodge tree branches; could not open our awning. Large pile of cooking grease was left at our space. Baths not cleaned during posted times. Filthy!
Jun 14, 2021
Very dirty and run down. I don't think bathrooms were cleaned
Jun 14, 2021
Very easy to check in. Super friendly and helpful staff. We had a great time!
Jun 14, 2021
The sites were so close that my electric hook up was by my neighbor's picnic table. The bath rooms were not cleaned from Thursday through Saturday morning. Sad!
Jun 14, 2021
Nice kamping kabin comfortable worked great for what we needed
Jun 14, 2021
Our stay was in a newly installed rustic cabin. Enjoyed every bit of the stay.
Jun 14, 2021
We stayed in a deluxe cabin. It was great.
Jun 13, 2021
We had a small snag in our campsite placement, however they offered solutions. There is obvious improvements going on, so I'm interested to see it again. Its a clean facility. Memories were made and we had an enjoyable time. Not much in camp store. If you need RV or camping supplies head to Coffman Pro Hardware and Camp Supply in Mackinaw City.
Jun 13, 2021
Our cabin was suitable for our needs. Floor had not been swept recently but otherwise it was as expected. Most importantly the bathrooms were nearly unusable, both the mens and women's appeared to have not been cleaned since previous weekend or longer. Toilet paper, trash, bugs, all over counters and floors. Toilets plugged in 2 stalls. Very disappointed!!!!
Jun 13, 2021
Suzanna and the team were knowledgeable, helpful, kind, and attentive.,,in short, wonderful! We had never stayed in a KOA before and now our eyes are opened. It was a perfect lodging solution for our group and we enjoyed our stay very much. Thank you!
Jun 13, 2021
We stayed two nights. We arrived after 2:30 pm. I checked both women's bathrooms and neither had been cleaned even though the sign says they will be cleaned from noon to 2:00 everyday. I never used the women's bathroom due to that. My husband said the men's bathroom didn't appear to be cleaned during our stay.
Jun 13, 2021
The bathrooms were so disgusting and you couldn't tell if they had be been cleaned. They would use a hose to wash down bathrooms... No disinfecting. They gave us a spot that we couldn't fit into and put us beside someone when 90% of the campground is was e.
Jun 13, 2021
We just stayed one night but the staff was very friendly and the campground clean.
Jun 12, 2021
No pool... Confusion at check-in
Jun 12, 2021
Loved it so much, we added another 3 days!
Jun 11, 2021
Convenient, clean, friendly
Jun 11, 2021
Again very disappointed by KOA. Pool was closed. Golf was closed. Restrooms were dirty and unkempt. The grounds were not kept up. Other campgrounds in the area were better maintained and more appealing. Staff was not friendly. One positive is the dog park - it was nice and the grass was cut. Waste bags were available.
Jun 11, 2021
Check in process was great! The spot assigned was taken so we were given an upgrade. We inquired about staying a third night, however we didn't hear of the site was available so we left. Unfortunately, I was charged for the extra night.
Jun 11, 2021
Only issue with the sites, water hook up is on the wrong side of the site. sewer and electric on the right as it should be water was on the left
Jun 10, 2021
The campground was nice, clean & the staff very friendly & helpful.
Jun 10, 2021
Pros: beautiful scenery; nice and quiet. Cons: 1) bathrooms were extremely, poorly unkempt. When we arrived, the bathrooms were already disgusting and throughout our stay, they were never cleaned; 2) as a "KOA Holiday" designation, amenities were not available and very lacking (i.e. pool was drained and not available).
Jun 09, 2021
Suzanna is an excellent host. Grounds and sites Need some sprucing up. Workers and management are very accommodating.
Jun 09, 2021
Stayed two nights. Bathrooms were not cleaned the whole time
Jun 08, 2021
Pool not able to be used. Still under "repair". Have a 38ft 5th wheel with 3 slides. Was in full hook up site. Camp sites are too small and not leveled at all. Showers do not have actual shower heads. They have a kitchen sink type head. Staff are ok- not super outgoing but not awful either. It is close to Mackinac ferry and down town St Ignace. Will probably explore other campgrounds in the a
Jun 07, 2021
Campground and amenities EXTREMELY dated. Gravel roads and lots make this stay very dusty. Staff was very nice but thats about it.
Jun 18, 2021
Great!
- Dan Gryp on Google
Jun 07, 2021
Beautiful grounds but cabins 5 and 6 are way to close together...
- Bill Gregory on Google
Jun 18, 2021
Good spot to pull off for a night stay.
- Butch LaJoie on Google