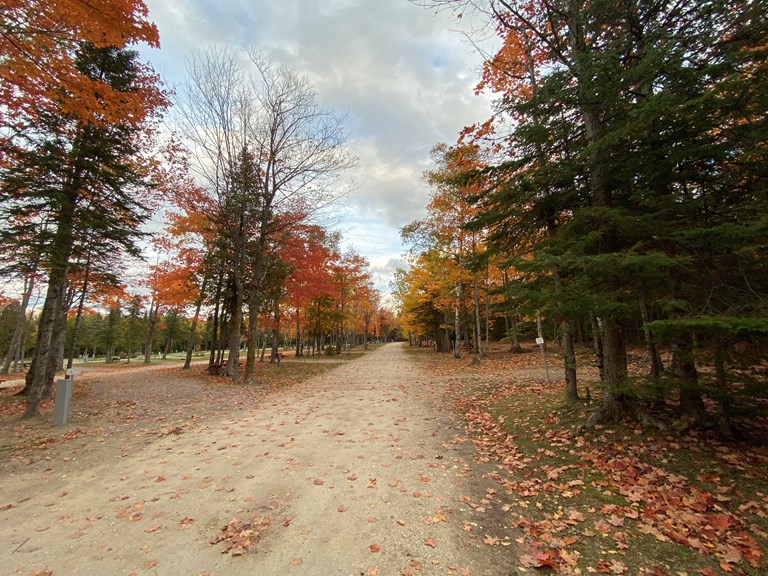 St. Ignace / Mackinac Island KOA Reviews
The best way to stay and visit Mackinac Island and Upper Peninsula.
Directions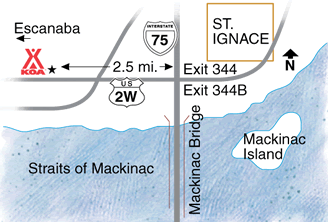 From Mackinac Bridge: Northbound I-75 take Exit 344B or Southbound I-75 Exit 344, go 2.2 miles west on US 2.
From US2, we are on the right between Mile Marker 2 & 3.
GPS: N45.853915, W84.773856
Get Google Directions
Aug 01, 2020
The actual campground was very nice, but the showers and bathrooms were not clean. The office exterior and the put-put need upkeep, peeling paint didn't look inviting. But the worst thing was emptying our black tank, there was sewage in the pit you had to hook up your hose to, That was really disgusting!!
Aug 01, 2020
Love the staff so friendly and sweet
Aug 01, 2020
The staff was very friendly. I was given the option to move tent sites due to standing water. Bathrooms were clean and well-lit.
Aug 01, 2020
Our stay was very good. Thank you.
Aug 01, 2020
Stayed 3 nights. Would like store hours to be longer and bathrooms cleaned more often.
Aug 01, 2020
Bathrooms terrible and campground unkept very bad
Aug 01, 2020
Nice experience!!! Guest services were hit or miss. Store had good collection of souveniors �
Aug 01, 2020
Big campground, should have more staff.
Jul 31, 2020
If it wasn't for Barb at the front desk the place would have been ok. I have never been so disrespected by anyone in my life. I should have listened to the reviews. The woman needs to retire.
Jul 31, 2020
Overall experience was good. Store hours were a hit or miss.
Jul 31, 2020
The office personal wasn't friendly. Upon arriving we weren't told the hours of the office or anything but given our key to the cabin. The next day we had tried going to the store 3 different times throughout the day to get firewood and the office was closed. The very last day we had left before the office was opened and used the drop box. I had tried calling from 9am-11am to check out no answer.
Jul 31, 2020
Nice wooded sites. This place is charming. We read some bad reviews before we came and was prepared, but we liked the place. They seem to be doing the best they can to operate the park with everything going on with the corona virus.
Jul 31, 2020
Bathrooms were full of bugs and the sinks etc were not clean. The campground itself was not sprayed for bugs.
Jul 31, 2020
Typical KOA sardine can
Jul 31, 2020
The bathrooms could be kept up more often. We help a friend that owns a campground and we clean every couple hours due to covid.
Jul 31, 2020
Couldn't swim in pool, wasn't clean and patio was covered with mayflies. Site was too small and sewer was on neighbors lot. Playground needs updated and cleaned up.
Jul 31, 2020
Easy check in, comfortable stay. Limited facilities.
Jul 31, 2020
No working wi-fi and staff didn't care. They dais it was working. It only worked within 100 ft of office. They claimed repeaters throughout the park boost the signal but they weren't working. I explained that I needed to do some work and needed the wifi. I worked in the laundry room. They never got repeaters working, if they tried.
Jul 31, 2020
Comfortable stay mostly. Weekends get crowded,
Jul 31, 2020
Improvements need to pick up pace
Jul 31, 2020
Needed assistance after hours and they had a maintenance member available onsite. It was helpful.
Jul 31, 2020
Had a good stay. Huge campground. Staff availability was limited.
Jul 31, 2020
This koa is in an excellent location. The park is good and getting some improvements. Amenities and store hours are limited and it appears that many places are doing that. Overall we had a good experience.
Jul 31, 2020
Had a great stay. Looks like the owners have done some pretty significant improvements. Pool was awesome. Overall, wonderful time. Looking forward to coming back for a bit longer next time!
Jul 30, 2020
Poor: Putt Putt in bad shape and poorly managed. Inadequate information and store. Minimal staff support. Clogged dump site.
Jul 30, 2020
Road entering was terrible. Had backup waste dump - major problem. Crowded.
Jul 30, 2020
The tent sites are too close together almost zero privacy. The water was ice cold for showers. The WiFi didn't work.
Jul 30, 2020
The drive in direction to our row of camper sites was reversed so that all campers entered the sites from the opposite direction of what the sites were designed for. Our water hook up was so far away we had to buy an additional water hose to hook up. Our neighbors water hook up was in our driveway/patio area. Our fire ring was under our neighbors camper slide out. Poor planning.
Jul 30, 2020
We were nervous when we read the reviews before our stay. Overall our stay was pleasant. We did not use the public showers so I can't comment whether they were clean or not. The pool could have been cleaner. Our lot had a large dip in it which left us with our very own pond! That's what I would say was a issue. Wifi was good. I would not stay on lot 111 but other lots looked even and good.
Jul 30, 2020
It was a good experience staying at KOA. The place is close to the ferry ride.
Jul 30, 2020
Needs alot of maintance and no one was ever around the office it seemed.
Jul 30, 2020
New owners have done a lot of upgrades. The pull-thru sites were excellent. The new deluxe cabins and tipi's looked awesome. We will be back soon!!!!
Jul 29, 2020
Campground needs some work, including mowing, gravel, planting grass, tree trimming ect. Asked to move sites when given a site with trees on both sides which leaned inward toward our slides making it very tight and difficult to park in the site. Told it was impossible. Weak water pressure but good electric, Long utility run for hooking up. Cable was off and on depending upon channel and weather.
Jul 29, 2020
Trees were lovely, but sites were "tired." We had to find our own picnic table, cable was not working for first day, our electrical hook-up box only had one functioning 30 amp plug (other was broken/chipped and would not hold our cord); also only one water spigot worked, luckily we didn't need this, allowing the motorhome beside us to hook up to it. Dump station septic full, causing ia backflow.
Jul 29, 2020
Campground is convenient to Mackinaw but leaves a lot to be desired. Restrooms were under renovation, but were told that had been going on for a while. Lucky for us we have a fifth wheel so we have shower and toilet. But by the time we were ready to leave tanks were full. When we got to dump station, the pump station was down and a lot of unhappy campers leaving. Campground not very wELL kept up.
Jul 29, 2020
Nice place. Clean and quiet. Friendly staff.
Jul 29, 2020
Very disappointing. Bathhouses not clean and often out of soap/paper towels. I understand this was during Covid, but the communication was poor. The Covid signage of when the store would be open was not correct. Pool was closed in the middle of the afternoon. Couldn't get mini golf balls. Couldn't get advertised ferry discounts. I asked for some compensation and was told there would not be any.
Jul 29, 2020
Full hookup sites were narrow. One camper, in prominent location, hung a "F--- Trump" flag. Regardless of your political beliefs, this vulgarity should not have been permitted by management in a family campground. Staff challenged due to Covid-19. Pool was murky; didn't appear to be cleaned or have chemical levels checked.
Jul 29, 2020
Enjoyed the area but the campground needed some TLC. The road and sites needed gravel, the water hook-ups leaked and had bad threads. Our voltage was low on 30A service.
Jul 28, 2020
The pool, mini golf, and rustic camper cabin were all run down. The campstore did not have many options and closed at 5pm on a Saturday. I have stayed at many KOAs in the past and this was by far the worst.
Jul 28, 2020
Short overnight stay. Pleasant and happy experience.
Jul 28, 2020
Family member booked two sites at the same time a couple of months back - show up and sites are not close to each other. Effort made to see if sites could be moved closer together - staff was rude & unwilling to help. Firewood was $6/bundle for 4 pieces. If you're traveling north, stay at the KOA in Mackinaw City - amazing the difference ownership can make.
Jul 28, 2020
Arrived and was told we could not stay due to tent sites being flooded, but upon inspection determined that some spots were dry enough to camp in so we went back and re-reserved a site and then we're actually able to stay. Sites look extremely close together, but since they had cancelled almost all of the tent campers there were only a few of us there so we had plenty of privacy.
Jul 28, 2020
The office was closed before 5 and the pool needs cleaned. Also neighboring camper wanted to start a fight because I locked my car and it beeped.
Jul 28, 2020
Lots unlevel
Jul 28, 2020
I didn't realize you had sent an email cancelling our stay due to rain.So we showed up; were glad we found a site to work.Only issue is the cabin near us- Yooper trail played their music & sound system (not kid appropriate rap& comedians) until 3:15 AM Saturday night.They had no respect for quiet at 11pm. As soon as we'd think the sound stopped &we'd doze off it would start again. Otherwise -nice

St. Ignace / Mackinac Island KOA
Open May 21 - October 31
W1118 US-2 Highway
St Ignace, MI 49781
Check-In/Check-Out Times
RV Sites, Tent Sites
Check-in: 1:00 pm, Check-out: 11:00 am
Accommodations, Kamping Kabins, Deluxe Kabins, Tipis
Check-in: 3:00 pm, Check-out: 11:00 am
St. Ignace / Mackinac Island KOA
Get Google Directions

© 2020 Kampgrounds of America, Inc.