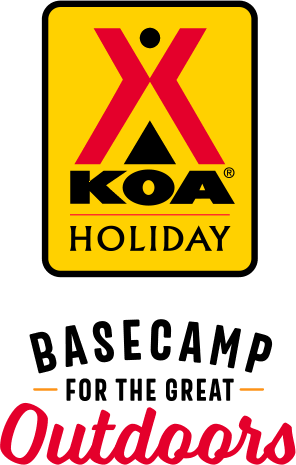 KOA Holiday Campgrounds
Whether you're exploring the local area or hanging out at the campground, KOA Holidays are an ideal place to relax and play. There's plenty to do, with amenities and services to make your stay memorable. Plus, you'll enjoy the outdoor experience with upgraded RV Sites with KOA Patio® and Deluxe Cabins with full baths for camping in comfort. Bring your family, bring your friends, or bring the whole group – there's plenty of ways to stay and explore.
KOA Holidays Feature:
RV Sites with a KOA Patio®
Deluxe Cabins with full baths
Premium Tent Sites
Group meeting facilities
Directions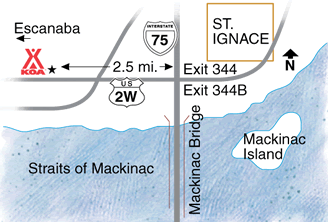 From Mackinac Bridge: 
Northbound I-75 - take Exit 344B or
Southbound I-75 - Exit 344, go 2.2 miles west on US 2.
From US2, we are on the right between Mile Marker 2 & 3.
GPS: N45.853915, W84.773856
Get Google Directions
Oct 21, 2020
We rented a deluxe lodge. The shower backed up. When you notified the staff, they had been aware for some time and seemed frustrated that management still hadn't fixed They did their best to remedy the situation, but showering still wasn't possible. We awaited a call from management - it never came. The shower had issues for some time and management didn't care. The staff was very apologetic.
Oct 19, 2020
Enjoyed this forested campground conveniently located to St. Ignace. Our kids played mini-golf, enjoyed the woods and rode their bikes around. The campground showers and wash-stations had plenty of hot water, and the bathrooms were cleaned regularly. They also have a nice indoor area with ping-pong, pool and air-hockey near the laundry room. Downside is that it's close to fairly high-traffic HWY.
Oct 19, 2020
Great location for exploring the U P but the unheated shower area and continual problems with the cable left us with a sour taste in our mouth. Campsite itself is also laid out very nicely.
Oct 19, 2020
We had a great time. The microwave and fridge additions to the cabins were super helpful.
Oct 18, 2020
We arrived late and only stayed the night. It was fall. We did not use any of the facilities. We had a reservation and checked in on line. Our paperwork was all complete and ready for us in the after hours check in area. A map was included that directed to our site. Water and electric were conveniently located. Campground is conveniently located on highway 2. We would stay again.
Oct 17, 2020
Very peaceful stay. Only negative is that the bathrooms could have been cleaner, the shower was full of other people's hair and the counters looked like they hadn't been cleaned in a while.
Oct 17, 2020
Was a good place for a last minute location. Liked that it was close to St. Ignace. Gave a 4 due to placement on a muddy spot and that the cable TV hookup was on the wrong side of our RV and had to purchase additional cable. Good customer service from all individuals we connected with.
Oct 17, 2020
just an overnighter this time, but if we visit upper Michigan again we will certainly try to get reservations at your campground
Oct 16, 2020
it was nice, only thing is 3 familys were all supposed to be by each other when i booked it that never happened got there they said nothing they could do. but tons of lots open to do this
Oct 16, 2020
Very nice stay inspite of bad weather
Oct 15, 2020
Cozy stay in an almost new Deluxe Cabin.Weather was bad with rain and wind. So, could not enjoy the nice deck and grill.
Oct 14, 2020
Quick stay just one night. The after hours booking is not good. I couldn't register on line and got a recording when I called the 800 number. I had to settle up in the morning when office opened. We wanted to leave at 7AM but had to wait around for when your office opened at 10AM so we could pay you. You could do better on after hours same day booking.
Oct 13, 2020
The cabins were exactly what we expected. Even better was the incredible wooded area that they are nestled in! We had a fantastic time on our first fall camping excursion!!
Oct 13, 2020
Beautiful campground. Enjoyed our stay
Oct 13, 2020
Would highly recommend. Can't wait to come back!
Oct 12, 2020
Everything was really great. Very nice people in the office. Nice laundry facilities. Nice little camping cabin and was close to Lake Huron and Lake Michigan. Close to restaurants and other things. The bathroom and showers did need a little more attention to cleaning but other than that we were very pleased.
Oct 12, 2020
We had an amazing stay cabin was absolutely beautiful and comfortable like staying in your own home. Easy and convenient right off the highway and easy to find the location. Surrounded by everything you need. Staff at front desk was very helpful and very polite ! Definitely will be back for another stay !
Oct 12, 2020
Over all it was a nice place to stay, the only complaint if you will is that we have a big rig and made our reservation well ahead of our stay and were put in a very small site, no room to open our awning, the fire pit was so close to the camper next to us that we didn't have a fire for fear of being to close. there were plenty of larger sites (which we thought were already reserved).
Oct 12, 2020
We were in a water and electric area with probably 50-75 open sites and you placed somebody right next to us instead of farther away.
Oct 12, 2020
We come here every fall and this place is amazing in fall. Best time of the year to come because the crowd is less and its even more scenic.
Oct 12, 2020
Overall our stay was great. Lot of improvements but the mini golf needs some TLC. This is a nice park in a good location and has spots for big rigs
Oct 12, 2020
Beautiful place. We loved it.
Oct 12, 2020
The campsite was great, large, clean, nice fire pit and the price was very reasonable. The staff in the office is very kind and helpful. My only concern is the cleanliness of the restroom and showers. There were not a lot of people at the campground due to the time of the year. Especially with the Covid concerns I would think more effort would be made in the cleanliness of the restrooms and shower
Oct 11, 2020
need people that know more about your sites and area.
Oct 10, 2020
Excellent pre-arrival. Prompt, helpful contact to ???. Lovely woodsy spot for cabin. Cabin and bathroom decently clean. Bathroom didn't appear to get daily wipe down and soap/paper products low (possibly end of season). Well organized campground and friendly office. Quiet, restful four-night stay during the fall season. Excellent location for getting around to area sites. Would stay again!
Oct 09, 2020
Very wonderful. They have made significant improvements since the first time we stayed there...
Oct 09, 2020
Convenient. We were able to walk to town 1 1/2 miles one way. Shuttle was available to take us to ferry. Well kept.
Oct 09, 2020
Pretty rainy while we were there. We stayed indoor mostly. However, we would go back.
Oct 08, 2020
Stayed two nights, very nice and quiet. Some road noise, but livable. Fall leaves were great.
Oct 07, 2020
We stayed for 2 nights in a tent. Nice KOA. The teepees are cool looking; might have to rent those next time we are there. Unfortunately, our tent neighbor was in our spot, so we had to use the next spot. Rain caused the area to flood where our tent was set up. But overall, we like this KOA. Bathrooms very clean and property looks to be well taken care of.
Oct 07, 2020
Stay was good but the sites could use safer fire pits and i couldn't get the cable to work at all.
Oct 07, 2020
It was very peaceful, clean, and comfortable. The sites were a bit small but there was no one else around. In my opinion it was a bit expensive for a 30 amp tent site. The maintenance man (a retired veteran, not sure his name), was very kind and extremely helpful with some inside tips of the area. I believe we will be back next year earlier in the summer season
Oct 06, 2020
Only downside was the cable not working and them selling out of firewood.
Oct 06, 2020
The staff was very friendly and helpful. The office and store were very clean and neat. All hookups worked well although the cable is only standard definition. Grounds were very dusty and The FHU sites needed LOTS of gravel added to the sites and roadways.
Oct 05, 2020
This is a clean, well kept campground.
Oct 05, 2020
Good location but campground got muddy real easy with the rain (lots of standing water) and the shop had very limited hours.
Oct 04, 2020
It was a very nice campground and the manager was very friendly.
Oct 04, 2020
Just a one night stop on the way home but a nice facility, clean and well maintained. Would stay here again.
Oct 03, 2020
Had to change site in the rain because our site didn't have the regular kind of cable connector.
Feb 22, 2021
Booking my travel to this beautiful campground again. Had an excellent stay last year. This year opted for the patio RV site that they have added to the campground.
- joseph busby on Google
Feb 22, 2021
Stayed in the Deluxe Cabins. Had a very good stay. The park is big enough for kids to spend time and allowing parents for quite long walks.
- jerome kilk on Google
Feb 21, 2021
The campground is huge and quite green. The downtown is special with excellent food options. This is a good place to stay to visit Mackinac or UP
- Ron Hunt on Google