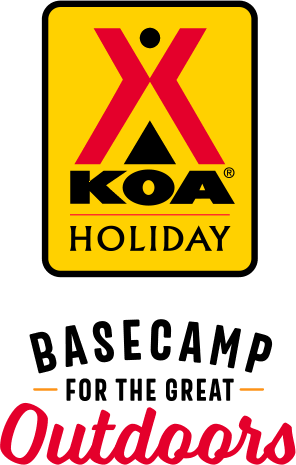 KOA Holiday Campgrounds
Whether you're exploring the local area or hanging out at the campground, KOA Holidays are an ideal place to relax and play. There's plenty to do, with amenities and services to make your stay memorable. Plus, you'll enjoy the outdoor experience with upgraded RV Sites with KOA Patio® and Deluxe Cabins with full baths for camping in comfort. Bring your family, bring your friends, or bring the whole group – there's plenty of ways to stay and explore.
KOA Holidays Feature:
RV Sites with a KOA Patio®
Deluxe Cabins with full baths
Premium Tent Sites
Group meeting facilities
Directions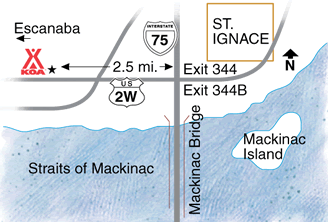 From Mackinac Bridge: 
Northbound I-75 - take Exit 344B or
Southbound I-75 - Exit 344, go 2.2 miles west on US 2.
From US2, we are on the right between Mile Marker 2 & 3.
GPS: N45.853915, W84.773856
Get Google Directions
Sep 15, 2021
Had another great time at this KOA. We will be back next month.
Sep 15, 2021
Very much enjoyed our stay at your KOA. Quiet and peaceful and clean. Everyone was friendly!
Sep 15, 2021
Staff helpful. Quiet and nice. Pretty area. A working hot tub would be a wonderful addition!
Sep 15, 2021
Great place to stay very clean, Great staff very friendly and helpful. Wish the cabin had a place to put the suitcases.
Sep 15, 2021
Very nice, pleasant site. The moment we pulled in, I noticed they were doing upkeep on the buildings and on the miniature golf course. Great attention to detail. Highly recommend!
Sep 15, 2021
Booked last minute and was able to the site we wanted. Clean, helpful staff and grounds well kept. The sites are well marked not too close together. The KOA crew was busy painting and updating the office. Only con was that our site, 14, had the water and sewer on opposite sides. Good thing we had a long hose. Other than that, would definitely stay here again. We have a travel trailer.
Sep 14, 2021
I am hoping that the maintenance I was seeing keeps up. It needs it and is a great improvement. It could be a place everyone is talking about.
Sep 14, 2021
Come to St. Ignace every summer for a long weekend and stay here. Would not stay at any other campground in area.
Sep 14, 2021
Great Spot - Great Staff
Sep 14, 2021
It was great. Always stayed at lake shore but will never go back. This is great place. will try to get to stay their in the future.
Sep 14, 2021
We just rented 2 little cabins but had the best time! The staff was so nice and welcoming! The cabins were super clean and cute! We are going to make this an annual trip. Thank you so much!
Sep 14, 2021
Great friendly staff. The only negative thing of our 3 night stay was the tree stump that is in the driveway of our lot-81. While it was cut off close to the ground, you had to drive over it. When we checked out, manager stated they have a contractor coming to grind out stumps in the near future. That being said, we will return.
Sep 14, 2021
Very nice cabin, pool and service. Load road noise
Sep 14, 2021
With hundreds of nights in over 100 KOAs, but not retired yet, it is a welcome opportunity to see the country up close. As Chairman, I have the op to select trqavel modes. After a lifetime of air travel, private and commercial, hotels and restaurants, KOAs are generally great St. Ignace is a nice campground in one of our preferred travel destinations. Recommend a stay when visiting the area.
Sep 13, 2021
Every thing was great, except for the wifi. Even though I paid, and called the tech line twice, I was not able to get it,
Sep 13, 2021
Great location, a little vehicle traffic noise, sites were level. I love the shuttle pick up and drop off for the ferry. Needs a little TLC. The maintenance people were great and friendly. The young girl at the desk was a little under knowledgeable. But overall I would stay again.
Sep 13, 2021
Very friendly staff, great communication. Liked the texts to remind about firewood. Layout of utilities on the RV spots a little awkward. Really enjoyed our stay.
Sep 13, 2021
Great camping for the tractor parade in St Ignace. Very clean, site was level stayed on site 119. We will be back......
Sep 13, 2021
Super big sites, clean facilities, very friendly staff and great location made our stay relaxing and worry free ��
Sep 13, 2021
Expectations were met, would stay again.
Sep 13, 2021
The Good: Campsite was level, electric/water hookups worked well, quiet. Less Perfect: Young gal at check-in had no smiles, but warmed up and was helpful when asked very specific questions. Others were friendlier. "Express check-in" didn't work for me and there was a little confusion, but it worked out fine. Men's toilet had a disgusting issue but mgmt cleaned it up swiftly. Pretty goo
Sep 13, 2021
Short, overnight stay. We were disappointed in the 'store' - there were little to no basics like bread or other foods. We didn't use the dump station or even the restrooms, so cannot comment on those. Otherwise, the site was nice. Quiet. The people at the registration desk were very nice as well.
Sep 12, 2021
Clean facility and friendly staff. Would highly recommend staying there again.
Sep 12, 2021
Small park is nice. Close to bridge walk. Staff was friendly and Lynette was very accommodating and on point with text messages. No long lines at dump station
Sep 12, 2021
The cabins were great, the bunk bed climbing ladder needs better placement. One top bunk cabin 6, when you climb out of the bunk ends up on top of the tv cable.
Sep 12, 2021
Had a tent site just for 1 night. We were on site 29. Had some issues getting stung by bees so we figured there was a beehive somewhere near the site. Very clean showers and restroom.
Sep 11, 2021
This was our second year staying in the late summer early fall and my teenage sons have asked if we could make it a yearly thing, and I just think we might!!
Sep 11, 2021
Area was ok, spots were not level and hilly, spots are tight. Playground was so far away and a second playground is highly recommended. Laundry was expensive and older machines took longer so had to add more money. I will not be staying here again.
Sep 11, 2021
Our stay was fine. We thought that the sites were very narrow with trees that made it difficult to open all of the slides.
Sep 10, 2021
We stayed for almost a week with extended family from Michigan, Wisconsin, Ohio and Texas. We have been making an annual trip for several years, moving around the location to make it more accessible for different families but the St Ignace/Mackinac Island KOA was so fantastic, we may try to make this our permanent family vacation spot! Thank you for everything you do!
Sep 10, 2021
Nice clean campground. Great staff. I personally thought the camping sites were too close to each other.
Sep 09, 2021
We had a beautiful site. So many wonderful upgrades to the park. The staff is super friendly and helpful.
Sep 09, 2021
They were great to work with to make our stay comfortable and memorable.
Sep 09, 2021
We liked our site but bathrooms could have been cleaner. There were only two showers available one was under repair. We plan to come back again and did enjoy our stay.
Sep 09, 2021
Only stayed one night but it was perfect and the staff was very accommodating!
Sep 08, 2021
We had a very enjoyable stay. The front bathhouse was always kept clean. The swimming, golf, and games were free and my kids enjoyed them very much. Our kids also enjoyed the karaoke night; however, some of the music played was not appropriate for young listeners.
Sep 08, 2021
Loved it. Very helpful friendly and accommodating.
Sep 08, 2021
We stayed one night in a mini cabin so we could walk the mackinaw bridge on labor day. They were roomy enough for the night. Glad we had a picnic table. It started to rain. The picnic table fits UNDER the porch awning (one the swing is over the railing). It was a sufficient stay. Beds a bit small.
Sep 08, 2021
Clean and friendly campground.
Sep 09, 2021
Awesome view of the bridge.
- David Barncard on Google
Sep 06, 2021
Awesome place. Great staff, and super clean.
- Tom Harper on Google
Sep 06, 2021
Very clean and well run. Lynette is the best. Great place for stargazing and astrophotography. Love the system for wood delivery.
- Selah Schie on Google