Local Area Attractions Near St. Ignace / Mackinac Island KOA Holiday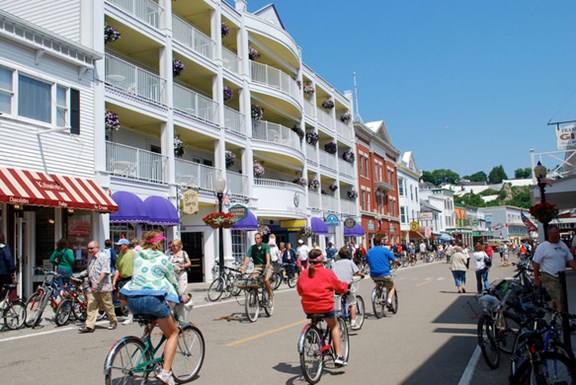 Mackinac Island
St. Ignace KOA offers a free shuttle to the island ferries. You'll enjoy the view of the Grand Hotel and summer homes from the ferry. Return to an era of Victorian affluence when you visit Mackinac Island. As you step onto the island, you feel as if you are stepping into the past. Horse-drawn carriages and bicycles are the only modes of transportation. It is also known for historic sites such as Fort Mackinac, elegant cottages of a bygone era and quaint shops. The island also features incredible glacial age rock formations such as Arch Rock and Skull Cave.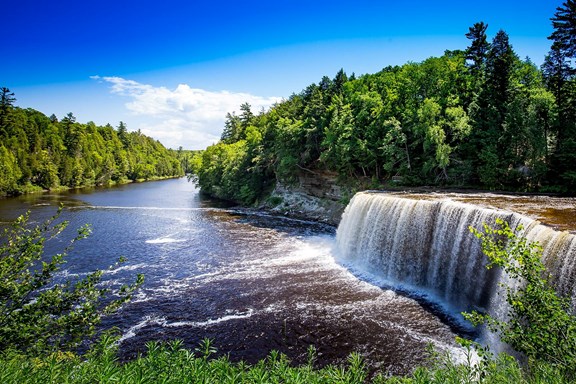 Tahquamenon Falls - one hour away
The Upper Falls is the second largest waterfall east of the Mississippi. The Lower Falls is a series of cascades flowing around an island.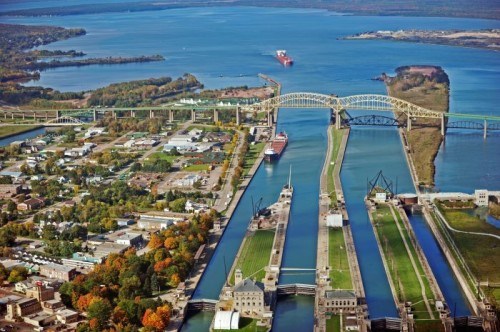 The Sault Locks in Sault Ste Marie - one hour away
The only passageway to Lake Superior, these locks open to ships from all over the world. Watch the traffic or take a scheduled boat trip through the locks.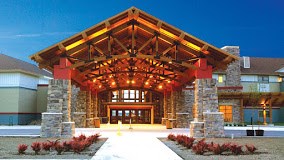 Kewadin Shores Casino
Kewadin Shores Casino offers free shuttle service. It is located four miles away. Colonial Michilimackinac
This attraction is located just over the Mackinac Bridge, 5 miles away. One of the most authentic reconstructions in the United States, Colonial Michilimackinac is a fortified trading village built by the French in 1715. The enthralling stories of the fort era are brought to life through costumed reenactments.
Local Area Recreation Near St. Ignace / Mackinac Island KOA Holiday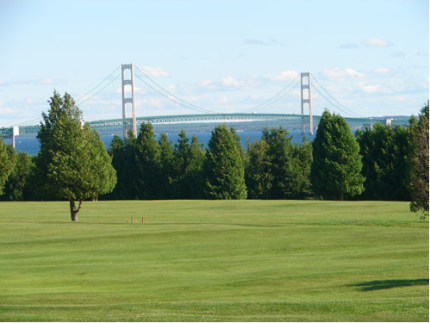 Golfing
Less than a mile away from the campground, you'll find a municipal golf course with a beautiful view of the Mackinac Bridge.
Fishing
There's great fishing in many rivers, lakes and streams in the Upper Peninsula and on three of the Great Lakes that you can access from here - Huron, Michigan and Superior.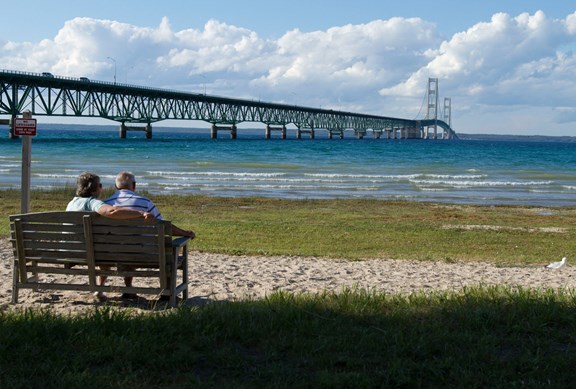 Beachcombing
Enjoy miles of free and unspoiled Great Lakes beach at the dunes.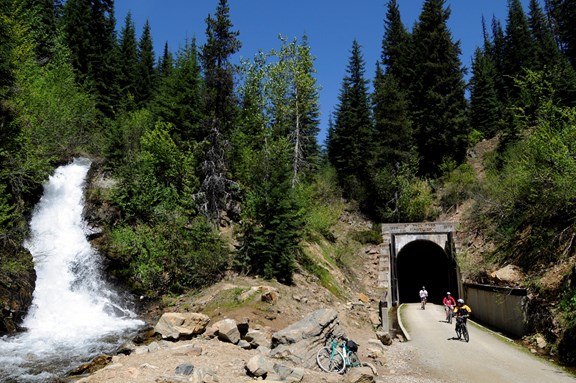 Hiking
Enjoy the many miles of hiking trails in the Hiawatha National Forest.
Sightseeing
Take a scenic drive in the Upper Peninsula, and explore the Hiawatha National Forest, the Tahquamenon falls, Whitefish bay, Pictured rocks and more.