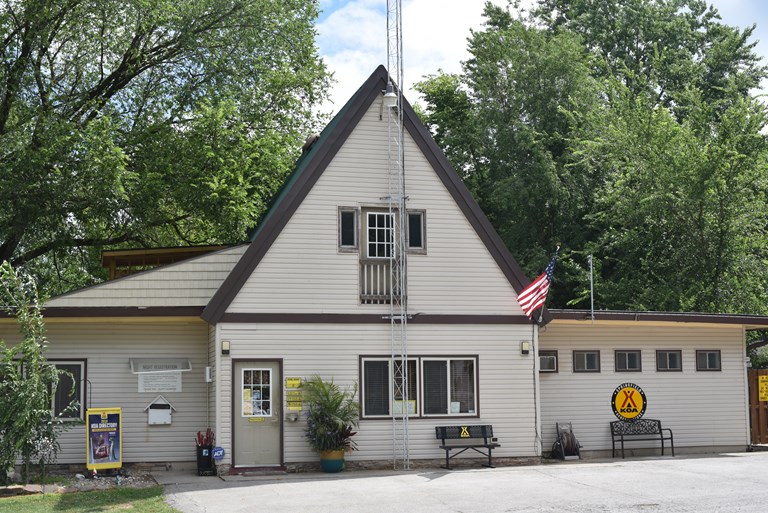 We're Sorry!
Internet reservations are currently not available for this KOA: Springfield KOA
Local Area Attractions Near Springfield KOA
Thank you for visiting the Springfield KOA. We would like to direct you to these local attractions to help you along your visit. Most are located within Springfield which is just 7 miles from us. Maps and books available in the office Springfield, Illinois
Springfield, Illinois is a city that offers you everything you're looking for in an unforgettable vacation. From our historical Lincoln attractions to our national art shows, from the Illinois State Fair to the ethnic festival - great adventures await your discovery. Overflowing with small town friendliness & big city sophistication, Springfield - the capital of Illinois - is located midway between Chicago & St. Louis along historic Route 66. The Abraham Lincoln Presidential Library and Museum
The Abraham Lincoln Presidential Library and Museum is a 200,000 sq. foot complex situated in downtown Springfield, Illinois, and is complemented by a meticulously restored Union Station Visitors Center (completion scheduled 2006) and an adjacent parking facility.…Next door, designers have created a presidential museum of unparalleled size, originality, and educational promise. The Museum contains 46,000 square feet of permanent exhibits - double the size of their counterpart at the Ronald Reagan Presidential Library, until now the nations largest. Combining impeccable scholarship with brilliant showmanship, the new museum's permanent exhibit galleries carry visitors on twin journeys from a crude, overcrowded Indiana cabin to Ford's Theater and a reproduction of the House Chamber in the Old State Capitol where Lincoln's flag-draped casket lies in state. Along the way, you will be treated to a 250 seat multi-stage and screen presentation, a stunning holographic theater bringing Lincoln documents and artifacts, literally, to life; a Treasures Gallery housing icons like the Gettysburg Address; and a separate children's area called Mrs. Lincoln's Attic. Lincoln Home National Historic Site
The Lincoln Home is a great starting point for your tour of Springfield. The Quaker-brown residence where the Abraham Lincoln family lived for seventeen years (1844-1861) is a national treasure. It's located in the midst of a four-block historic neighborhood. Your tour of the only home the Lincoln's ever owned will be conducted by National Park Service rangers. Free tickets are required and may only be obtained at the Lincoln Home Visitor Center at 426 S. 7th Street. Lincoln-Herndon Law Offices
Abraham Lincoln practiced law in these law offices above Seth Tinsley's dry goods store from 1843 until 1853. It was an ideal location for a rising young law firm - near the Capitol and Springfield's finest hotel of the day, and just above the local post office and Federal Courtroom. Stephen Logan (1843-1844) and William Herndon (1844-1865) were his partners during this time. This is the only surviving structure in which Lincoln maintained working law offices. Lincoln Depot
"No one, not in my situation, can appreciate my feelings of sadness at this parting." Bittersweet words spoken by President-elect Abraham Lincoln as he departed his beloved Springfield for an uncertain future in Washington, D.C. The Depot contains restored waiting rooms (one for ladies and one for the luggage and tobacco-spitting men), exhibits of people and places dear to Lincoln, and an audio-visual show recreating the 12-day journey to his inauguration.
Local Area Recreation Near Springfield KOA Lake Springfield
boating, fishing and more. Theatrical Performances
Enjoy a relaxing evening at the nearby Muni. Different shows each week from Memorial day to labor day.. Lincoln Sites
While in town learn about our 16th President Lincoln. Here you can visit the Lincoln home center and neighborhood, the museum, and his burial site. You can also take the 45minute trip to Salem to see more of his sites. Route 66
Get your kicks on Route 66! Be sure to take a drive down historical Route 66. In town you will find landmarks like the hotel/museum and the cozy dog, which was used as inspiration in the Disney movie "Cars"!