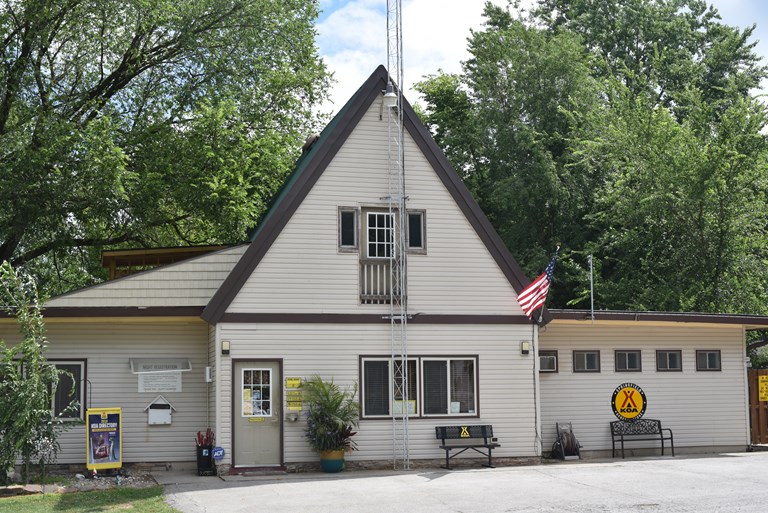 We're Sorry!
Internet reservations are currently not available for this KOA: Springfield KOA
General Campground Information
Sports
Inside the store you will find many items that you may borrow and bring back by the end of the night. These include but not limited to:
Bag/Cornhole set
Shuffleboard Supplies
Mini Golf Supplies
Horseshoe Supplies
Badmitton Supplies
Sack Races
Soccer, basketball, volleyball
Frisbee
bump n run
limbo
checkers
bowling
Welcome to our Campground
Season:
April 1st-November 1st
Office Hours:
Sun-Sat 8am-8pm
Checkout time: Noon
Propane and firewood Available
Swimming pool: 830am to dusk
Bikes, Mini Golf, Horseshoes, Cornhole, Shuffleboard, playground, wifi, cable
Laundry facilities open 24 hours
Pull thrus, tents, cabins available
Quiet hours 10pm-7am
New for 2019
This year, we are trying to have events every Saturday. This may not happen ever weekend depending on the weather but we will be doing as much as we can. 
One big new add, is the outdoor family movie night. This will start at dark. You are welcome to bring chairs or blankets to sit on or we will have a few picnic tables set out. 
Our loft cabin is no longer a loft and has been fully renovated.
Our ladies room is currently being renovated.
We now have a fenced area where bikes will be kept. Please return to area when not using, so everyone can enjoy.
We also plan on putting in some new items in our dog park. 
Looking forward to seeing you all soon!
Please read BEFORE BOOKING!
This information is also available in the blog section of our page. It is very important to read before you book a site with us. If you have questions, please call the office.
1. Do not follow your GPS, follow our directions listed on both this site and our social media pages. 
2. We are 8 miles from a town or interstate
3. Wifi is not allowed to be used for movies or gaming. It often runs slow due to the amount of devices hooked up to it. We are in the country and have the best provider that will agree to service our area. If you must have wifi, we are not the place for you. Things like Netflix, Hulu, Skype are prohibited and it will kick you off our wifi network. 
4. We offer cable at the sites. In order to use it, you must hookup, turn off your booster (turn tv from air to cable) and run a auto program. If you can not do this or don't know how, please ask for Bryan in the office. 
5. We do not own KOA Road. We understand that it is not the greatest. We are trying to get Cottonhill township to fix the problems. But if you go slow you will not have an issue, as it is not heavy traffic, and locals will move over for you to pass safely.
Fire Wood
Fire wood bundles are available in the office.each bundle is $5.85 after tax. 7-8 pieces per bundle. We can deliver to your site if you wood like.
Visitors
Guest registered upon check in are on the list. if you have visitors they can visit for free but must register for a pass in the office. There is a fee for guests using amenities  visitor hours 8am-10pm.
jump pad information
waivers for use in the office 
200lb limit
included with your paid stay
guest may pay for a pass in the office
turned off in the heat of the day. or bring socks to help with heat. we are looking into a cover to help with this issue. 
8am-Close (7/8pm)
no shoes allowed
no rocks on the pad
Wifi
We do offer a wifi service. This is free with your stay. There is no password. This is labeled KOA Front Park. This is for emails and banking NOT gaming or movies. This tends to be slower then normal internet.
Cable
If you have a TV with you, you may chose to hook into our cable. This comes with your site. The channel selection is on the back of the campground map you will receive upon check in. If you have a booster in your rv you will need to turn this off. All cabins come with a Tv inside hooked into the same cable.
Meet Your Hosts
As a destination park, the campground is surrounded with nearby history.
In 2003, when Stan and Linda bought their campground, and realized their opportunity to meet new people. "We have met so many people over these past years. They are from all over the world and we are able to keep in contact with them after they leave," said Linda.
As a destination park, the campground is surrounded with nearby history. The recently-built Abraham Lincoln Museum is a great draw to those wanting to experience a part of the United States' past and, according to Linda, is "well worth the trip." Besides the local history of the area, the campground itself has a swimming pool, playground, bikes, and golf for the kids. Stan and Linda have invested in renovations that contribute to the updated buildings and cleanliness of the park. Wifi and patio sites have also been added in the last few years.
Visitors are welcome to bring their boats and enjoy the nearby Lake Springfield. Boating and fishing are a favorite pastime and locals, as well as travelers, are seen relaxing at the lake every summer day.

In 2017 Stan passed away. Linda continues to run the campground with help for her sons. They have been continuing to update and are looking forward seeing everyone in the 2018 season! They are very proud of their campground and the time they have invested into it to make it the best they can.